Turkey Marinade – the BEST turkey marinade recipe that works with turkey breast, turkey tenderloin or a whole turkey! So flavorful with its combination of olive oil, fresh herbs, spices and citrus – it is the perfect way to elevate your Thanksgiving turkey!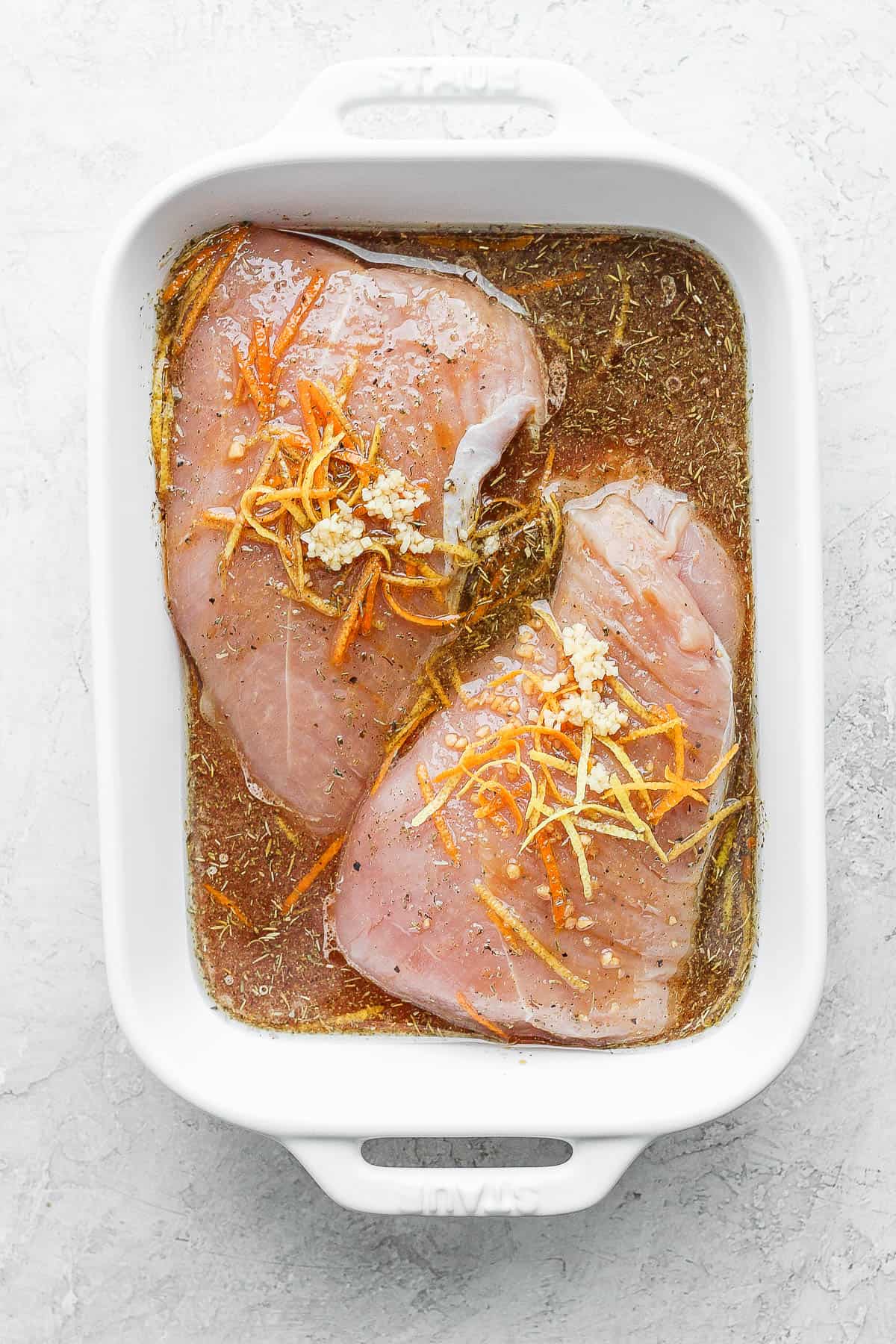 The BEST Turkey Marinade
If you are wondering how to make the most juicy, flavorful and tender turkey (no matter how you cook it), look no further – you have found the magic right here! You could use a turkey breast, turkey tenderloin or a whole turkey – either way this marinade is going to bring that bird to the next level. It has so many great flavors and the oil & juices really keep the meat juicy no matter how you cook it (we love our smoked turkey and smoked turkey breast SO much)!
What You Will Need
olive oil – a perfect base to any meat marinade!
orange juice – provides moisture to keep the meat juicy, plus some really great citrus flavor!
lemon juice – just a little to help bring out all the great flavors.
soy sauce – if you want to make this gluten-free just sub with coconut aminos or tamari.
kosher salt & pepper – necessary when seasoning or marinating any meat.
dried thyme leaves, rubbed sage, & garlic powder – a great flavor combination for any classic turkey.
fresh lemon zest & fresh orange zest – a bit of each for another hint of those great citrus flavors.
garlic – everything is just better with a little garlic!
other add-ins: a little rosemary, oregano or onion powder would also be good here!
What's The Difference Between Brining & Marinating
Brining a turkey is typically only done for moisture, where marinating provides some moisture but it is more about the great flavors! When you brine meat it is typically a longer process (12-48 hours) and marinating meat is a much shorter process (only about 30-60 minutes). If you are interested in brining turkey you should definitely checkout Brining a Turkey 101! It is full of great tips and tricks!
How Should I Prep Turkey Before Marinating
First, you will want to make sure that they turkey you are using (whole, breast, tenderloin, etc.) is fully thawed. If you need tips on how to do this take a look at our post on How to Thaw A Turkey. Once you know it is fully thawed, all you have to do is pat it dry, and then place it in a large enough container with the marinade so that the meat is fully coated (make sure you get the inside of the turkey cavity if you are doing a whole turkey).
How Long Can You Marinate Turkey
We suggest letting the turkey marinate for about 30-60 minutes before cooking. You could let it marinate in the fridge overnight but this marinate contains quite a bit of citrus which might start cooking your meat slightly if you let it sit for too long so we highly recommend sticking to a shorter marinate time.
Can You Freeze Turkey In The Marinade
Yes! You can place your raw turkey and marinade in a freezer safe bag (we love these) and store it in the freezer for up to 6-9 months before thawing and cooking. This is a great way to have to ready to go when you have that turkey craving!
What Is The Best Way to Cook Turkey After Marinating?
You can cook a marinated turkey (whole, breast, or tenderloin) any way you want! Personally, we love Grilled Turkey, Smoked Turkey, or the classic Roasted Turkey!
How To Make a Turkey Marinade
Once your turkey is completely thawed, you will pat it dry.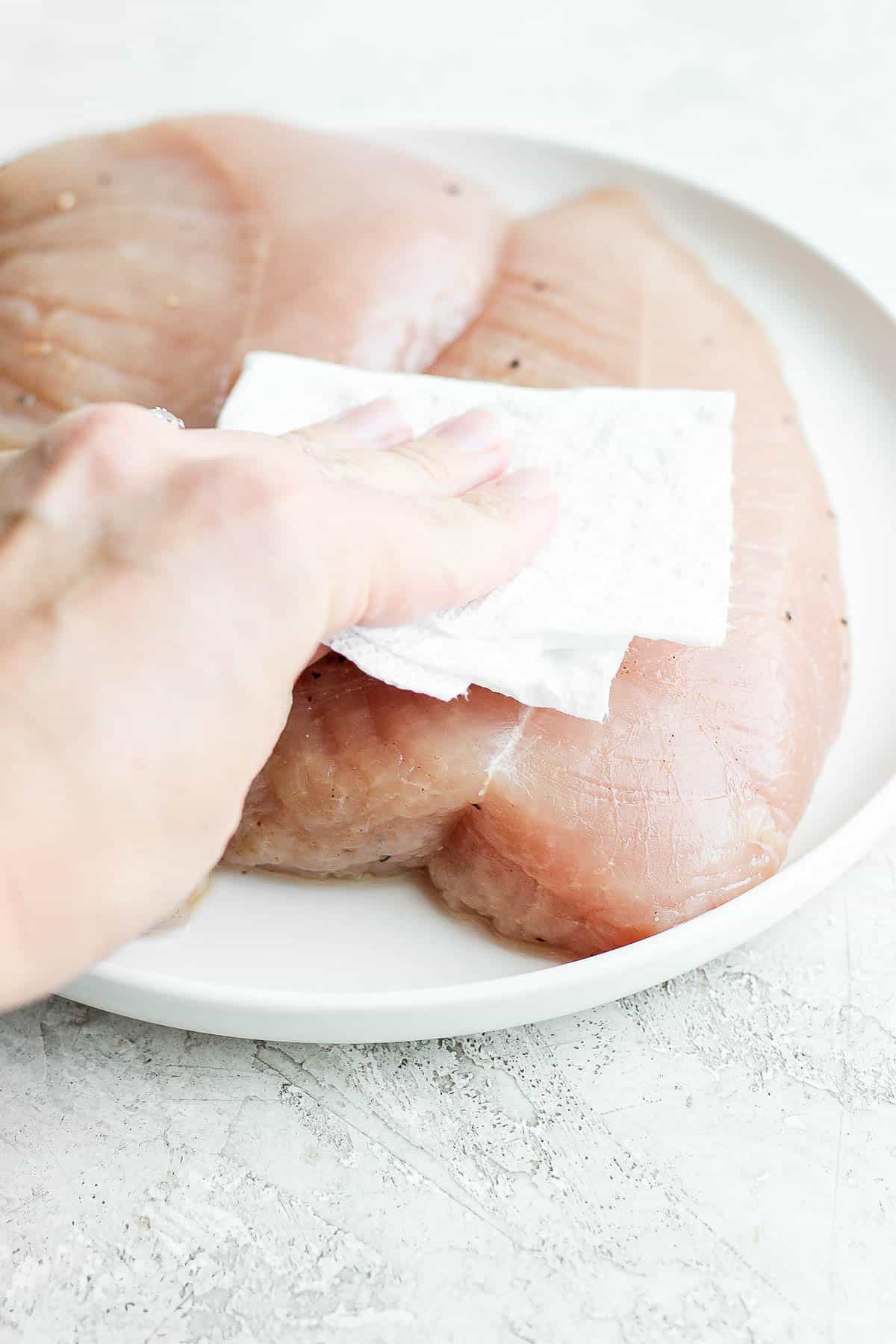 Mix up your marinade ingredients.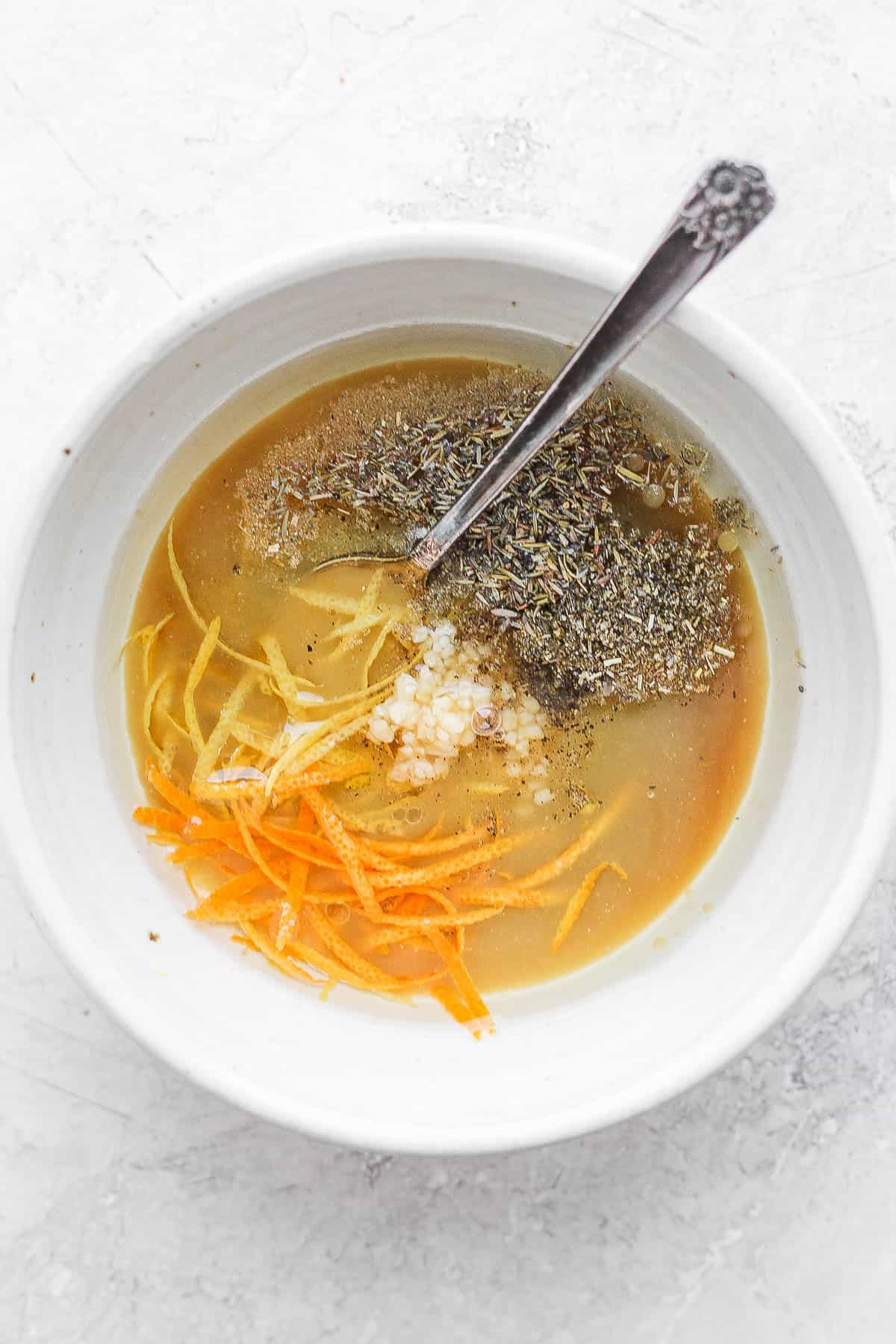 Place your turkey in a large enough container to hold the turkey & marinade.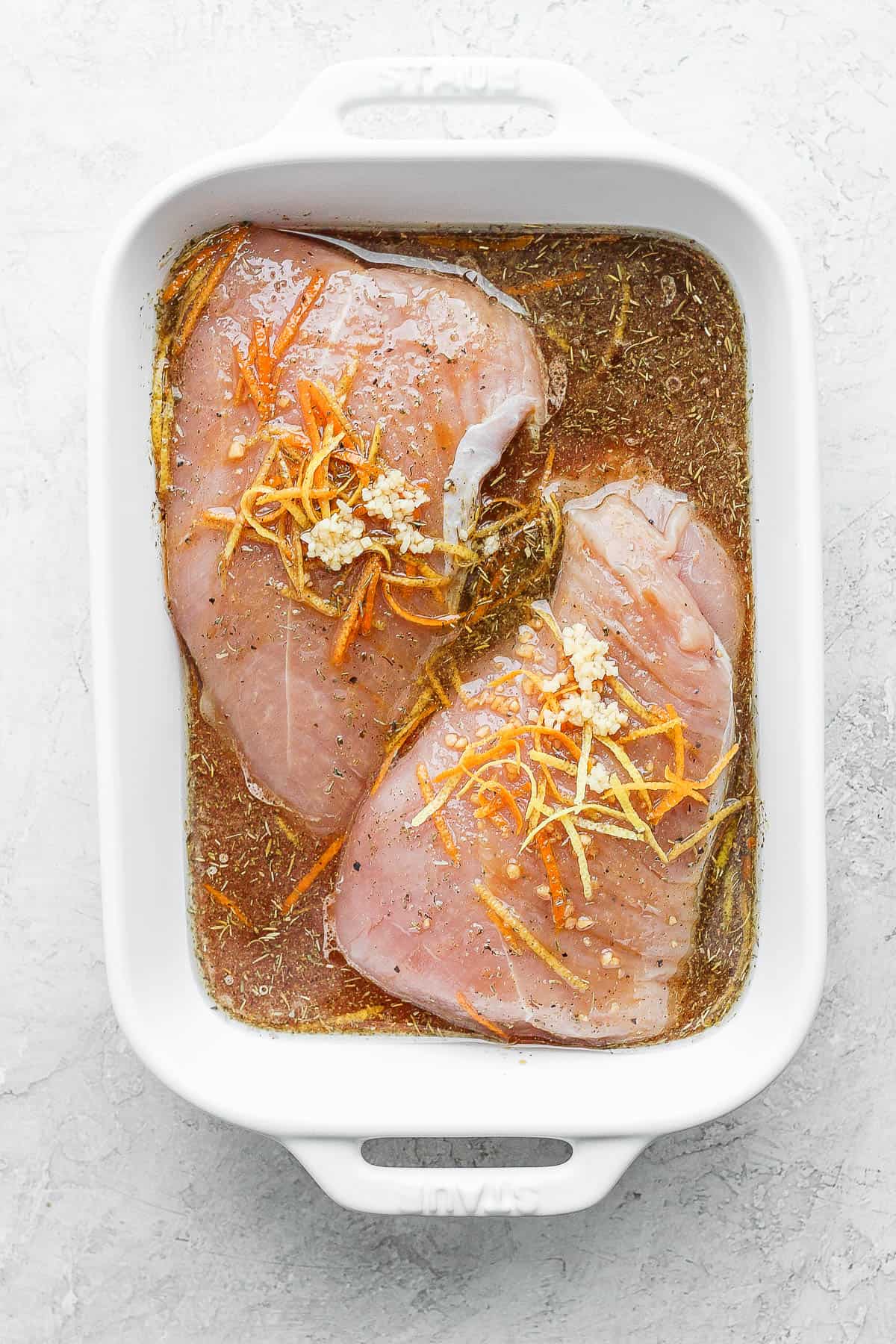 After it has sat for 30-60 minutes you are ready to cook it any way you want!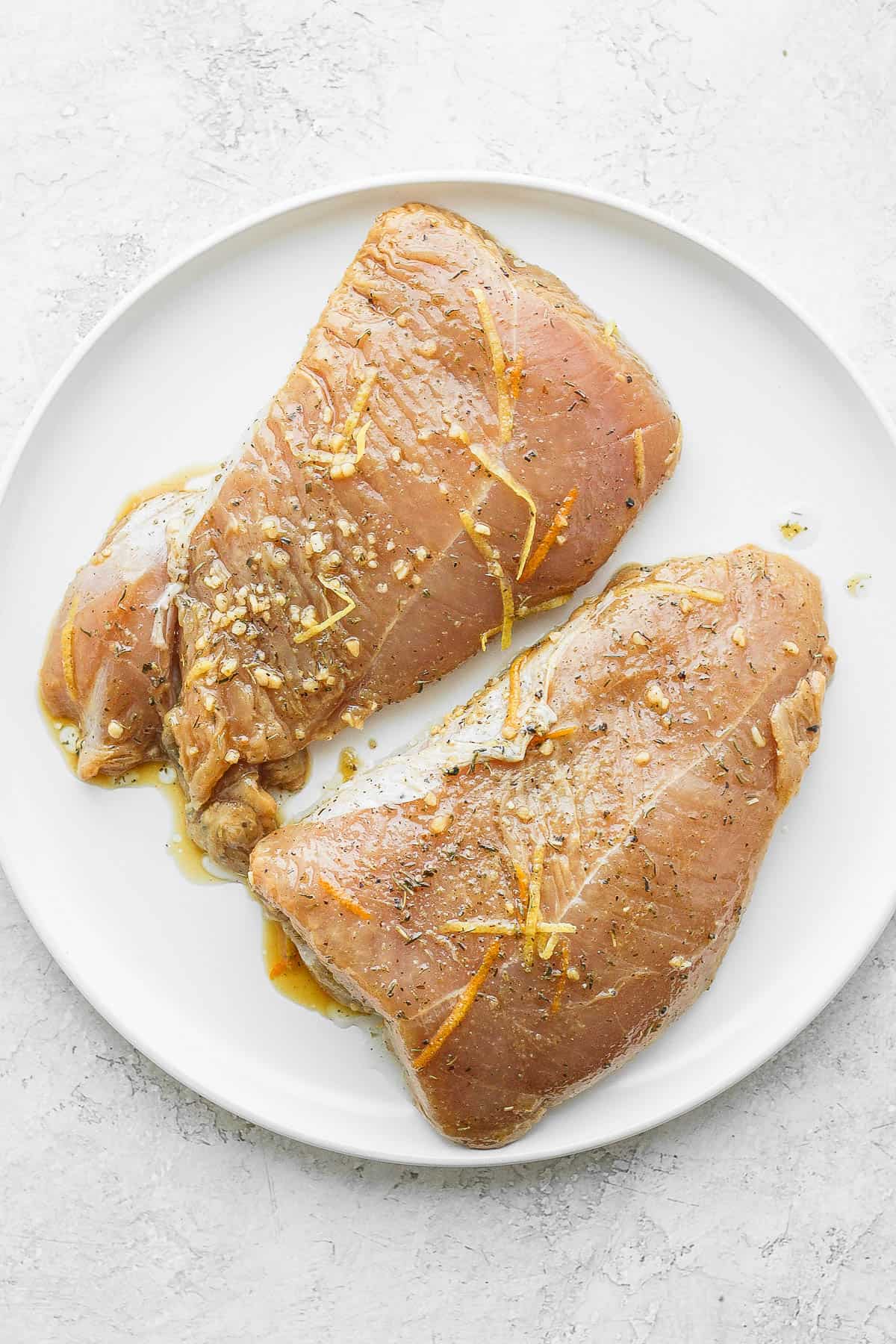 Enjoy!!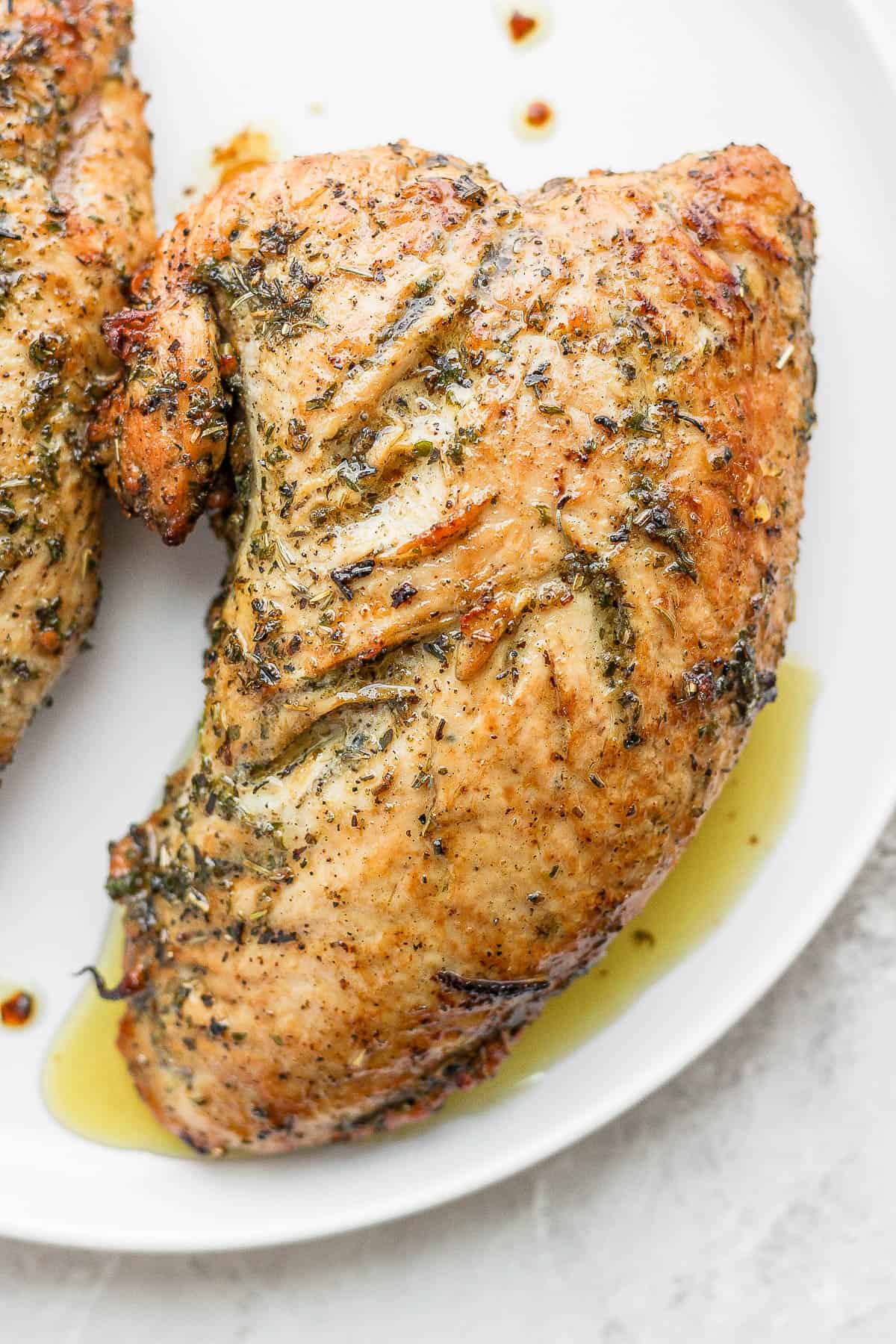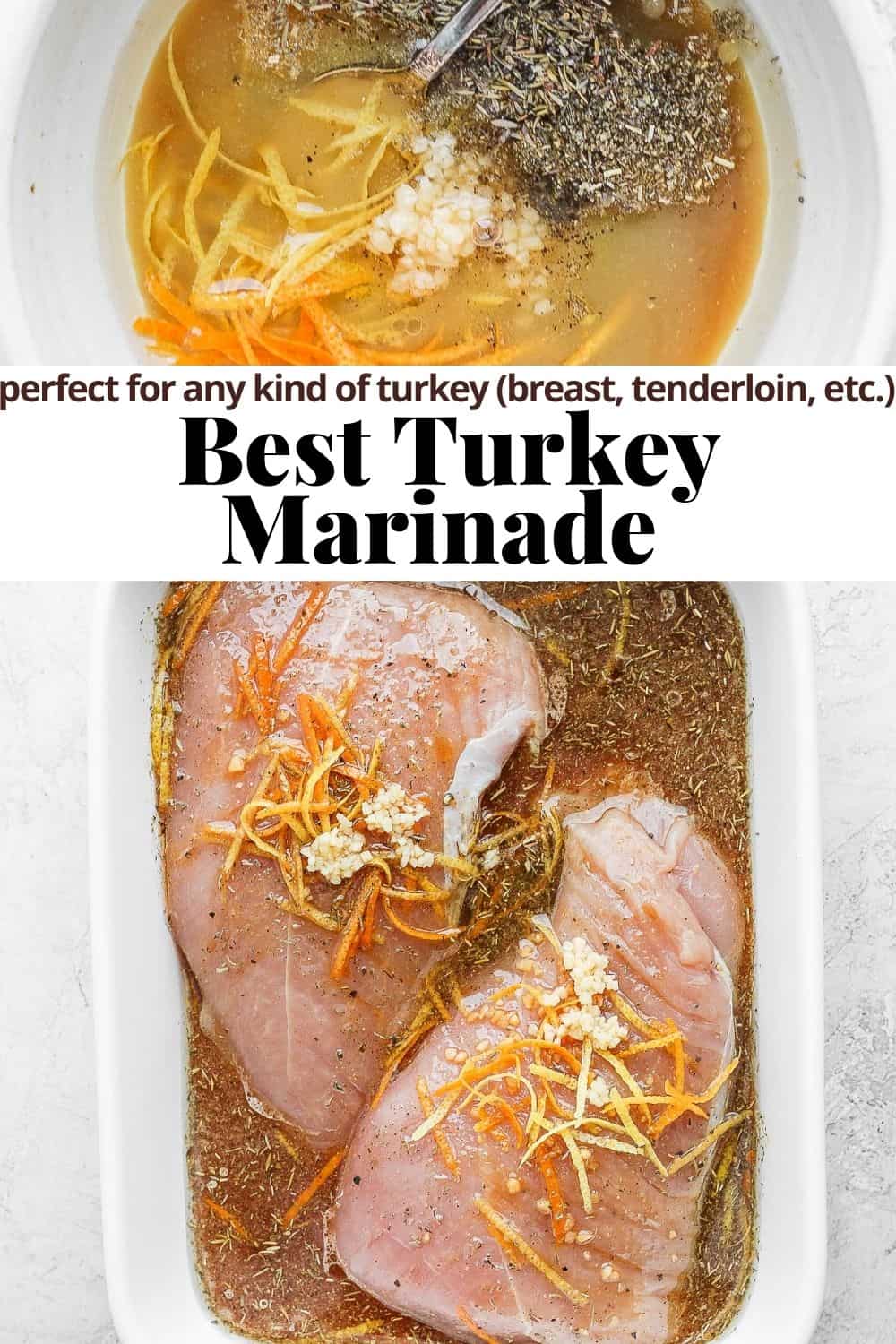 Made this recipe and loved it?! We would love it if you would take a minute and leave a star rating and review – it is also helpful if you made any substitutions or changes to the recipe to share that as well. THANK YOU!
Don't forget to check out my Instagram account for some behind-the-scenes action! Or give me a follow on Facebook or see what I am pinning on Pinterest!
Print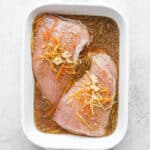 Turkey Marinade
Author: Erin Jensen
Prep Time: 10 minutes
Marinate Time: 30 minutes
Cook Time: 0 minutes
Total Time: 40 minutes
Yield: 3/4 cup 1x
Category: Marinade
Method: Stove Top
Cuisine: American
---
Description
Turkey Marinade – the BEST turkey marinade recipe that works with turkey breast, turkey tenderloin or a whole turkey! So flavorful!
---
1/4 cup olive oil
1/4 cup orange juice
2 tablespoons lemon juice
2 tablespoons soy sauce
1/2 teaspoon kosher salt
1/8 teaspoon ground black pepper
1/2 teaspoon dried thyme leaves
1/2 teaspoon rubbed sage
1/2 teaspoon garlic powder
1 tablespoon fresh lemon zest
1 tablespoon fresh orange zest
1–2 teaspoons garlic, minced
---
Instructions
Combine ingredients in a small bowl; whisk to combine.
Pat turkey dry.
Place turkey in an appropriate-sized container (depending upon whether you are using a breast, tenderloin or whole turkey) and pour marinade over top. Ensure turkey is fully coated.
Cover and refrigerate. Let sit/marinate 30-60 minutes.
---
Notes
Amount: if you are doing a whole turkey feel free to double/triple the marinade recipe as-needed.
Gluten-Free: to make gluten-free simply switch out the soy sauce for coconut aminos or tamari.
Keywords: turkey marinade, turkey breast marinade, turkey tenderloin marinade