Turkey Tenderloin Recipe is juicy, delicious and deserves a spot on your Thanksgiving menu! We have a marinade + seasoning for you that come together to create the most amazingly flavorful turkey tenderloin! This is a great recipe for a special occasion when you don't feel like making a whole turkey but still want a delicious turkey dinner!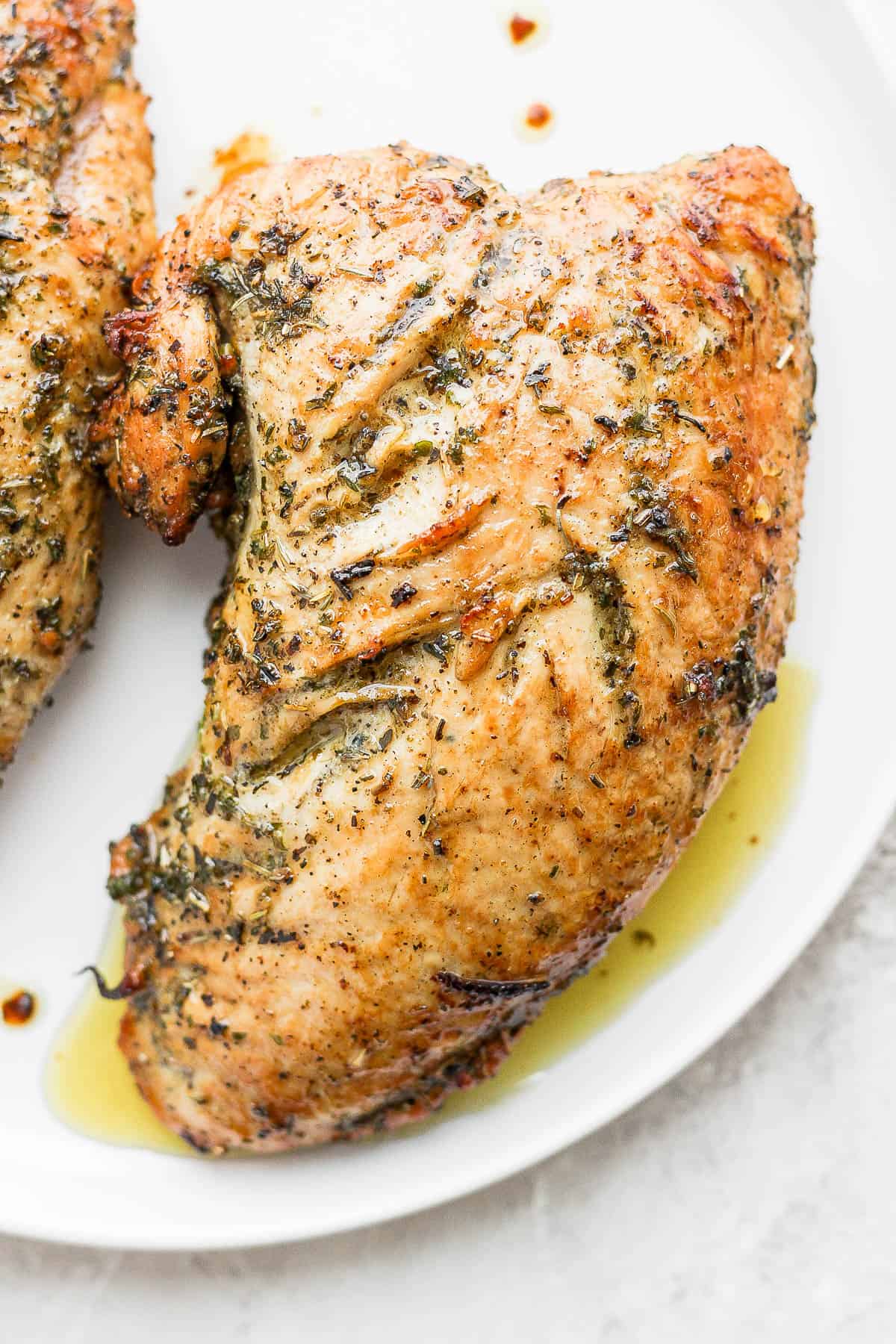 Easy Turkey Tenderloin Recipe
We have gone all out creating this juicy, tender and flavorful recipe and we just know you are going to LOVE IT! Don't skip that marinade or seasoning … they belong together! There is something special about a tenderloin (this pork tenderloin recipe is insane too) and this might be our favorite of all-time! Serve with some of our favorite sides like Garlic Green Beans and Ultimate Yukon Gold Mashed Potatoes – perfect for a smaller Thanksgiving meal!
Why This Recipe Works
Marinade + Dry Rub: this combo just takes things to the next level!
Searing: I love the idea of searing this on all sides to make the outside a little charred!
Roasting + Resting: then we roast it for a while to finish cooking so they inside stays juicy – don't skip the resting period, it is essential for the juices to redistribute!
What You Will Need
1 batch Turkey Marinade: it is fully of citrus and so many other amazing flavors and spices! Sage, thyme, kosher salt, ground black pepper, rosemary, garlic powder and onion powder come together to make a classic turkey rub.
1 batch Turkey Seasoning: some of your classic turkey flavors like sage!
turkey tenderloins (or turkey breast tenderloins): use around 3/4-1 pound sized tenderloins – usually they come 2 in a package, but use whatever you can find.
olive oil: we use this to coat the pan before searing the tenderloin.
butter or ghee: this is used to baste the tenderloin while it is roasting in the oven.
Turkey Tenderloin Marinade
Tenderloins are the perfect piece of turkey to marinade (this Roasted Turkey Breast would be great too) because they are so small! Here is our Best Turkey Marinade and you are going to LOVE it in this recipe!
Turkey Tenderloin Seasoning
We didn't think a marinade was enough so we added in a turkey seasoning as well! Made with classic flavors that pair perfectly with the marinade. Double deliciousness!
Turkey Tenderloin Side Dishes
How to Cook Turkey Tenderloin
Feel free to use turkey tenderloin or turkey breast tenderloin – either will work here.
Pat dry with clean paper towel.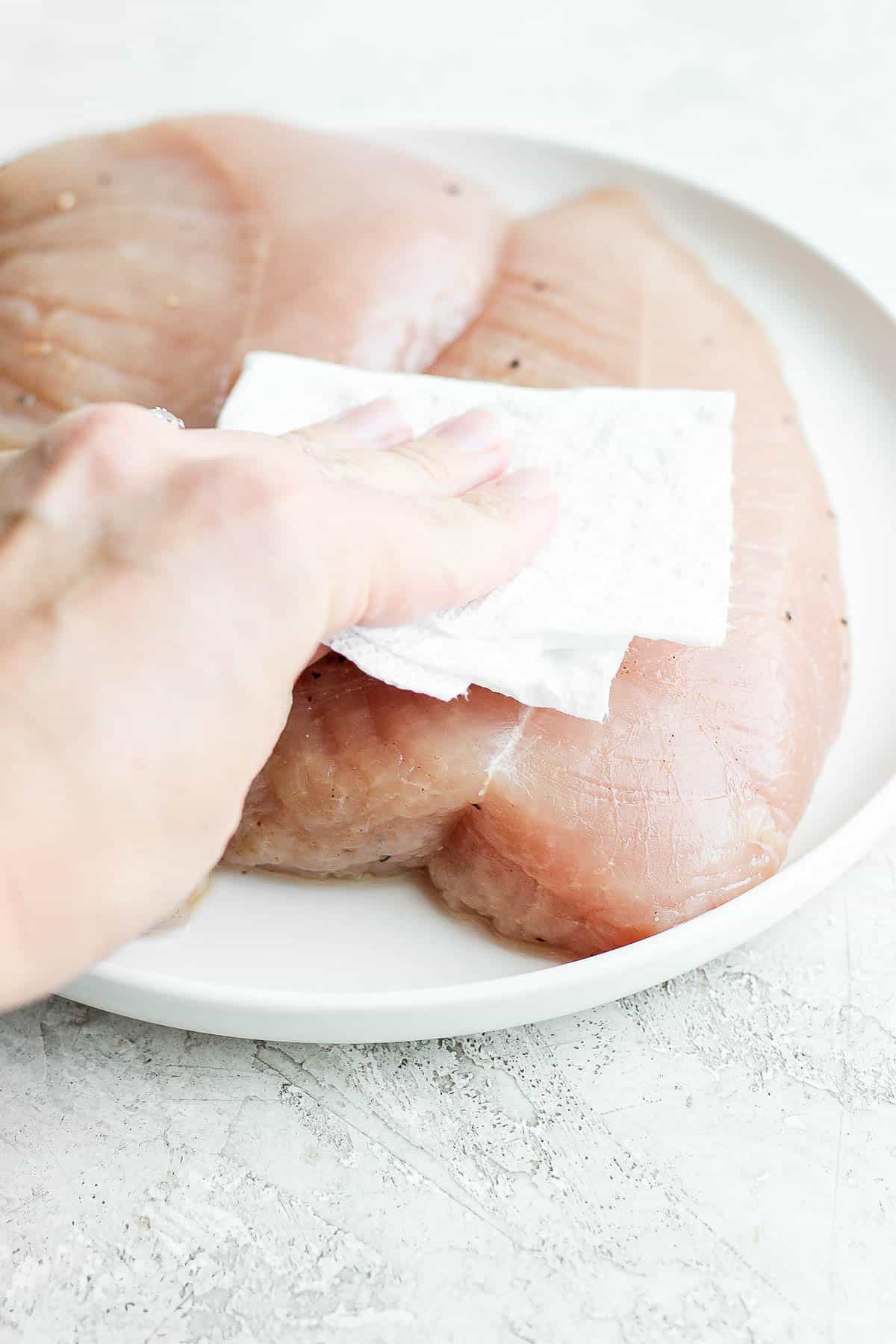 Combine your marinade ingredients and pour over tenderloin; let marinate about 30-60 minutes.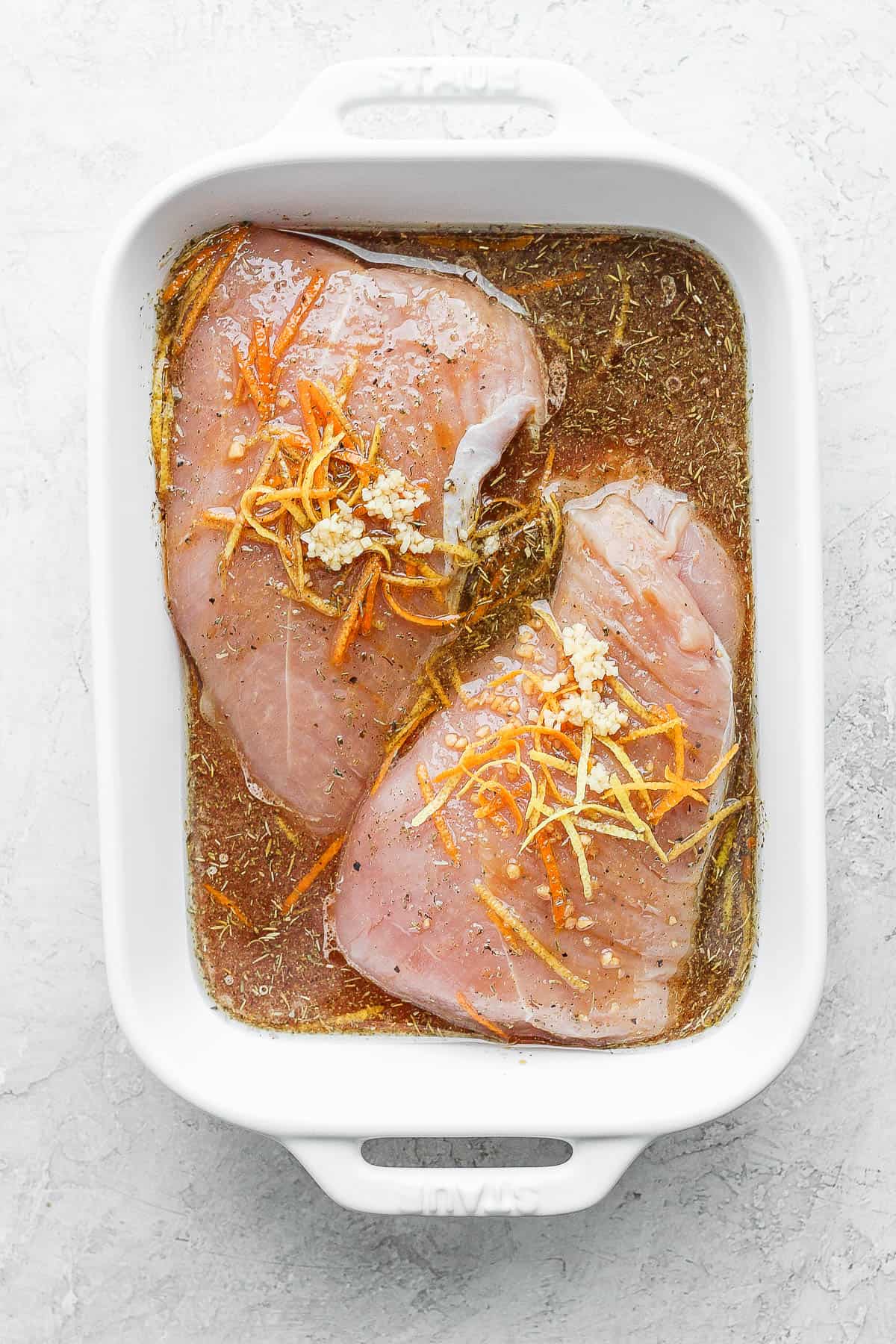 Remove from marinade and set on plate.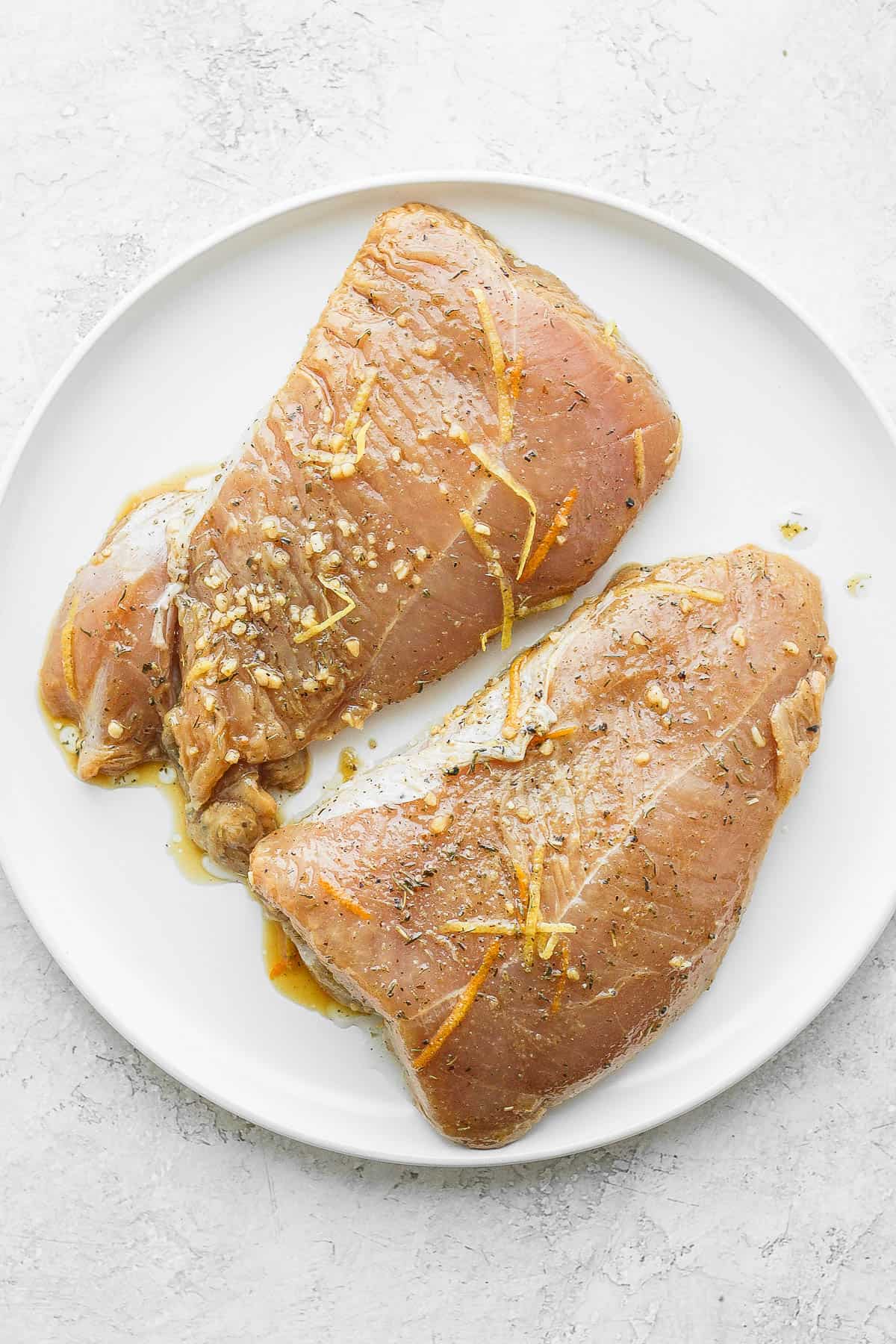 Cover in seasoning.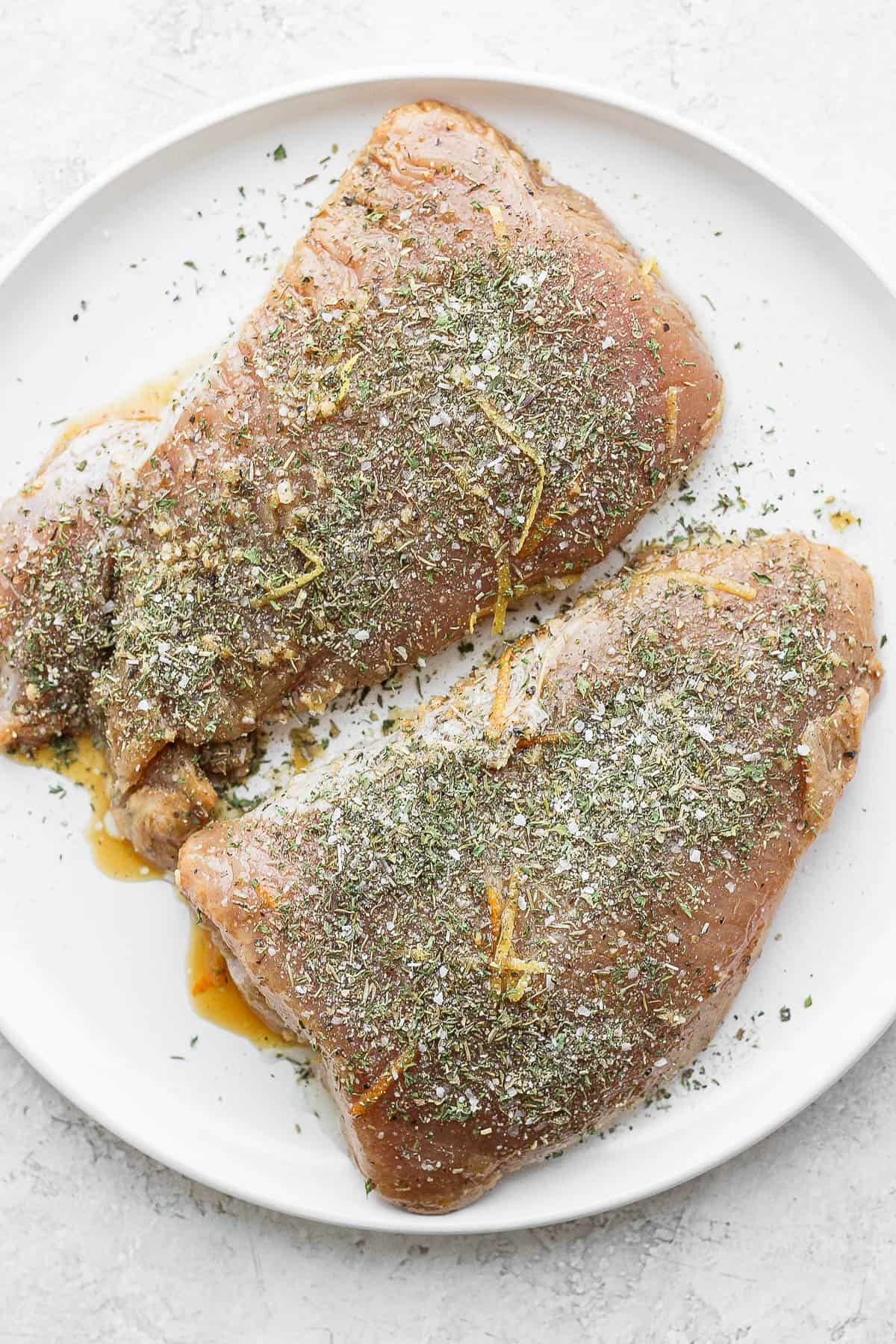 Sear on all sides in a cast iron skillet.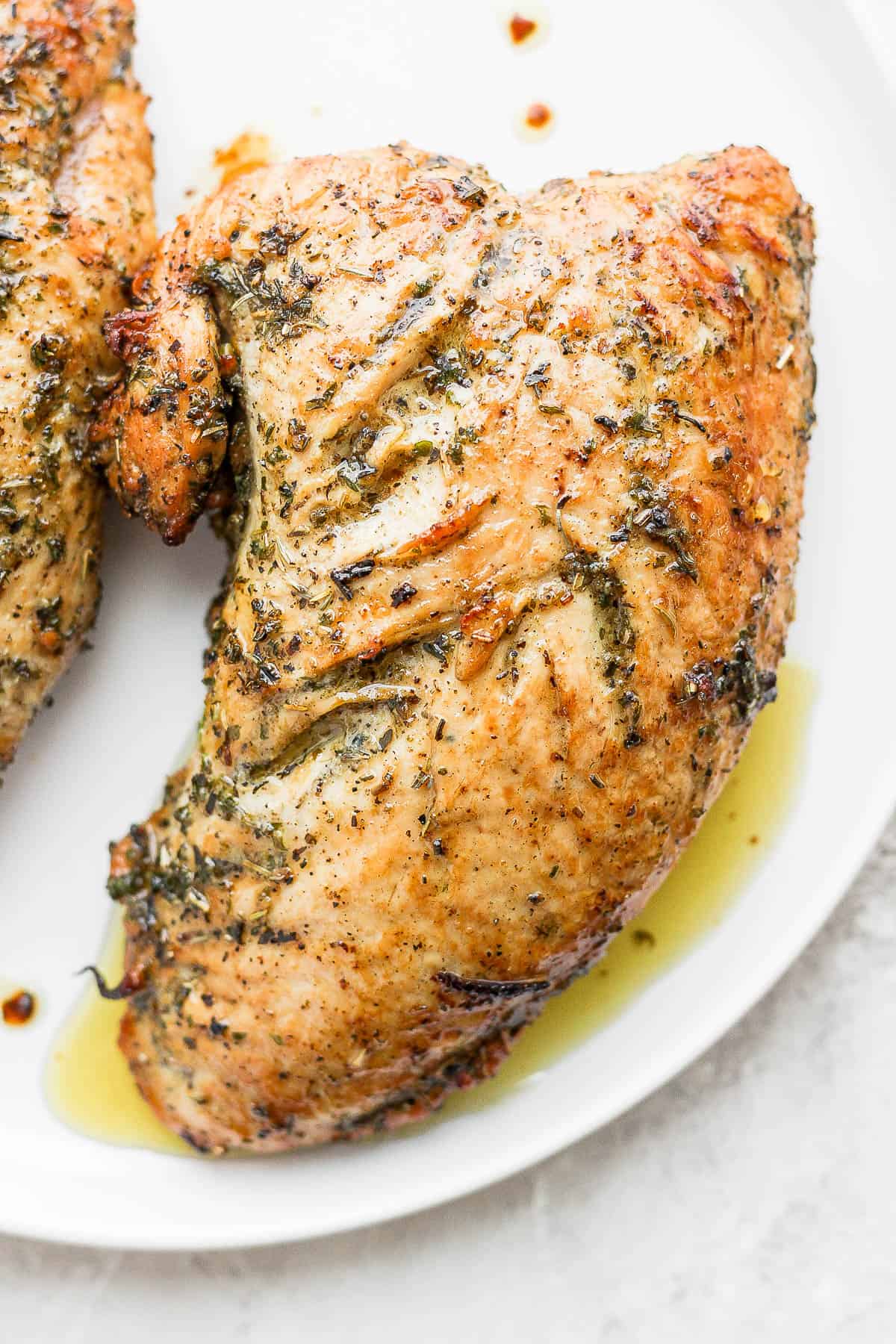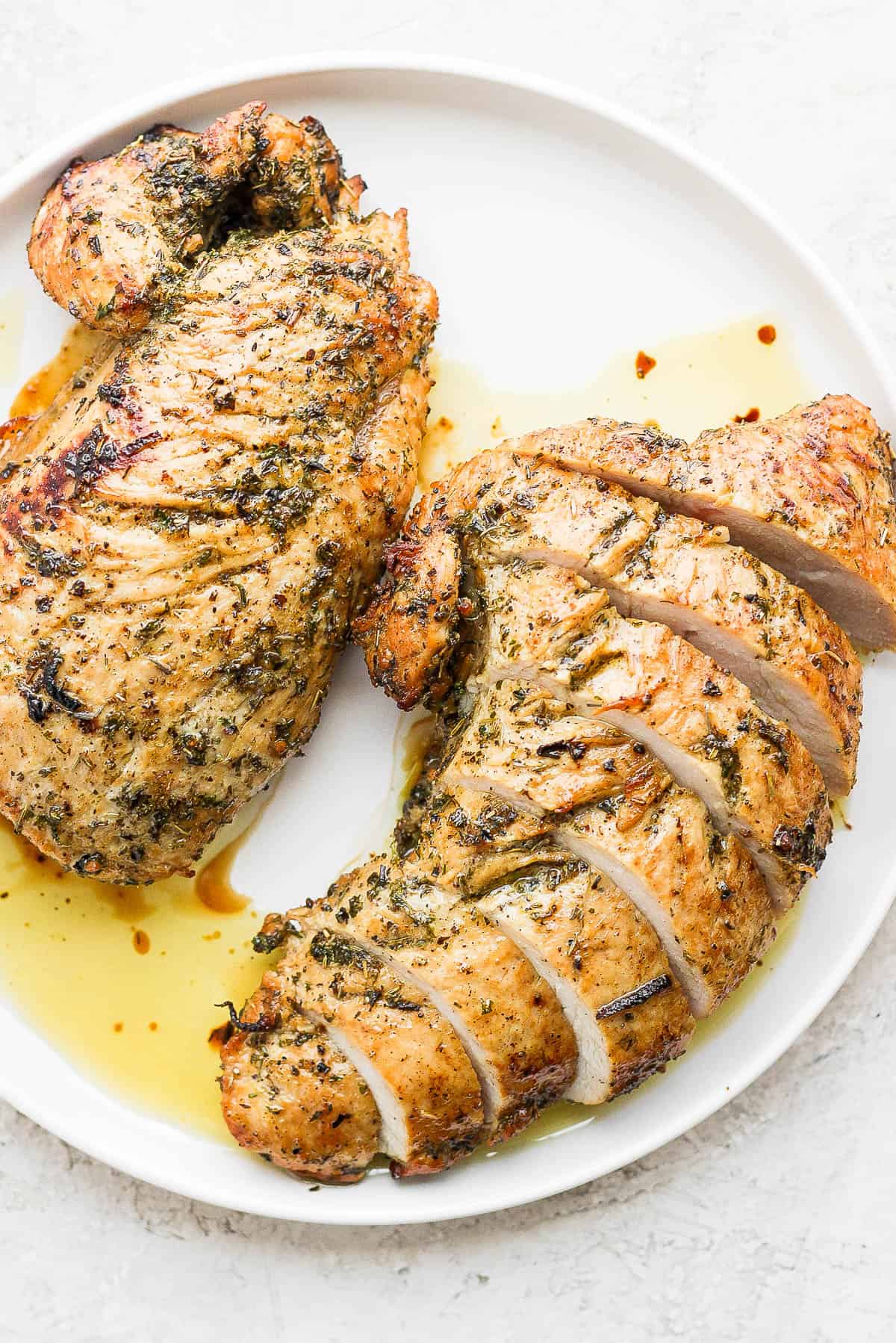 Recipe FAQ
Turkey Tenderloins: as long as they are approx. 1 lb each you will be fine! The ones shown are closer to 3/4 lb.
Leftovers: store in an airtight container in the refrigerator and use some to make leftover turkey salad!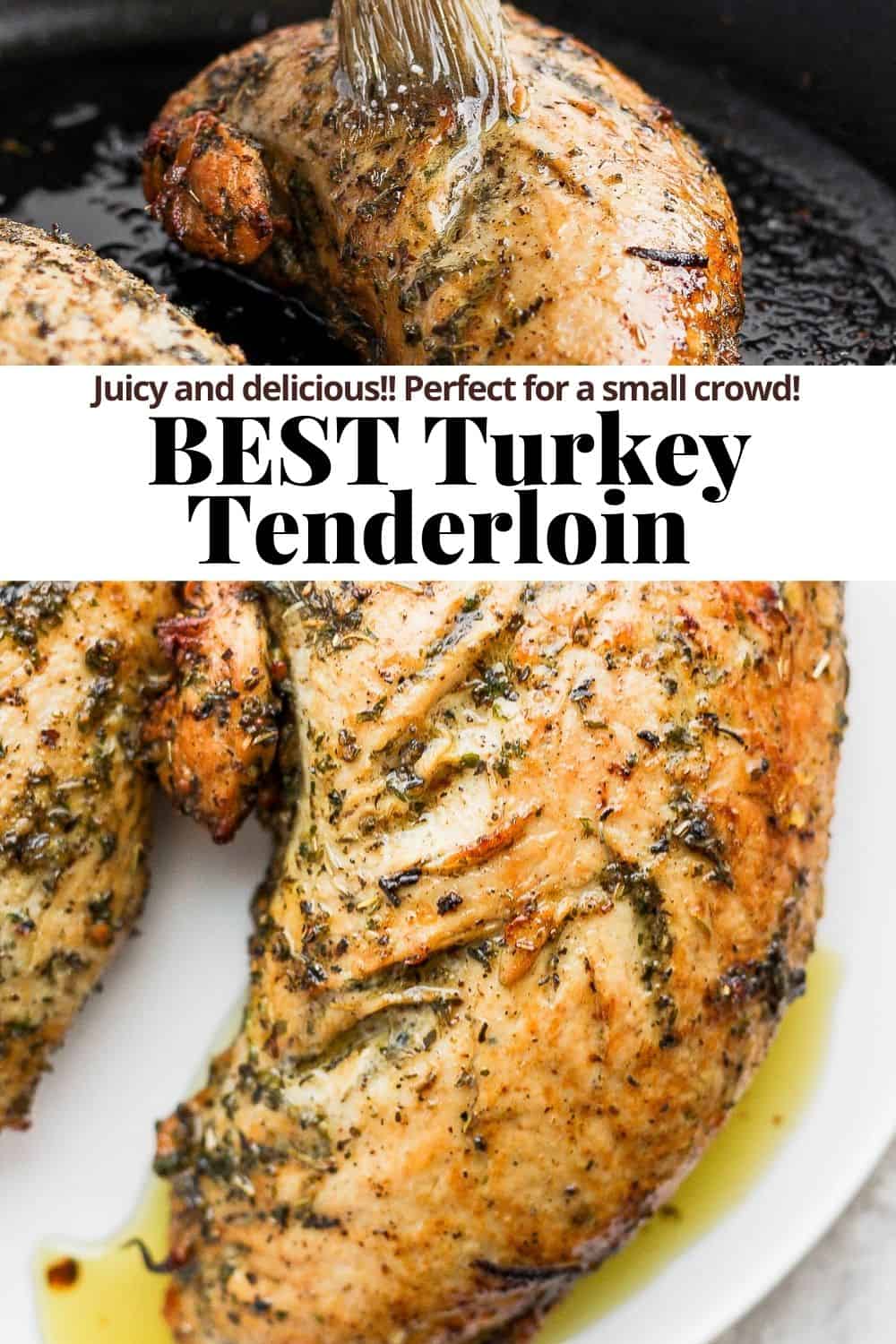 Made this recipe and loved it?! We would love it if you would take a minute and leave a star rating and review – it is also helpful if you made any substitutions or changes to the recipe to share that as well. THANK YOU!
Don't forget to check out my Instagram account for some behind-the-scenes action! Or give me a follow on Facebook or see what I am pinning on Pinterest!
Print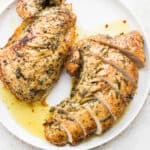 Turkey Tenderloin
Author: Erin Jensen
Prep Time: 5 minutes
Marinate Time: 30 minutes
Cook Time: 30 minutes
Total Time: 1 hour 5 minutes
Yield: 8 servings 1x
Category: Dinner/Entree
Method: Stove Top + Oven
Cuisine: American
---
Description
Turkey Tenderloin (+ marinade) – an insanely juicy and flavorful turkey tenderloin recipe (or turkey breast tenderloin)- so delicious!
---
1 batch Turkey Marinade
1 batch Turkey Seasoning
(2) 1lb turkey tenderloins (or turkey breast tenderloins)
1 tablespoon olive oil (or ghee)
2–3 tablespoons butter or ghee, melted
---
Instructions
Combine your Turkey Marinade ingredients. Place turkey tenderloins in a small pan or silicone bag. Pour marinade over top and ensure turkey is fully coated. Place in refrigerator for 30-60 minutes. Meanwhile, combine your Turkey Seasoning ingredients in a small bowl.
Remove from marinade (don't shake off extra) and place on a plate. Cover in Turkey Seasoning mixture and rub all over ensuring it covers every part of the turkey.
Preheat oven to 350 degrees F.
Bring a large cast iron skillet to medium-high heat. Add olive oil or ghee and swirl to coat the pan. Add turkey tenderloin and sear on all sides (about 1-2 minutes per side).
Turn off stove and carefully move skillet to oven, middle rack and uncovered.
Let cook 20-30 minutes or until the turkey reaches an internal temperature of 165 degrees F. at it's thickest part using an internal meat thermometer. Baste once or twice during cooking with melted butter or ghee. Once you use up the melted butter, you can baste with the pan juices (there won't be a ton, but there should be enough to baste with a brush).
Remove from oven and let rest 10 minutes. Slice and serve!
---
Notes
Turkey Tenderloins: as long as they are approx. 1 lb each you will be fine! The ones shown are closer to 3/4 lb.
Leftovers: store in an airtight container in the refrigerator and use some to make leftover turkey salad!
Keywords: turkey tenderloin, turkey tenderloin recipe, turkey breast tenderloin, turkey tenderloin marinade