Chorizo and Eggs Weeknight Dinner Bowl – a quick and easy dinner for those nights when you have nothing prepared! Ready in 20 minutes!! (Whole30/Paleo/Dairy-Free)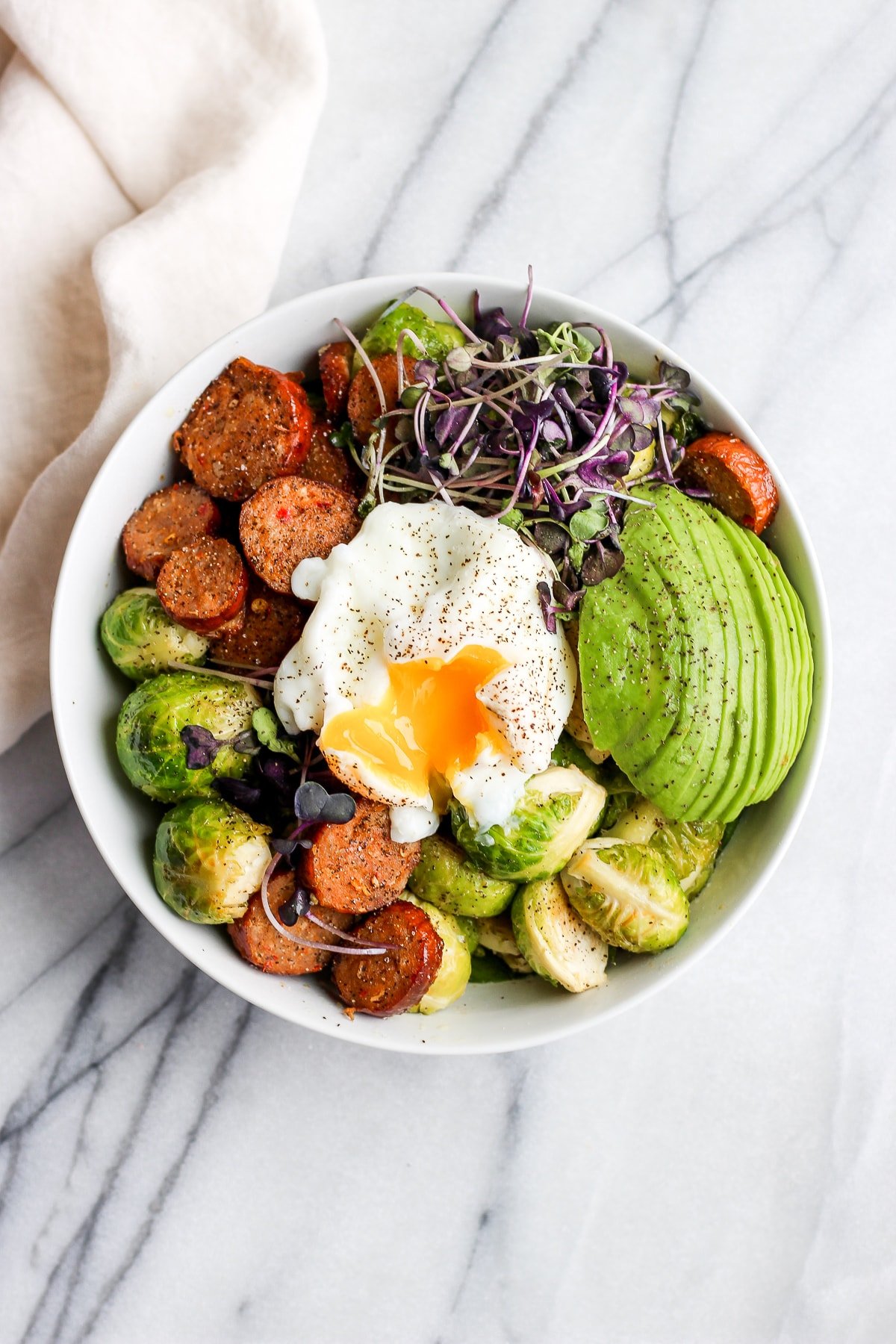 It doesn't get any easier than this, you guys!
Chorizo and Eggs Dinner Bowl
This recipe was really just born out of me not knowing what to make for dinner one night. I wanted something really simple, quick, no-fuss and Whole30.
Chorizo and Eggs to the rescue!
I knew I had some Whole30 compliant chorizo in the freezer and a bag of Brussel sprouts in my crisper – I thought they would taste pretty darn good together so I just threw them together on a baking sheet and tossed it in the oven (I even put the chorizo in the oven still frozen…). About 15 minutes later, the spiciness of the chorizo had melted into the Brussel sprouts and it was pure deliciousness. (For reference, I use the Garrett Valley brand of chorizo and I get it at my local co-op in the frozen section).
I made it again a couple days later for my husband, but this time I added a fried egg and some avocado (for some healthy fat) – it was a winner!
You can also make a poached egg, like it did in the picture! I have a tutorial here on how I poach my eggs!
Can't wait for you guys to make this and put your own spin on it!
ALSO – fyi – I did a fun behind the scenes photo shoot for this in the Stories on my Instagram account! I saved it to my Highlights ("BTS #2") if you want to see my process 🙂
And – if you love a good easy-weeknight-dinner definitely check out my round-up of my favorite 40+ Easy Weeknight Whole30 Dinners!!! Perfect to save/pin for later!
Happy Friday, you guys!
Don't forget to check out my Instagram account – Or give me a follow on Facebook or see what I am pinning on Pinterest!
Print
20 Minute Chorizo and Brussel Sprout Weeknight Dinner Bowl
Author: Erin Jensen
Prep Time: 5 minutes
Cook Time: 15 minutes
Total Time: 20 minutes
Yield: 2–4 servings 1x
Category: Dinner/Entree
Method: Stove Top + Oven
Cuisine: American
---
Description
A quick and easy dinner for those nights when you have nothing prepared! (Whole30/Paleo/Dairy-Free)
---
4– 6 cups brussel sprouts (remove outer leaves, cut off bottom and then cut in half)
6–12 oz chorizo (check ingredients for Whole30 – I used Garrett Valley)
Olive oil
Salt
Pepper
1–2 avocados
2–4 eggs
Micro-greens for garnish, if desired.
---
Instructions
Preheat oven to 375.
Place prepped Brussel sprouts in bowl.
Drizzle with olive oil.
Sprinkle with a generous amount of salt and some pepper.
Use your hands to massage the olive oil into the Brussel sprouts.
Take a parchment-lined baking sheet and place Brussel sprouts on top.
Cut up chorizo into thick slices and add to baking pan.
Roast for 15 minutes, tossing halfway.
While that is roasting, prep as many avocado halves as you want.
Also, get your water ready to poach your eggs (NOTE: you can also just fry an egg if that is easier)
As soon as chorizo/brussel sprouts are ready, poach your eggs.
To serve, place chorizo/brussel sprouts in bowl, top with poached egg and half an avocado.
Garnish with micro-greens, if desired.
---
Keywords: Chorizo and Brussel Sprout