Sheet Pan Sausage and Veggies – an incredibly easy sheet pan dinner your entire family will love! (Paleo + Whole30 + DF + GF)
Sheet Pan Sausage and Veggies
This is so simple and needs to be added to your weeknight menu right away!
There is nothing I love more than a one pan or one sheet pan meal! So easy to throw together on a busy weeknight and the cleanup is minimal. An added bonus is that it's a great way to clean out the fridge with a bunch of vegetables that you need to use up. It is so versatile that you can really toss in almost any of your favorite veggies!
What Kind of Sausage Should I Use
You can use any sausage that you like, but for this recipe I prefer to use an Italian Sausage. If you want the recipe to be Whole30 or Paleo just be sure you check the ingredients to ensure that it is compliant (here is a nice round-up of different Whole30/Paleo sausages!).
What Can I Use Instead of Parchment Paper
If you do not have parchment paper or prefer to use something else you can always use aluminum foil or a Silpat which is a silicone baking pad that can be washed and used over and over again. Here is one that is a great option.
Can I use a Different Protein
Yes! You could easily swap out the sausage and use a different protein if you want! Just adjust your cooking time accordingly.
Are these Meal-Prep Friendly
Yes! You can easily prep this ahead of time by getting all your veggies chopped and ready to go. Then, just dump everything on your baking sheet and you are ready to go!
More Sheet Pan Meals
Do you LOVE one pan meals!? Here are a few more that you should check out:
So easy and so good!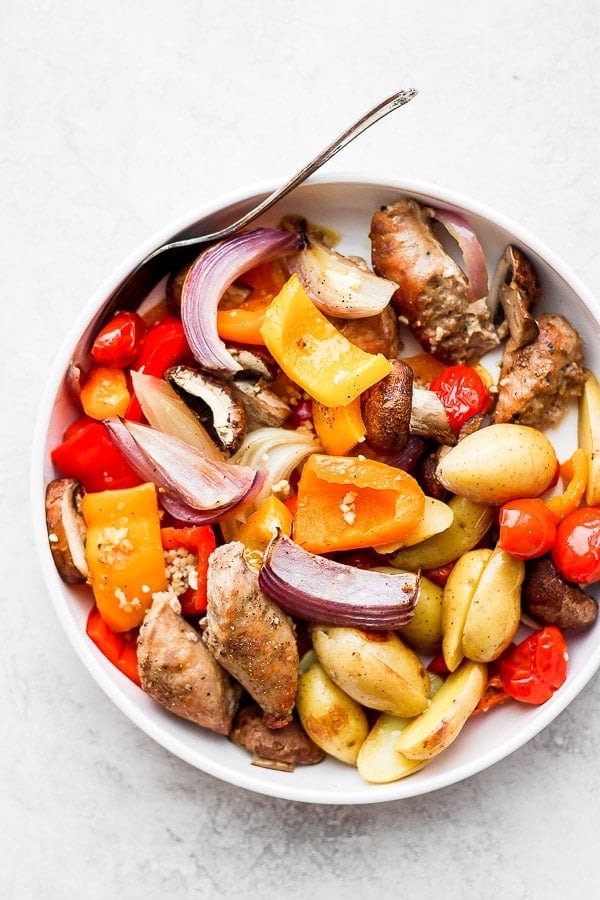 OTHER RECIPES YOU MIGHT LIKE:
Print
Sheet Pan Sausage and Veggies
Author: Erin Jensen
Prep Time: 15 minutes
Cook Time: 30 minutes
Total Time: 45 minutes
Yield: Approx. 4-6 servings
Category: Dinner
Method: Oven
Cuisine: American
---
Description
Sheet Pan Sausage and Veggies – an incredibly easy sheet pan dinner your entire family will love! (Paleo + Whole30 + DF + GF)
---
4–6 bell peppers, but into 1 inch chunks
1/2 red onion, cut into chunks
1/2 yellow onion, cut into chunks
1 pint cherry tomatoes
4–6 Italian Sausages, each cut into 3 chunks
avocado oil (1-2 tablespoons)
2 Tablespoons garlic, minced
salt and pepper (approx. 1 teaspoon of each)
optional: 2-3 cups fingerling potatoes, halved
optional: 1 pint of mushrooms
---
Instructions
Preheat oven to 425 degrees and line a large baking sheet with parchment.
Place the bell peppers, onions, tomatoes and potatoes (if using) on the baking sheet.
Drizzle with oil and massage into ingredients. Sprinkle with salt and pepper.
Add chunks of sausage.
Place in the oven for 20 minutes.
After 20 minutes, remove from oven and add mushrooms (if using).
Return to oven and continue cooking 10 additional minutes (of course if you aren't adding mushrooms, simply leave in the oven for a continuous 30 minutes).
Remove from the oven and allow to cool slightly.
Serve immediately.
---
Notes
Parchment Paper: I wouldn't recommend using parchment at a time higher than 425.
Bell Peppers: Feel free to use a combo of red, yellow and orange bell peppers. If you are a big fan of green bell peppers, those would work too!
Onions: feel free to use either red or yellow onion, but the flavor is the best when you can use a combo of the two. Ultimately just use what you have to keep it simple!
Sausage: if Whole30/Paleo just double-check the ingredients on your sausages
Fingerling Potatoes: these are optional, but they are a nice way to round out the meal with some carbs!
Keywords: Sheet Pan Sausage and Veggies