Roasted Rosemary Garlic Leg of Lamb – a special and delicious holiday meal! (Paleo + Whole30 + GF + DF)
The most amazing recipe for a perfect Roasted Rosemary Garlic Leg of Lamb!
Lamb is one of those cuts of meat you only eat about once a year, maybe twice if you are lucky. For us it is either a Christmas or Easter dinner – this year we made it for an early Christmas dinner with my mom and I knew I just had to share our recipe with you guys!
Tips for Roasting a Leg of Lamb
Cook the fat side up so it self-bastes
Cut a TON of slits in the lamb and stick slivers of raw garlic inside …. amazing.
Add a crust of salt, pepper and rosemary
Very few ingredients, but they just meld so beautifully together. An absolute favorite meal of mine! Oh and you HAVE to try dipping it in this Creamy Whole30 Horseradish Sauce!!! I know mint jelly is traditional, but I actually prefer the horseradish sauce!
But lets talk quick about the biggest question everyone has about their leg of lamb……
How long to cook roasted leg of lamb:
In order to determine how long you need to cook your leg of lamb you need to determine how many pounds your lamb is and how well-done you want it cooked.
Medium-Rare Finish – you need to cook your lamb approx. 20 minutes per pound (145 internal temp)
Medium Finish – you need to cook your lamb approx. 25 minutes per pound (internal temp of 160 degrees)
Medium-Well Finish – you need to cook your lamb approx. 30 minutes per pound (175 internal temp)
If you are have something different than a whole leg of lamb, check out this awesome chart that really breaks it down for you! So handy!
Do you cover lamb when roasting
No. You do not need to cover lamb when roasting. Since it is a long, slow roast you don't need to and it allows that skin to get nice and crispy. You can loosely cover it with foil, if you want, but I would highly recommend removing the foil for at least the last 30 minutes.
Do you sear the lamb before roasting
No. You do not need to sear the lamb before roasting. That being said, you certainly can and it won't hurt and change this recipe. But we have made this countless times without searing and it turns out so flavorful and amazing! One less step to worry about!
What to serve with it
Serve with some Whole30 Mashed Potatoes, Dairy-Free Green Bean Casserole and/or this Paleo-Friendly Sweet Potato Pie Bake!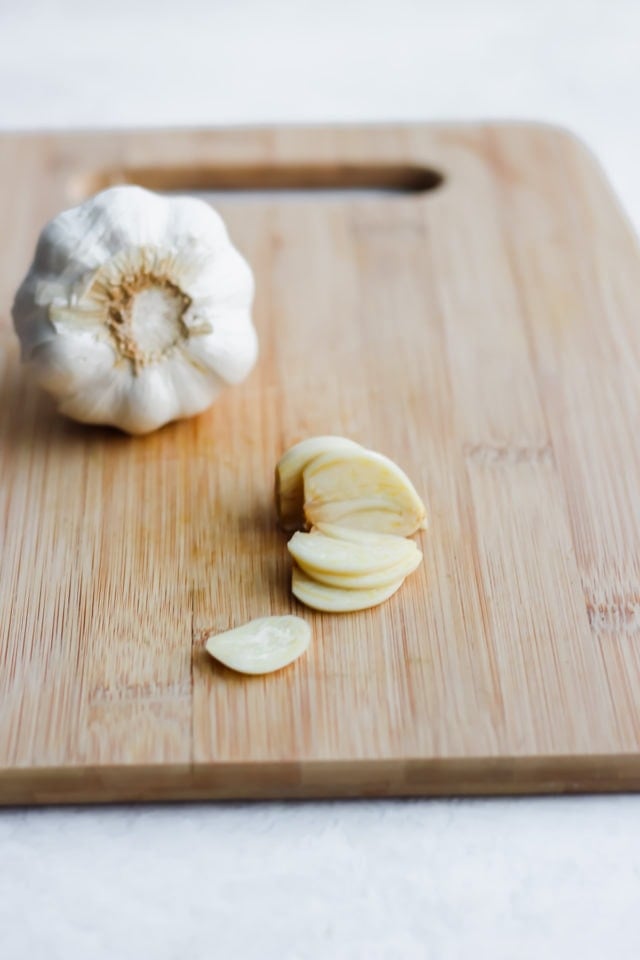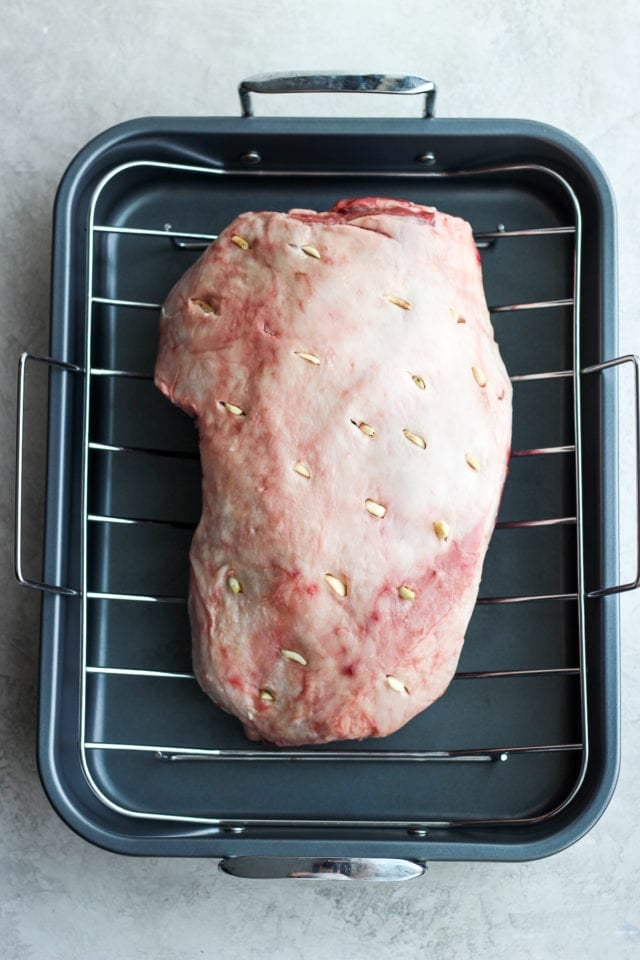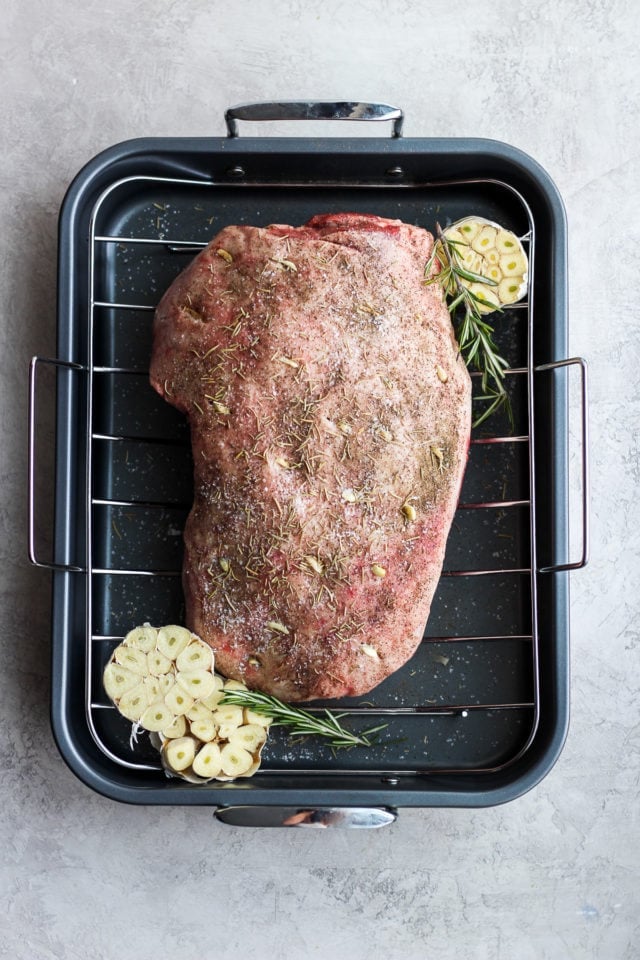 Other recipes you might like:
Don't forget to follow me on Facebook, check out my Instagram account or see what I am pinning on Pinterest!
Love,
E
Print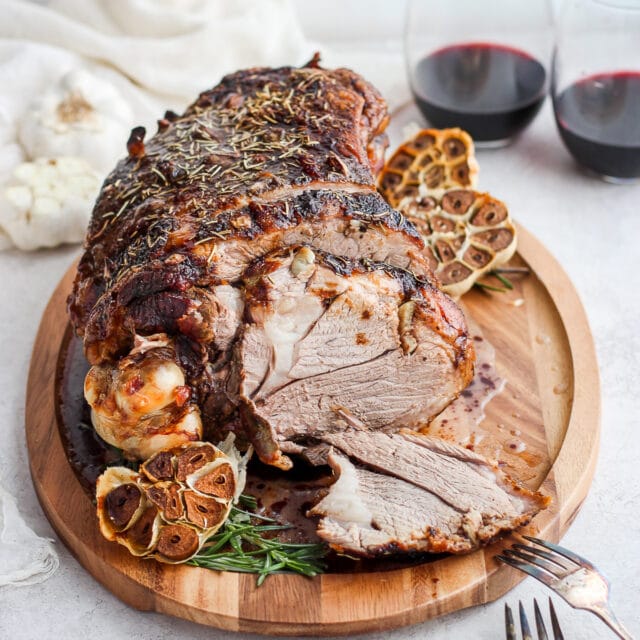 Roasted Rosemary Garlic Leg of Lamb
Author: Erin
Prep Time: 15 minutes
Cook Time: 3 hours 20 minutes
Total Time: 3 hours 35 minutes
Yield: Approx. 8-12 servings
Category: Entree
Method: Oven
Cuisine: American
---
Description
An absolutely delicious and simple roasted leg of lamb recipe that is always a crowd pleaser at Easter, Christmas or any special occasion!
---
Scale
Ingredients
1 bone-in leg of lamb (picture shows 8lb leg of lamb)
2–3 garlic cloves, cut in thick slices
2–3 Tablespoons dried rosemary
salt
pepper
---
Instructions
Preheat oven to 325 degrees.
Place leg of lamb in roasting pan with rack, fat side up.
Take a small knife and cut approx. 1 inch deep slits randomly all over the lamb, large enough to fit a slice of garlic in.
Slide a slice of raw garlic into each slit (you really can't have too many, but the more you have obviously the more garlicky your lamb will be).
Sprinkle a healthy amount of salt and pepper over the entire leg.
Then take the rosemary, 1/2 Tablespoon at a time in your hand, and crush it with your fingers and then sprinkle all over.
Place lamb in oven, uncovered, and cook approx. 25 minutes per pound for a medium finish (160 degrees internal temperature – check with internal meat thermometer).
Remove from oven and let rest approximately 20 minutes before carving, lightly covered with foil.
---
Notes
Alternate Cooking Times: 20 mins per pound for medium-rare – 145 degree internal temp; 30 mins per pound for well done – 170 degree internal temp
Serving Suggestion: I highly recommend serving with some paleo creamy horseradish sauce, some mint jelly or even some roasted garlic.
Keywords: roasted leg of lamb
Thank you so much for reading & supporting The Wooden Skillet! This post contains affiliate links for products I actually use in my own home and personally recommend. Should you make a purchase using one of these links, The Wooden Skillet will earn a small commission at no extra cost to you, which helps me continue to bring you great original content. Thank you!