This easy Italian Wedding Soup recipe is a perfect bowl of warm comfort food, great for those cooler months! Made with homemade meatballs, fresh vegetables, cannellini beans, warm broth, and the option to pile lots of parmesan cheese on top.
Best Italian Wedding Soup Recipe
A classic Italian wedding soup recipe is full of so many great flavors, like garlic, Italian seasoning, seared meatballs, and a fresh herb bundle. Serve this over the classic acini de pepe or, if you can't find it, orzo will also work! The best way to enjoy this recipe is to serve over the pasta so that you don't lose all your broth by the pasta soaking it up to cook. Just a little tip from us to you! This recipe has definitely become a family favorite. We love making a batch of this easy soup recipe on a Sunday night for dinner so that we can enjoy leftovers all week long!
Looking for more delicious soup recipes? Checkout our complete list of 31+ Soup Recipes!
What You Will Need
meatballs:

ground beef & ground pork – we absolutely love this meat combination, but you could also use ground chicken or ground turkey.
Italian seasoning – option to buy some from your local grocery store or make your own!
fresh parsley, kosher salt, & ground black pepper – perfect combination of simple seasonings that bring a lot of flavor to these meatballs.
garlic – because everything is better with garlic, especially when making an Italian-inspired recipe.
lemon zest – a bit of acidity to help bring out all the great flavors.
egg – just one to help bind the meatballs together.
parmesan cheese – always a must for the best Italian wedding soup recipe!
bread crumbs – another ingredient to help hold things together, plus you can easily make your own breadcrumbs right at home!

soup:

butter – just a little to help cook the aromatics of this recipe.
yellow onion & garlic – the simple aromatics that are always a must for any homemade soup recipe.
celery & carrots – some fresh vegetables for added color and a bit of crunch.
chicken broth – option to pickup your favorite from the store or, if you have the time, make a batch of homemade broth!
Italian seasoning & kosher salt – a couple simple seasonings to bring so much amazing flavor.
lemon zest – a little bit of acidity to bring out all the flavors going on in this easy soup recipe.
white wine – we love to add a little bit for the flavor but you could also substitute with more chicken broth, if that's not your thing.
cannellini beans – great for a little added protein and texture.
herb bundle – feel free to use a combination of fresh herbs that work for you, we love this one!
fresh kale – you could also use fresh baby spinach leaves.
acini de pepe – this is the traditional pasta that is used in this soup, but you could easily substitute with another tiny pasta, like orzo pasta or pearl couscous if you can't find it.
Why Do They Call It Italian Wedding Soup
The "wedding" part of this soup originates from the Italian phrase "minestra maritata" which means "married soup". So why is it a married soup? Because it describes the marriage of the ingredients that give this soup it's amazing flavor! These traditional wedding soups always have a combination of fresh vegetables and meat.
How To Make Italian Wedding Soup
This process begins by mixing up the meatballs. First, place all meatball ingredients in a medium bowl and mix to fully combine.
Pro tip: we like to use clean hands to combine this meat mixture, it just works best!
Now take about 1/2 – 1 tablespoon of that meat mixture and form into small meatballs. We love using a cookie dough scoop for this to keep them uniformly sized.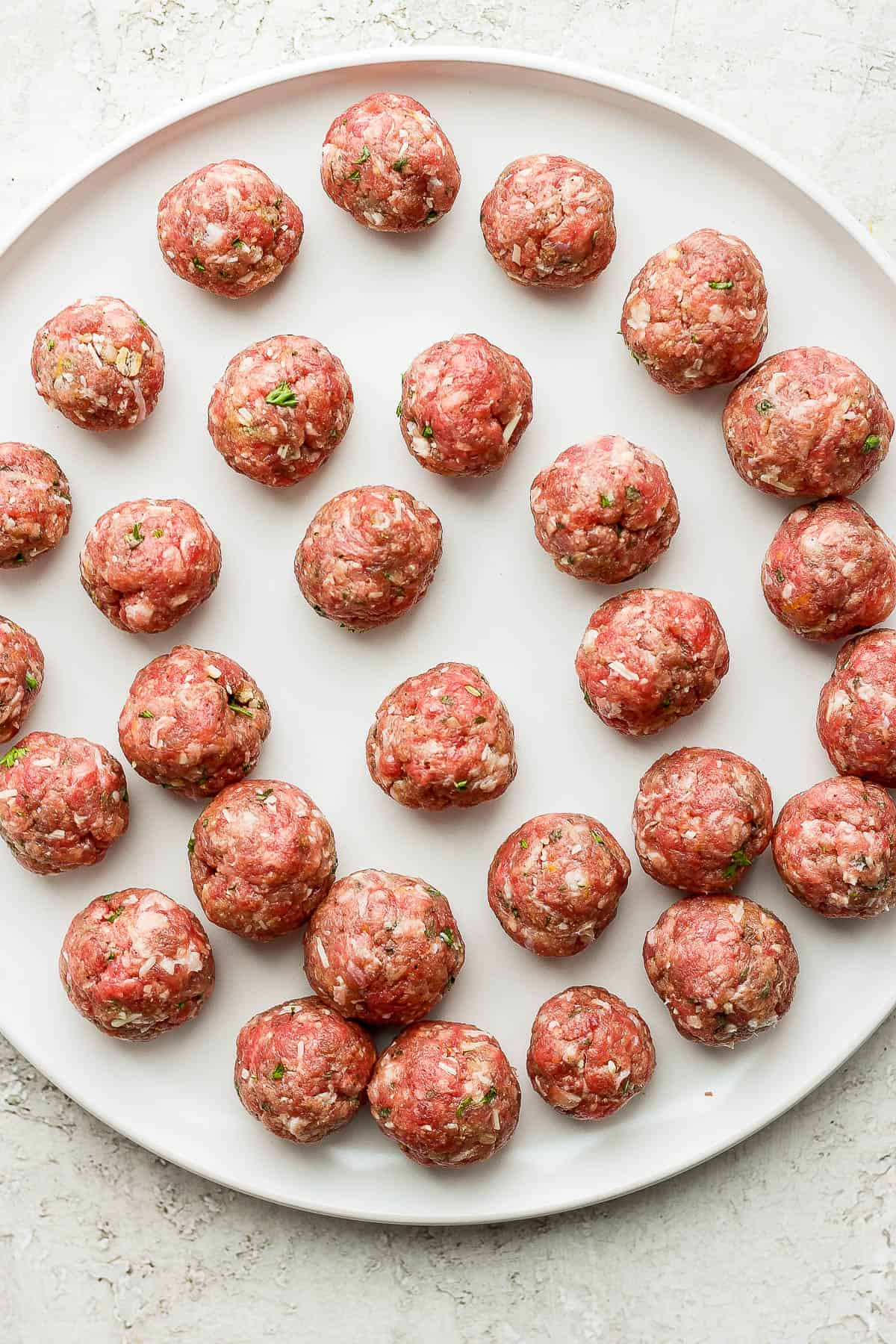 Grab a large dutch oven, bring it to a medium heat, add a drizzle of extra virgin olive oil, and then sear the meatballs on all sides. This may need to be done in batches.
In this step, you are simply searing the outsides. They do not need to be fully cooked. Set them aside on a plate.
Next, grab a large kitchen knife and your favorite cutting board to prep your fresh vegetables and onion.
Now it's time to deglaze the large pot. Add a splash of the chicken broth and use a spatula to scrap the cooked bits of meatballs off the bottom. Then add the butter to melt and the garlic to cook until fragrant. Next, the onion, carrots, and celery to sauté for about 3-4 minutes.
Pour in the rest of the chicken broth, salt, Italian seasoning, lemon zest, white wine, cannellini beans, herb bundle, kale, and the meatballs along with any juices that have settled on their plate into the soup pot.
Give it all a mix, cover, and let it all simmer on medium-low heat for about 10-15 minutes.
Meanwhile, cook the pepe pasta according to the directions on the box and serve the soup over this pasta once it is fully cooked. Finally, top the soup any way you want!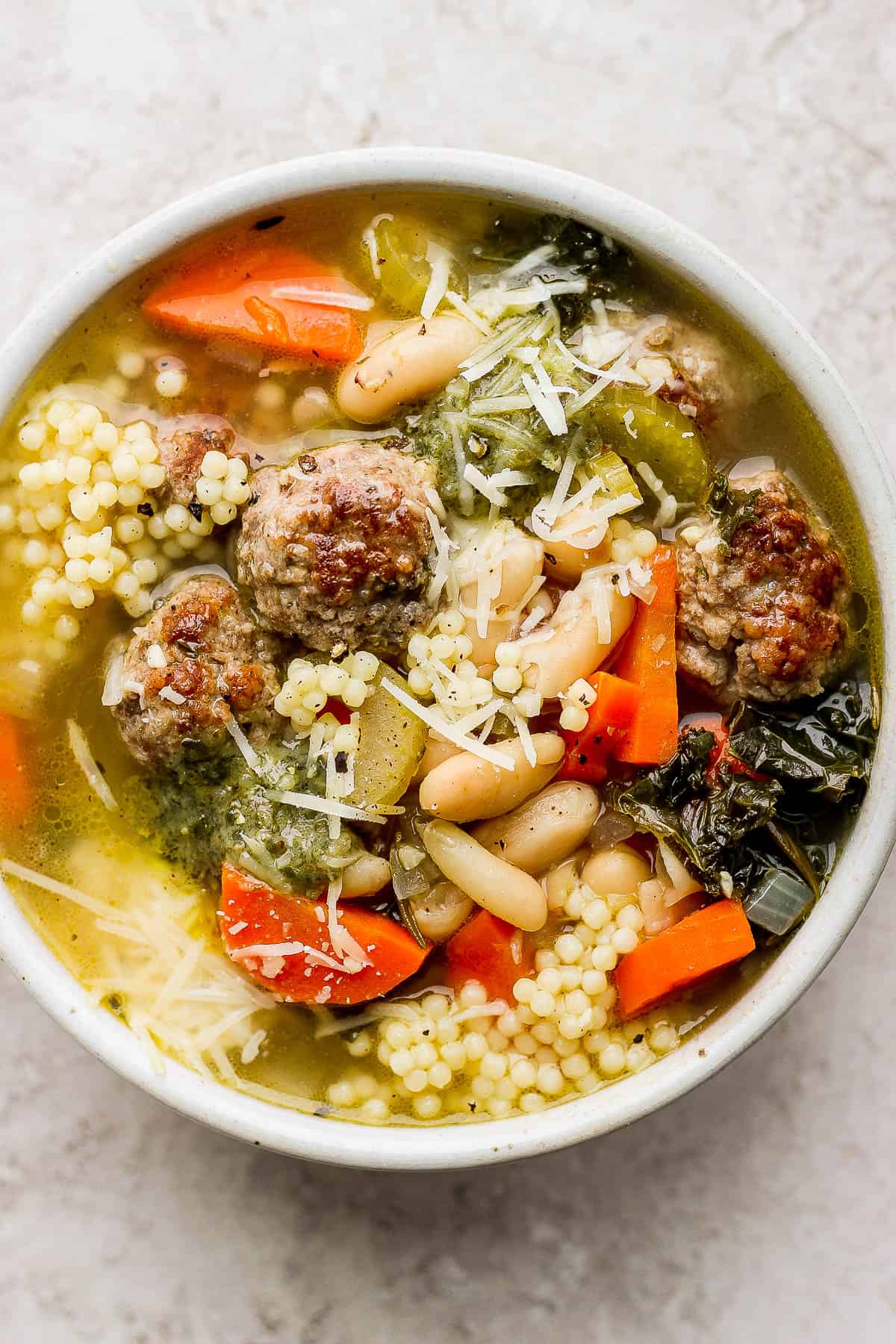 How To Serve The Best Italian Wedding Soup
First, the toppings! We highly recommend that you top this soup with a large dollop of basil pesto and a generous amount of freshly grated parmesan cheese. It is just so good! On the side you can serve it up with some buttered slices of sourdough bread, crusty bread, or even a few slices of grilled bread. It is simply what dreams are made of!!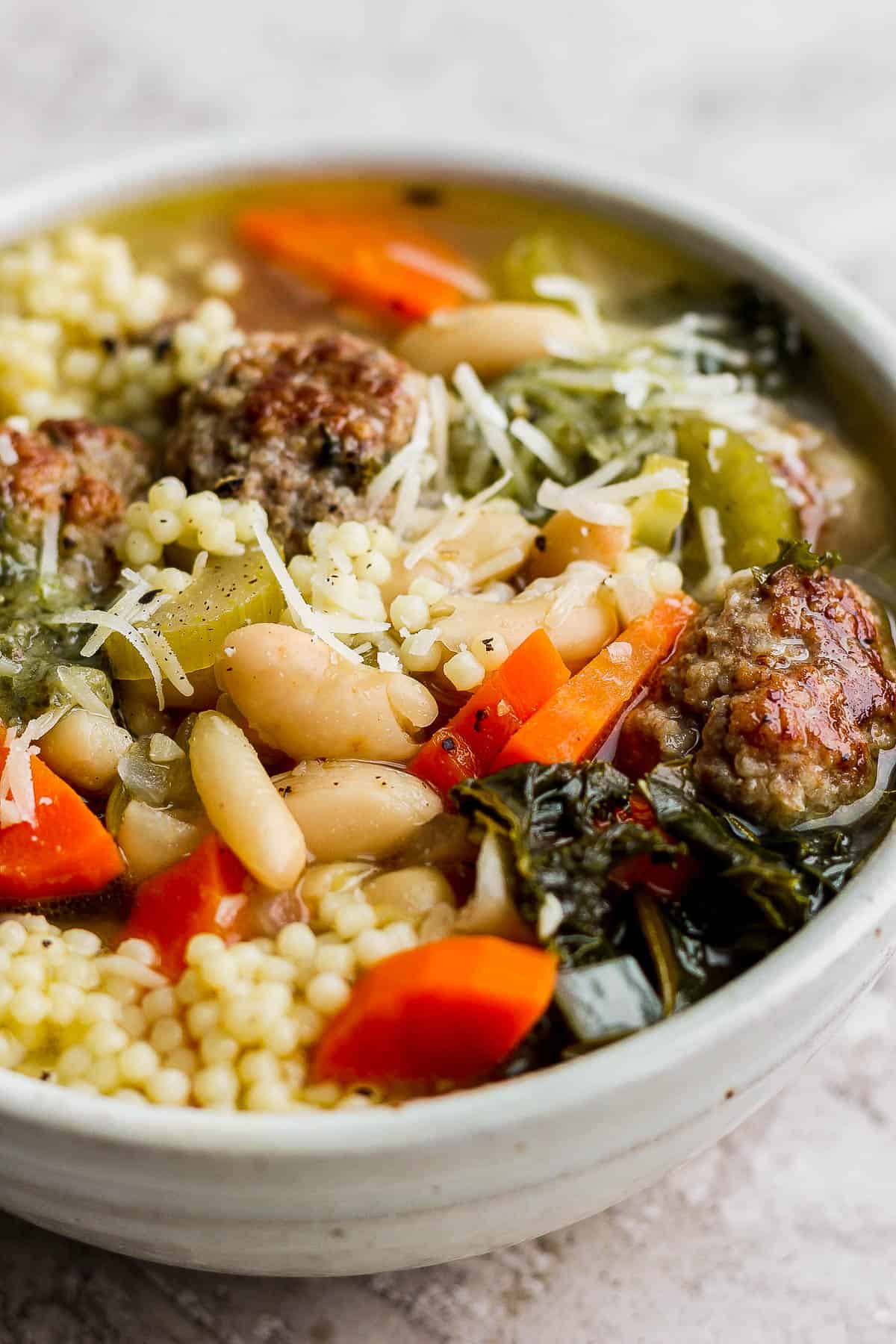 Recipe FAQ
meatballs: we used a mixture of ground beef and ground pork, but you can absolutely go with all beef, all pork, or switch it up with some ground chicken or turkey. You could even use store-bought meatballs if that is easier for you!
vegetables: we used fresh kale, but fresh spinach would also be amazing in this soup! Also, feel free to switch up the carrots or celery to whatever you have on hand or sounds good to you.
freezing: after you let the soup base cool for a bit, you can pour it into freezer-safe containers (make sure you leave a bit for expansion), and store in the freezer for 1-2 months. We just recommend that you don't make the pasta portion of the recipe until you thaw and reheat. It is NOT recommended to freeze the soup with the pasta in it. This will become very mushy.
leftovers: any leftover soup can be stored in an airtight container in the refrigerator for up to 3 days. Again, we recommend storing the soup separate from the pasta to prevent the pasta from soaking up all the broth and becoming mushy.
Made this recipe and loved it?! We would love it if you would take a minute and leave a star rating and review – it is also helpful if you made any substitutions or changes to the recipe to share that as well. THANK YOU!
Don't forget to check out my Instagram account for some behind-the-scenes action! Or give me a follow on Facebook or see what I am pinning on Pinterest!
Other Soup Recipes You Might Like
Print
Italian Wedding Soup Recipe
Author: Erin Jensen
Prep Time: 20 minutes
Cook Time: 40 minutes
Total Time: 1 hour
Yield: 12 servings 1x
Category: Soup
Method: Stove Top
Cuisine: Italian-Inspired
---
Description
Italian Wedding Soup Recipe – a dreamy, delicious Italian Wedding Soup recipe that is perfect with shaved parmesan cheese and crusty bread!
---
Meatballs:
1/2 pound ground beef
1/2 pound ground pork
2 teaspoons Italian seasoning
1/2 teaspoon kosher salt
1/4 teaspoon ground black pepper
1 tablespoon fresh parsley, chopped
2–3 teaspoons garlic, minced
1 teaspoon fresh lemon zest
1 egg
1/4 cup parmesan cheese, grated
1/3 cup breadcrumbs
Soup:
2 tablespoons butter (sub ghee, plant-based butter or olive oil)
2 teaspoons garlic, minced
1 small yellow onion, diced
3 medium carrots, sliced
3 stalks celery, sliced
5 cups chicken broth
1 teaspoon kosher salt, more to taste
2 teaspoons Italian seasoning
1 teaspoon lemon zest
1 tablespoon white wine
1 can cannellini beans, drained
1–2 handfuls fresh kale or spinach
3/4–1 cup acini de pepe
Toppings:
basil pesto
parmesan cheese, grated or shaved
sourdough bread with butter
---
Instructions
Form Meatballs: Combine Meatball ingredients in a medium sized mixing bowl. Stir to combine. Take approx. 1/2 – 1 tablespoon of the mixture (depending upon how small or big you want them) and form into meatballs.
Sear Meatballs: Bring a large Dutch Oven (5.5qt) to medium high heat. Add a drizzle of olive oil; swirl to coat the pan. Sear meatballs (in batches) on all sides until they are nice and browned. Remove from Dutch Oven (they won't be fully cooked, that's okay we don't want them to be yet) and place on a plate; set aside.
Deglaze Pan and Make Soup: Add a splash of the chicken broth (the rest will be used later) and use a spatula to scrape up the bits from the bottom of the pan. Add butter and let melt. Add garlic and move around the pan until it becomes fragrant, approx. 30 seconds. Add onion, carrots and celery. Sauté for 3-4 minutes. Add chicken broth, salt, Italian seasoning, lemon zest, white wine, cannellini beans, herb bundle, kale and the meatballs (along with any juices that have settled on the plate).
Simmer: Cover and let simmer approx. 10-15 minutes or until veggies are firm but tender and meatballs are cooked through.
Acini de Pepe: Meanwhile, cook acini de pepe per package instructions or check out this tutorial (see Notes).
Serving: place some cooked acini de pepe in a soup bowl. Ladle the soup over top. Add a few dollops of basil pesto along with a generous amount of grated or shaved parmesan cheese. Serve with sliced sourdough bread and butter!
---
Notes
Option to Bake Meatballs: for best results I recommend searing the meatballs because it adds more flavor and deliciousness to the soup, but I totally get it if you want to simplify things a bit! To bake the meatballs: place on a baking sheet lined with parchment paper and bake at 375 for about 15-20 minutes or until they are fully cooked (this will ultimately depend upon how big your meatballs are – it could take up to 25 minutes if they are bigger).
Chicken or Turkey Meatballs: you could definitely sub in ground chicken or ground turkey for the beef/pork combo if you want.
Acini de Pepe: I recommend cooking the acini de pepe separately simply because this soup make a lot and you are likely to have leftovers. If you cook the pasta in the soup it will only continue to soak up the broth as it sits – so leftovers may become mushy and not much broth will remain. If you want to cook the pasta in the soup you certainly can, add it in Step 3 when you put the meatballs back in – and maybe add an extra cup of chicken broth.
Acini de pepe substitute: if you can't find acini de pepe you could sub orzo in a pinch – again I would recommend cooking it separate.
Toppings: you HAVE to try the pesto on top (just grab store bought pesto to make things easy) and lots and lots of parmesan cheese – and then this soup is made for dipping buttered bread in it!
Storage: store leftovers in an airtight container in the refrigerator for up to 3 days.
Keywords: italian wedding soup