Mexican Street Corn Burger – a delicious addition to your summer menu planning line-up! Delicious Mexican Street Corn tops a juicy, flavorful cheeseburger and don't forget the fresh slices of avocado!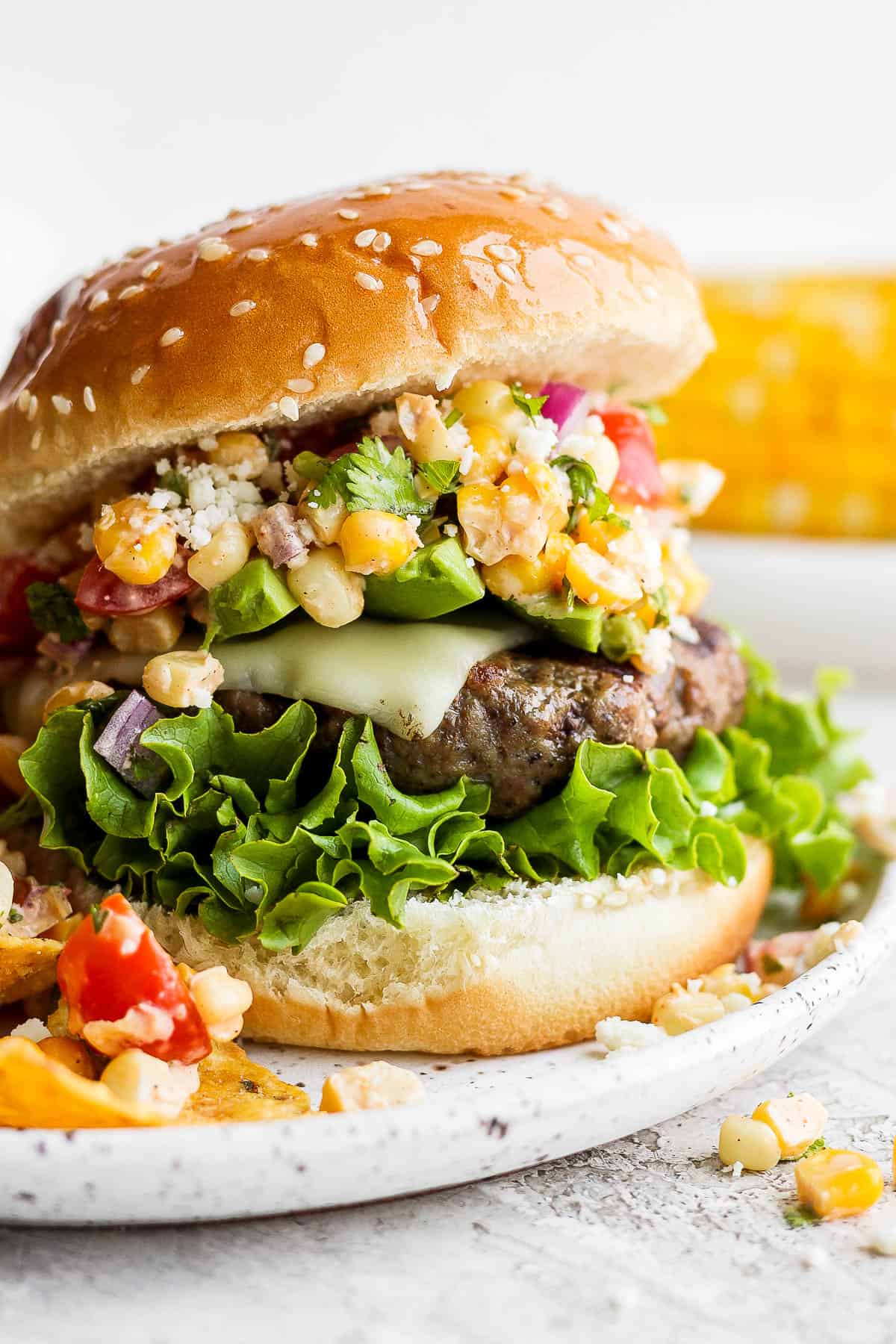 THIS POST IS SPONSORED BY:
This post is sponsored by Country Natural Beef, the opinions are my own.
Best Ever Mexican Street Corn Burgers
It is officially burger season (and grilling season) and we are SO here for it! I looove a good burger during the summer (See: How to Grill the Perfect Burger) and I am pumped to add this to our line-up. Mexican Street Corn Salad is a summer favorite in our house and if you make a big batch you can use leftovers for these burgers OR we have included a small batch recipe in the recipe card below!
Another reason these burgers are so good … the beef! Country Natural Beef is 100% owned by family ranchers and is G.A.P. Step 4 Animal Welfare Certified which means that their animals are pasture-raised, fed a vegetarian diet, provided a safe and enriched environment and never receive antibiotics or added hormones. They also happen to be a Whole30-Approved partner! And I have to say, this is honestly the best ground beef I have ever tasted. You truly can tell the difference and I am so proud to be partnering with them today!
Love Mexican Street Corn – try our Mexican Street Corn Dip or Mexican Street Corn Nachos!
Why This Recipe Works
Mexican Street Corn Salad: who doesn't love the crunch and burst of flavor of this yummy summer salad – we thought, why not throw it on a burger!
Juicy Burger: grilled to perfection!
Avocado: the avocado and lettuce just round out this yummy burger.
Mexican Street Corn Burger Ingredients
Mexican Street Corn Salad: corn, mayo, feta cheese, cilantro, lime juice, garlic, red onion and some seasoning make up our yummy street corn salad recipe! Easily made ahead of time!
cotija cheese: this is optional, but feel free to add as much or as little as you want!
Country Natural Beef Butcher Blend Ground Beef: if you are grilling burgers I can't recommend Country Natural Beef enough – it is such high-quality and you can absolutely taste the difference!
kosher salt + ground black pepper: I like to keep my seasoning simple when I grill burgers (because when you use high-quality meat you don't need a ton of seasoning), but we do have classic Burger Seasoning on the site if you prefer that.
slices of cheese: this can be regular cheese or a dairy-free version.
other toppings – lettuce + avocado slices: love the addition of both of these to this burger!
Other Burgers You Might Like
How to Make Mexican Street Corn Burgers
Make a small batch of our Mexican Street Corn Salad (recipe in the recipe card below) and set aside.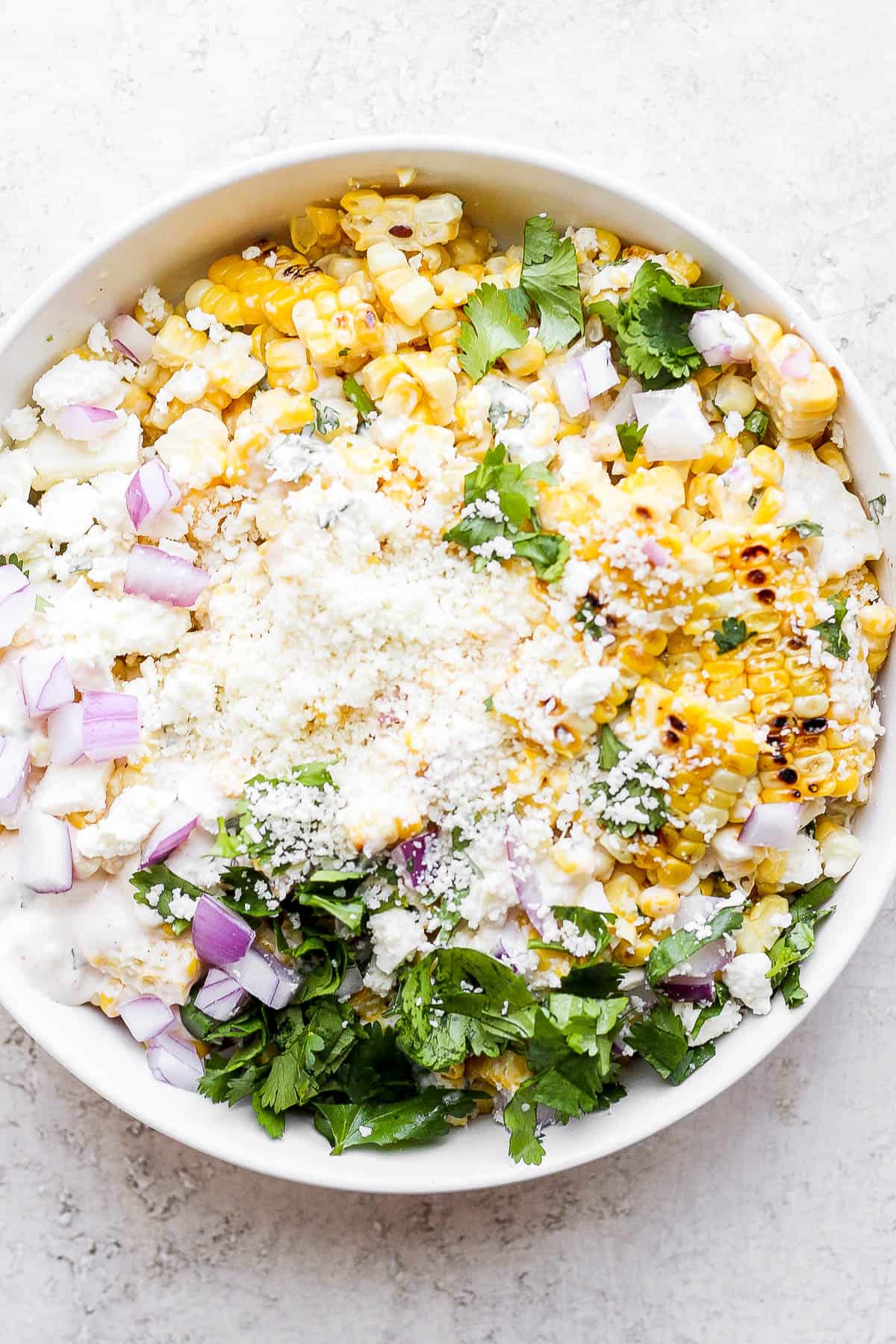 Combine your ingredients for the burgers – we like to keep things simple with just salt and pepper, but you can use our Burger Seasoning if you prefer!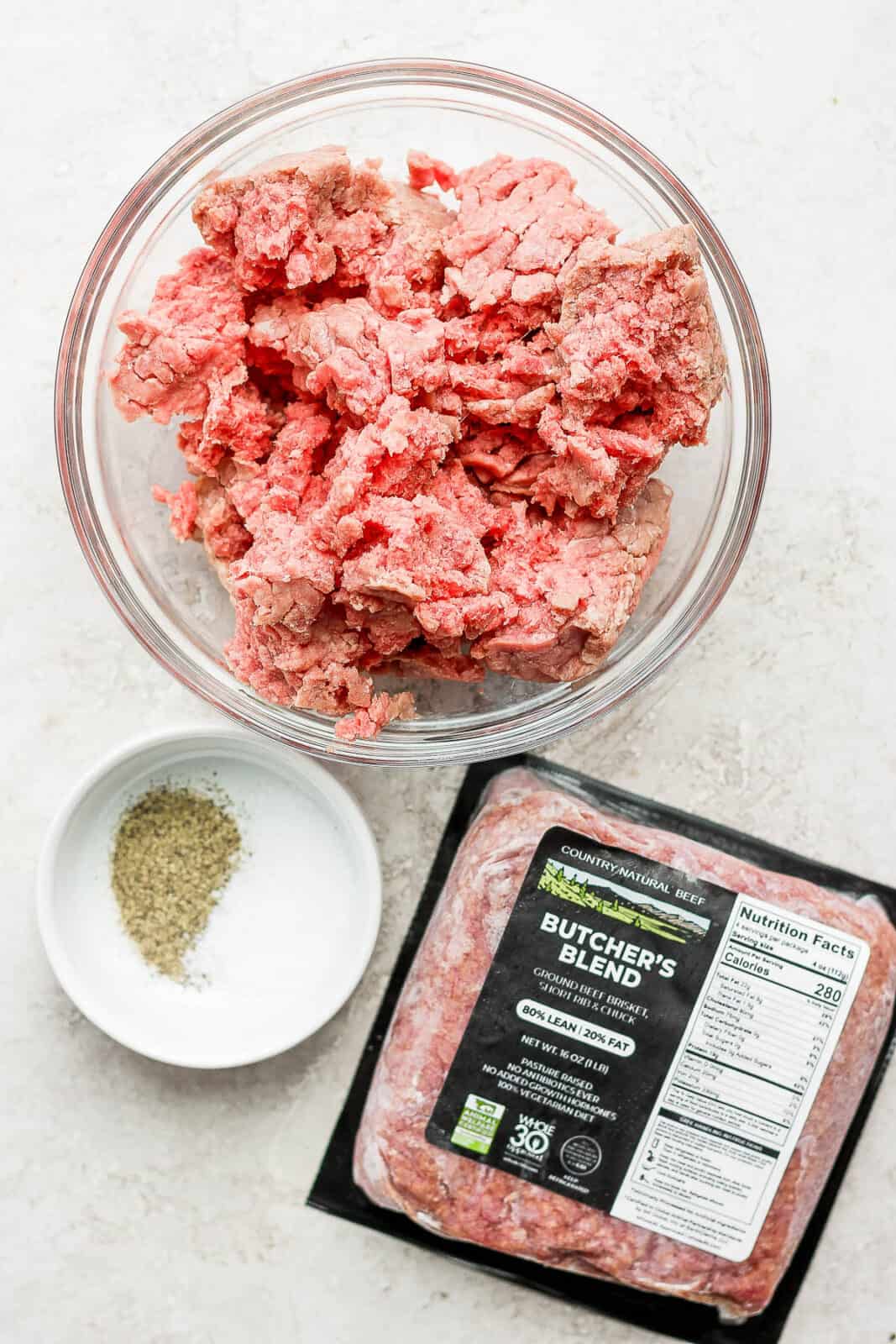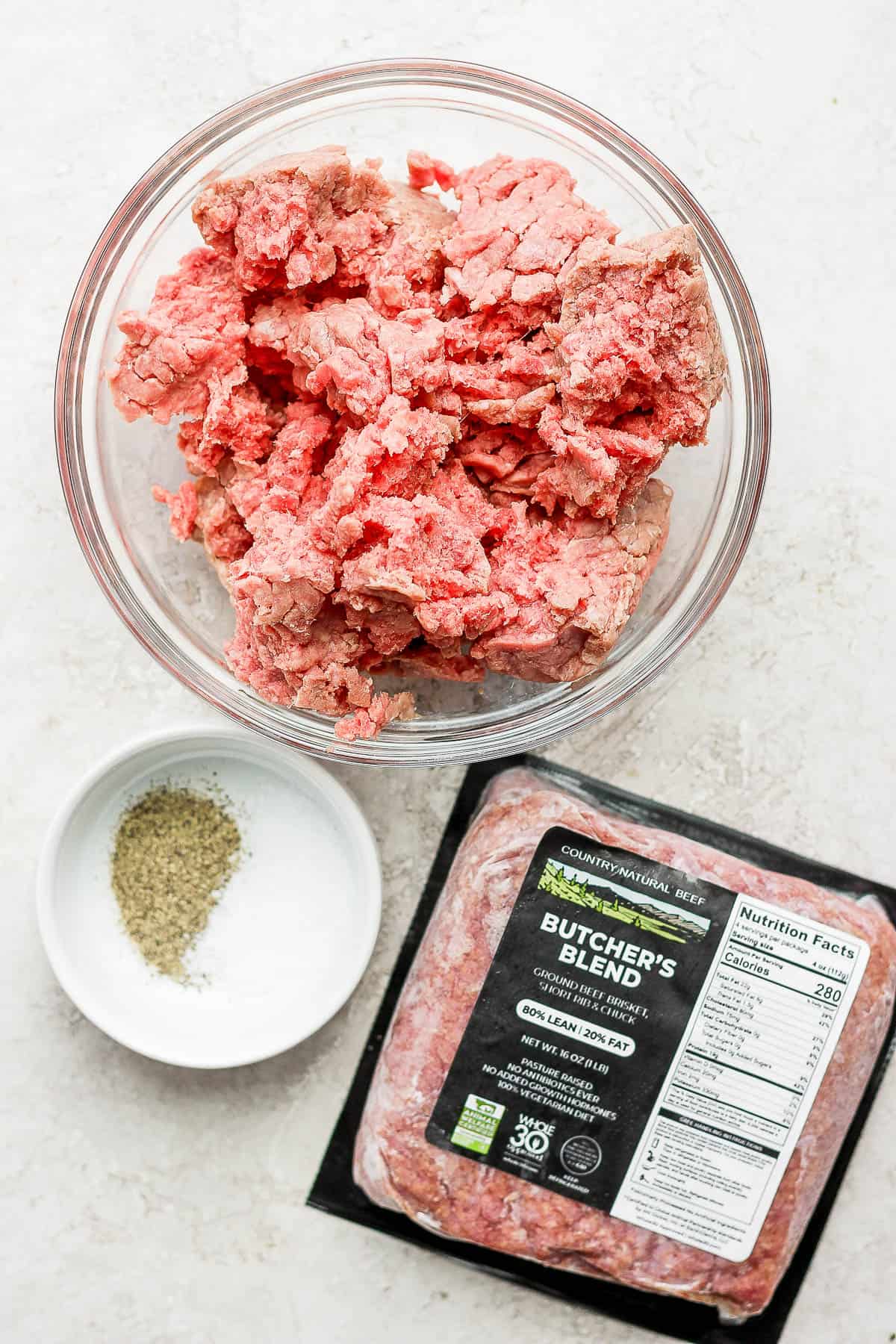 Using high-quality beef really makes a difference when making burgers!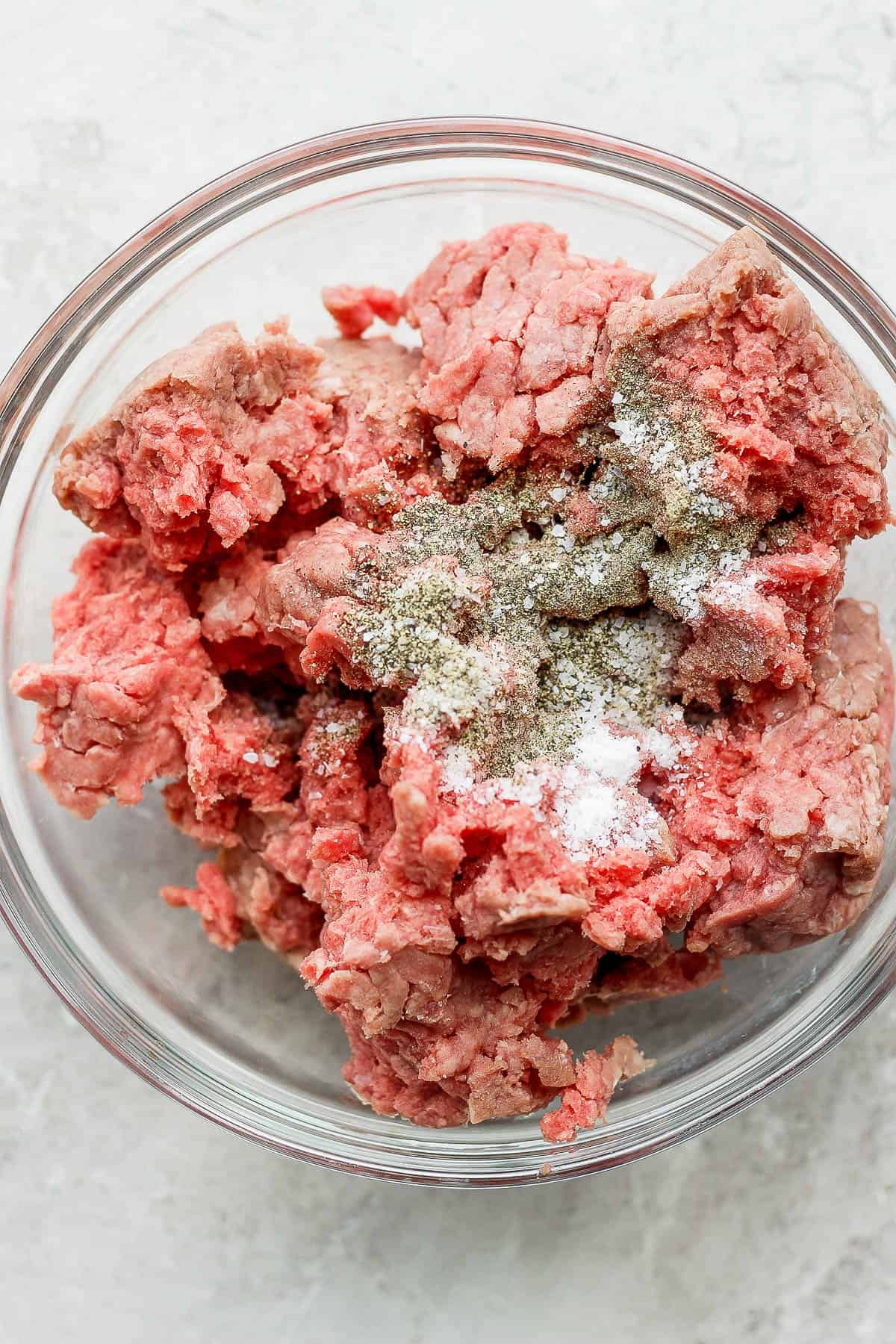 Form patties and press down in the middle with your thumb – this helps the burger cook evenly and not bulge up in the middle.
Grill over high heat per the recipe instructions below.
After the burgers rest a bit, compile your burgers!
Enjoy!
Don't forget to check out my Instagram account for some behind-the-scenes action! Or give me a follow on Facebook or see what I am pinning on Pinterest!
Made this recipe and loved it?! We would love it if you would take a minute and leave a star rating and review – it is also helpful if you made any substitutions or changes to the recipe to share that as well. THANK YOU!
Print
Mexican Street Corn Burger
Author: Erin Jensen
Prep Time: 15 minutes
Cook Time: 7 minutes
Total Time: 22 minutes
Yield: 3 burgers 1x
Category: Dinner/Entree
Method: Grill
Cuisine: American
---
Description
Mexican Street Corn Burger – a delicious, juicy grilled burger topped with some cheese, avocado and Mexican street corn salad!
---
Mexican Street Corn Salad (small batch):
3 ears grilled corn or canned corn (drained) (approx. 2 cups corn)
1/4 cup mayo
1/4 cup feta cheese (regular or dairy-free)
1 tablespoon cilantro, roughly chopped
1 tablespoon lime juice
1/2 tablespoon garlic, minced
1/2 teaspoon chili powder
1/4 teaspoon kosher salt
2–3 tablespoon red onion, diced
grated cotija cheese (as much or as little as you want)
Burgers:
1 1/2 teaspoon kosher salt
1 teaspoon ground black pepper
3 slices American cheese
Toppings:
---
Instructions
Mexican Street Corn Salad:
Combine ingredients in a medium-sized bowl. Taste and adjust any seasoning or add any additional ingredients, as desired. Set aside.
Burgers:
Clean your Grill: Clean your grill grates and and wipe them down with oil.
Preheat your Grill: Once your grill is clean and greased, preheat to High Heat (450-500 degrees F.).
Mix Your Ground Beef: Place your ground beef in a bowl and add salt and pepper (and other seasoning, as desired). Mix to combine.
Divide the Ground Beef: Take your ground beef and create 6 equal sized balls (you should end up with 6 patties that are approximately 5-6oz each and approximately 3/4 inches thick).
Create Patties: Then use your hands to form patties (try not to overwork the meat). Try and make them a little bit bigger than your bun (if you are using one) as they will shrink a little as they cook.
Create Indent with Thumb: Use your thumb to create an indent in the very center of your patty (this will help ensure the burgers cook evenly without expanding too much in the middle).
Season Lightly: Sprinkle patties with a little more salt and pepper.
Cook on Direct Heat 6-7 Minutes Total: Place patties on direct heat (directly over flame) for 3-4 minutes. Flip and continue to cook on direct heat or until an internal meat thermometer reads between 135-145 degrees F (approx. another 3-4 mins). This will result in a medium-rare center. For Medium: cook 3 minutes on the first side and 5 minutes on the second side. For Medium-Well cook 3 minutes on the first side and seven minutes on the second side. For Well-Done cook for 4 minutes soon the first side and six minutes on the second side.
Don't Press Down: Do not press down on the burgers with your spatula. This will release juices that we want to keep in the burger.
If Making Cheeseburgers: If you are making cheeseburgers, move your burgers to indirect heat and place a slice of cheese on top. Close the grill and let the cheese melt for 1-2 minutes.
Let Rest: Remove from grill and let rest for at least 5 minutes. This will help ensure your burgers are nice and juicy!
Compile Burgers: place lettuce on top of the bottom bun followed by your cheeseburger, avocado slices and then pile that Mexican Street Corn Salad nice and high!
---
Notes
Dairy-Free: to make this recipe dairy-free simply use a dairy-free feta cheese in the Mexican Street Corn salad (omit the cotija cheese) and then use a slice of dairy-free cheese on the burger!
Gluten-Free: to make this recipe gluten-free simply use your favorite gluten-free burger bun!
Make Ahead: the Mexican Street Corn Salad can easily be made ahead of time. Just store in the fridge in an airtight container.
Keywords: mexican street corn burgers