Mexican Street Corn Salad – a popular side dish for any meal, this mexican street corn salad recipe is easy and delicious!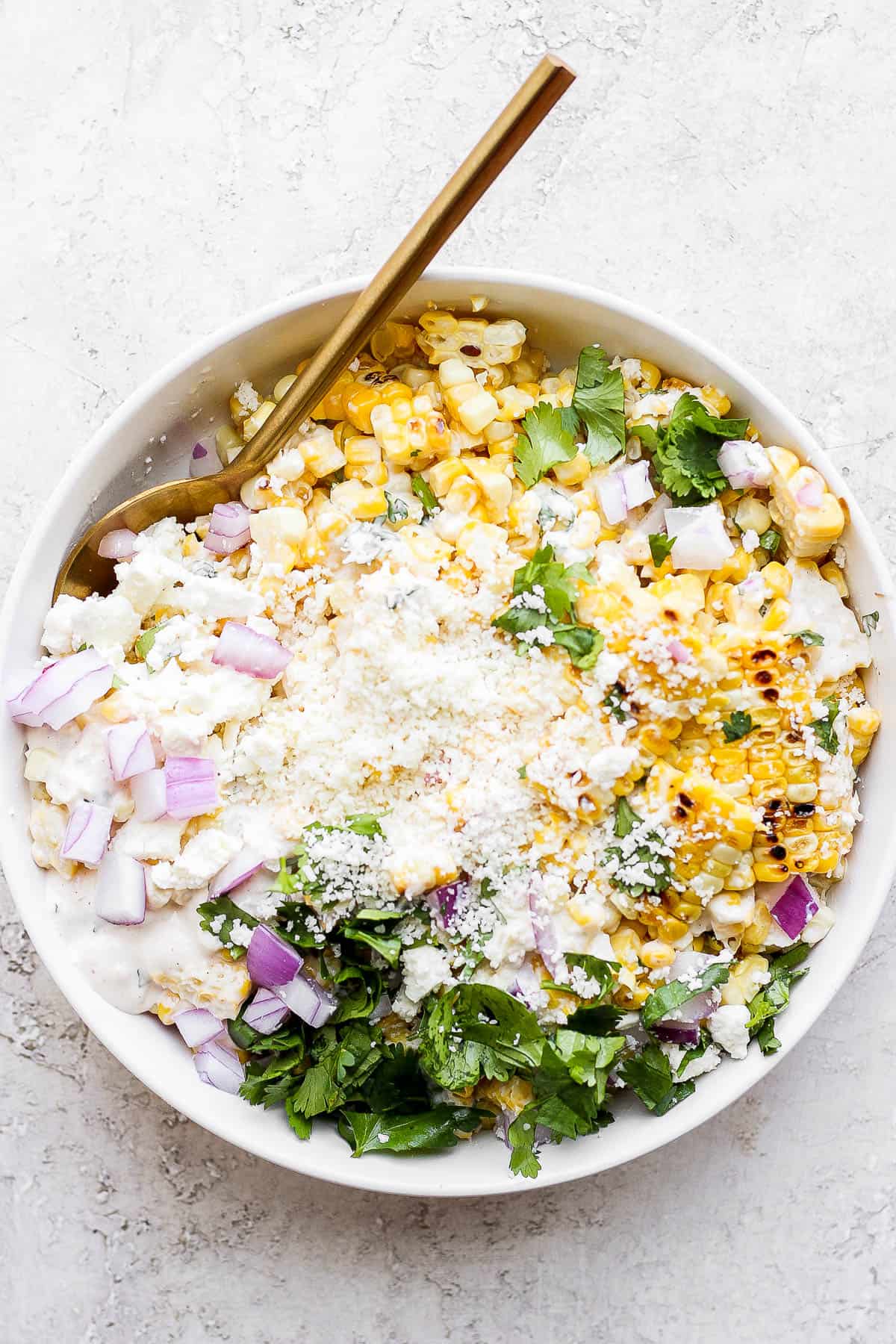 Creamy Mexican Street Corn Salad
This recipe is on constant rotation all summer long – it pairs perfectly with any grilled recipe already on your menu! Made with fresh corn, a creamy sauce, feta, cotija cheese, cilantro and all the good stuff. Serve with your favorite tortilla chips or as-is for an amazing side dish that will elevate any meal!
Got leftovers: make some Mexican Street Corn Burgers, Mexican Street Corn Nachos or Mexican Street Corn Pasta Salad!
Why You Will Love This Recipe
Flavor Packed – the flavors of this salad together are SO GOOD! Especially if you use the cotija cheese on top…. oh my! It really takes it to another level!
Easy – it is really just a matter of tossing all the ingredients in one bowl. Just decide on the easiest way to make the corn for you and toss everything together in a big bowl!
Summer Classic – nothing says classic summer food more than grilled sweet corn and that is the main player in this delicious side dish!
What You Will Need
Grilled sweet corn – the flavor really is best with sweet corn that has been grilled (we love a good char on those corn kernels!) but you can cook the corn any way you want! Such a good source of fiber! But if you don't want to grill – you can always boil your sweet corn or even smoke it!
Mayo/Mayonnaise – this helps to bind all the ingredients of the salad together. You could also sub in sour cream or greek yogurt if you prefer!
Feta cheese (option to use dairy-free) – everything is better with a little cheese in the mix!
Cilantro – is the perfect addition to any summer dish!
Lime juice – provides some fresh flavor and a little acidity to help round out some of the other flavors.
Garlic, chili powder, & kosher salt – these are bringing some of the essential flavors of the dish.
Red Onion: love the little bit of bite this adds! Feel free to sub in some green onion if you prefer!
(optional) Cotija cheese – the flavor of this is out of this world, just try it!
Tips For Cooking The Corn
In our opinion the best way to cook the corn for this salad is to grill the corn on the cob – hands down it gives the best flavor! You could prep the rest of the salad ingredients and then toss the corn on the grill with other items you are grilling for dinner to help minimize your cooking time. Checkout our post on How To Grill Sweet Corn for step-by-step instructions!
But we totally understand that you don't always have the time. So you could also pop the ears of corn in the microwave with the husk still on, remove the corn from the husk and boil it or warm up some frozen corn if you are really short on time.
How Should I Serve Mexican Street Corn Salad
This is an amazing side dish that is best served warm, but you could eat it cold too. Perfect to go with some Burgers, Grilled Chicken Legs, or a perfectly Grilled Steak! Another great way to eat this salad would be to use it as a topping on tacos! Like these delicious Steak Tacos!
What Are Elotes
If you were to keep the corn on the cob and then place all the salad ingredients on top of it it would be called an Elote (aka Mexican Street Corn). So you could cook the corn, leave it on the cob, rub it down with mayo and then sprinkle the rest of the ingredients on top. It would just be another way to eat it!
What Is the Difference Between Esquites and Elotes
Esquites is the traditional name for Mexican Street Corn Salad (off the cob) which is what this recipe is and Elotes is the traditional name for Mexican Street Corn (on the cob).
How To Store Mexican Street Corn Salad
You can keep this salad in the fridge for 3-4 days but it really is best when it's freshly mixed and still slightly warm. You can reheat the salad on your stovetop on medium heat until warmed through.
How To Make Mexican Street Corn Salad
Gather your ingredients.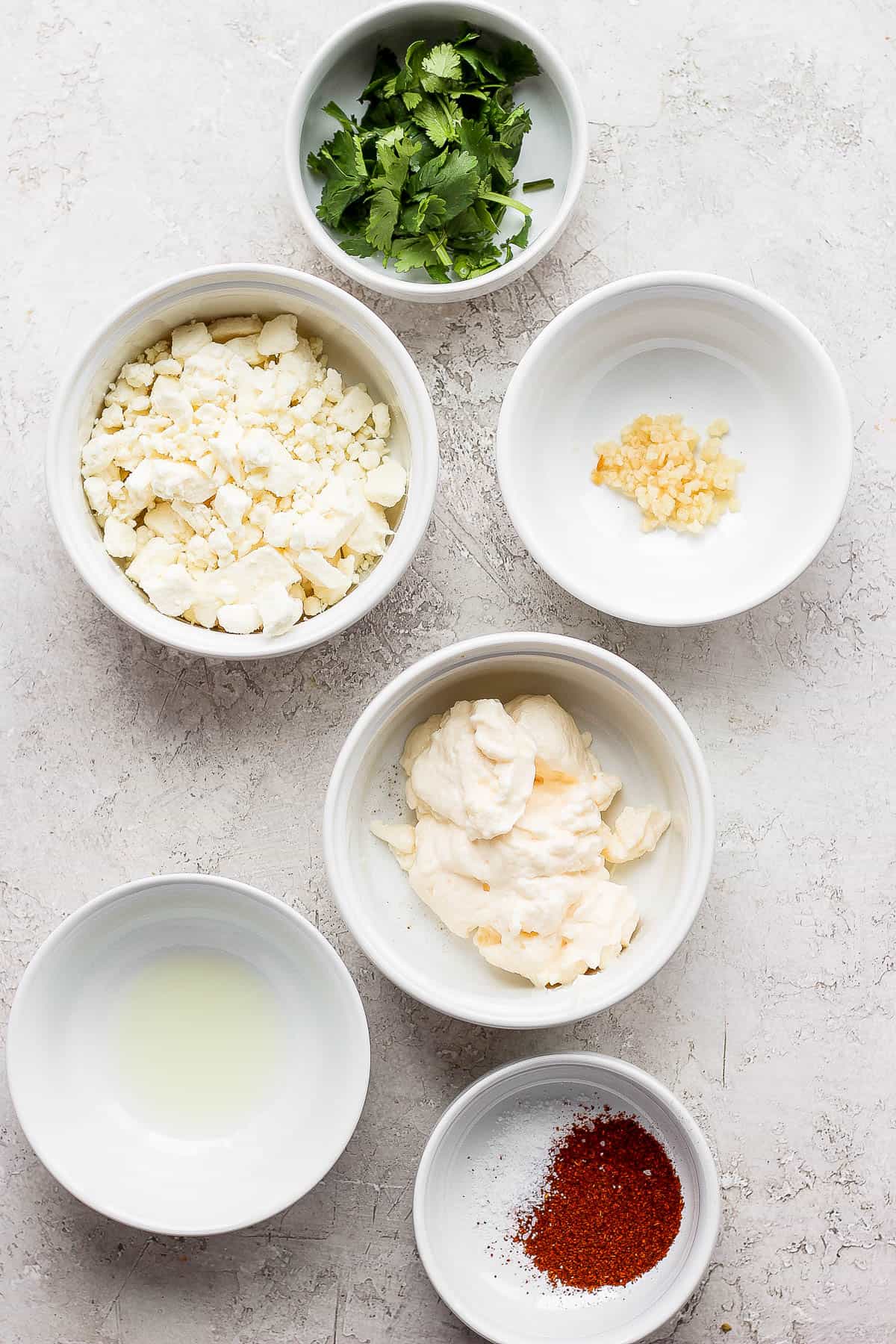 Place all ingredients, except the corn & cotija cheese (if using), in a mixing bowl.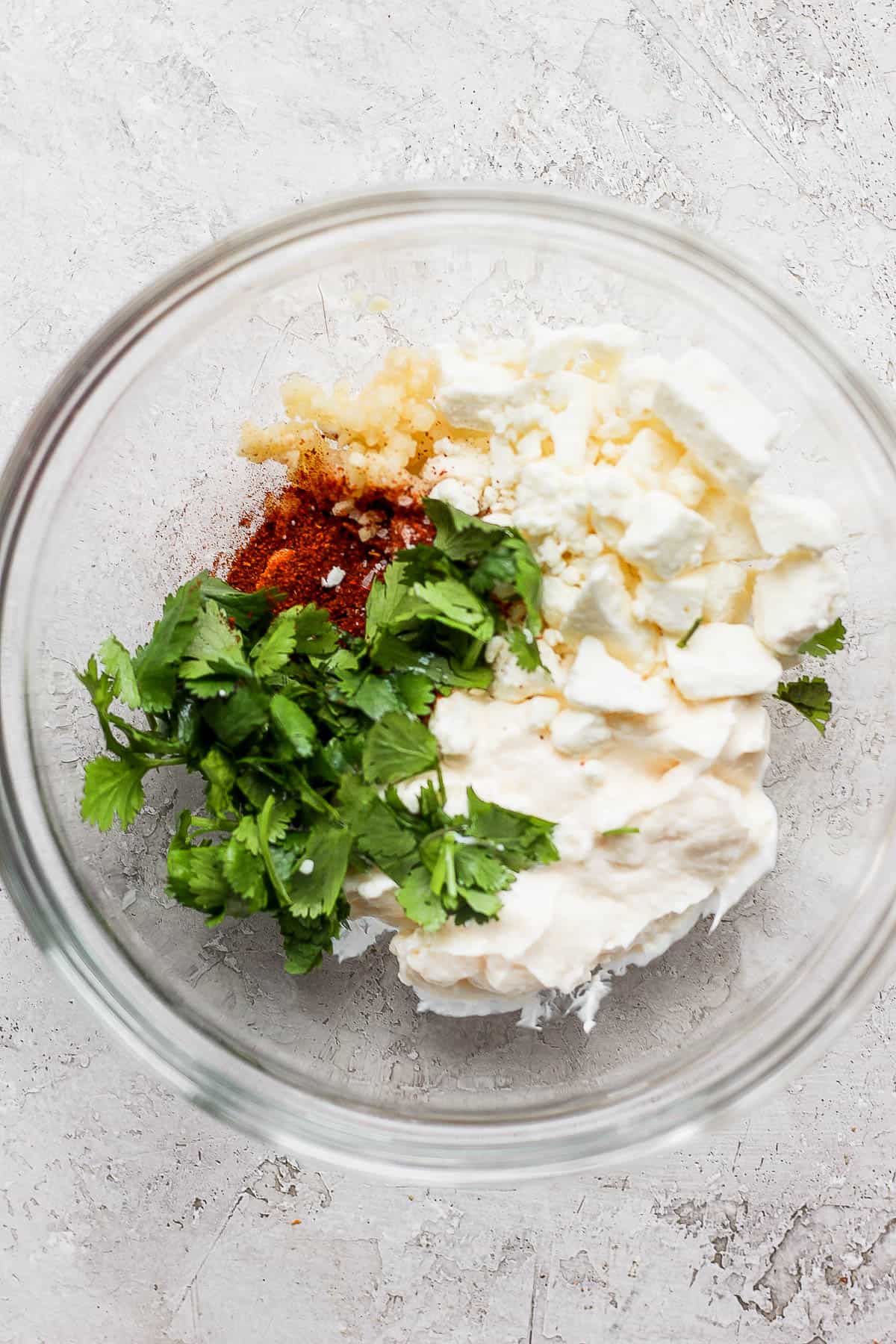 Mix it up!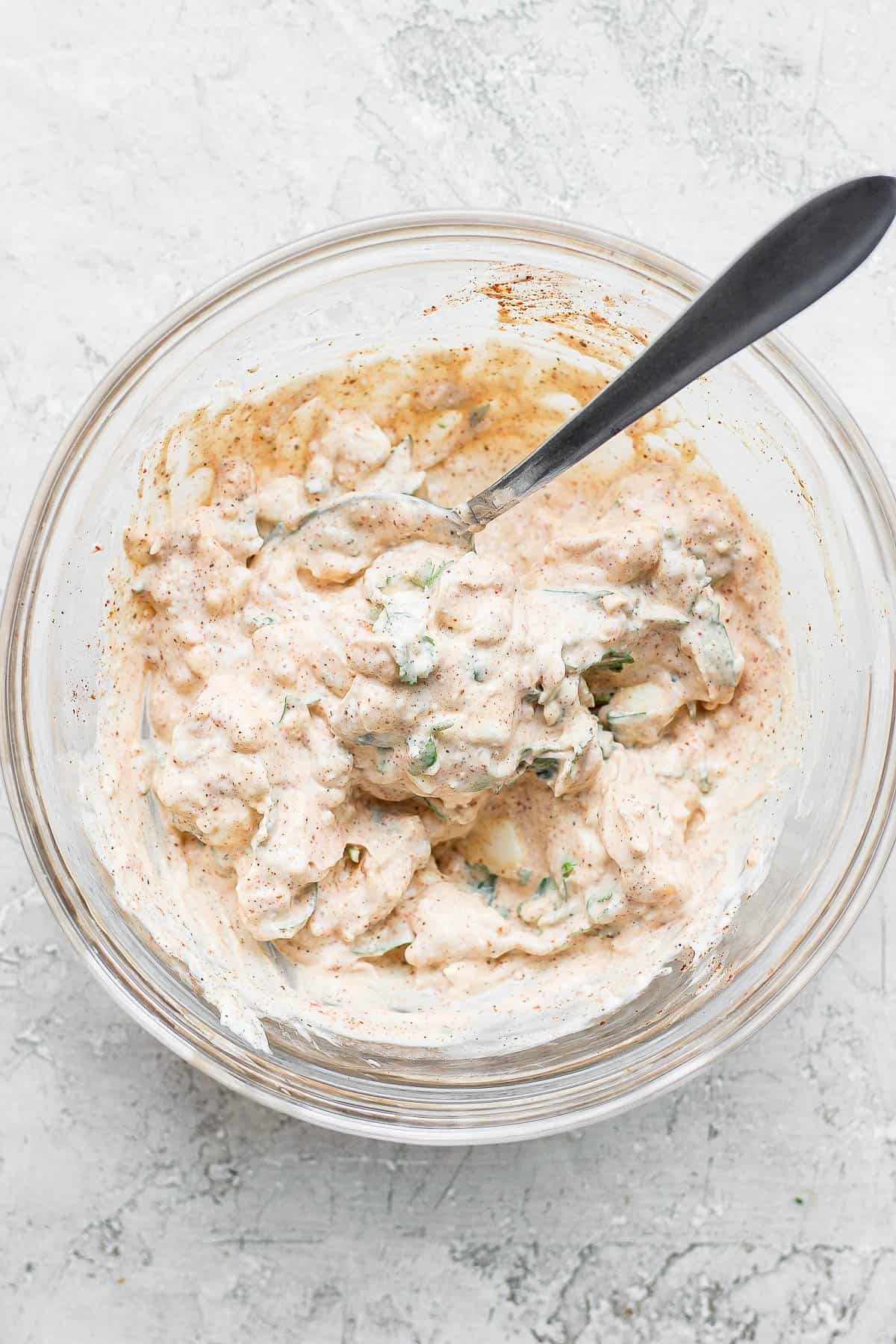 Grill your ears of corn on the cob or cook them another way if you prefer.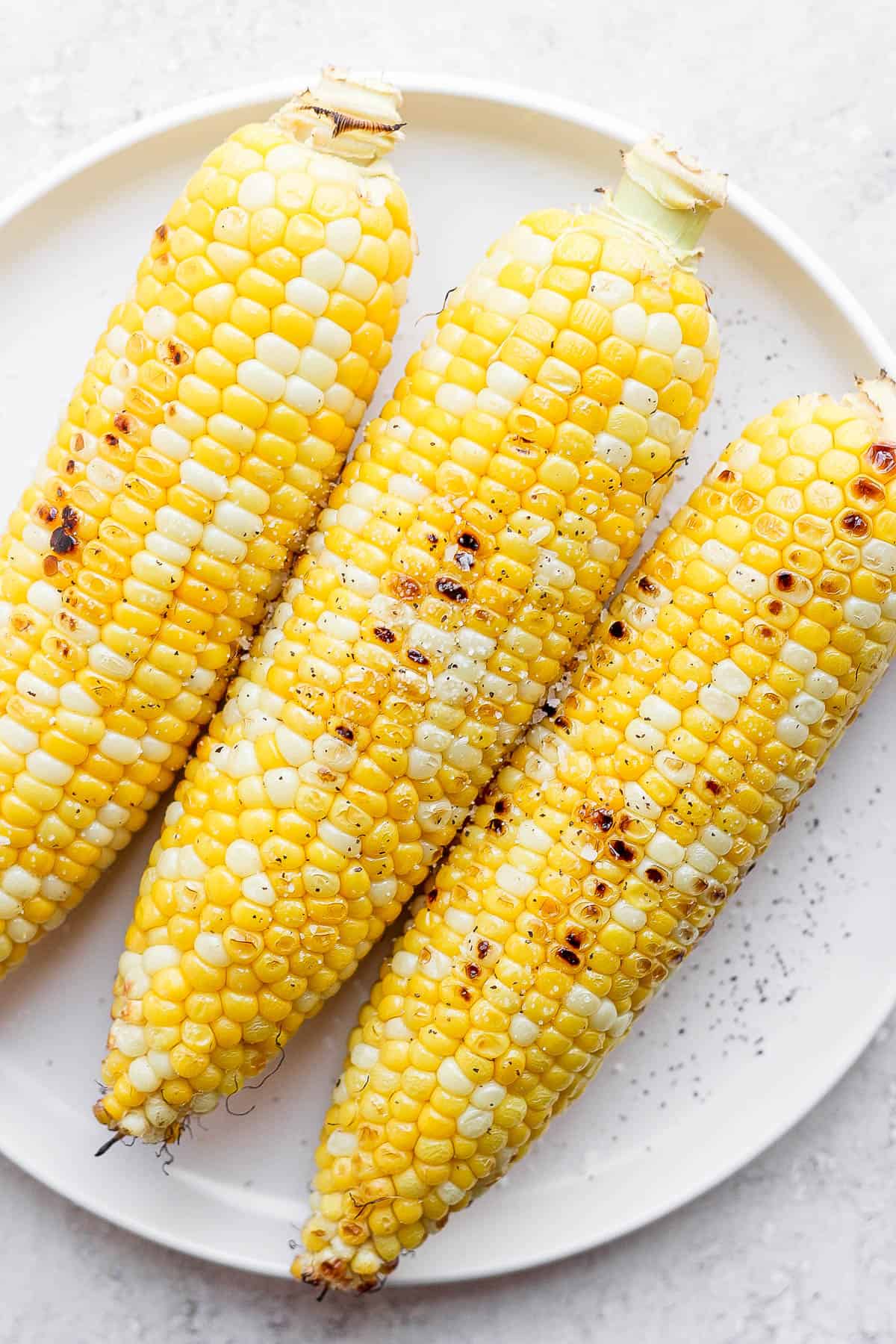 Use a sharp knife to cut the corn off the cob and add it to the mixing bowl.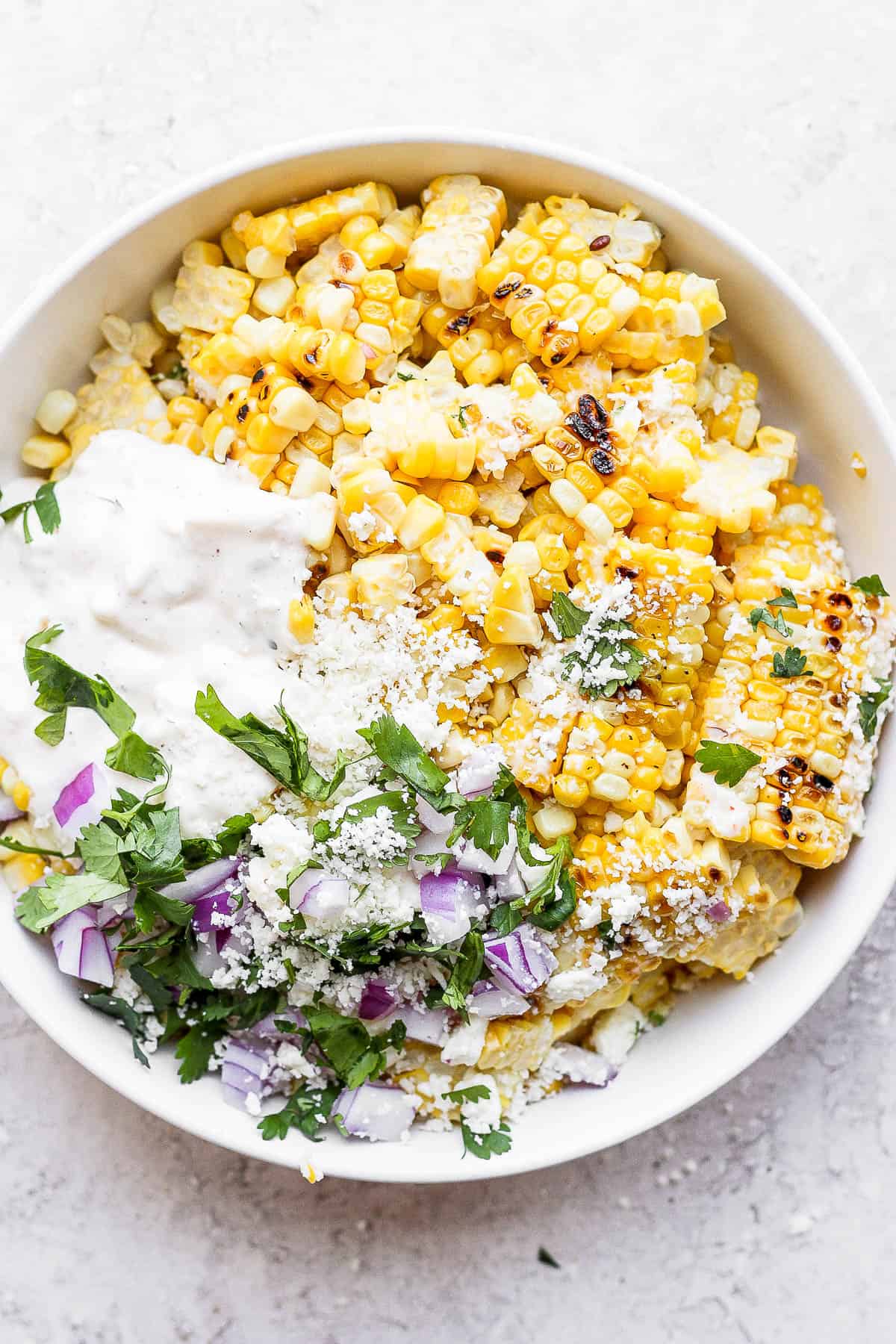 Top with cotija cheese (if using) and enjoy!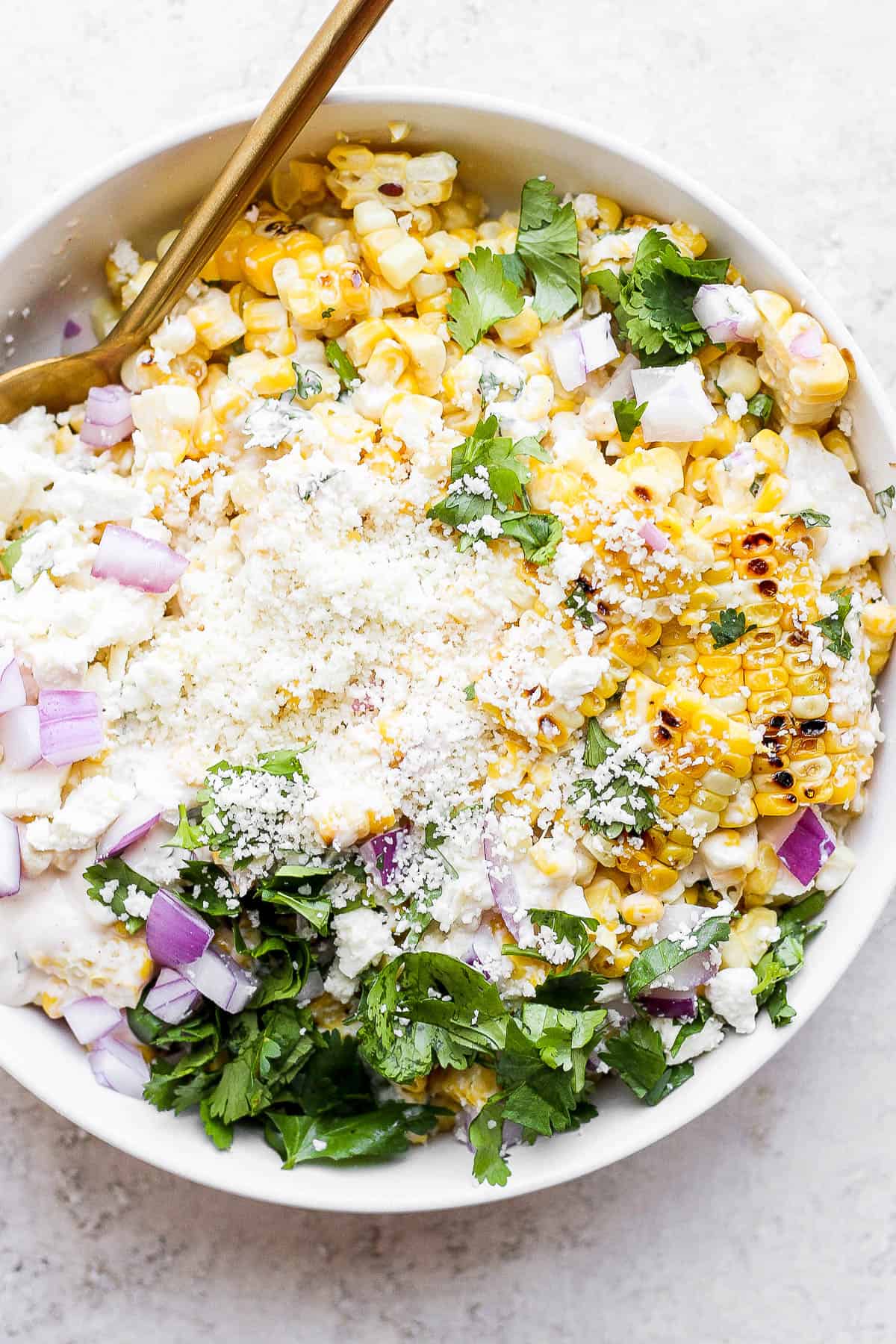 This is amazing in some delicious steak tacos too!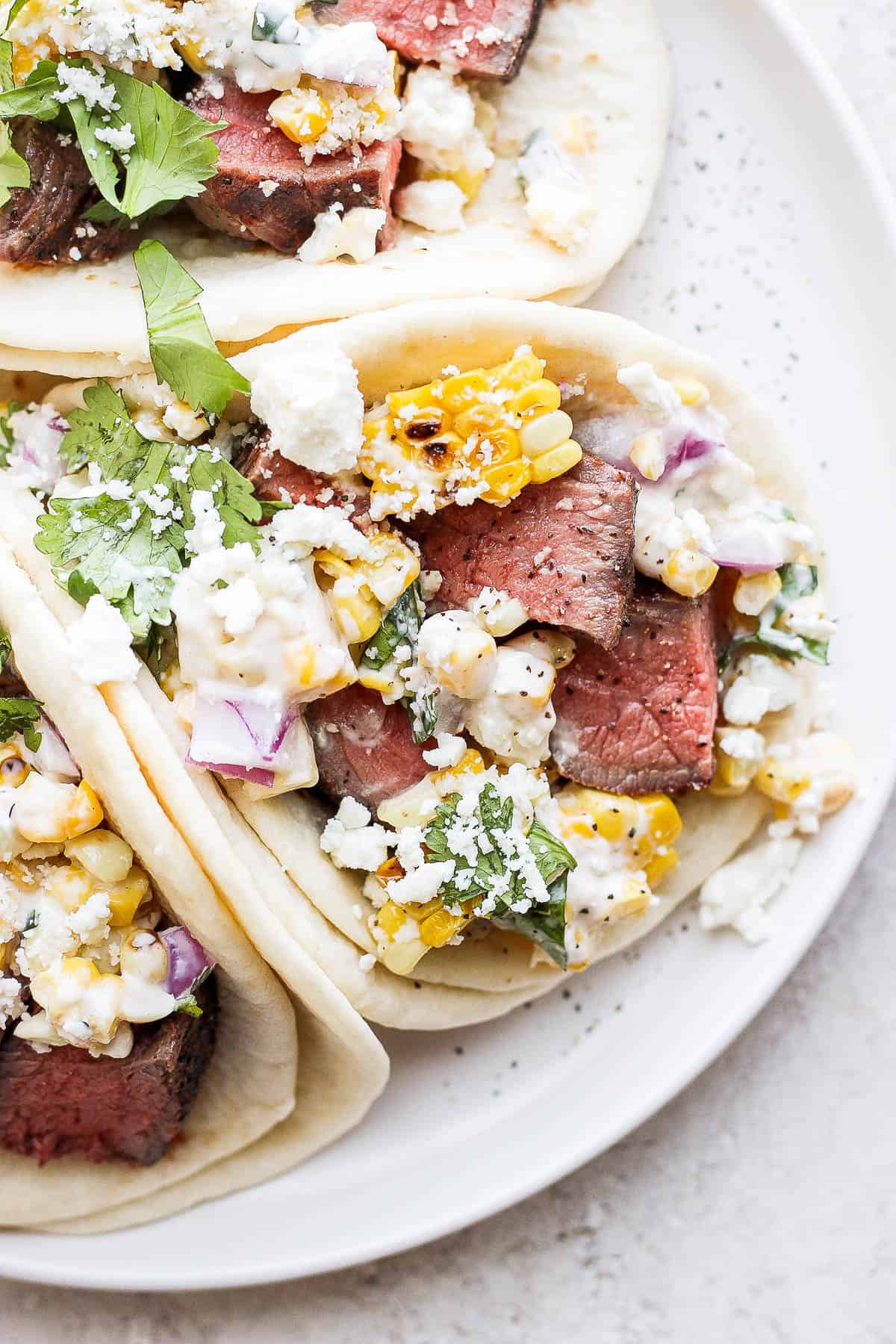 Recipe FAQs and Tips
Corn: this salad is best using grilled corn on the cob, but if you are short on time you could leave it in the husk and microwave it, remove the silk/husk and boil it, or warm some frozen corn.
Dairy-Free Feta Cheese: this is a great dairy-free feta!
Mayo: when we have time we love making our own homemade mayo, but if you are short on time this store-bought one is great too!
Options: this salad makes a great side dish that you can eat with a fork but you could also leave the corn on the cob, rub it down with mayo and sprinkle on the other ingredients – this is called Elote.
Storing leftovers: This salad really is best when served warm and right after it is prepared. You can keep leftovers in the fridge for 3-4 days and then reheat in a saucepan on the stove if you want.
Made this recipe and loved it?! We would love it if you would take a minute and leave a star rating and review – it is also helpful if you made any substitutions or changes to the recipe to share that as well. THANK YOU!
Don't forget to check out my Instagram account for some behind-the-scenes action! Or give me a follow on Facebook or see what I am pinning on Pinterest!
Print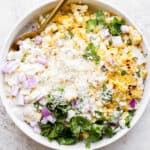 Mexican Street Corn Salad
Author: Erin Jensen
Prep Time: 10 minutes
Cook Time: 12 minutes
Total Time: 22 minutes
Yield: 5 cups 1x
Category: Side Dish
Method: Grill
Cuisine: American
---
Description
Mexican Street Corn Salad – an amazing side dish that everyone is going to love!! So much flavor and those pops of sweetness from the corn is amazing!
---
6 ears of grilled sweet corn (or approx. 4 cups of corn)*
1/2 cup mayo
1/4 cup feta cheese, crumbled (dairy-free works just as well!)
2 tablespoons cilantro, chopped
1–2 tablespoons lime juice
1 tablespoon garlic, minced
1 teaspoon chili powder
1/4 teaspoon paprika
1/4 teaspoon kosher salt
1/8 teaspoon ground black pepper
1/4 cup red onion, diced
cotija cheese, grated for topping
---
Instructions
Grilled Sweet Corn (see Notes for alternative methods):
Heat grill to 450 degrees F.
Place clean, shucked ears of sweet corn on plate or baking sheet.
Very lightly drizzle with olive oil.
Use your hands to massage oil into each ear of corn.
Sprinkle lightly with salt.
Grill on direct, high heat for a total of 10-12 minutes, turning every 2-3 minutes with grill tongs.
Remove when corn is slightly charred.
Let cool slightly and then use a knife to cut off the kernels of corn.
Mexican Street Corn Salad:
Combine corn, mayo, feta, cilantro, lime juice, garlic, chili powder, paprika salt and pepper in a large bowl. Stir to combine.
Taste and add additional lime juice, chili powder, feta or any other ingredient, as desired.
Top with grated cotija cheese, if desired.
Notes
*Corn: Grilling your corn is the preferred – the flavor is so much better! But, I totally get it that we don't always have time to do that. Here are some alternate methods: Microwave Sweet Corn: leave the husk on and place corn in microwave one at a time. Microwave on high for 3-4 minutes. Remove husk and cut off corn for salad. Boiled Sweet Corn: Bring large pot of water to a low boil. Remove husk and silk from corn and place in boiling water. Let boil 4-5 minutes. Remove from water and let cool. Cut off kernels of corn for salad.
Frozen/Canned Corn: Frozen corn should work fine if you are in a pinch, but canned corn might be a little too mushy and I don't think the texture would work well here!
Dairy-Free Feta: this is a great dairy-free feta!
Red Onion: feel free to add as much or as little as you like of this, but I would recommend at least a little!
Got leftovers: make some Mexican Street Corn Burgers or Mexican Street Corn Nachos!!
Keywords: Mexican street corn salad