How to Grill a Burger – Learn how to master grilling your classic burger so it turns out juicy, delicious and full of flavor every time! Find all the tips and tricks below!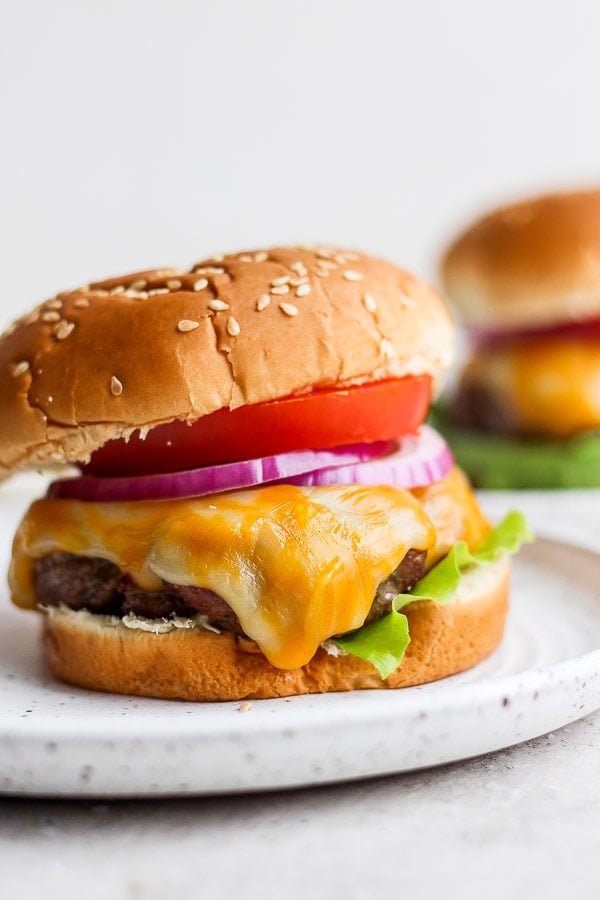 How to Grill a Burger 101
It's burger season!! We are BIG on grilling around here so I wanted to make sure we covered the basics, like how to grill the BEST, most perfect burger ever! We make burgers almost weekly (we love these Ultimate Bacon Cheeseburgers, Grilled Turkey Burgers and Chicken Caesar Burgers) during the summer so this is our tried and true grilled burger recipe! Don't forget we have an amazing homemade burger sauce, burger seasoning AND if you don't feel like grilling – we have an wonderful Burger Bowl recipe!
Grilling a Burger FAQs
Best type of ground beef for burgers: One of they way to ensure you have a more juicy burger is to NOT buy the leanest meat you can find. The less lean the ground beef is the more fat will be in it (duh) and when that fat cooks on the grill it creates a wonderful juicy burger. This is why most turkey burger or chicken burgers just aren't that juicy – because they naturally have less fat in them. So we recommend buying a 80/20 ground beef for burgers. I also love using a mix of ground chuck, brisket and short rib.
How big should my burgers be: We recommend 1/3 pound burgers (they fit perfectly on a burger bun) that are about 3/4 inch high.
Best Seasoning for Grilled Burgers (Prep) – The best seasoning for grilled burgers is simple: salt and pepper. You can add in some onion or garlic powder, but just simple kosher salt and ground black pepper are my all-time favorite!
Should I use an egg when I make burgers: That is truly up to you, but I just never have and I prefer it that way. The egg acts as a binder, but I have never had an issue with my burgers falling apart with just seasoning added. But add one if you feel like your burger isn't complete without one!
What Temp Do You Grill Burgers – Grill your burger on High Heat (or around 450-500 degrees)
How Long Do You Grill Burgers – For an approximately 3/4 inch thick burger that is around 5-6oz you will grill it for about 6-7 minutes total (3-4 minutes per side) for a medium rare burger (or an internal temperature of 135-145 degrees F).
Do You Close the Grill When Cooking Burgers – Yes! You definitely close the grill while the burgers are cooking!
Do burgers need to rest after cooking:
Can I Freeze Leftover Hamburgers – Yes, leftover hamburgers should be frozen within 2 hours of cooking and can be frozen for up to 4 months. If you are refrigerating they will be fine for up to 3-4 days in an airtight container.
Best Toppings: we love mixing it up, but you can use: pickles, quick pickled red onions, mayo, burger sauce, ketchup, mustard, bacon, caramelized onions, bbq sauce, etc.
Tips on Buying and Storing Ground Beef:
I almost always grab the 80/20 ground beef – the highest quality possible!!
Once purchased, keep ground beef in the refrigerator (140 degrees F) for up to 2 days.
If using frozen ground beef, thaw in the refrigerator overnight.
Ensure your package of ground beef is cold when purchased and there aren't rips or tears in the packaging.
What is the Internal Temp of Medium-Rare Burgers
For a 3/4 inch burger you want to look for an internal temp between 135-145 for a medium rare burger. Although it should be noted the USDA states that burgers are safe to eat when they reach an internal temperature of 160 degrees F.
Best Buns for Grilled Burgers
Best Cheese for Cheeseburgers
Here is a nice little round-up by Food and Wine of the 9 best cheeses for cheeseburgers!
Burgers You Might Like
How to Grill a Burger
Add your ingredients to your bowl and mix together
Form into equal sized portions and then flatten into patties. Push down in the very center with your thumb to create a small dip.

Once your grill is pre-heated and clean, place your burger patties over direct heat (450/500 degrees F.) for 3 minutes a side for medium rare center. Ensure lid is closed.
If making a cheeseburger, move your burger to indirect heat and add your cheese slices. Close grill until the cheese has melted (checking frequently so it doesn't fall into the grill).
Let them rest for about 5-10 minutes.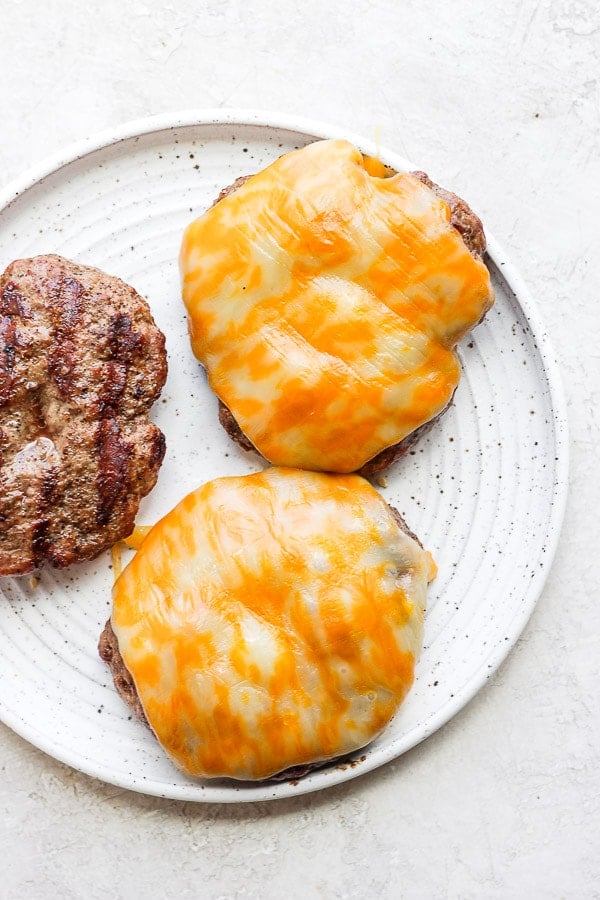 Serve and enjoy!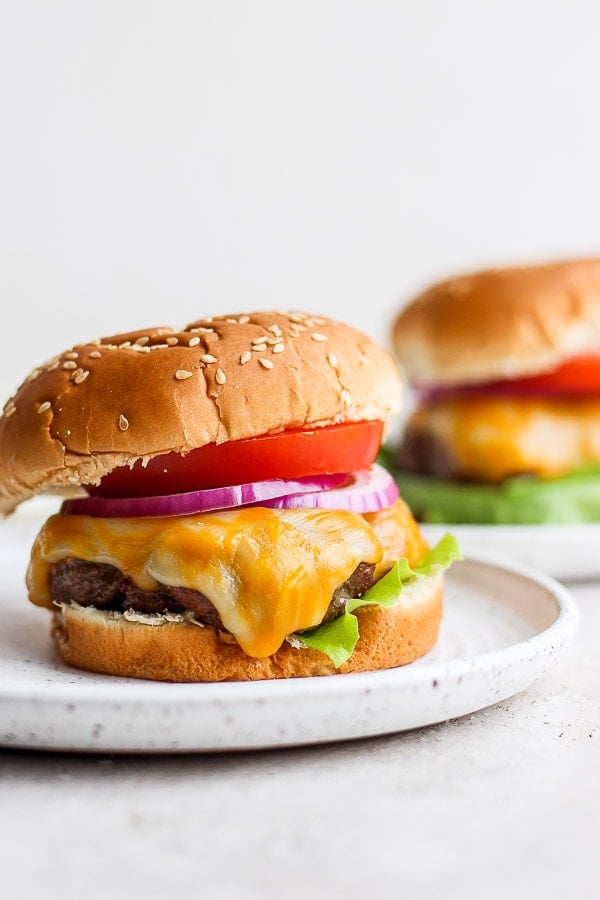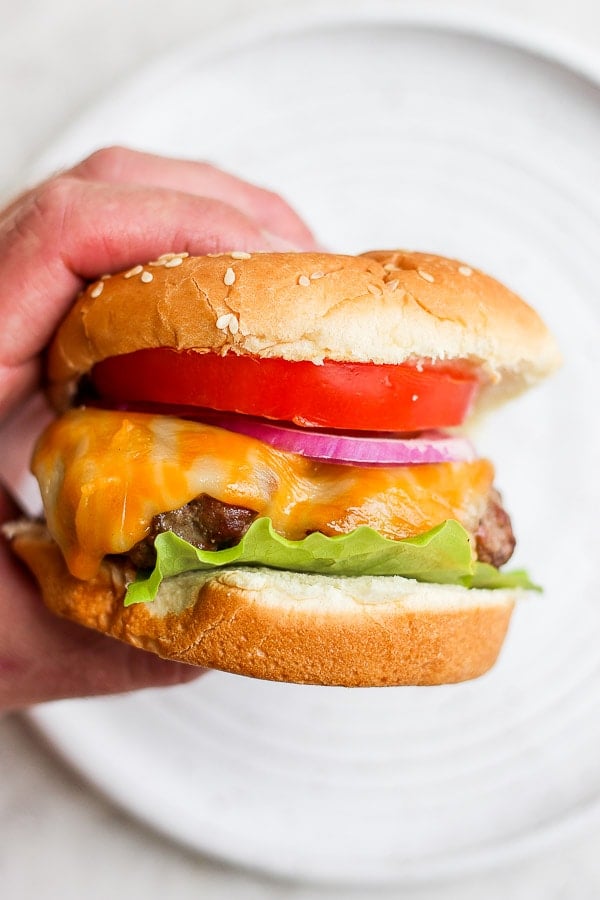 They work great with lettuce buns too!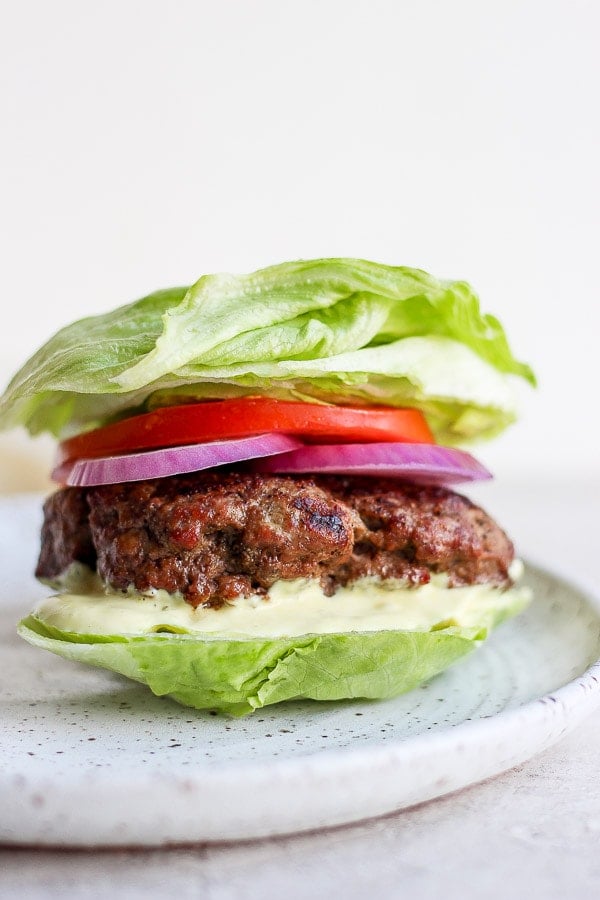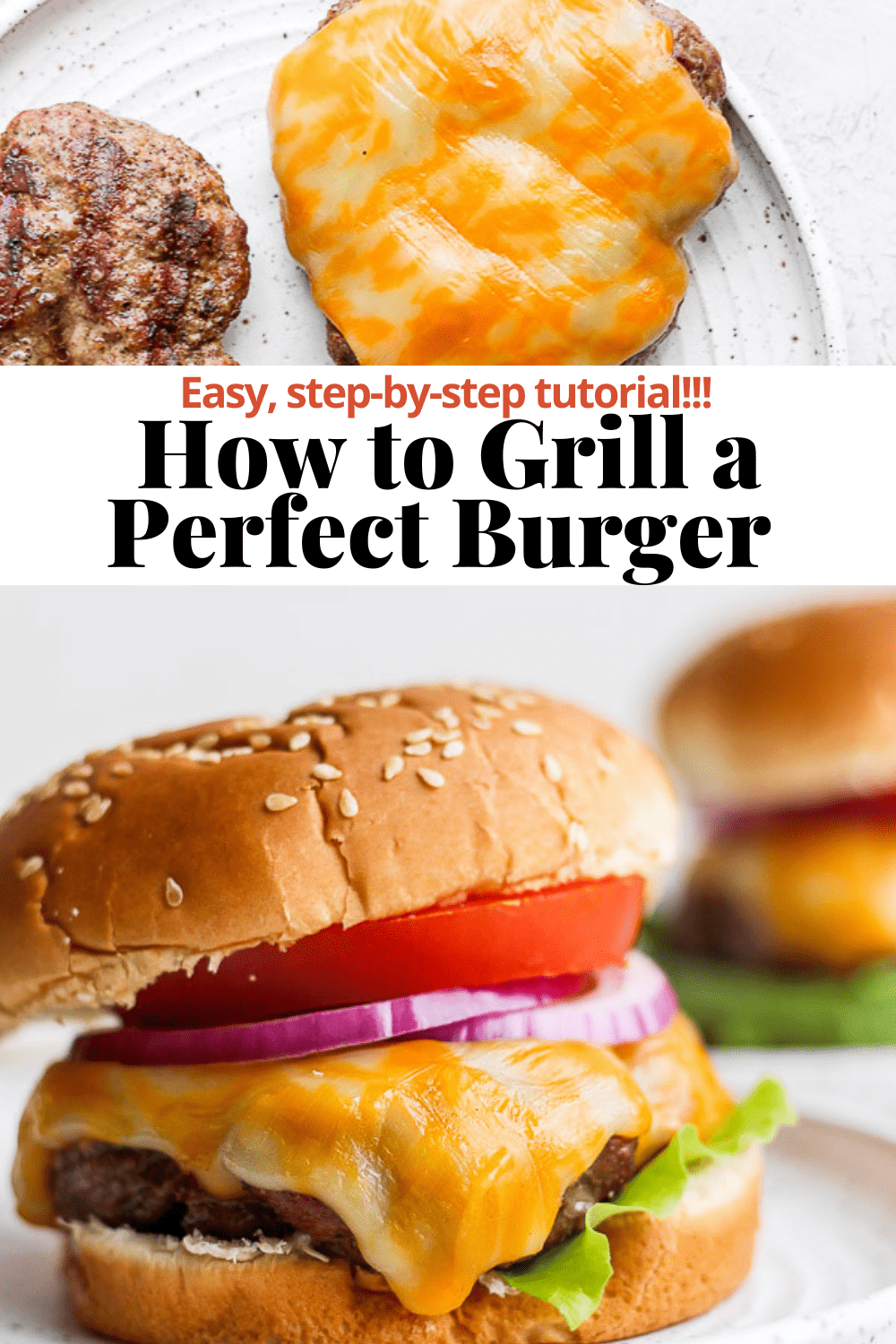 OTHER RECIPES YOU MIGHT LIKE:
Made this recipe and loved it?! We would love it if you would take a minute and leave a star rating and review – it is also helpful if you made any substitutions or changes to the recipe to share that as well. THANK YOU!
Don't forget to check out my Instagram account for some behind-the-scenes action! Or give me a follow on Facebook or see what I am pinning on Pinterest!
Print
How to Grill a Burger
Author: Erin Jensen
Prep Time: 15 minutes
Cook Time: 7 minutes
Total Time: 22 minutes
Yield: 6 burgers 1x
Category: Dinner
Method: Grill
Cuisine: American
---
Description
How to Grill a Burger – Learn how to master grilling your classic burger so it turns out juicy and delicious every time!
---
Burger
2lbs 80/20 ground beef
1 1/2 teaspoon kosher salt
1 teaspoon ground black pepper
1/2 teaspoon onion powder (optional)
1/2 teaspoon garlic powder (optional)
Toppings:
bun (regular, gluten-free or lettuce)
cheese slices (dairy-free or regular)
sliced tomato
sliced red onion
lettuce
burger sauce (optional)
---
Instructions
Clean your Grill: Clean your grill grates and and wipe them down with oil.
Preheat your Grill: Once your grill is clean and greased, preheat to High Heat (450-500 degrees F.).
Mix Your Ground Beef: Place your ground beef in a bowl and add salt and pepper (and other seasoning, as desired). Mix to combine.
Divide the Ground Beef: Take your ground beef and create 6 equal sized balls (you should end up with 6 patties that are approximately 5-6oz each and approximately 3/4 inches thick).
Create Patties: Then use your hands to form patties (try not to overwork the meat). Try and make them a little bit bigger than your bun (if you are using one) as they will shrink a little as they cook.
Create Indent with Thumb: Use your thumb to create an indent in the very center of your patty (this will help ensure the burgers cook evenly without expanding too much in the middle).
Season Lightly: Sprinkle patties with a little more salt and pepper.
Cook on Direct Heat 6-7 Minutes Total: Place patties on direct heat (directly over flame) for 3-4 minutes. Flip and continue to cook on direct heat or until an internal meat thermometer reads between 135-145 degrees F (approx. another 3-4 mins). This will result in a medium-rare center. For Medium: cook 3 minutes on the first side and 5 minutes on the second side. For Medium-Well cook 3 minutes on the first side and seven minutes on the second side. For Well-Done cook for 4 minutes soon the first side and six minutes on the second side.
Don't Press Down: Do not press down on the burgers with your spatula. This will release juices that we want to keep in the burger.
If Making Cheeseburgers: If you are making cheeseburgers, move your burgers to indirect heat and place a slice of cheese on top. Close the grill and let the cheese melt for 1-2 minutes.
Let Rest: Remove from grill and let rest for at least 5 minutes. This will help ensure your burgers are nice and juicy!
---
Notes
Egg: I know a lot of people use eggs in their burger mixtures – I just never have, but as always, feel free to add one in the mix if you want to!
Size: Of course if you make a bigger/thicker burger you will need to adjust the cooking time!
Keywords: how to grill a burger, classic burger, cheeseburger