Simple Salmon en Papillote + Fresh Thyme is a foolproof way to cook amazing salmon any night of the week!
Best Ever Salmon en Papillote
This is my go-to salmon recipe – any night of the week. It is simple, incredibly delicious and even my kids ask for it!
I seriously love this recipe. It was a complete accident too. I never felt like I knew how to cook a good piece of salmon and then, way back when, I was doing a post on How to Cook En Papillote … and I used a piece of salmon. I needed to photograph all of the steps, including cooking the salmon, and I just accidentally discovered this ridiculously easy and incredibly delicious meal. I vividly remember my husband and I devouring that piece of salmon after I was done shooting and just looking at each other like, this is the best piece of salmon I have ever eaten. And we have been making this recipe ever since.
Salmon Dill Sauce
If you are looking for a great dill sauce for salmon this Salmon Dill Sauce is SO GOOD! We generally use it on this Blackened Salmon, but it works with any salmon!
Why This Recipe Works
Easy Prep: literally takes about 10 minutes (if that) to prep your salmon. Simple ingredients. So easy!
Short Cook Time: only 15-20 minutes in the oven (unless you have a really thick piece of salmon) and you are done!
No Dryness: because we are wrapping our salmon in parchment all of the moisture is trapped, keeping the salmon from drying out!
What You Will Need
fresh salmon: I recommend using fresh salmon if at all possible. I have made this with frozen salmon and it does tend to get a little more watery.
olive oil or avocado oil: either will work!
kosher salt: feel free to be generous!
butter or ghee: you can be generous with this too – it gets infused with the thyme and pouring this over your cooked salmon when it has melted is just the best!
fresh thyme: thyme is probably my favorite herb and it is absolute perfection in this recipe.
How to Make Salmon en Papillote
Prep your salmon by rubbing it down with oil, sprinkling with kosher salt, putting down a couple chunks of ghee and then top with lots of fresh thyme.
Wrap in parchment and tie up with cooking twine if you need to.
Place on a baking sheet and put in the oven for about 15-20 minutes.
Serve immediately (don't forget to pour the melted ghee on top of the salmon after serving!).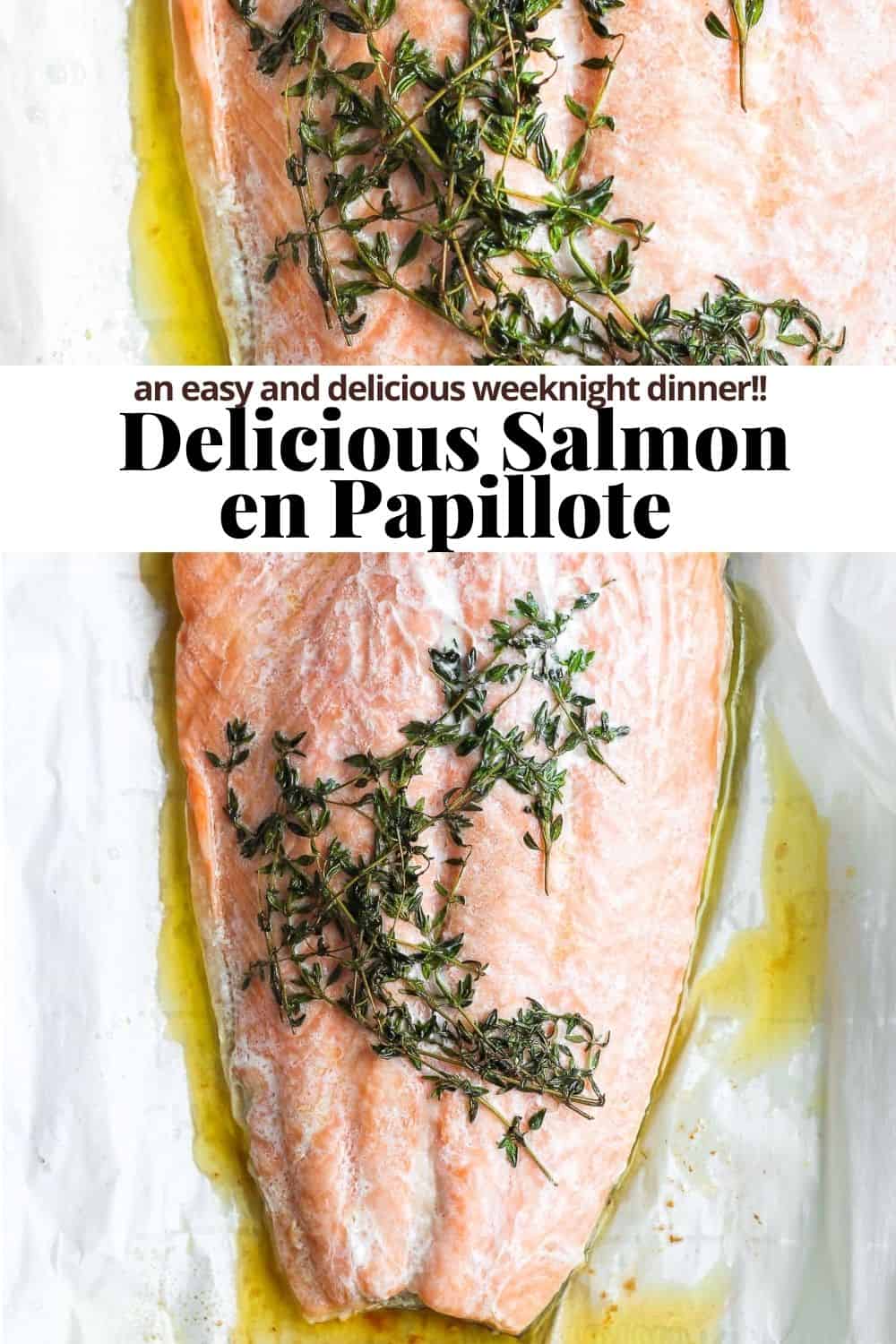 Other Recipes You Might Like
Don't forget to follow me on Facebook, check out my Instagram account or see what I am pinning on Pinterest!
Made this recipe and loved it?! We would love it if you would take a minute and leave a star rating and review – it is also helpful if you made any substitutions or changes to the recipe to share that as well. THANK YOU!
Print
Weeknight Salmon en Papillote
Author: Erin Jensen
Prep Time: 10 minutes
Cook Time: 15 minutes
Total Time: 25 minutes
Yield: 1–2 servings 1x
Category: Dinner
Method: Oven
Cuisine: American
---
Description
Weeknight Salmon en Papillote – A foolproof way to cook amazing salmon any night of the week!
---
1 large fillet of fresh salmon (approx. 6-8oz)*
2 tablespoons olive oil or avocado oil
1–2 teaspoons kosher salt
2 tablespoons butter or ghee
3–5 sprigs of fresh thyme
parchment paper (or foil)
kitchen twine (if using parchment)
---
Instructions
Take your piece of salmon and place in the middle of your parchment or foil, skin side down (ensuring your piece of foil/parchment is big enough to wrap up salmon).
Pour olive oil over entire piece of salmon and, using your hands, rub in.
Sprinkle generously with salt so there is a nice layer covering the salmon.
Place chunks of ghee (or butter) along the salmon (us about 2-3 per piece).
Place thyme on top.
(Sometimes I sprinkle a little bit more olive oil on top at this point to just make sure it has a ton of moisture)
Wrap up the salmon in the parchment paper, trying to trap in all the air (or in a piece of foil).
Tie kitchen twine around it if using parchment,
Place on a cookie sheet and bake at 425 degrees F. (middle rack) for 15 minutes or until cooked thoroughly. The cooking time will vary depending upon how big/thick your piece of salmon is; you may need to cook upwards of 20 minutes, you just need to keep checking; when done the salmon will flake apart easily with a fork.
Remove and serve immediately.
Recommendation: once you plate the salmon, pour the excess melted ghee (or butter) on top of the salmon before eating (HIGHLY recommend).
---
Notes
Salmon Size: if you prefer you can also individually wrap smaller/single serving sized filets (about 3-4 oz per person). Cook time is about the same – totally up to you.
Fresh vs. Frozen Salmon: you can use frozen, but it won't turn out quite as good and there will be a little bit of excess water mixed in with the melted ghee after cooking. I recommend using fresh salmon if at all possible for best results.
Serving: we usually serve this with roasted broccolini – you can cook both at the same time – and some mashed potatoes or herbed potatoes.
Storage: cooked salmon should be stored in an airtight container in the refrigerator; use within 3 days.
Salmon Dill Sauce: if you want some yummy salmon dill sauce this recipe is our favorite!
Keywords: salmon en papillote
*Originally published Oct. 13, 2016; Update January 2021*