This easy Spicy Tuna Roll is a flavor-packed sushi roll that is simple enough to make right in your own kitchen! Made with real, fresh ingredients and you can adjust the heat level to your preference. Perfect for enjoying sushi rolls on those hot summer nights!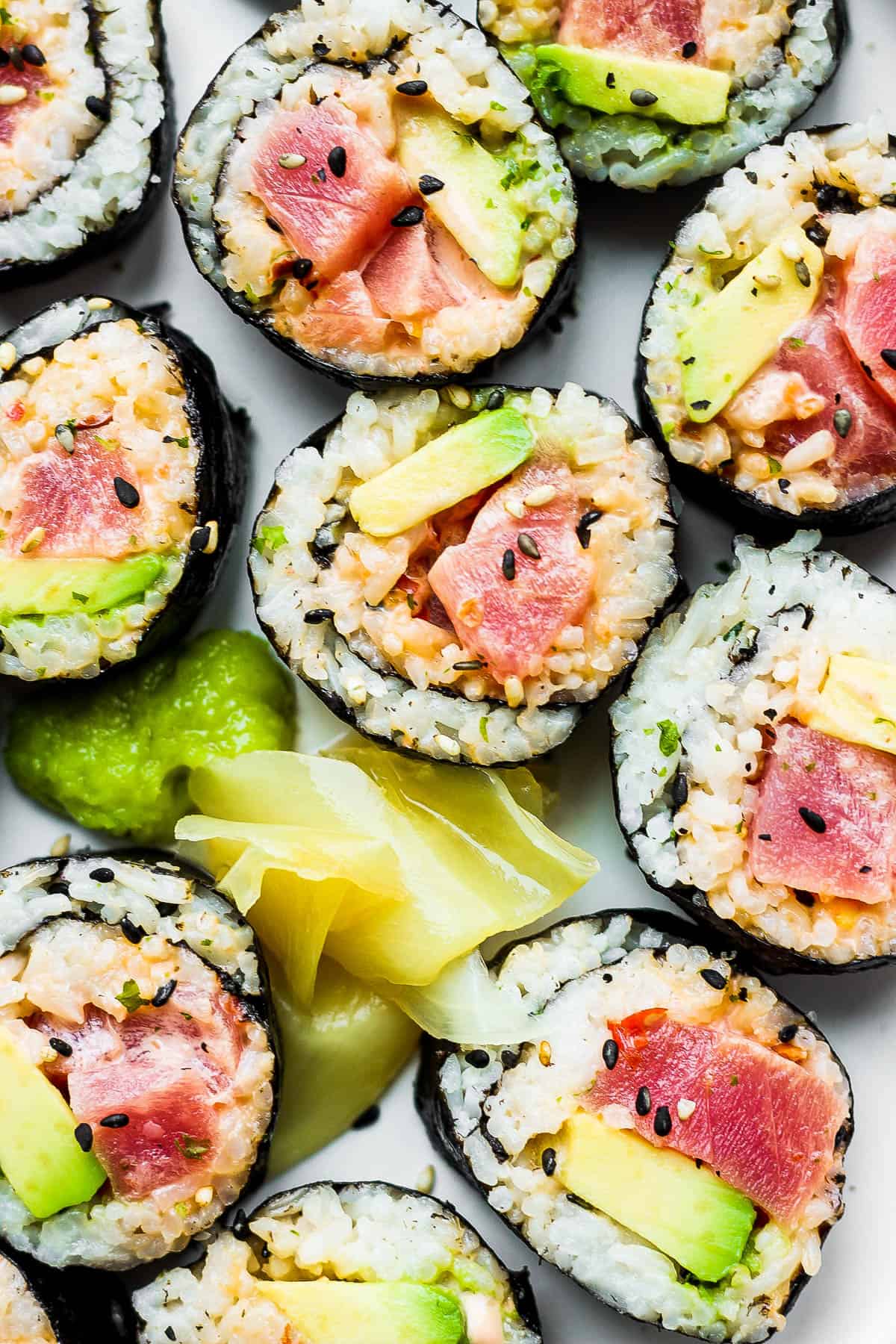 The Best Spicy Tuna Roll
A traditional spicy tuna roll is a staple sushi menu item at Japanese Restaurants. It is always a favorite sushi roll that we order every time! Over a decade ago we started having sushi-making parties at our house and have made countless sushi roll variations. This homemade spicy tuna roll has definitely been tested and tested again over the years so we are excited to finally share it with all of you!
Now, before we dive in we want you to know that we definitely aren't professional Sushi chefs. They have spent years perfecting the art of making sushi and we aren't at that level BUT sometimes it is fun to play around with different combinations! This is clearly an Americanized version of traditional Japanese sushi-making and if you want to truly enjoy the authentic version head out and find yourself a talented sushi chef at your favorite sushi restaurant.
Have you ever tried a sushi bowl!? Check out our Spicy Salmon Sushi Bowl for a delicious way to enjoy all the great flavors of fresh sushi, without all the work of rolling it into a roll.
What You Will Need
cooked sushi rice – our favorite ways for cooking rice for sushi is on the stovetop or in the Instant Pot.
mayo & Sriracha sauce – these combine to create that delicious spicy mayo, feel free to adjust to your preferred taste!
nori seaweed sheets – these are the traditional seaweed sheets and one of the main ingredients that are used in sushi rolls.
fresh sushi grade tuna – we can find sashimi-grade tuna at our local grocery store or you can try a fresh seafood store.
avocado – this cool & fresh ingredient is the perfect compliment to the spicy tuna.
furikake – a completely optional ingredient, but many people like to include it for some added flavor.
soy sauce – great for dipping your finished sushi roll pieces!
How To Make A Spicy Tuna Roll
The first steps to making this easy recipe are to gather and prep all of the ingredients.
Cook the sushi rice any way you want – we love our sushi rice recipe that cooks on the stove top, in an Instant Pot, or use a rice cooker. Let it cool to room temperature. Cover with a damp cloth or damp paper towel to keep it from drying out.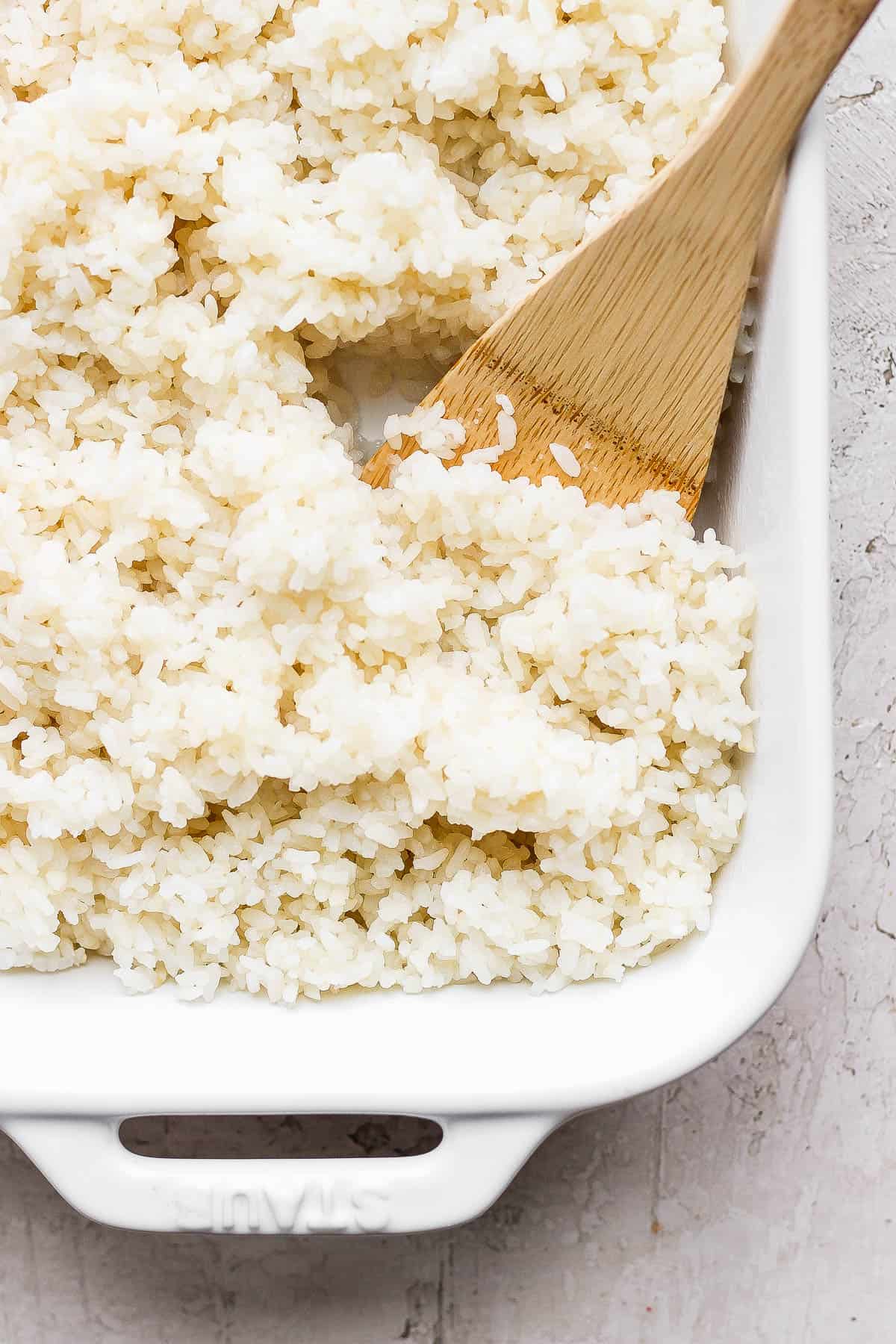 Now place a sheet of nori, rough side facing up, on a bamboo sheet. Use the back side of a wooden spoon to spread a handful of sushi rice over all of the seaweed, except the top inch. Towards the end closest to you, add some spicy mayo, raw tuna, and all toppings you are using in a straight line.
Then use your hands to lift the bottom edge of the sushi mat and nori sheet up over the filling ingredients. Use the bamboo sheet to start rolling up the sushi roll. Try to keep this process as tight as possible without squeezing too tight where the filling starts coming out. Make sure to pull the bamboo sheet out slightly as you go.
Keep this rolling/pulling process going until you have a nice, tight sushi roll.
Use a sharp, wet knife to cut the finished roll into 1-inch pieces and garnish any way you want!
Best Way to Serve A Sushi Roll
When it comes to serving homemade sushi rolls there are so many great options! We love to sprinkle on a combination of white sesame seeds and black sesame seeds. And a few thinly sliced green onions. Plus, a little bit of wasabi and pickled ginger on the side! You could also add some extra heat with a drizzle of spicy mayo on top or mix it up with some wasabi mayo too.
Made this recipe and loved it?! We would love it if you would take a minute and leave a star rating and review – it is also helpful if you made any substitutions or changes to the recipe to share that as well. THANK YOU!
Don't forget to follow me on Facebook, check out my Instagram account or see what I am pinning on Pinterest!
Other Sushi Recipes You Might Like
Print
Spicy Tuna Roll
Author: Erin Jensen
Prep Time: 10 minutes
Cook Time: 0 minutes
Total Time: 10 minutes
Yield: 4 rolls 1x
Category: Sushi
Method: Counter Top
Cuisine: Asian-Inspired
---
Description
Spicy Tuna Roll – a delicious and easy spicy tuna roll recipe with step-by-step directions and pictures! So easy to make at home!
---
2 1/2 cups sushi rice
1/2 cup mayo
1–2 tablespoons Sriracha or garlic chili sauce
4 nori sheets
furikake (optional)
4–6 oz sushi grade tuna, cut into small chunks
1 avocado, sliced
soy sauce for serving
other filling ingredients: julienned carrots, sliced cucumber, etc.
for serving: pickled ginger and wasabi
---
Instructions
Prepare your sushi rice if you haven't already: See how to make sushi rice + Instant Pot Sushi Rice.
In a small bowl combine the mayo and Sriracha or garlic chili sauce. Stir and taste – add additional Sriracha or garlic chili sauce, as desired. Set aside.
Place a bamboo sheet down. Place nori sheet on top, shiny side down (rough side up).
Using the back of a spoon, spread approx. 1/2 cup + 2 tablespoons of sushi rice across the nori sheet leaving the top inch or so empty. The rice should be pretty flattened. Sprinkle some furikake all over the rice, if using.
Use a spoon to put down a strip of spicy mayo in the middle of the rice. Add some tuna chunks on top of the spicy mayo along with 2-3 slices of avocado. Don't go too crazy with the filling or it will end up popping out the ends if it is too full.
Using both hands, pick up the edges of the nori sheet closest to you and fold over the filling ingredients; tucking the nori sheet around the ingredients. Pick up the bamboo sheet and fold over as well (but don't tuck all the way around).
While pressing firmly down on the sushi roll, begin pulling the bamboo sheet away from your body and rolling the sushi. Then stop and wrap your hands around the roll pressing down firmly to create a solid roll. Pull away from your body again with the bamboo sheet then stop again and press down. Continue doing this until you have a fully formed roll. See pictures above.
Using a very sharp knife, cut the roll into 1 inch thick pieces. See notes below for instructions on an Inside Out Roll (where the rice is on the outside of the roll instead of on the inside).
Serve with soy sauce for dipping as well as some pickled ginger and wasabi (if desired).
---
Notes
Inside Out Rolls: to make an Inside Out Spicy Tuna Roll, place a piece of parchment paper or plastic wrap down on the bamboo sheet and then put your nori sheet on top. Cover with rice leaving the top inch empty. Feel free to sprinkle with sesame seeds. Carefully pick up the piece of nori and flip it over so that the rice-free section is now closer to you. Place your ingredients towards the center of the nori sheet. Lift up the edge of the nori sheet closest to you and tuck around ingredients. Lift up the bamboo mat and fold over as well. Start pulling the bamboo away from your body as the nori sheet rolls around the ingredients. Then stop and apply gentle pressure to create a roll. Continue pulling/rolling with the bamboo mat and then apply pressure until you have a fully formed sushi roll. Cut into 1 inch pieces with a very sharp knife. See our Guide on How to Make Sushi for step-by-step photos of making an Inside Out Roll.
Other Filling Ingredients: feel free to add more filling ingredients than just the spicy mayo, tuna and avocado! You can omit the avocado and/or add in some cucumber, carrots, cilantro, etc. Whatever sounds good to you.
Nutrition
Serving Size: 1 roll
Calories: 643
Sugar: 0.9 g
Sodium: 332.9 mg
Fat: 17.7 g
Carbohydrates: 102.3 g
Protein: 16.1 g
Cholesterol: 20.6 mg
Keywords: spicy tuna roll