Spatchcock Chicken (Butterflied Chicken Recipe) is a quick and easy way to make the perfect chicken every time!
Easy Spatchcock Chicken (Butterflied Chicken Recipe)
Looking for a classic Spatchcock or Butterflied Chicken Recipe – This is it. Looking for the best way to meal prep your chicken. This is also it. Looking for a replacement for that store-bought rotisserie chicken? Also it.
Save this recipe right NOW. I am telling you – you need this in your life. Whether you are having a dinner party, meal prepping, or planning a nice Sunday family dinner ….. this chicken works. It is SO easy and SO quick (the trick is to spatchcock/butterfly your chicken – cuts way down on the cooking time). The ingredients are also all Whole30 compatible or friendly (and Paleo)!
Now I also mention in the recipe that you can slow down the process a bit and marinade the chicken for a while, that is totally up to you! I only did a quick-marinade and this is how it turned out so….. you decide!
I already know a lot of you will be asking…
What exactly does it mean to "Spatchcock"
Spatchcock is a term that means to remove the backbone (from a chicken, turkey, cornish game hen, etc.) so that it can lay flat while cooking.
Why do you spatchcock a chicken
When you spatchcock a chicken you are remove that inner cavity since, after you remove the backbone, the chicken is able to lay completely flat. As a result of this, it takes a lot less time to cook your chicken, it cooks more evenly and it is easier to seasoned the chicken everywhere.
How do you Spatchcock a Chicken
It is actually much more simple than you can imagine. Here is how it is done:
Rinse your chicken and pat it dry.
Set it down as you normally would, but then flip it over (you are now looking at its back). Right down the middle of the bird is it's backbone (about an inch wide).
Grab your Kitchen Shears, and cut out the backbone (feel free to save to make some bone broth). To do this, just cut about a 1 inch strip straight out of the middle of the back.
Open up the bird and make a small slit at the neck so you can open it up to lay it flat.
Last, as you open up the bird, right down the middle you will be able to feel the breastbone. Cut along either side of that and remove it as well.
Turn bird back over.
Here is a blog post all about How to Spatchcock a Chicken (aka Butterfly).
Told you guys that was easy!!
Spatchcock Chicken Side Dishes
Wondering what to serve with your delicious chicken – here are a few yummy ideas:
I really hope you guys enjoy!
Don't forget to follow me on Facebook, check out my Instagram account or see what I am pinning on Pinterest!
Made this recipe and loved it?! We would love it if you would take a minute and leave a star rating and review – it is also helpful if you made any substitutions or changes to the recipe to share that as well. THANK YOU!
Print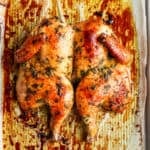 Spatchcock Chicken (Butterflied Chicken Recipe)
Author: Erin Jensen
Prep Time: 15 minutes
Cook Time: 60 minutes
Total Time: 1 hour 15 minutes
Yield: Approx. 4-6 servings
Category: Dinner
Method: Oven
Cuisine: American
---
Description
Spatchcock Chicken (Butterflied Chicken) – A quick and easy way to make the perfect chicken every time!!
---
5–8lb chicken, spatchcock/butterflied
1 cup extra virgin olive oil
1/2 cup freshly chopped parsley
1 tablespoon minced garlic
1 tablespoon coconut aminos (use soy sauce if not Whole30/GF)
1 tablespoon lemon juice
kosher salt
ground black pepper
4 tablespoons ghee, melted
---
Instructions
Prep the chicken by removing any gizzards that are stuffed inside the cavity.
Flip chicken over so that it is breast side down.
The backbone will now be running right down the middle of the chicken. Take a pair of sharp kitchen shears and cut along one side of the backbone.
Then cut along the other side of the backbone.
Remove the backbone (feel free to freeze it and use it the next time you make homemade chicken broth).
Next, cut into the cartilage at the top of the breastbone so that when you flip the chicken over it will lay flat. Alternatively, you can press down on each of the wings at the same time and the breastbone will simply crack, allowing you flip it over and lay the chicken flat.
Place spatchcocked chicken in a container that allows it to sit fairly flat and rub down with salt, getting into every crevice.
Combine olive oil, parsley, garlic, coco aminos and lemon juice.
Pour over chicken and, using your hands, rub ALL over.
Cover and let sit for 15 minutes (or as long as 48 hours).
Preheat oven to 400 degrees F.
Place chicken on parchment lined cookie sheet.
Sprinkle with pepper and a little more salt.
Bake at 400 degrees F. for 20 minutes.
Reduce to 350 degrees F. and keep cooking for an additional 40 minutes or until it reaches an internal temperature of 160 degrees F., basting every 10 minutes with the melted ghee and the drippings.
Let rest 5-10 minutes and then serve. (I highly recommend you serve with some of the drippings poured on top). The chicken's internal temp will continue to rise 5 degrees while it rests (chicken is fully cooked when it reaches an internal temperature of 165 degrees F. at it's thickest part).
Or, cut up and keep in fridge for meal prep (again, I would highly suggest storing in the drippings so it retains flavor and doesn't dry out!).
---
Notes
Storage: store leftovers in an airtight container in the refrigerator for up to 3 days.
Keywords: spatchcock chicken, butterflied chicken
Originally published April 8, 2018.