Grilled Corn on the Cob in Husks
An easy and delicious way to cook your corn on the cob! Keep those husks on!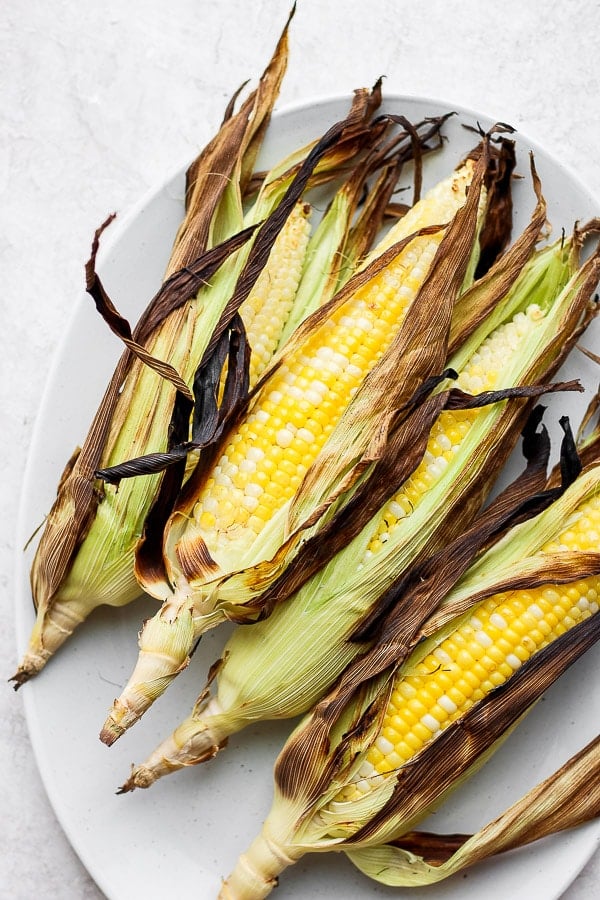 Every year I look forward to grilling corn!
Grilling season is here and, around our house, we grill pretty much everything – corn included!
Do I Have to Soak Corn Before Grilling
Yes, you need to soak before grilling if you are grilling with the husks. This allows the husks to soak in some of that moisture and reduce the likelihood of them burning. Soak for at minimum of 30 minutes, but I would recommend anywhere from 1-2 hours.
Can You Grill Corn with Silk Still On
Yes, you can choose to leave the silk still on. If you do opt to leave the silk on I would highly recommend soaking your corn for at least an hour so it is less likely to burn. ALSO – it is kind of a pain to deal with the silk AFTER you have grilled it. In my opinion it is nice to deal with the silk before you grill. After you only have to worry about eating the corn and not peeling off burnt silk.
How to Remove the Silk from Corn
Peel back the husk by pulling from the top of the corn down the towards the stem.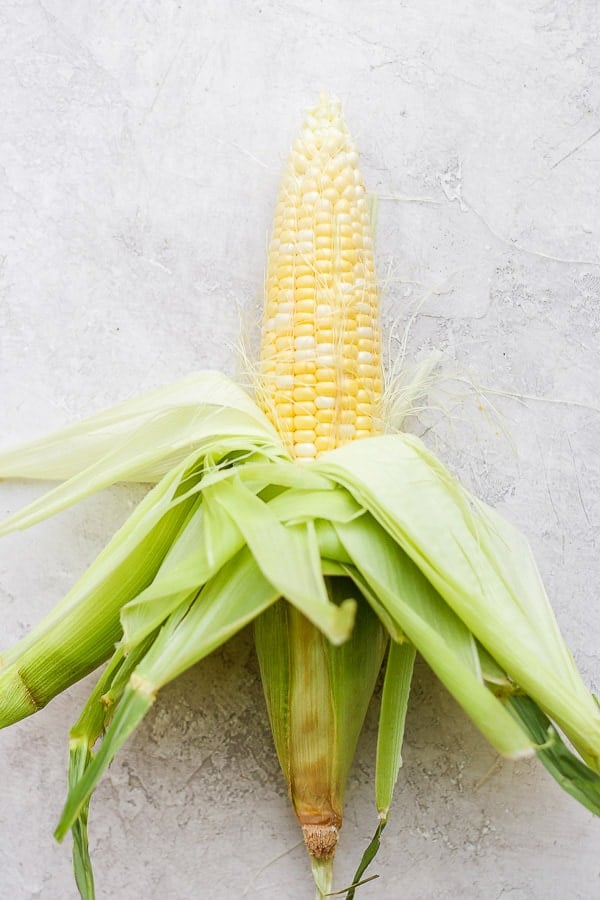 Pull gently enough that you don't rip off the husk and it is left "hanging" at the bottom. Then rip out as much of the silk as you can, discarding it.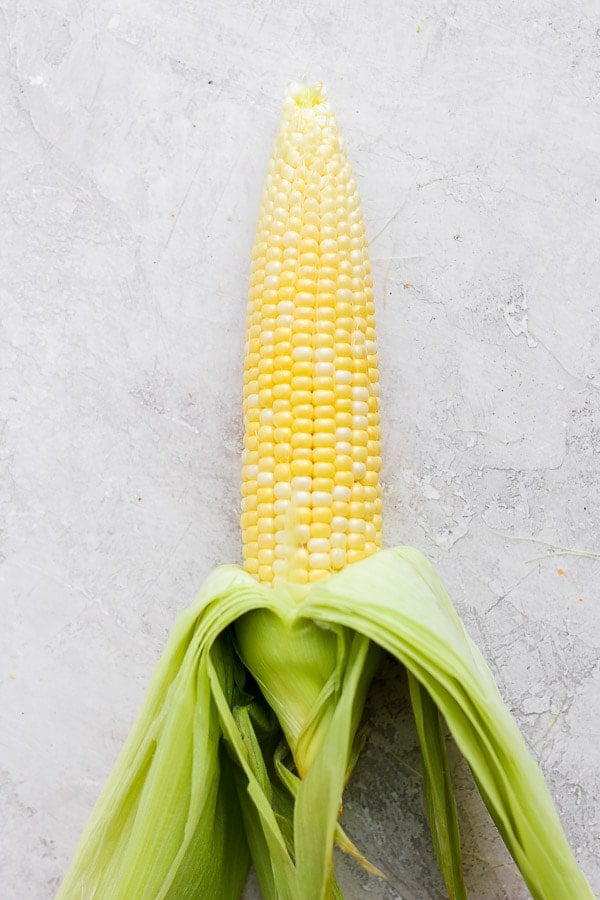 Grilling Corn with Husks On
Step 1: Soak for 1-2 hours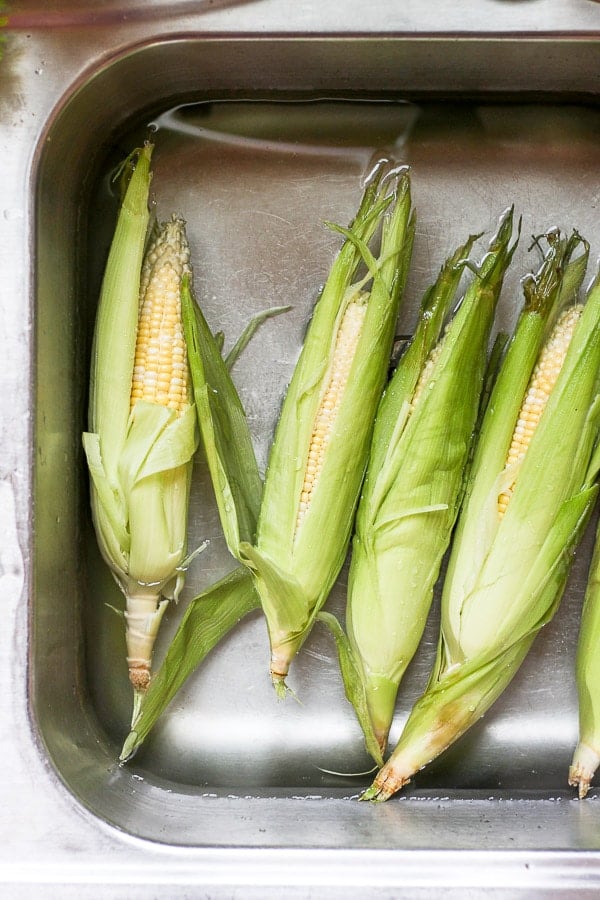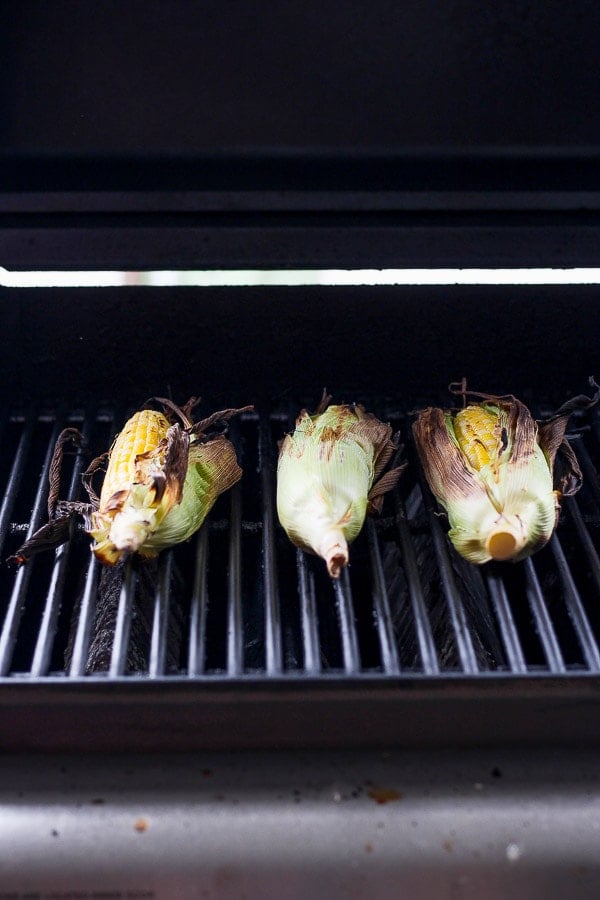 Step 2: Grill over direct, high heat for approximately 12 minutes, flipping periodically.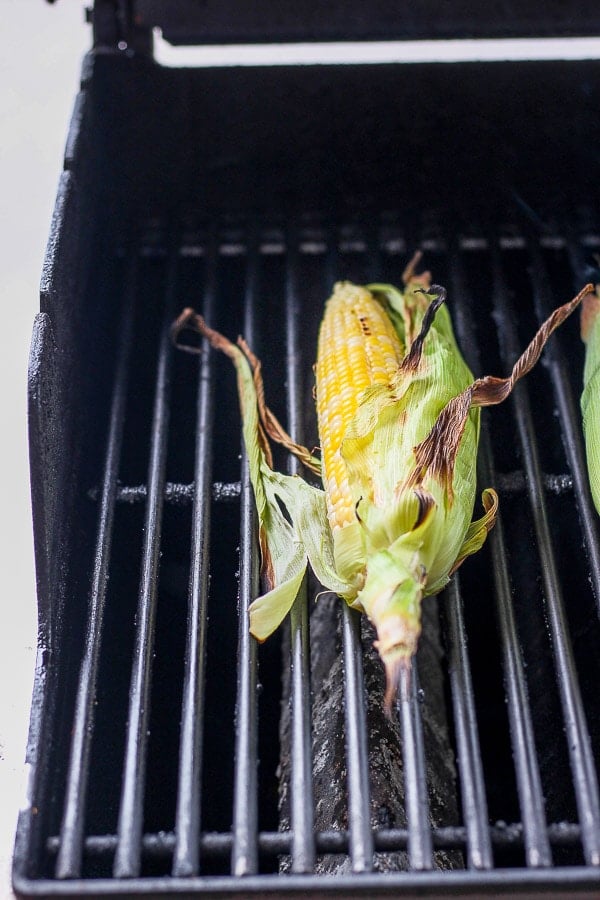 Step 3: Remove from grill and serve immediately!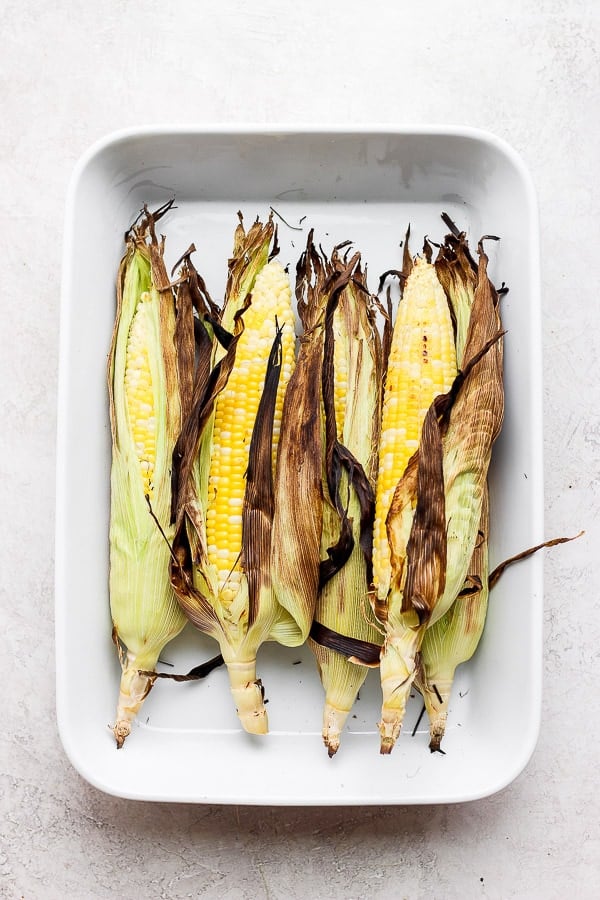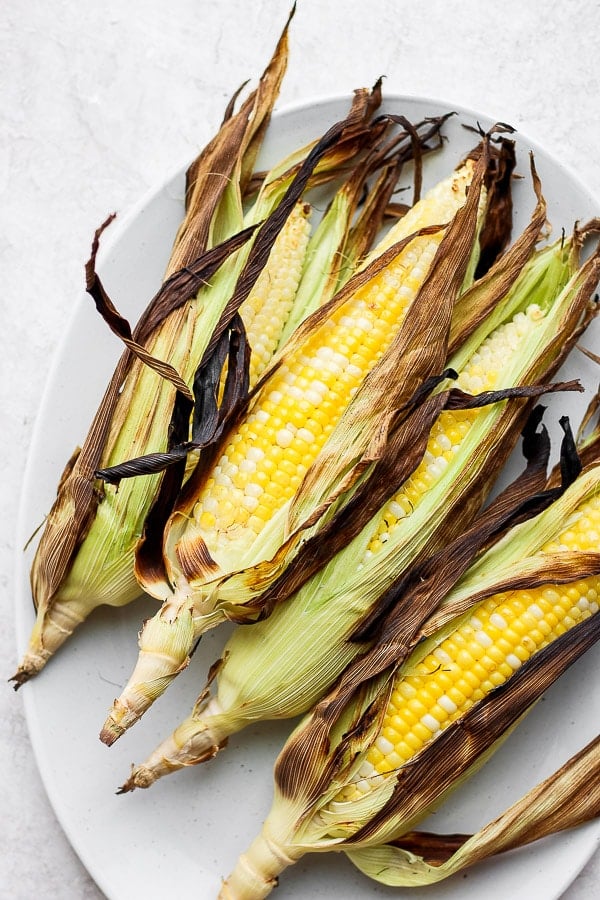 OTHER POTLUCK-FRIENDLY RECIPES YOU MIGHT LIKE:
Don't forget to check out my Instagram account – Or give me a follow on Facebook or see what I am pinning on Pinterest!
Love,
E
Thank you so much for reading & supporting The Wooden Skillet! This post includes affiliate links for products I actually use in my own home and personally recommend. Should you make a purchase using one of these links, The Wooden Skillet will earn a small commission at no extra cost to you, which helps me continue to bring you great original content. Thank you!
Print
Grilled Corn on the Cob in Husks
Author: Erin
Prep Time: 2 hours
Cook Time: 12 minutes
Total Time: 2 hours 12 minutes
Yield: 4 ears of corn 1x
Category: Side Dish
Method: Grilling
Cuisine: American
---
Description
A delicious way to grill your corn on the cob!
---
---
Instructions
Prep Corn
Fill a your sink with cold water (or bucket – anything that will fit the corn).
Take corn one piece at a time and peel down the husk. Do not rip it off, but rather pull it down so the corn is fully exposed.
Then remove the silk (the stringy bits under the husk) and discard.
Pull the husk back up so it is covering the corn again (it's okay if the corn isn't fully covered, as long as most of it is).
Repeat with remaining corn pieces.
Place corn in water and let soak for 1-2 hours.
Grilling Corn
Preheat grill to 450-500 degrees.
Remove corn from water allowing excess water to drain off.
Place corn over direct heat (directly over flame) for 12-15 minutes, rotating 2-3 times.
Remove from grill and serve immediately with ghee (butter) and salt
---
Notes
Removing Silk: You don't HAVE to remove the silk before you grill, but I recommend it. I personally don't like having to deal with peeling all those little strings off when the corn is hot. It's nice to get that over and done with before you grill.
Soaking: Don't skip the soaking! Not only will the corn/husks soak up some of that moisture, but it will also help prevent the husks and corn from burning.
When to butter your corn: You can butter your corn (use a basting brush to brush on melted butter) after you peel back the husk and remove the silk, but before you pull the husk back up. I usually just butter and salt the corn after they come off the grill, but that is personal preference!
Lower temp: If you are grilling at a lower grill temp you may need to increase the cooking time to around 20 minutes or so!
Keywords: how to grill corn on the cob in husk, grilling corn in husk, grilled corn on the cob in husks