These fall-off-the-bone Grilled Ribs (ribs on the grill) are packed with flavor and so easy to make! Definitely a summer favorite that our family loves to enjoy for backyard cookouts, family gatherings, and the Fourth of July every year!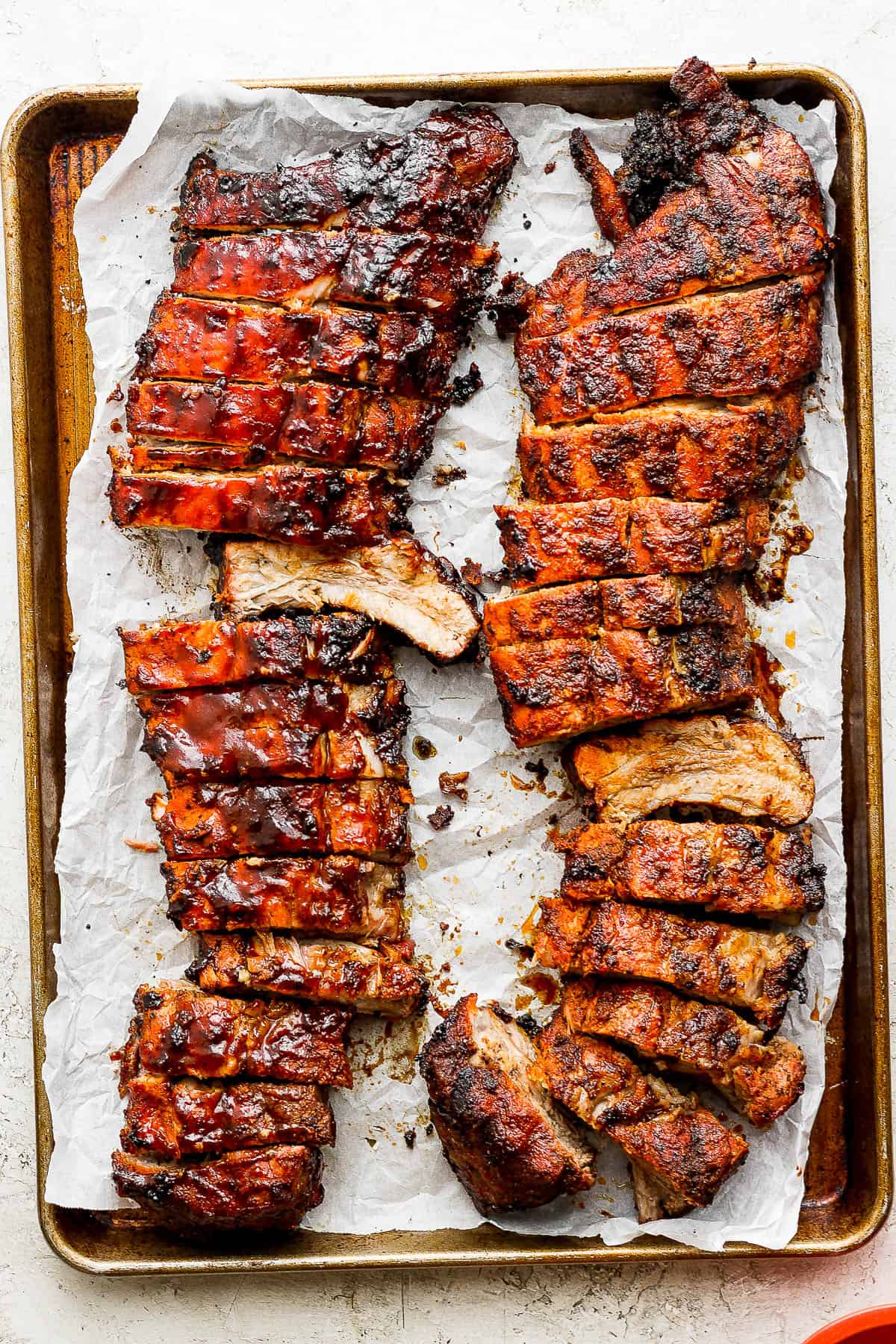 The Best Grilled Ribs Recipe
Every summer, we are constantly cooking everything outside on the gas grill! We love the charred flavor, quick cook times, and minimal clean-up. This is the best grilled ribs recipe with a homemade rib marinade that keeps the rib meat tender and a rib dry rub that gives the outside a delicious crust. Our family has been smoking ribs for years, but this easy grilled ribs recipe might be a new favorite. Especially when we don't have as much time for cooking them low and slow!
If you are looking for a smoked ribs recipe, you have to try these Smoked Baby Back Ribs – so good!
What You Will Need
rib marinade – in the recipe card below we have included an easy rib marinade recipe, but it is entirely optional if you prefer to not use it or don't have the time.
baby back ribs – these are our go-to ribs that we are always able to find at our local grocery store or butcher shop.
kosher salt, lemon pepper, onion powder, & ground black pepper – simple seasonings that bring so much flavor!
smoked paprika & smoked garlic powder – we love the smoked varieties of these spices for this recipe, but feel free to use the regular versions too.
cayenne pepper – optional to add if you like a little bit of a kick!
bbq sauce – we recommend brushing your favorite bbq sauce on the ribs towards the end of cooking, but again, if you don't want saucy ribs you can skip it.
How To Cook Ribs On The Grill
The first step to making this rib recipe on the grill is to remove the packaging. Then place them on a large sheet pan.
With the rib bones facing up, use a sharp knife to start pulling the thin layer of connective tissue off the ribs. Remove this membrane for all of your rack of pork ribs.
If you are going to marinate the baby backs, place all of the marinade ingredients in a small bowl, and whisk to combine.
Place the ribs in a shallow baking dish and pour the marinade on top. Use your hands to rub the marinade over the entire surface of the ribs.
After the ribs are done marinating, you can remove them from the marinade, and shake off any excess. Now mix together the spice rub (salt, pepper, lemon pepper, onion powder, garlic powder, paprika, & cayenne pepper, if using) and cover the entire surface of the ribs.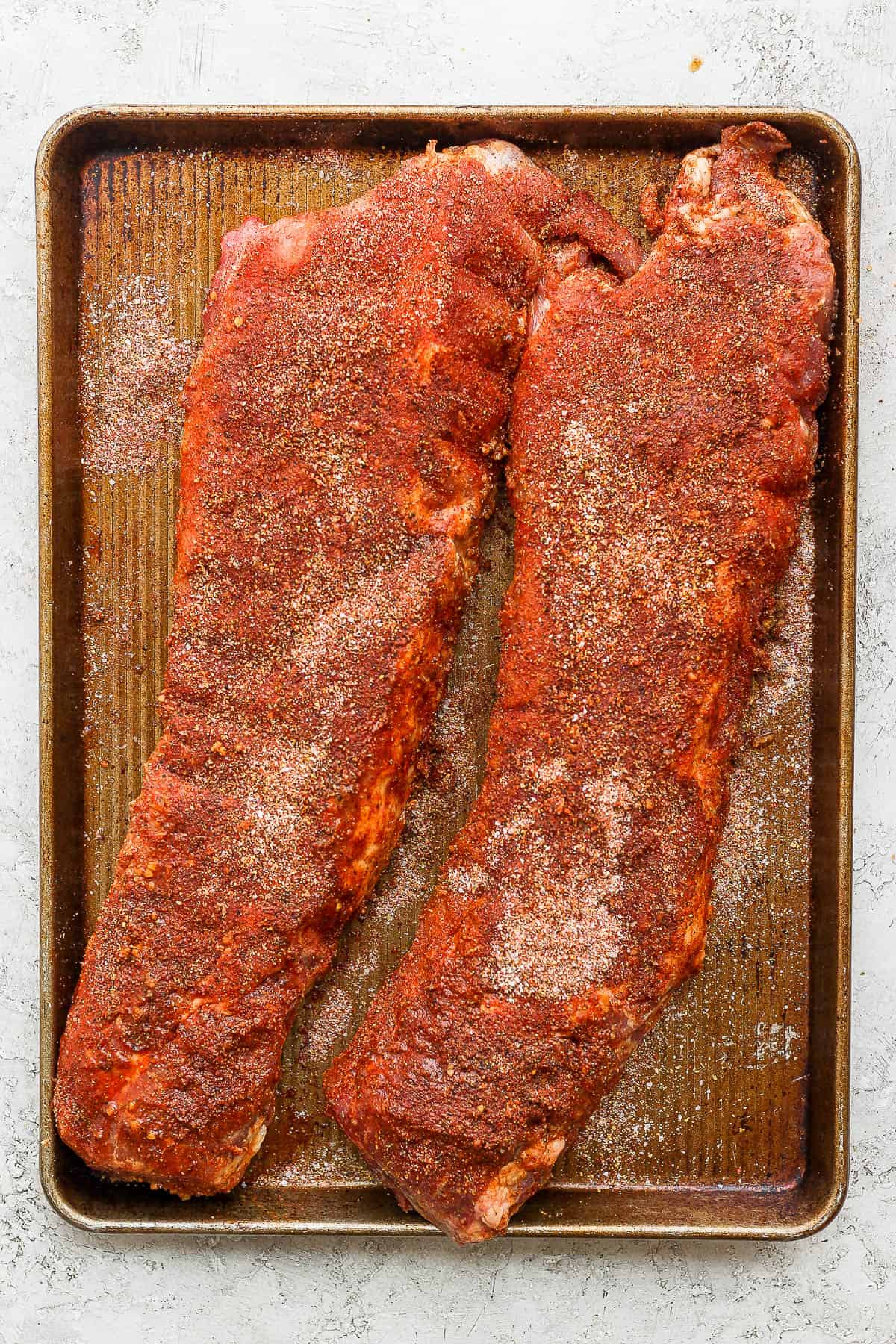 Place the seasoned ribs, meat-side down, on the preheated grill at a high heat and then drop the heat to around 300 degrees F.
For best results, we like to turn off the middle burner and drop the outside burners as low as they go. Let them cook for about 30 minutes and then flip. Continue cooking until the internal temperature at the thickest part of the ribs reaches 190-203 degrees F.
If you are using barbecue sauce, we suggest brushing it on when the ribs are about 5 degrees away from optimal internal temperature during the cooking process.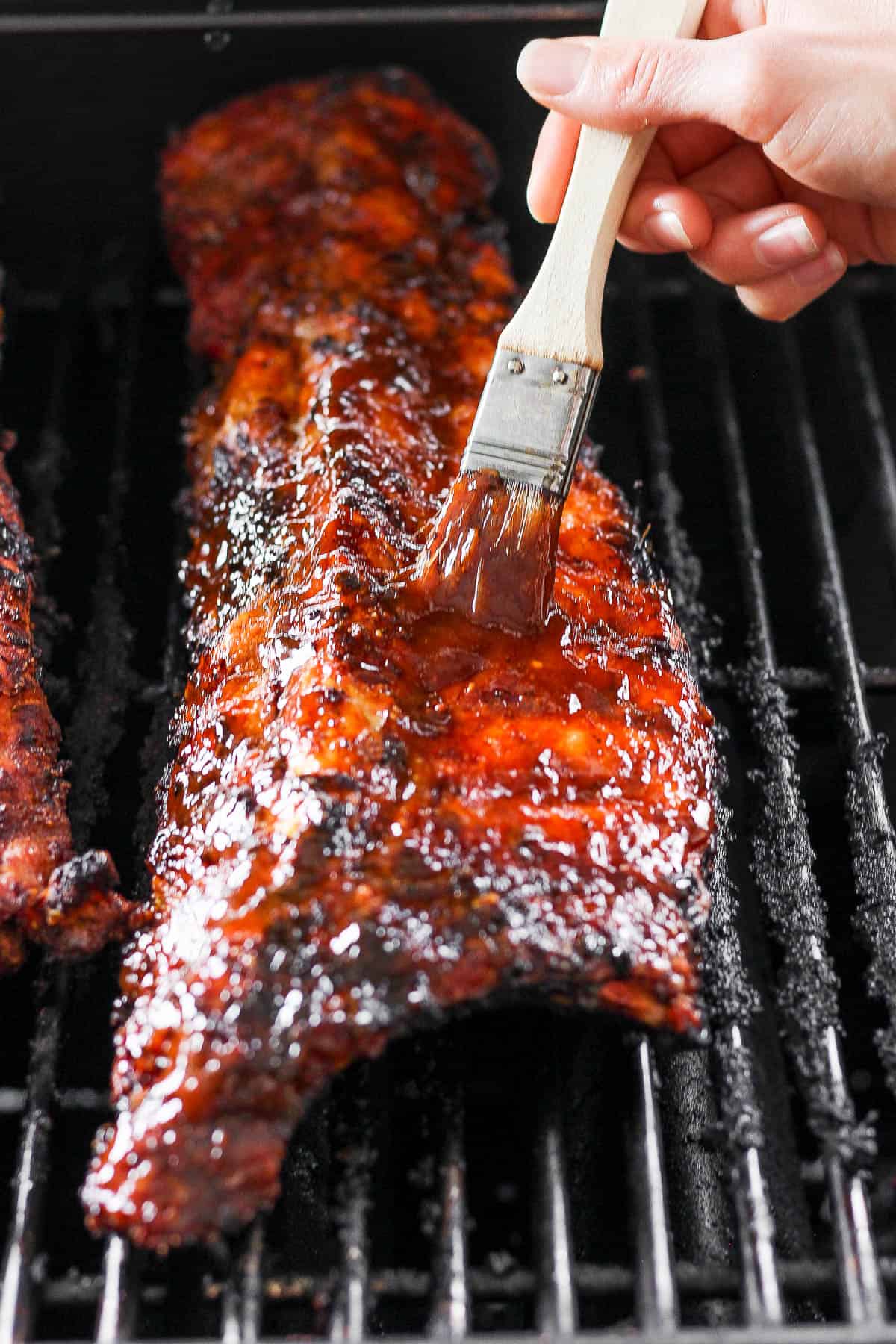 When they are ready, carefully remove the ribs from the grill and place them on a large baking sheet. Cover with aluminum foil and let them rest for 30-60 minutes. Below we you can see that one rack of ribs has barbecue sauce on it and one does not. They will be delicious either way, some people like them more saucy and some do not.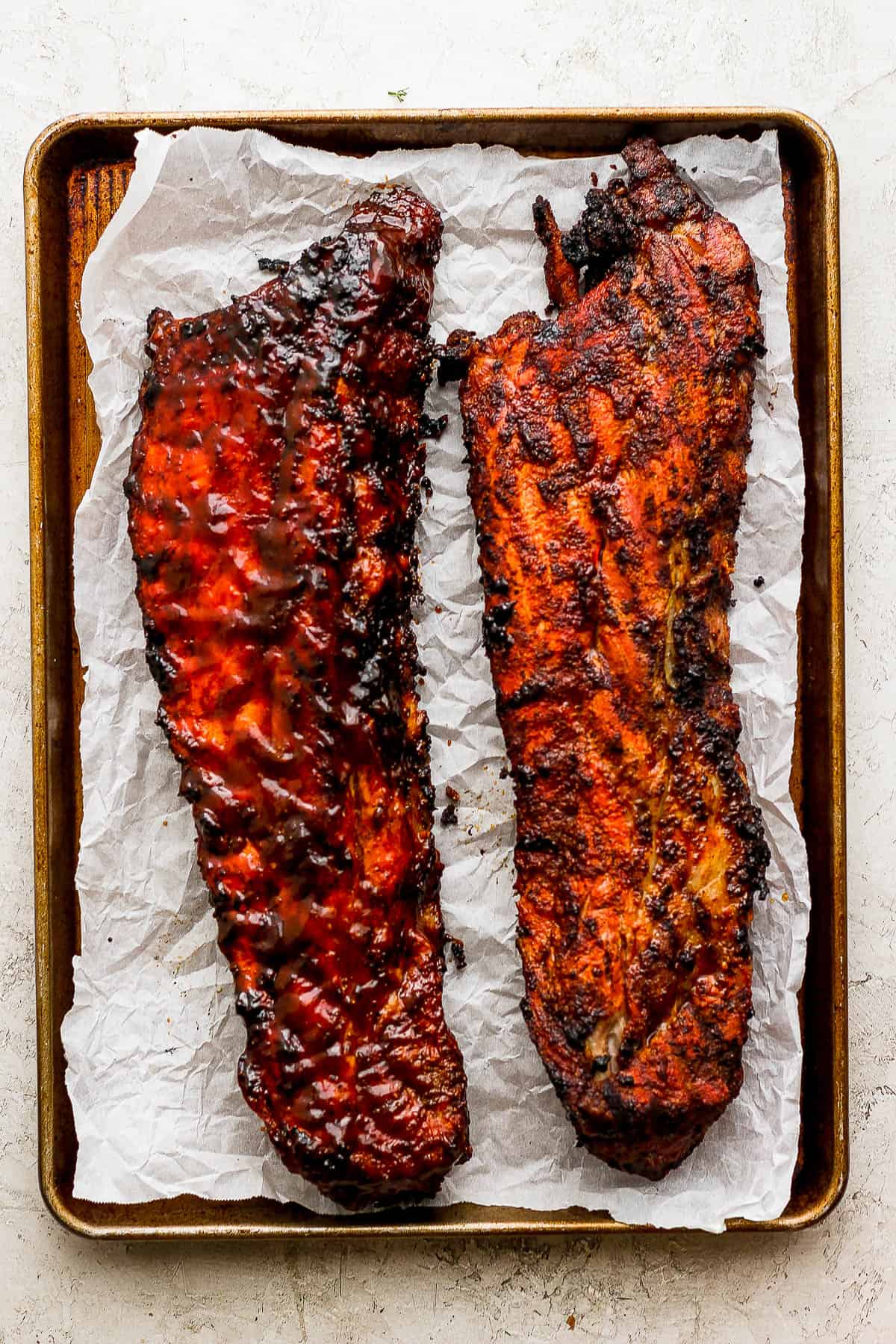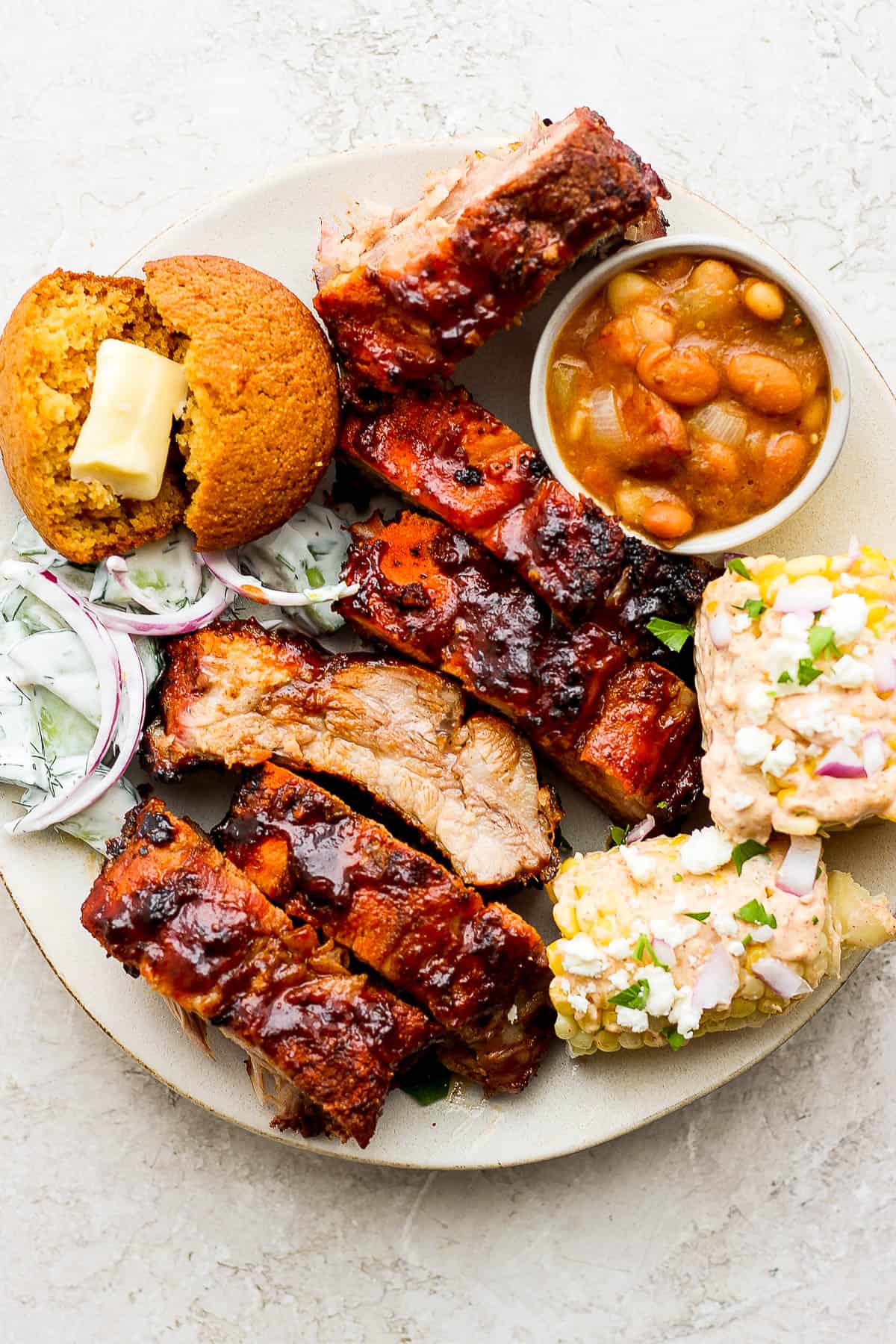 Recipe FAQ
How long to grill ribs: Our ribs on the grill took just over an hour to reach 200 degrees F. Your cook time will depend on how thick your ribs are, the temperature outside, etc. Just keep a close eye on that internal temp. Use the long rest time to finish prepping all your favorite side dishes.
Charcoal grill: You will typically find us using a gas grill, just because it is so easy, and we love our Weber grill! But you can also make these mouth-watering ribs on a charcoal grill too. It might be a little harder to make the heat adjustments.
Taste: As always, please feel free to make any changes you wish to the spices and flavors in the marinade and dry rub recipes!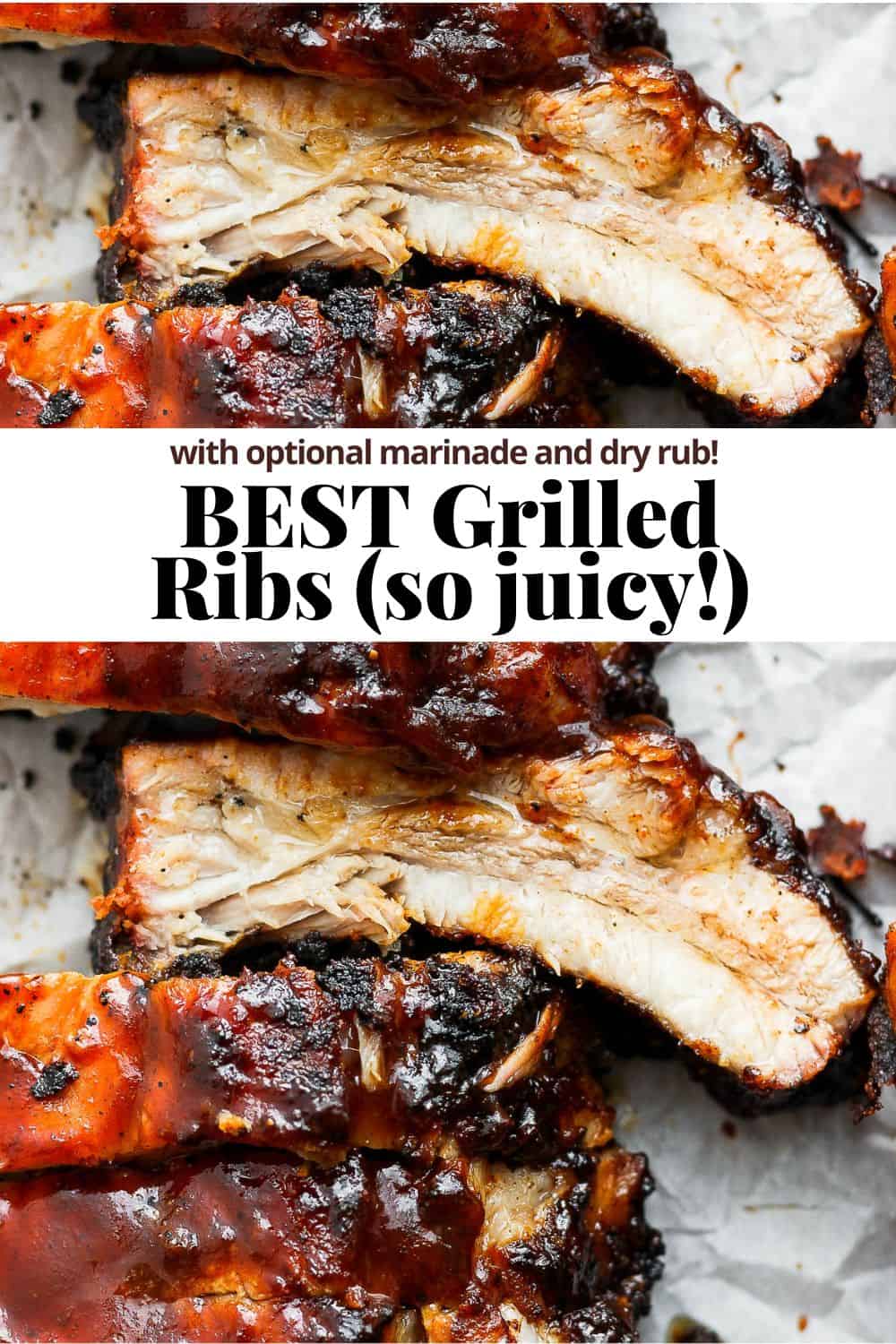 Made this recipe and loved it?! We would love it if you would take a minute and leave a star rating and review – it is also helpful if you made any substitutions or changes to the recipe to share that as well. THANK YOU!
Don't forget to check out my Instagram account for some behind-the-scenes action! Or give me a follow on Facebook or see what I am pinning on Pinterest!
Other Recipes You Might Like
Print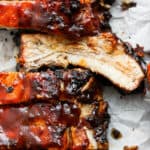 Grilled Ribs (ribs on the grill)
Author: Erin Jensen
Prep Time: 15 minutes
Marinate Time: 1 hour
Cook Time: 1 hour 15 minutes
Total Time: 2 hours 30 minutes
Category: Dinner/Entree
Method: Grill
Cuisine: American
---
Description
Grilled Ribs (ribs on the grill) – a delicious, flavorful and easy grilled ribs recipe that is perfect for your next cookout or family gathering!!
---
Marinade (optional):
1/3 cup soy sauce
1/4 cup extra virgin olive oil (or avocado oil)
2 tablespoons garlic, minced
1 teaspoon garlic powder
1 teaspoon onion powder
1 teaspoon lemon zest
2 tablespoons ketchup
1/4 cup apple cider vinegar
pinch of kosher salt
pinch of ground black pepper
Grilled Ribs:
2 racks of baby back ribs
2 tablespoons kosher salt
2 1/2 tablespoons smoked paprika
2 1/2 tablespoons lemon pepper
1/2 teaspoon cayenne pepper (optional)
1 tablespoon smoked garlic powder
1/2 tablespoon onion powder
1/2 tablespoon ground black pepper
1 cup your choice of bbq sauce
---
Instructions
Make Marinade: Combine Marinade ingredients in a medium bowl. Whisk to combine. Set aside.
Prep Ribs + Marinate: Pat ribs dry with clean paper towel. Place ribs, meat side down, on a baking sheet. Using a small knife, gently lift off the corner of the membrane (the layer of thin connective tissue) and gently pull to remove. Place in 9×13 pan and pour marinade over top – rub marinade all over ensuring it covers every nook and cranny. Cover and let marinate 30-60 minutes.
Prep Grill: Ensure grill grates are clean and well-greased. Preheat grill temperature to 500 degrees F.
Make Dry Rub: In a small bowl combine the kosher salt, smoked paprika, lemon pepper, cayenne pepper (if using), smoked garlic powder, onion powder and ground black pepper.
Season Ribs: Remove ribs from the marinade and let the excess marinade drip off. Place on a baking sheet and cover ribs in the dry rub ensuring every nook and cranny is covered.
Grill Ribs: Place both ribs meat-side down over the middle burner. Drop heat down to 300 degrees F. (I usually turn off the middle burner and leave the outer two on and as low as they can go). Let ribs cook for 30 minutes then flip.
Continue cooking until the internal temp reaches between 190-203 degrees F. (190 degrees F. will be more firm, while 203 degrees F. the meat will fall off the bone easier).
BBQ Sauce: When ribs are approx. 5 degrees away from being done, brush the tops with a generous amount of your favorite bbq sauce and close the lid until they are done cooking.
Rest Ribs: Remove from grill and place on a baking sheet. Cover with foil and let sit 30-60 minutes.
Serve: Uncover the foil and serve!
---
Notes
Marinade: the marinade is totally optional but definitely adds some amazing extra flavor to take these ribs to the next level!
Cook Time: when we tested this recipe it took a little over an hour to reach approx. 200 degrees F. – there are lots of variables that go into total grill time such as thickness of ribs, outdoor temp, etc. Keep a close eye on the internal temperature with a meat thermometer to determine when your ribs are done.
BBQ Sauce: you do not have to rub with bbq sauce, but we highly recommend!
Storage: store leftover ribs in an airtight container in the refrigerator for up to 3-4 days.
Nutrition
Serving Size: 6oz
Calories: 301
Sugar: 11.3 g
Sodium: 1055.6 mg
Fat: 16.4 g
Carbohydrates: 16.5 g
Protein: 22.8 g
Cholesterol: 76.2 mg