Honey Glazed Ham is the perfect addition to any Holiday meal! A juicy baked ham with the most amazing honey bourbon glaze – this easy Honey Glazed Ham recipe is sure to become a family favorite!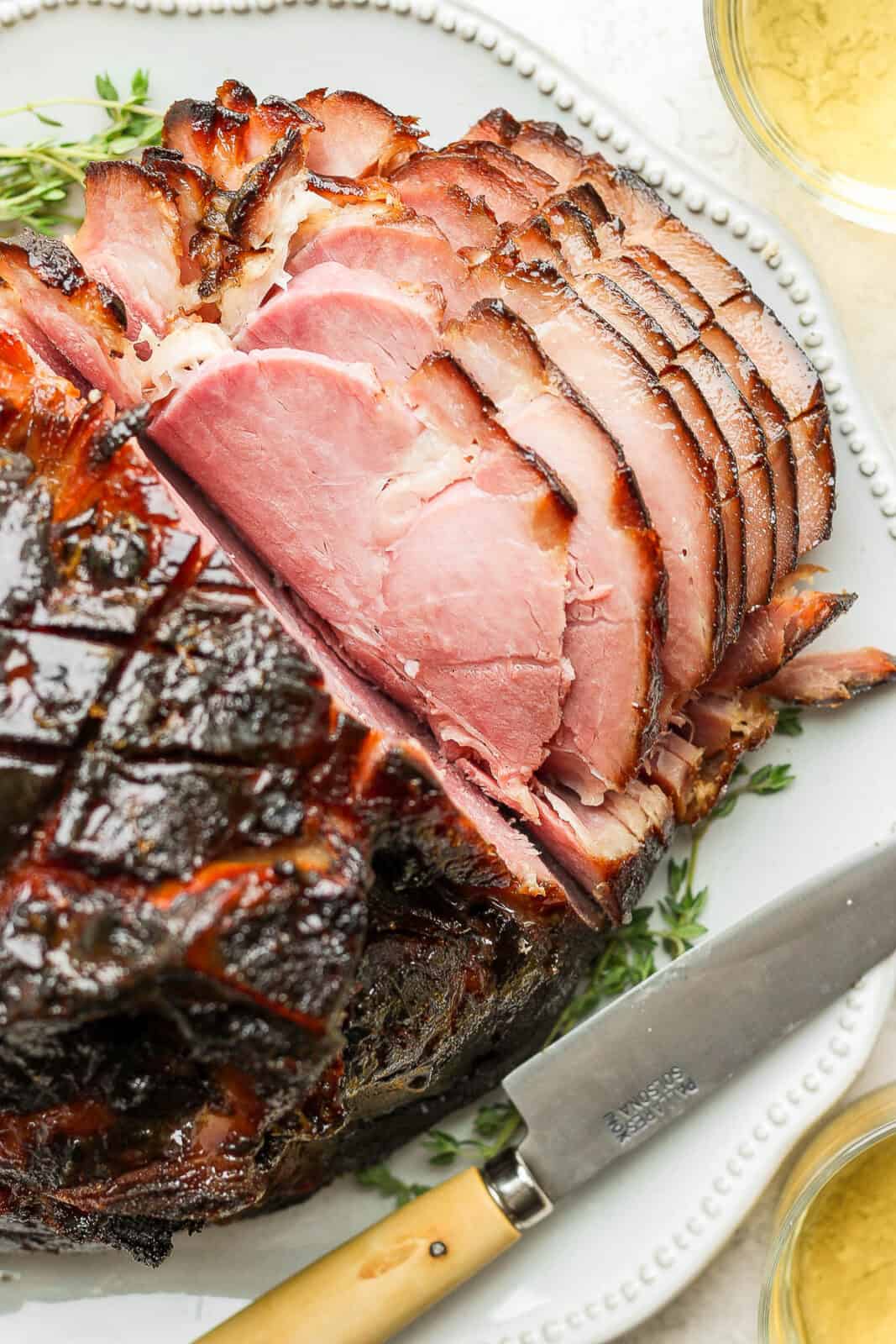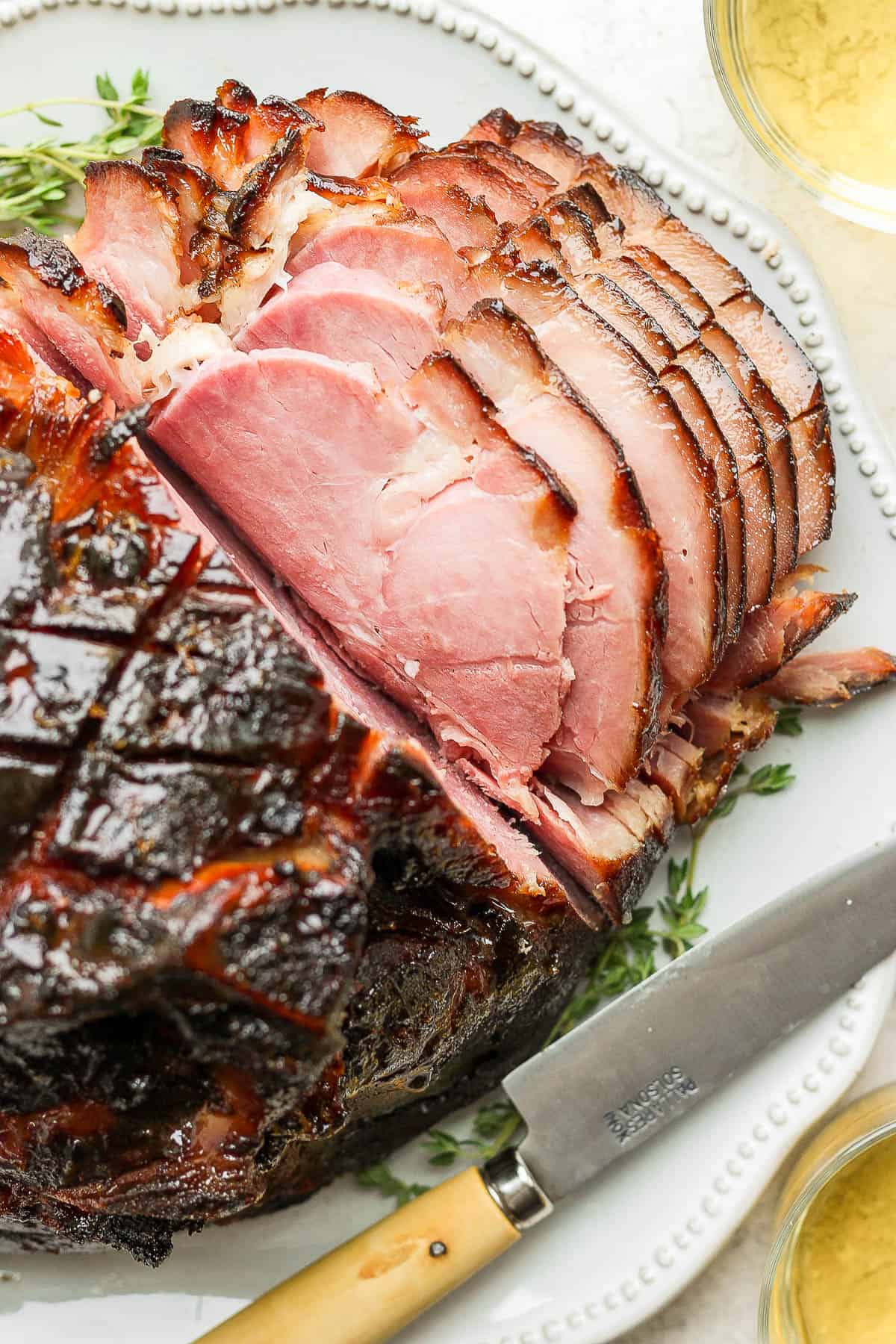 Easy Honey Glazed Ham
If I am not smoking my ham or slow cooking my ham for Easter or Christmas … I am definitely making a Bourbon Honey Glazed Ham from now on! So easy to make, the glaze is just amazing + addicting and it pairs so perfectly with the ham. Use your leftover ham (save the bone!) to make some Ham + Split Pea Soup or Ham Bone Soup – both are amazing and make great lunches for the week! And don't forget to pick out some amazing ham side dishes!
Why This Recipe Works
That glaze with bourbon: I love the flavor combo in this glaze from the honey to the brown sugar (or coconut sugar) to the lemon zest and bourbon (don't forget the melted butter)!! It is all so good!
Slow baked ham + water + foil: we cook the ham at 325 degrees F. for most of the cook time, but we add water to the bottom of the roasting pan and cover the ham with foil – this really does keep in the moisture!
Glaze at the end: towards the end of the cook time we uncover the ham and really layer on that glaze nice and thick. Then, we return the ham to the oven, but at a higher temp so the glaze caramelizes and get nice and tacky.
Honey Glazed Ham Ingredients
ham: we used a 7lb bone-in ham for this recipe, but feel free to use a smaller/bigger one and adjust the time.
water: we put some water in the bottom of the roasting pan to keep that ham nice and juicy!
whole cloves + star anise: a couple of each of these go into the water in the bottom of that roasting pan – the aroma is so lovely!
honey: because it is a "honey glazed ham" … duh!
coconut sugar or brown sugar: feel free to use either depending upon preferences.
butter: we melt the butter and then add it to the glaze – it adds a lovely flavor and helps thin out the mixture.
dijon mustard: this adds a bit of acidity.
grated lemon zest: this also adds some acidity, but also just brightens up the flavor.
bourbon: you can definitely omit this if you prefer … on the other hand you can also add more if you want!
ground cinnamon + ground allspice: these add a great depth of flavor to the glaze!
How to Make Honey Glazed Ham
Score the outside of the ham – be sure not to cut too deep!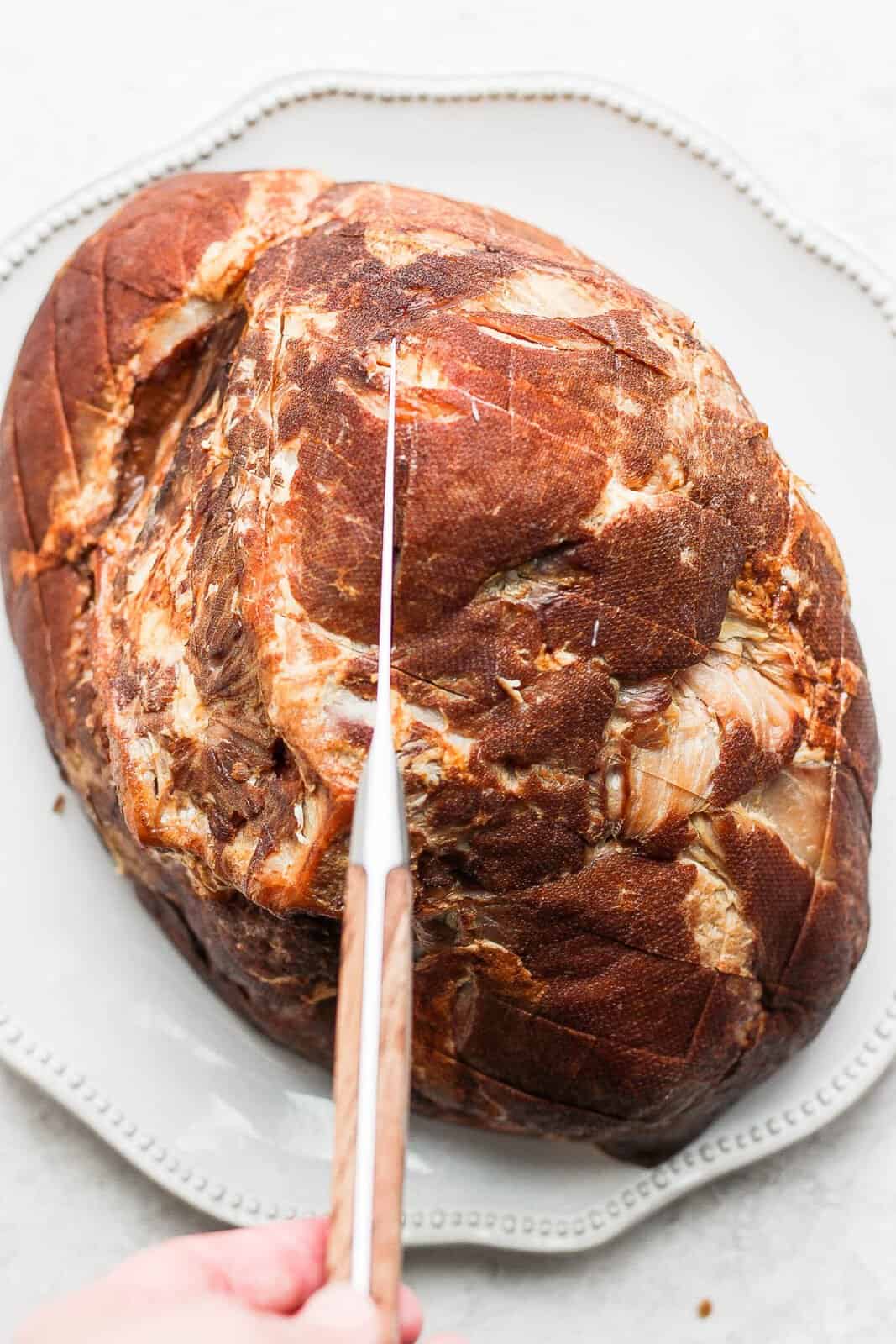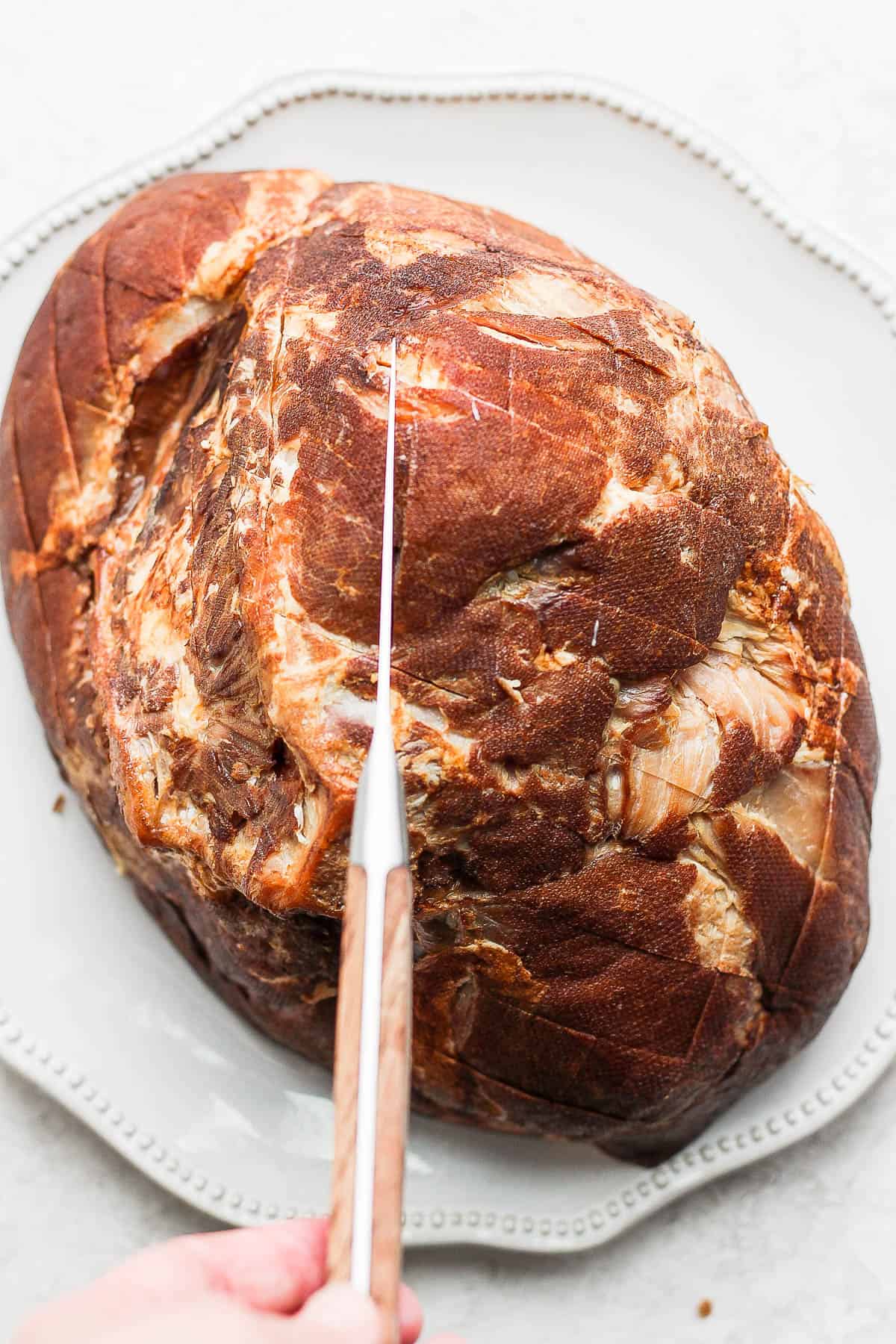 Place water, star anise and cloves in the water. Place the ham on top of the roasting rack, cut side down.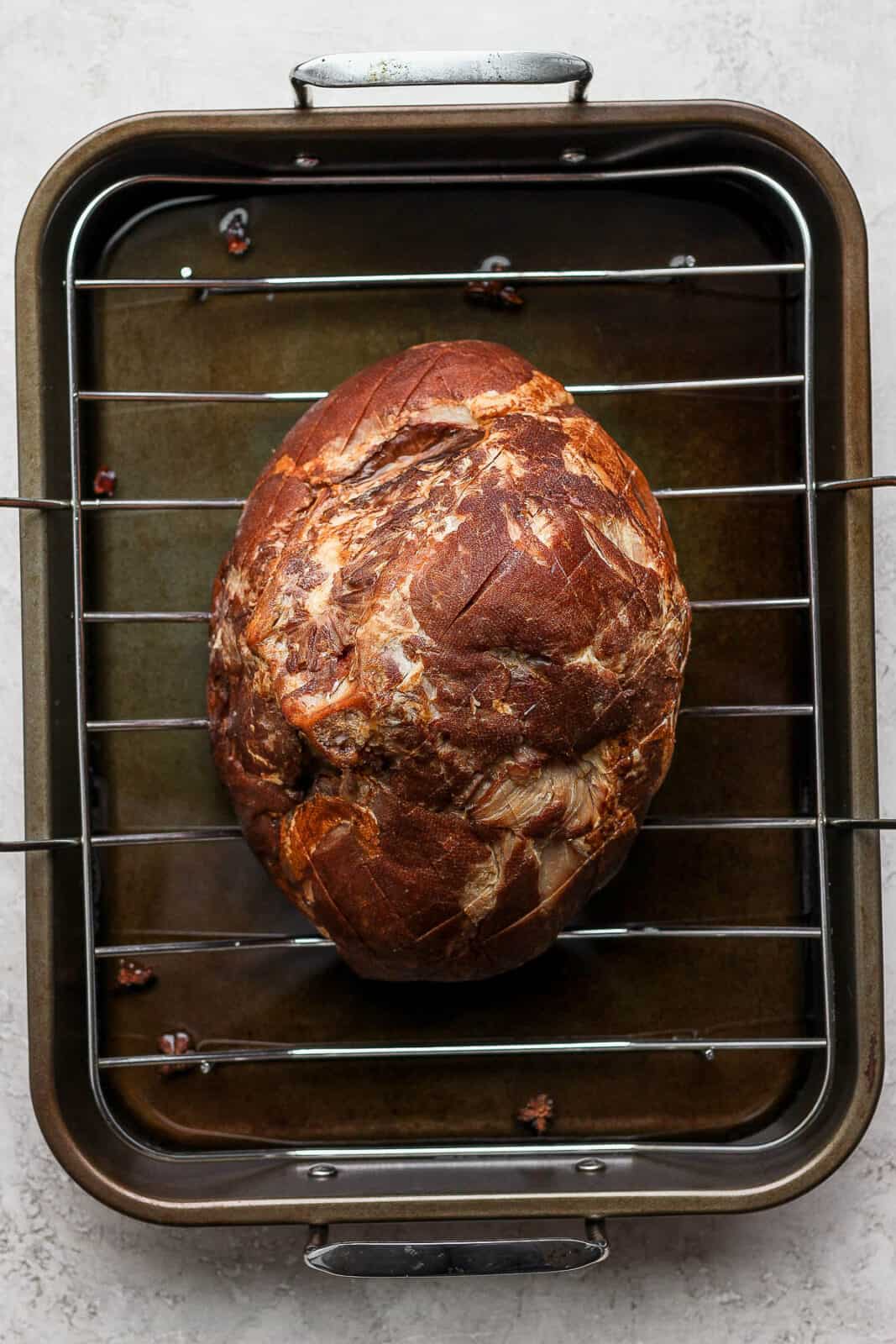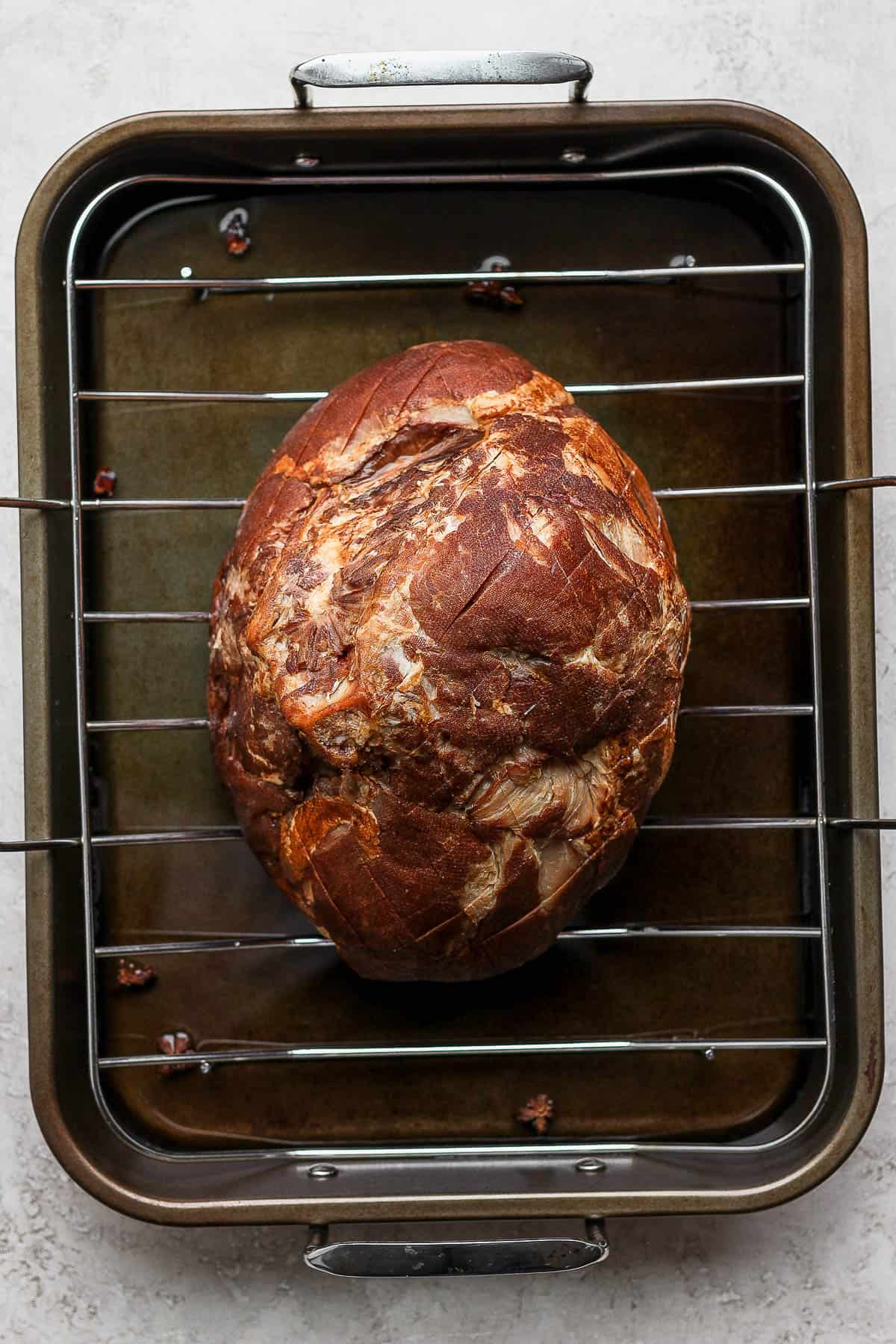 Combine your glaze ingredients. Taste and adjust flavor.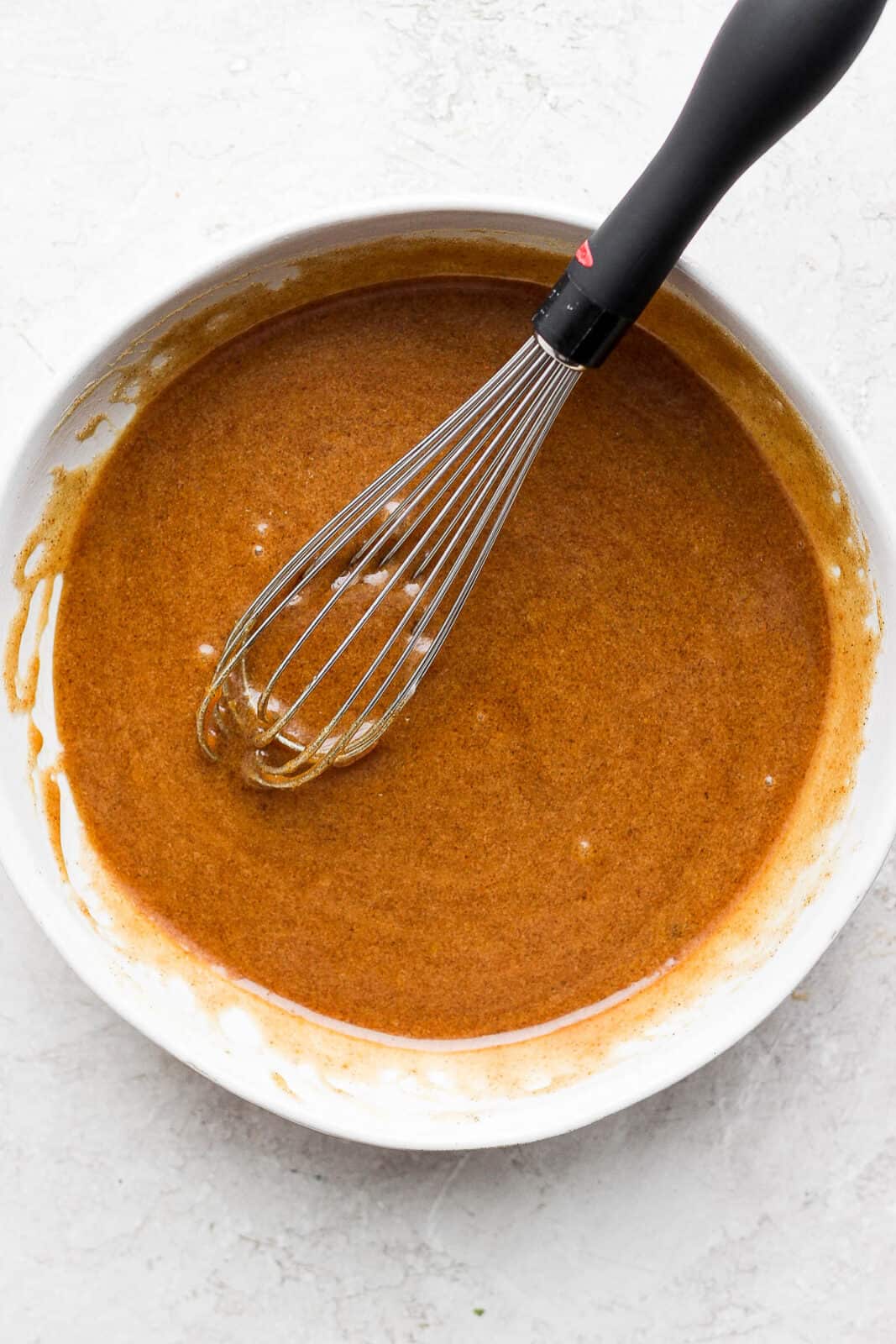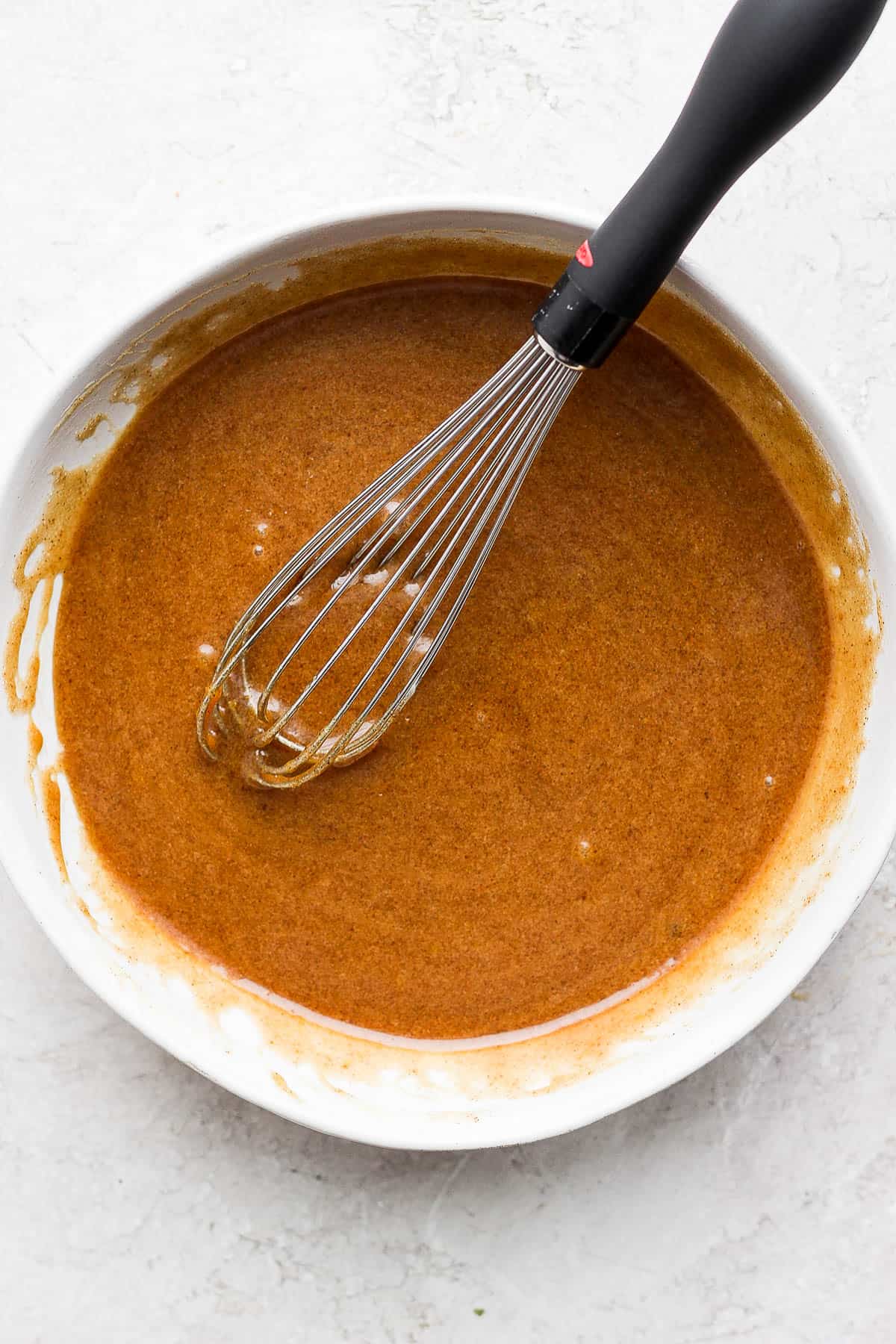 Bake ham for about 20 minutes and then brush with glaze. Cover with foil and let it continue to cook.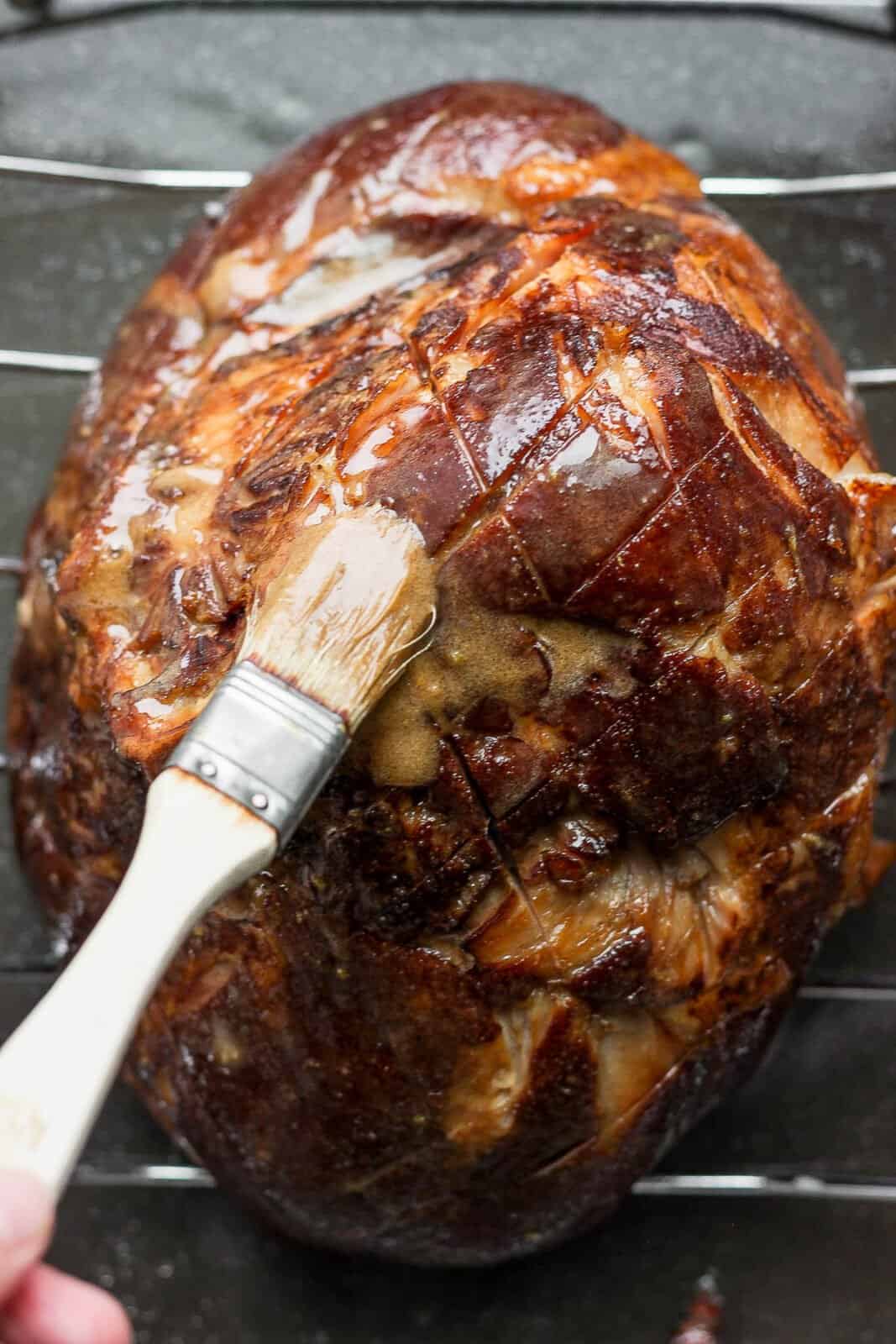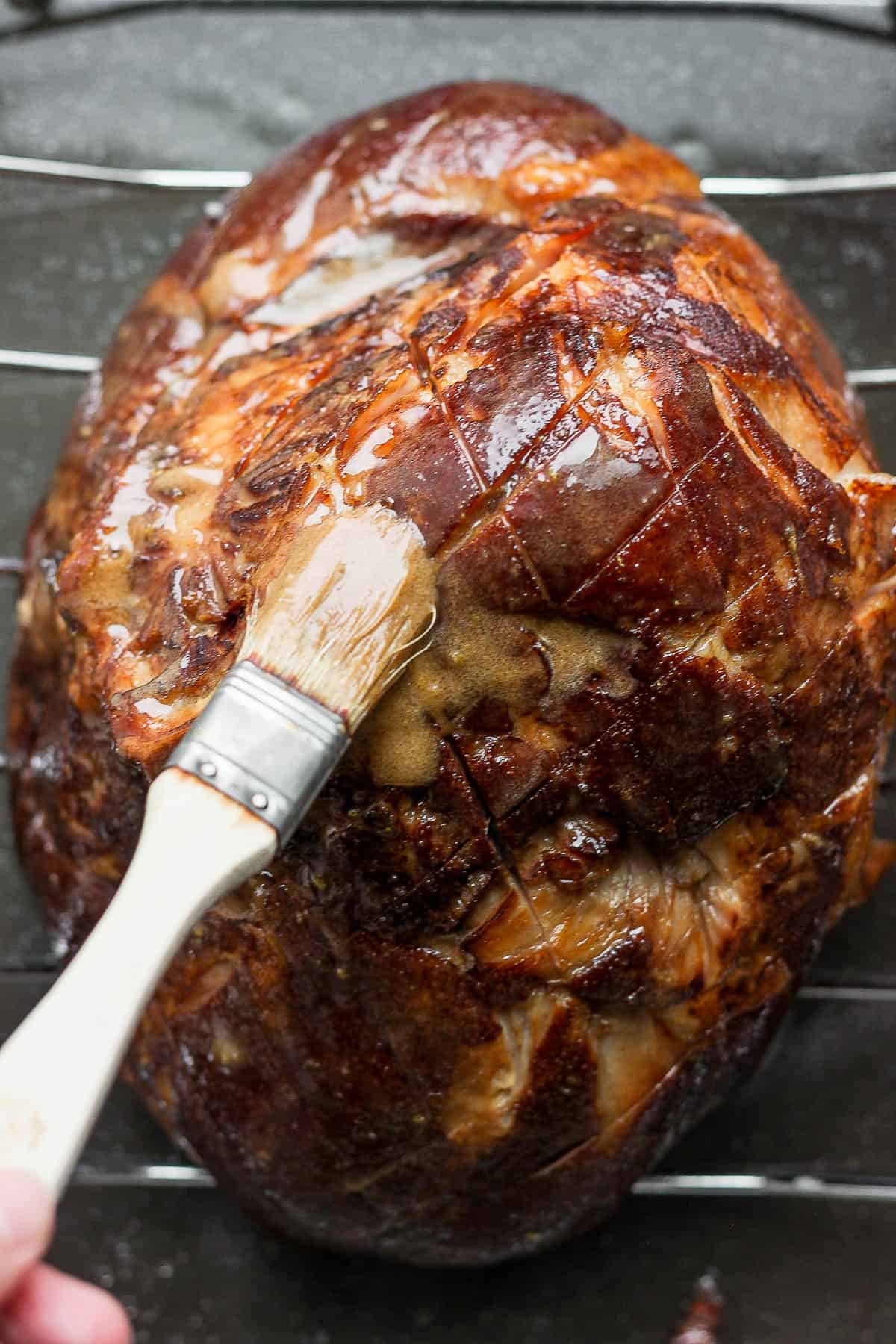 When there is about 10-15 minutes left we are going to uncover the ham and turn the heat up in the oven. Brush a heavy layer of the glaze on and then return to the oven. Under the higher heat, the glaze should get tacky.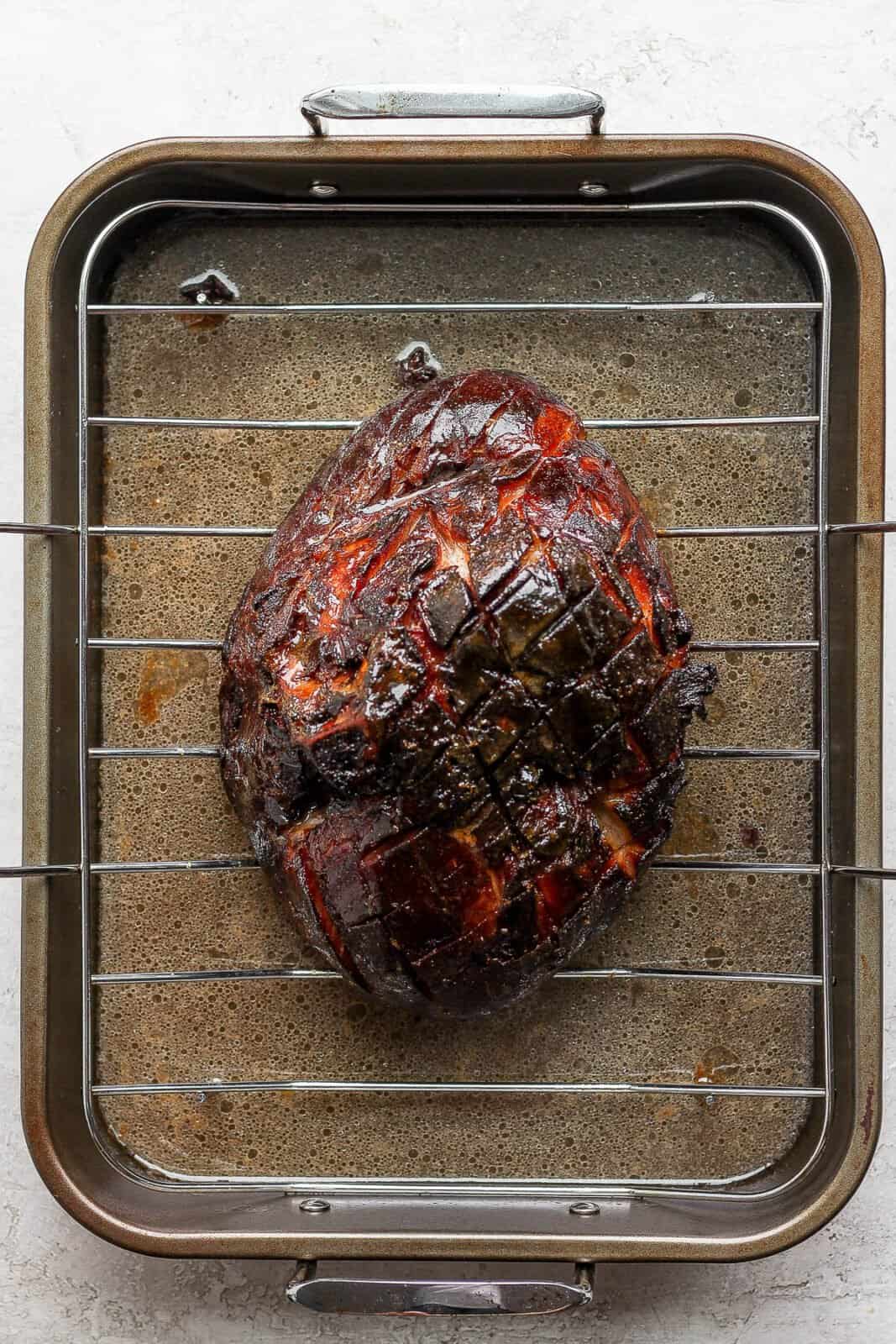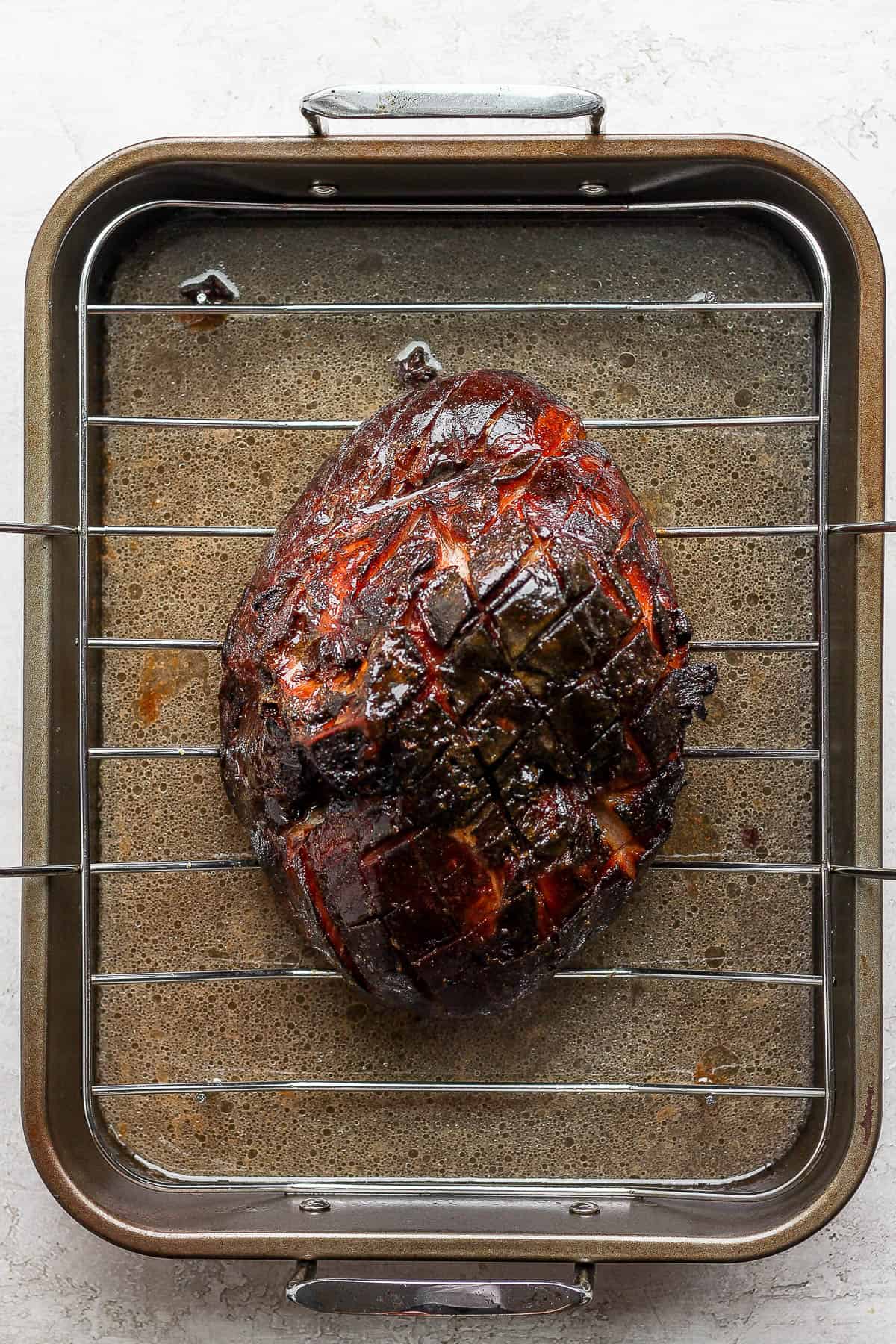 Feel free to put more glaze on after cooking too if you want!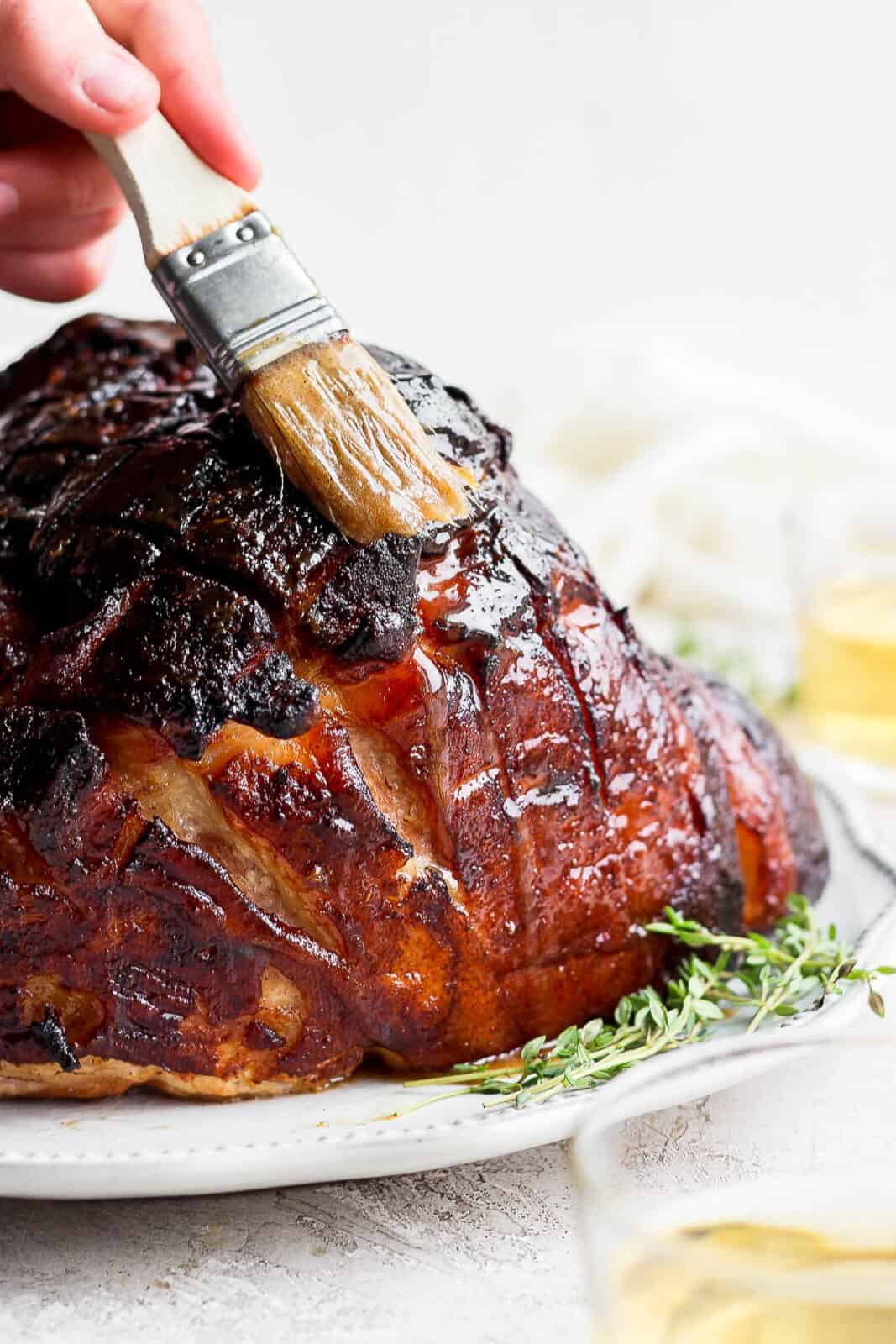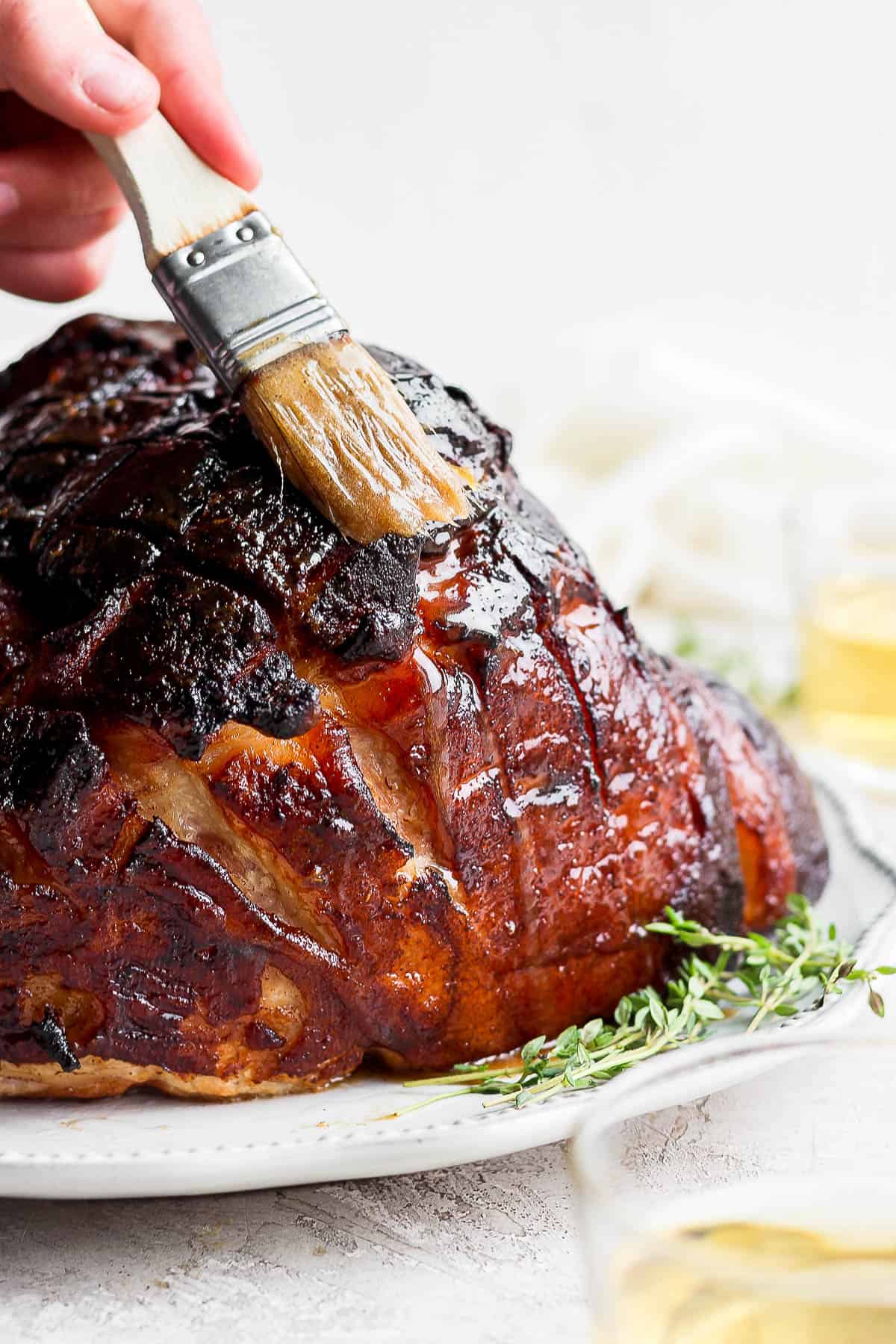 Carve and serve!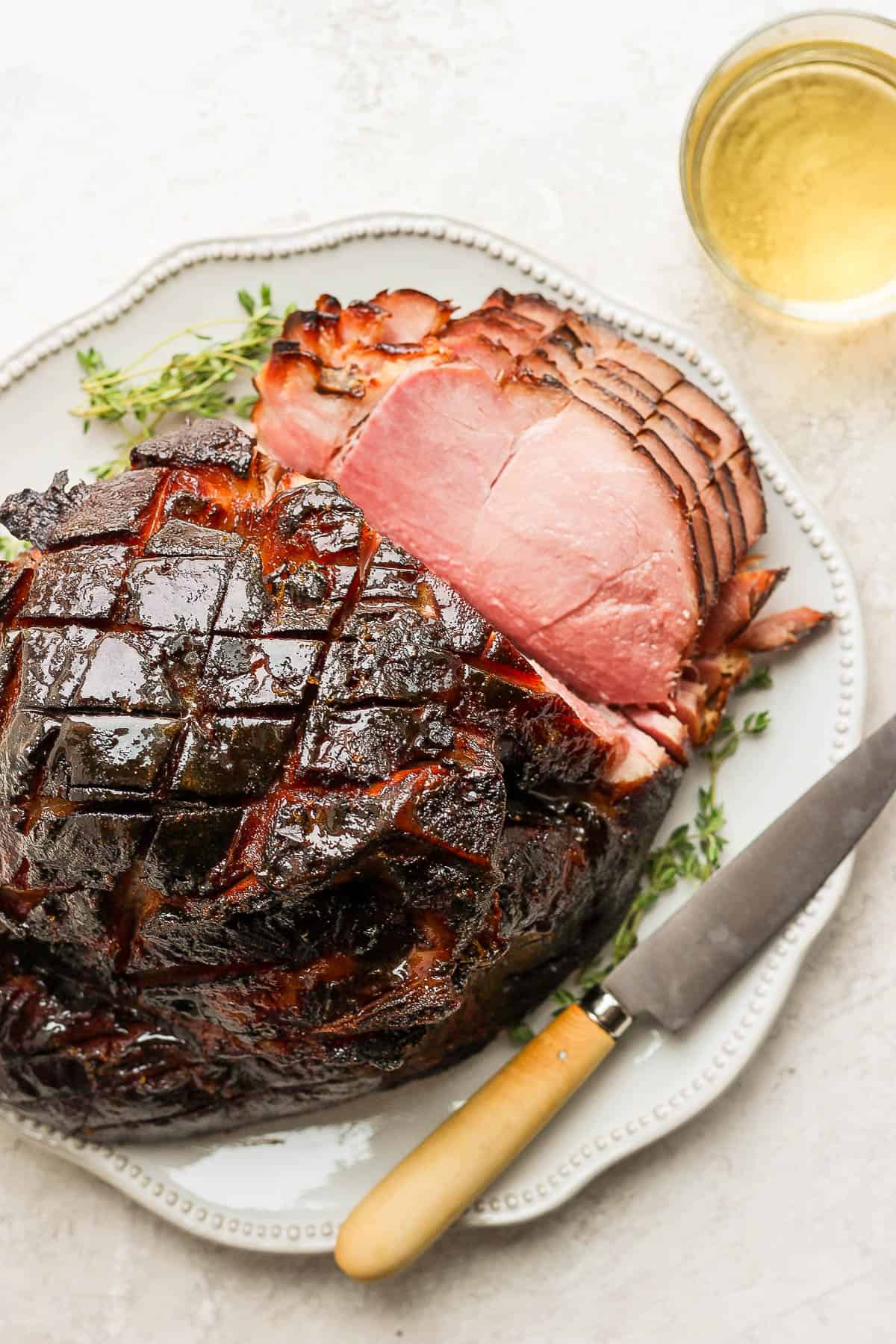 What to Serve with Honey Glazed Ham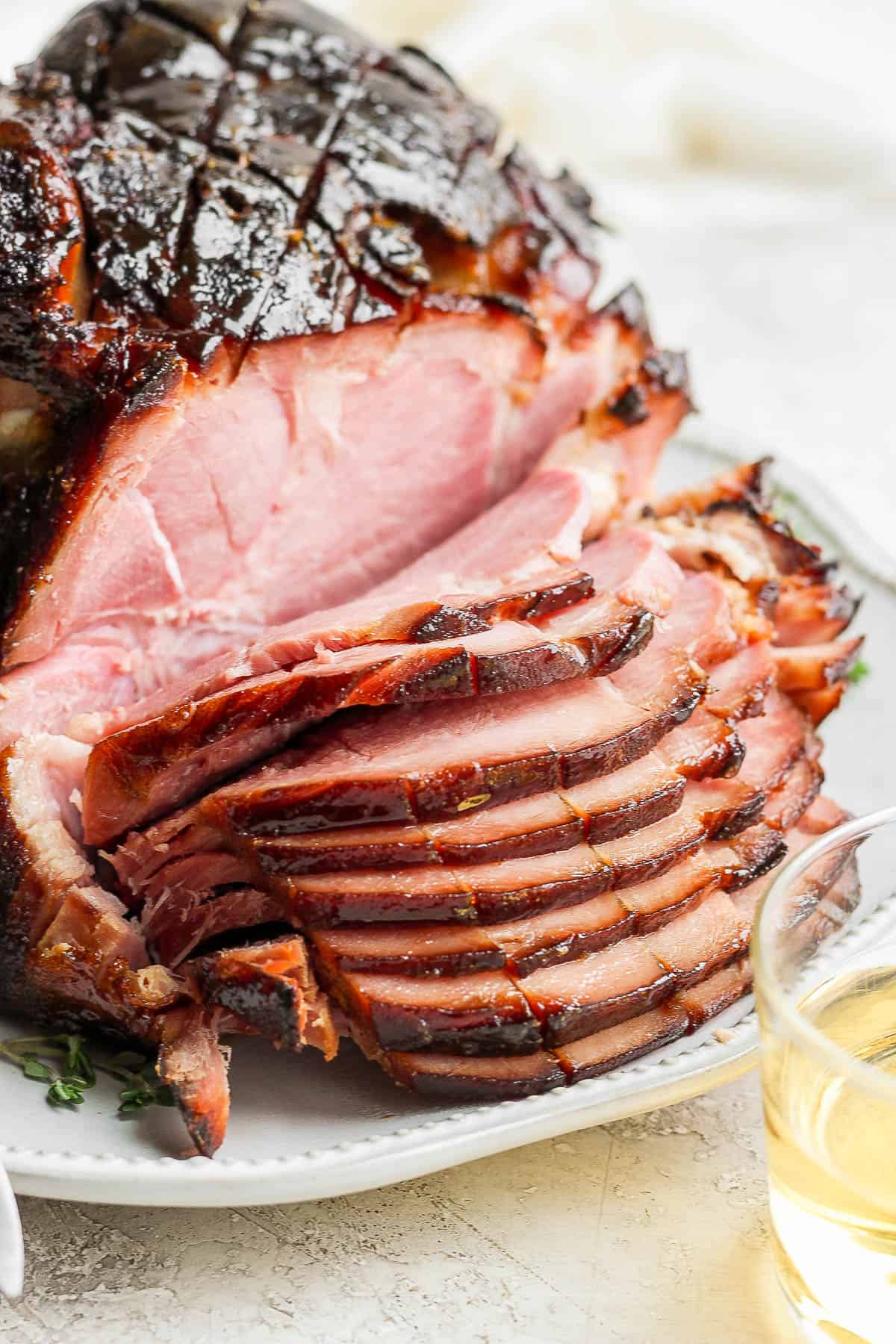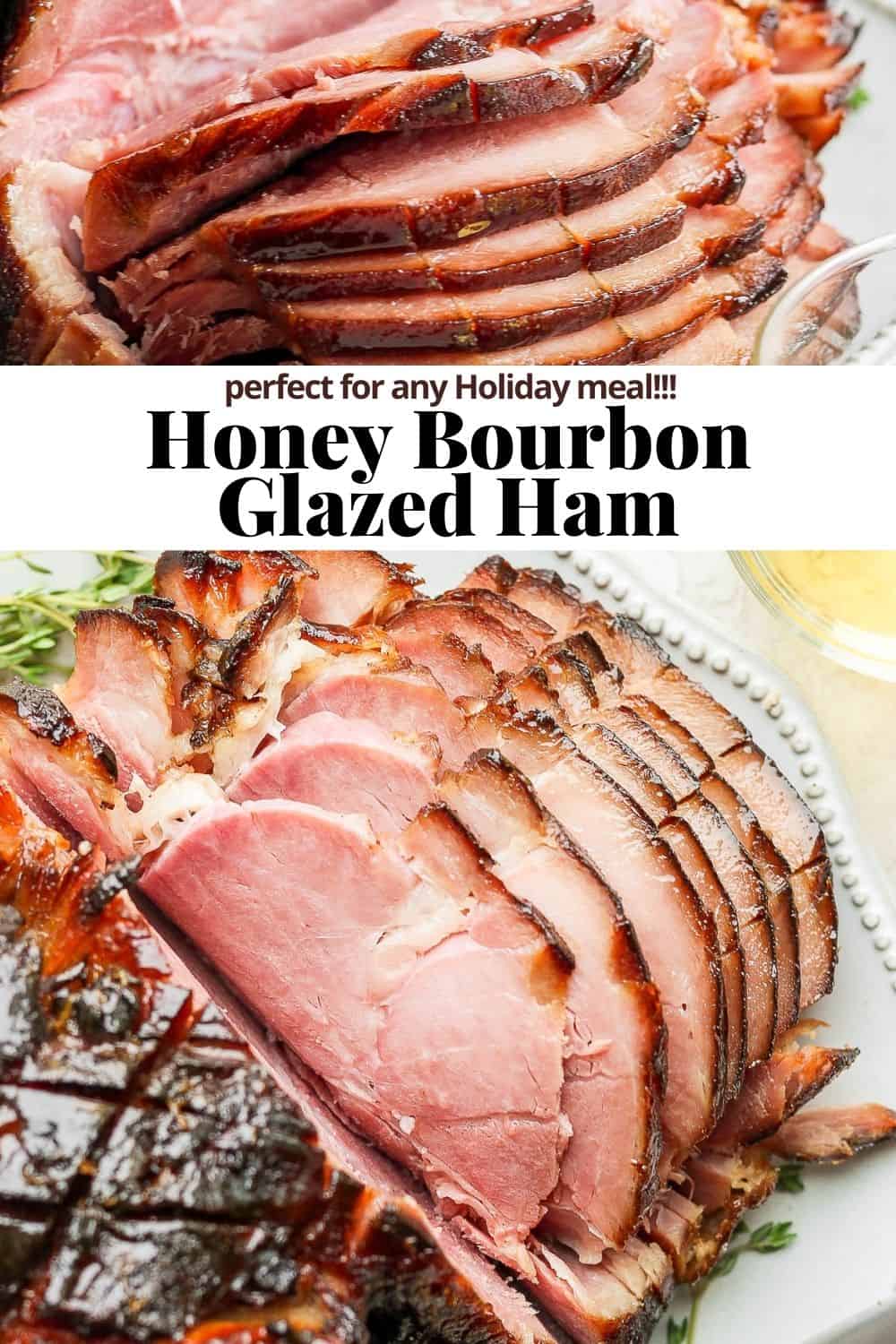 Made this recipe and loved it?! We would love it if you would take a minute and leave a star rating and review – it is also helpful if you made any substitutions or changes to the recipe to share that as well. THANK YOU!
Don't forget to check out my Instagram account for some behind-the-scenes action! Or give me a follow on Facebook or see what I am pinning on Pinterest!
Print
Honey Glazed Ham
Author: Erin Jensen
Prep Time: 15 minutes
Cook Time: 2 hours 30 minutes
Total Time: 2 hours 45 minutes
Yield: 12 servings 1x
Category: Dinner/Entree
Method: Oven
Cuisine: American
---
Description
Honey Glazed Ham – an absolutely delicious honey bourbon glazed ham recipe that is perfect for any holiday meal! So easy!
---
Ham:
Approx. 7lb ham
water
2–3 whole cloves
1–2 star anise
Glaze:
1/4 cup honey
1/4 cup coconut sugar or brown sugar
2 tablespoons butter, melted
1 teaspoon dijon mustard
1 teaspoon grated lemon zest
1 teaspoon bourbon (more if desired)
1/4 teaspoon ground cinnamon
1/4 teaspoon ground allspice
---
Instructions
Preheat oven to 325 degrees F.
Add glaze ingredients to a small bowl; whisk to combine. Set aside.*
Pour 4-6 cups of water in the bottom of a roasting pan. Add cloves and star anise. Place roasting rack inside.
Unwrap your ham and place it cut side down on the roasting rack. Use a paring knife to score the outer skin crisscross (be careful not to cut all the way down to the meat).
Place in oven, middle rack, and let cook 20 minutes.
Remove and brush lightly with glaze. Cover tightly with foil and return to oven.
Bake approximately 18-22 minutes per pound (include the 20 minutes from Step 5 in this total cook time) or until it reaches an internal temperature of 140 degrees F.
When there is approximately 10-20 minutes of cook time left, remove from oven and brush with glaze all over (feel free to layer it on pretty thick) – ensuring you get it in every nook and cranny. Turn oven up to 400 degrees.
Return to oven, uncovered, and let finish cooking. The glaze should get tacky and caramelized and turn a bit brown.
Remove from oven and let rest 10-15 minutes.
(optional) You can use a kitchen torch to caramelize the glaze after cooking if you want a crispier/browner skin – that is what I did in the photos shown).
Carve and serve.
---
Notes
*you can place the glaze in a small saucepan and put on low heat on the stove – this will thin it out. I didn't do this during testing and I liked the way the glaze was thicker so it went on nice and thick on the ham. But, if you are used to heating up your glaze first – please don't let me stop you!
Water to thin: if you feel the glaze is a little too thick you can add water (a tablespoon at a time) to it and whisk to combine.
Bourbon: feel free to omit if you want OR you can add more too!
Dairy-Free: feel free to use a plant-based butter in the glaze.
Double it: you can easily double the ham glaze recipe, if needed.
Keywords: honey blazed ham