How to Prep Collard Green Wraps – an easy step-by-step tutorial on how to prep your collard green wraps!
Collard green wraps are easy, delicious and a fun way to make paleo, Whole30 or vegan wraps come to life!
I have to admit I am somewhat new to the collard green wrap game – why? I have no idea! They are seriously delicious and they really help satisfy that "I-need-a-sandwich" craving a person can get when they avoid bread 90% of the time. There are times when I just want to bite into something that resembles a sandwich! This totally does for me – throw whatever you want in there, all the sandwich fixings, and take a big'ole bite. I am officially a fan and I know you guys will be too!
Good thing they are incredibly easy to prep!
Step 1:
Turn over the leaf so that the side that has the raised stem running through it is facing you.
Take a sharp knife you are essentially want to flatten that raised stem by shaving it off with the knife, getting as close to the leaf as possible. You do this so that the leaf will be more bendable without the stiff stem.
Then cut off the end of the stem so that you just have the leaf.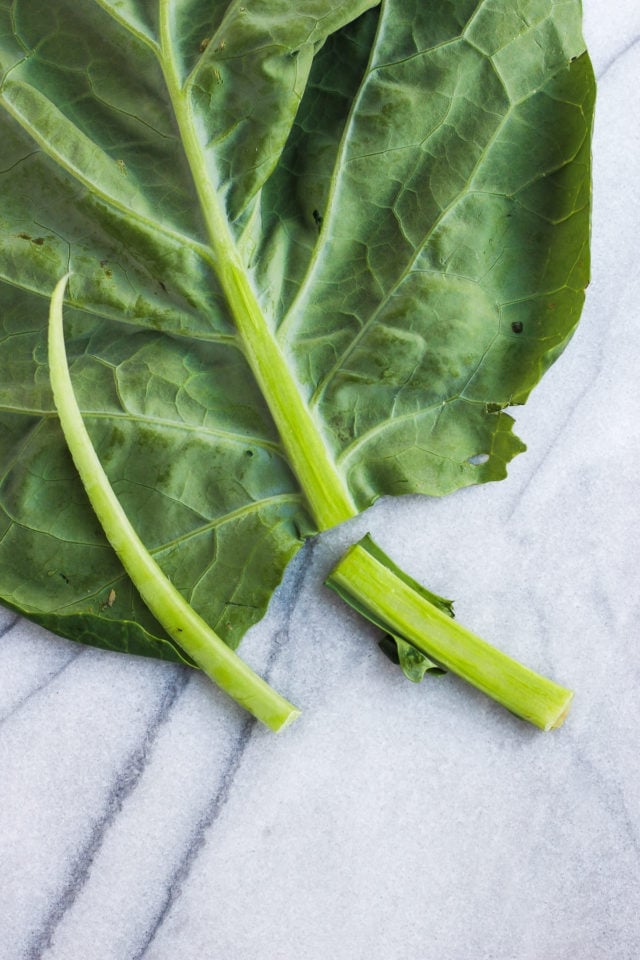 Step 2:
On your stove, take a large, flat sauce pan or skillet and fill it with water. Warm up this water so that bubbles just begin to form at the bottom. Next to it, have another large skillet that is filled with ice water. Finally, have a large plate with some paper towels handy,
Take your greens, one at at time, and first place in the almost boiling water for about 5 seconds, making sure it is fully submerged.
Step 3:
Using a tong, gently remove the greens from the hot water and place immediately in the ice bath. Fully submerge until it has cooled.
Step 4:
Place a piece of paper towel on your plate, set your first green on top of that and then top the greens with another paper towel. Press gently to ensure the greens are very dry. Repeat if prepping multiple greens.
Step 5:
Lay your greens flat on your counter or cutting board. Lay the greens so that the stem parallel to the edge of your counter. Take your filling and lay it lengthwise along the stem.
Step 6:
Fold in the sides first.
Step 7:
The take the part of the greens that is closest to you and fold it over. As you fold it over, you will essentially tuck it under the filling and then simply continue rolling until you have a wrap.
Step 8:
Use a sharp knife to cut down the middle.
…. and that's it!! So easy and, after you do it once or twice, you won't even need to look back at a tutorial 🙂
Let me know what kind of wraps you guys are making!!! Here's one of my favs!
Don't forget to check out my Instagram account – Or give me a follow on Facebook or see what I am pinning on Pinterest!
Love,
E