We absolutely love this Healthy Meatloaf Recipe!! It is traditional comfort food that the whole family will love! Our family has been loving this recipe for years!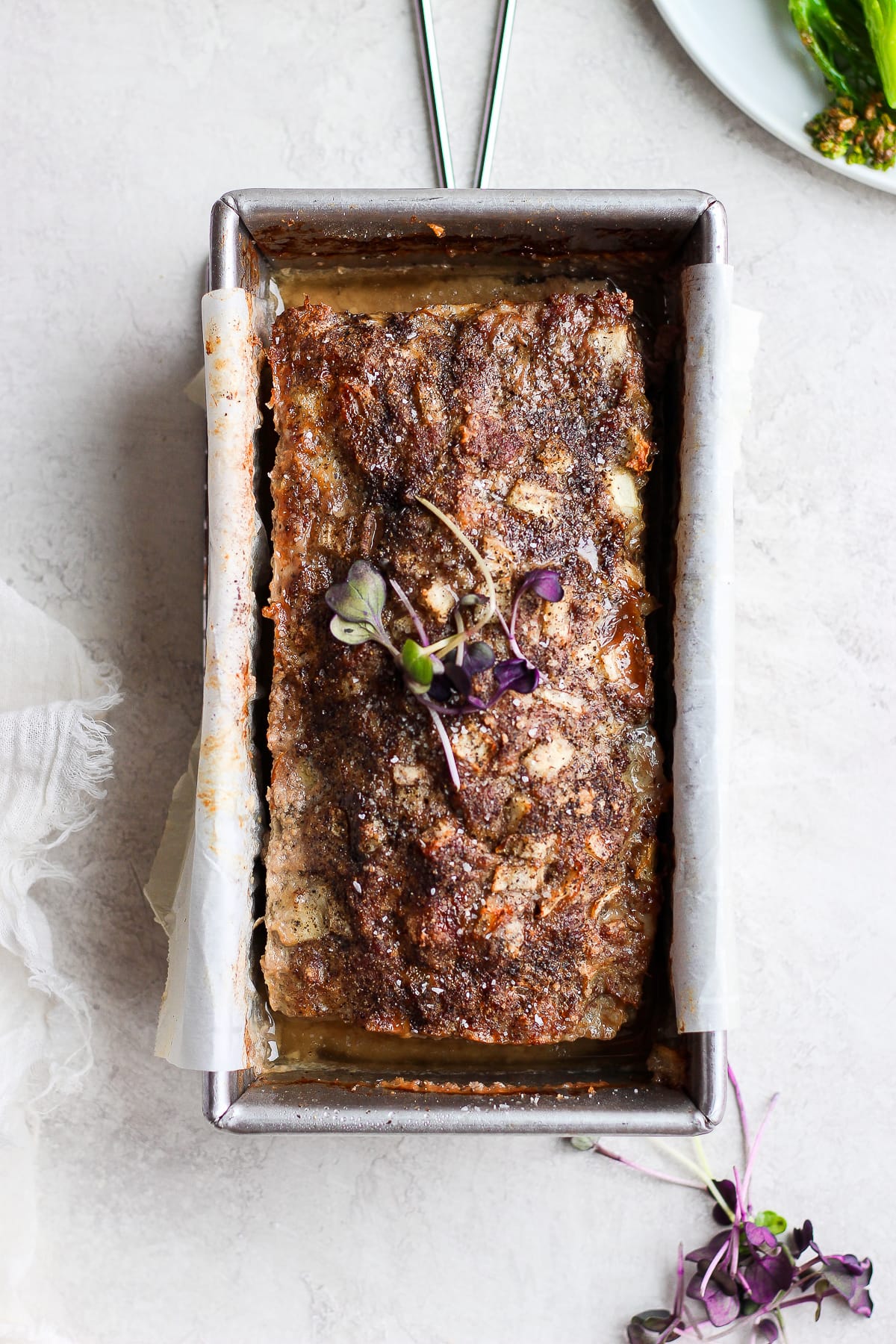 Best Ever Healthy Meatloaf
I know some people's initial reaction to meatloaf is …. eh meatloaf? I know. I get it. But you HAVE to try this version. It is one of my absolute favorite meals and my kids devour it every time! This recipe is a true family favorite that we have been making for a long time! This meatloaf recipe does take 1.5 hours to bake. If you don't have that much time, you should definitely try our mini meatloaf recipe! Same great flavor, but a fraction of the time to cook.
And if you love this recipe you have to try our Smoked Meatloaf (+ smoked green beans) – also amazing!
What You Will Need
ground beef & ground pork – this combination of ground meat is the perfect base for a delicious meatloaf!
kosher salt & ground black pepper – simple seasonings that are always essential when making meat.
dry mustard – a bit for some added flavor.
almond flour & egg – these work together as the binding agent so that the meatloaf doesn't fall apart.
unsweetened almond milk – provides a bit of moisture to keep things moist. Option to use regular milk if you want!
sweet yellow onion – classic mild flavor that is traditional to most meatloaf recipes.
Is This Meatloaf Recipe Paleo + Whole30
Yes! This recipe is Paleo/Whole30 compliant, but if you aren't concerned with either of those two lifestyles then you can use oats instead of the almond flour! That's actually how I grew up eating it, but the almond flour works great too!
Can I Meal-Prep This Recipe
Yes! I prep it all the way to placing it in the bread pan (just before you would put it in the oven). Then I just wrap it with aluminum foil, or whatever works for you, and store it in the fridge overnight until you are ready to bake it! Makes dinner SO easy! Plus, we usual serve a baked potato with it and a big baked potato takes about as long as the meatloaf to make so we just pop them in the oven together and they are ready at about the same time!
How to Make Healthy Meatloaf
You can begin by placing all of your ingredients into medium mixing bowl.
Mix everything together thoroughly – we typically use our hands.
Place meat mixture in a prepared bread pan, making sure it is evenly spread out. Pro tip: add some more kosher salt and pepper on top for a little "crust". Bake on the middle rack of the oven for 1.5 hours.
Let it cool slightly before transferring to a plate and cutting into thick pieces with knife. We usually serve with ketchup or this Meatloaf Glaze is amazing – but feel free to use whatever you want!
How To Store Healthy Meatloaf
If you manage to have any leftovers after making this classic meatloaf recipe, you can store it in the refrigerator in an airtight container for up to 5 days! This recipe is also great for freezing. You can whip up the meatloaf, place it in the bread pan, wrap in plastic wrap, place in a freezer safe bag, and store in the freezer for up to 6 months. Thaw overnight in the fridge and then bake according to the recipe card. If you do choose the freezing option, make sure you use fresh ground beef/pork that hasn't been priorly frozen.
Don't forget to check out my Instagram account for some behind-the-scenes action! Or give me a follow on Facebook or see what I am pinning on Pinterest!
Made this recipe and loved it?! We would love it if you would take a minute and leave a star rating and review – it is also helpful if you made any substitutions or changes to the recipe to share that as well. THANK YOU!
Other Recipes You Might Like
Print
Healthy Meatloaf Recipe
Author: Erin Jensen
Prep Time: 15 minutes
Cook Time: 1 hour 30 minutes
Total Time: 1 hour 45 minutes
Yield: 4 servings 1x
Category: Dinner
Method: Oven
Cuisine: American
---
Description
Healthy Meatloaf: A healthy meatloaf recipe that is Whole30/Paleo and Dairy-Free! A tried and true recipe your family will LOVE!
---
1 lb ground beef
1/2 lb ground pork
1/2 teaspoon kosher salt
1/2 teaspoon ground black pepper
1 teaspoon dry mustard
1/2 cup almond flour (if you aren't worried about Whole30/Paleo you can use 1/2 cup oats instead)
1/2 cup unsweetened almond milk
1 egg
1/2–3/4 cup diced yellow onion
---
Instructions
Preheat: Preheat oven to 350 F.
Mix: Add all ingredients into medium mixing bowl and mix thoroughly (I usually just use my hands) until well-combined.
Bread Pan: Place mixture in bread pan, making sure it is evenly spread out.
Seasoning: Sprinkle a little extra salt and pepper on top for a little "crust" (optional).
Bake: Bake for 1.5 hours.
Cool: Let cool slightly before transferring to plate and cutting into thick pieces with a sharp knife.
Serve: Serve with ketchup or BBQ sauce.
Notes
Ground Beef/Ground Pork: if you don't have ground pork you can just use 1.5lbs total of ground beef)
Spraying Bread Pan Beforehand: You don't need to spray your bread pan before use, there is enough fat in the meat that it doesn't end up sticking. But if you want to it doesn't hurt.
Almond Flour Substitution: Feel free to use oats instead of the almond flour. It will no longer be Whole30/Paleo but it will still be gluten-free (just make sure oats are certified gluten-free) and just as healthy!
What to serve with it: We usually put some ketchup or BBQ sauce on top of the meatloaf and then also serving it with some steamed broccoli and baked potato!
How to store it: Store in an airtight container in the refrigerator for up to 3-5 days. It makes really good leftovers!!
Smoked: if you want to try a smoked version of this recipe – here you go!
Nutrition
Serving Size: Approx. 2 slices
Calories: 267
Sugar: 1 g
Sodium: 292.7 mg
Fat: 13.1 g
Carbohydrates: 3.3 g
Protein: 25.7 g
Cholesterol: 103.5 mg
Keywords: healthy meatloaf recipe, paleo meatloaf, whole30 meatloaf, dairy-free meatloaf