How to Make Classic Giblet Stuffing – how to make the Thanksgiving classic side dish!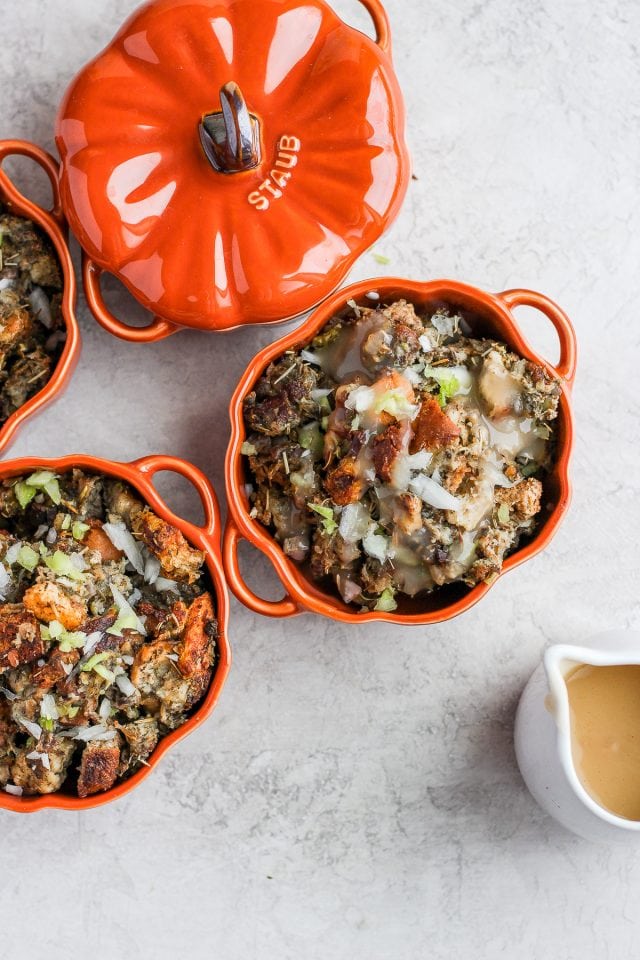 This step-by-step of how to make classic giblet stuffing is something you need to have in your Thanksgiving arsenal!
This recipe is my favorite part of Thanksgiving.
Recipe Origins
I have been making this recipe every Thanksgiving with my mom since I was little – she is the one who taught me how to make classic giblet stuffing. We have this tradition where we always cut up the bread the night before (usually sipping on some wine or champagne while we are doing so! – I don't drink a lot, but Thanksgiving is one of those times where I love to have a little glass or two!) and then we get up early in the morning to finish prepping it before we stuff the turkey. It is so simple, but it is honestly one of my favorite of all holiday traditions. Cooking with my mom is one of my favorite things in the world and I while I am usually running my own kitchen and making up recipes on a daily basis – my mom runs the show on Thanksgiving and I LOVE it. I love being her sous chef and drinking some champagne and eating black olives (another tradition of ours while we are cooking the day of Thanksgiving). So this recipe is full of a million memories of her and I cannot wait to have my 3 daughters join in these traditions with us as they get older!
Why You Will Love This Recipe
Flavor: The flavor here is just next level! Seriously – it's by far the best stuffing recipe I have ever had!
Moist: Not only does this recipe have a ton of flavor, but it is ridiculously moist!
Leftovers: Leftover stuffing and gravy are my go-to's and there HAS to be enough leftovers for everyone. This recipe makes quite a bit so we are never disappointed the next day!
Stuffing a Turkey
Here is a great article on How to Safely Stuff a Turkey – a great read for Thanksgiving!
Don't forget to check out my Instagram account for some behind-the-scenes action! Or give me a follow on Facebook or see what I am pinning on Pinterest!
Love,
E
Print
How to Make Giblet Stuffing
Author: Erin Jensen
Cook Time: 3 hours
Total Time: 3 hours
Yield: 10-12 servings 1x
Category: Thanksgiving
Method: Oven
Cuisine: American
---
Description
How to Make Giblet Stuffing – the recipe we have been making every Thanksgiving for years!
---
giblets from one turkey
13–14 cups cubed bread (we use a variety of different breads – whole wheat, sourdough, gluten-free — bread must be cut up the night before, or earlier, and left out so it can dry up.)
1 cup minced celery
2/3 cup minced yellow onion
1/2 Tablespoon celery salt
1 Teaspoon garlic powder
3 Tablespoons ground sage
1 Tablespoon dried parsley leaves
2 Tablespoons dried rosemary – crush in hands before putting in
2 Teaspoons dried thyme leaves
2 Teaspoons kosher salt
1 Teaspoon ground black pepper
1 Teaspoon dried tarragon
1 Teaspoon dried marjoram
1 Teaspoon dried oregano leaves
---
Instructions
Place giblets in medium saucepan and cover with water (approx. 2 1/2 cups).
Cover and let simmer for approx. 1-2 hours (longer if possible)
Remove giblets from water (set water aside you will need it!).
Cut giblets into very, very small cubes.
In large mixing bowl add bread cubes, giblets and remaining ingredients.
Mix well.
Slowly pour leftover water over bread mixture – add about 1/2 cup at a time until you have added approx. 1 1/2 -2 cups. You want your mixture pretty moist.
Stir well.
Taste and add additional seasoning as desired (we usually end up adding more sage).
Stuff turkey with stuffing, if desired, or simply place in prepared casserole dish and bake in oven along with turkey at 350-375 for 2-3 hours.
Serve with your favorite gravy!
---
Notes
Food processor: I highly recommend using the food processor to mince your onion and celery. Just add and pulse a few times – such a time saver!
Keywords: how to make giblet stuffing, giblet stuffing
Thank you so much for reading & supporting The Wooden Skillet! This post contains affiliate links for products I actually use in my own home and personally recommend. Should you make a purchase using one of these links, The Wooden Skillet will earn a small commission at no extra cost to you, which helps me continue to bring you great original content. Thank you!