Follow these simple steps to learn How to Carve a Turkey like a pro! We will show you an easy step-by-step process, through photos and video, on how to perfectly carve a holiday or Thanksgiving Day turkey in minutes!
Let The Turkey Rest
Ok, the turkey has been cooked and the first step is to be patient and let the bird rest for at least 30 minutes. This allows time for the juices to redistribute throughout the meat.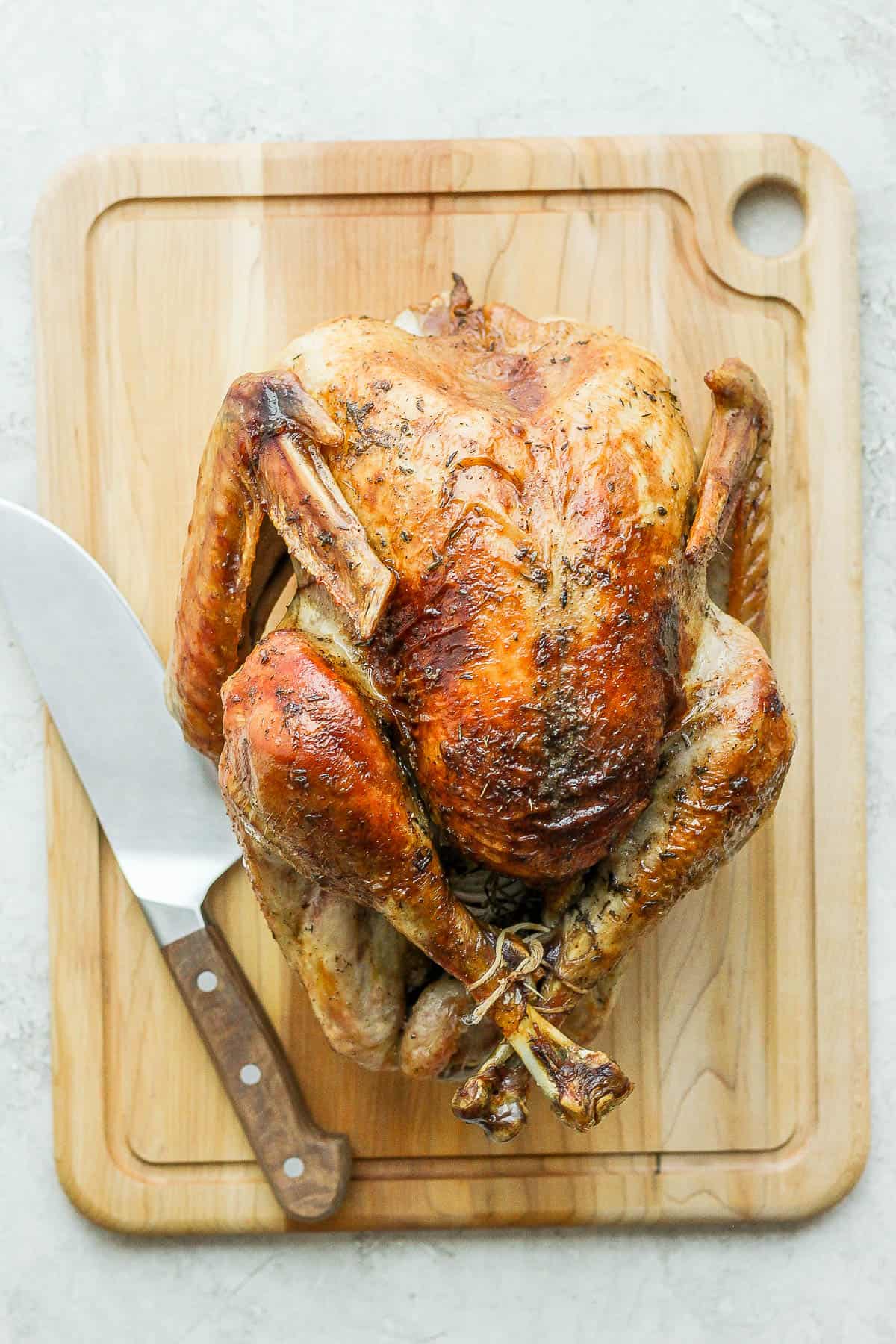 Now you can set-up your carving station and the work begins! First, cut the twine or remove the hock lock that is holding the turkey legs together and make sure the cavity is facing you.
Next, use the tip of your knife to make your first cut through the skin between the turkey breast and leg. Use your hand to gentle pull the entire leg down, helping it separate from the rest of the bird.
As you cut your way down you will see the joint, continue to cut your way down separating the leg fully from the body. Set the leg aside on a platter.
Now it is time to remove the turkey breast. The breastbone runs down the middle of the turkey, identify where that is and then place your knife just to the side of the breast bone. Cut from one end of the turkey to the other, staying as close to that breastbone and rib cage as possible.
Continue until you are able to fully remove the whole breast. Set aside on the serving platter.
Next comes the turkey wings! Again, use your hand to pull the wing away from the bird revealing the wing joint where it connects to the body of the turkey. This is where you will cut to fully remove the wing.
Finally, you can remove the turkey thigh from the leg. Simply use your hands to pull them apart at the thigh joint and then use your knife to fully separate.
This will result in a thigh, full of juicy dark meat, and a turkey drumstick, which is always a crowd favorite.
The turkey breasts can be simply sliced into large pieces for anyone that loves the white meat.
Print