How to Grill Shrimp – an easy, step-by-step tutorial that teaches you how to make the best grilled shrimp recipe! Marinade option included!
Cooking Shrimp On The Grill
One of the best parts of the summer? Grilled shrimp!! It is so easy making it the perfect quick lunch or dinner. You can marinate it or keep it simple with with a little seasoning, either way it is delicious! Great for eating by itself or toss some in tacos, on a salad, or in a bowl of rice.
What You Will Need
Jumbo shrimp, deveined and shelled – if they are frozen, make sure you fully thaw them before cooking.
Kosher salt & pepper – the always perfect and simple seasoning.
Shrimp marinade – if you are short on time you can use any store-bought option, but if you have the time we highly recommend our homemade shrimp marinade.
How Long Does Shrimp Take On The Grill?
The best part about shrimp is that it cooks so fast! Simply place it on the grill for 2 minutes, flip, and let it cook for another 1-2 minutes – delicious shrimp in less than 5 minutes!
Do You Leave The Shell On When Grilling Shrimp?
This is up to you! You can grill shrimp with the shell on or the shell off. We prefer to take the shell off before grilling so that you don't have to when they come off and are super hot. Also, if you are choosing to marinate them the marinade will work better when shells have been removed.
Do You Leave The Tail On When Grilling Shrimp?
This is also totally up to you! The recipe will work either way. We chose to leave the tails on but you can decide what works for you.
How To Serve Grilled Shrimp
Grilled shrimp are so delicious that you can eat them all on their own, but if you would like to add them to another recipe we highly recommend tossing them in some shrimp tacos, on top of a salad (like a Shrimp Caesar Salad or an Easy Greek Salad), or in a simple rice bowl.
How To Grill Shrimp
Step one – Pat shrimp dry and season with salt and pepper.
Step two – If you choose to marinate the shrimp, mix the marinade together and pour on your shrimp.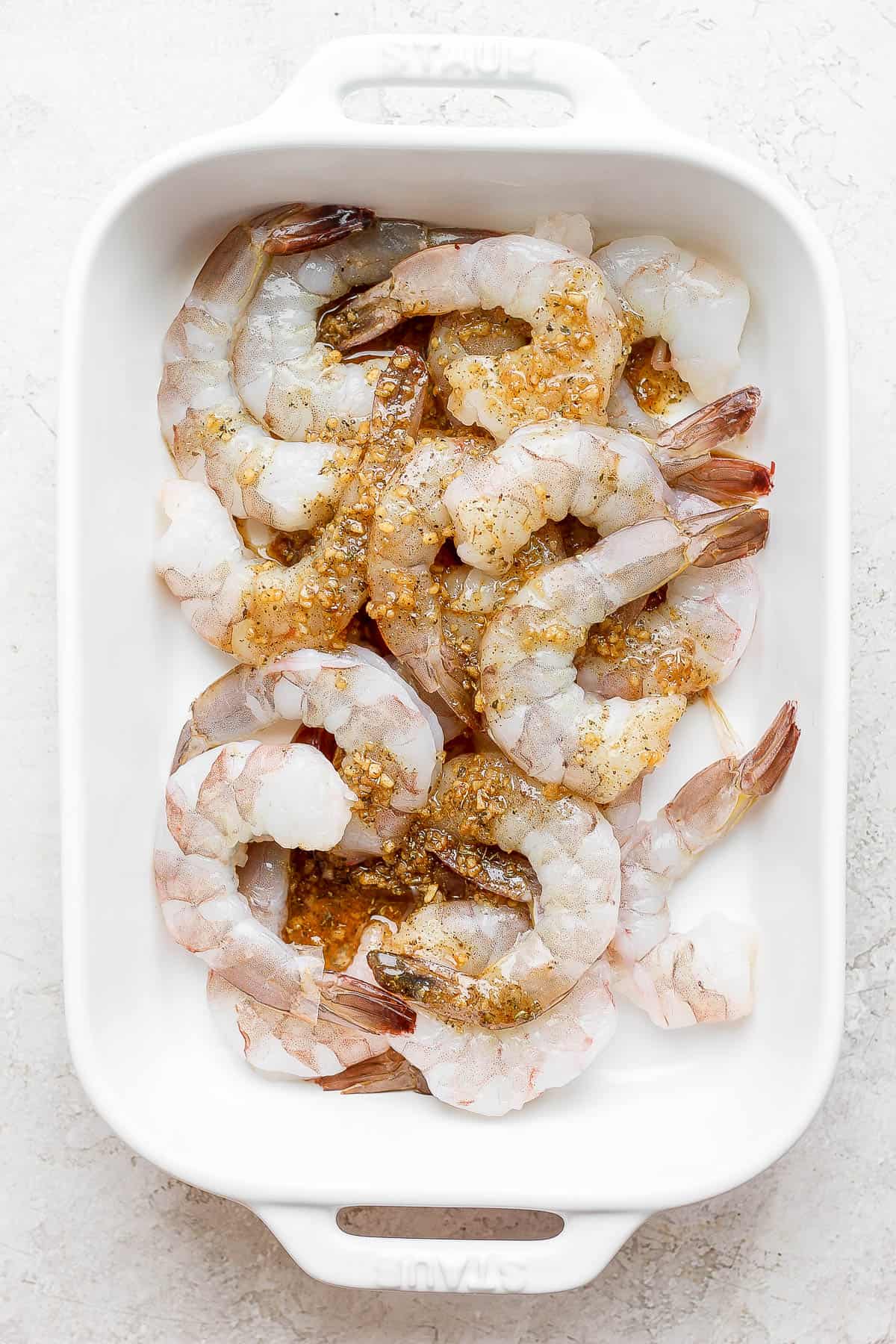 Step three – Place shrimp on skewers.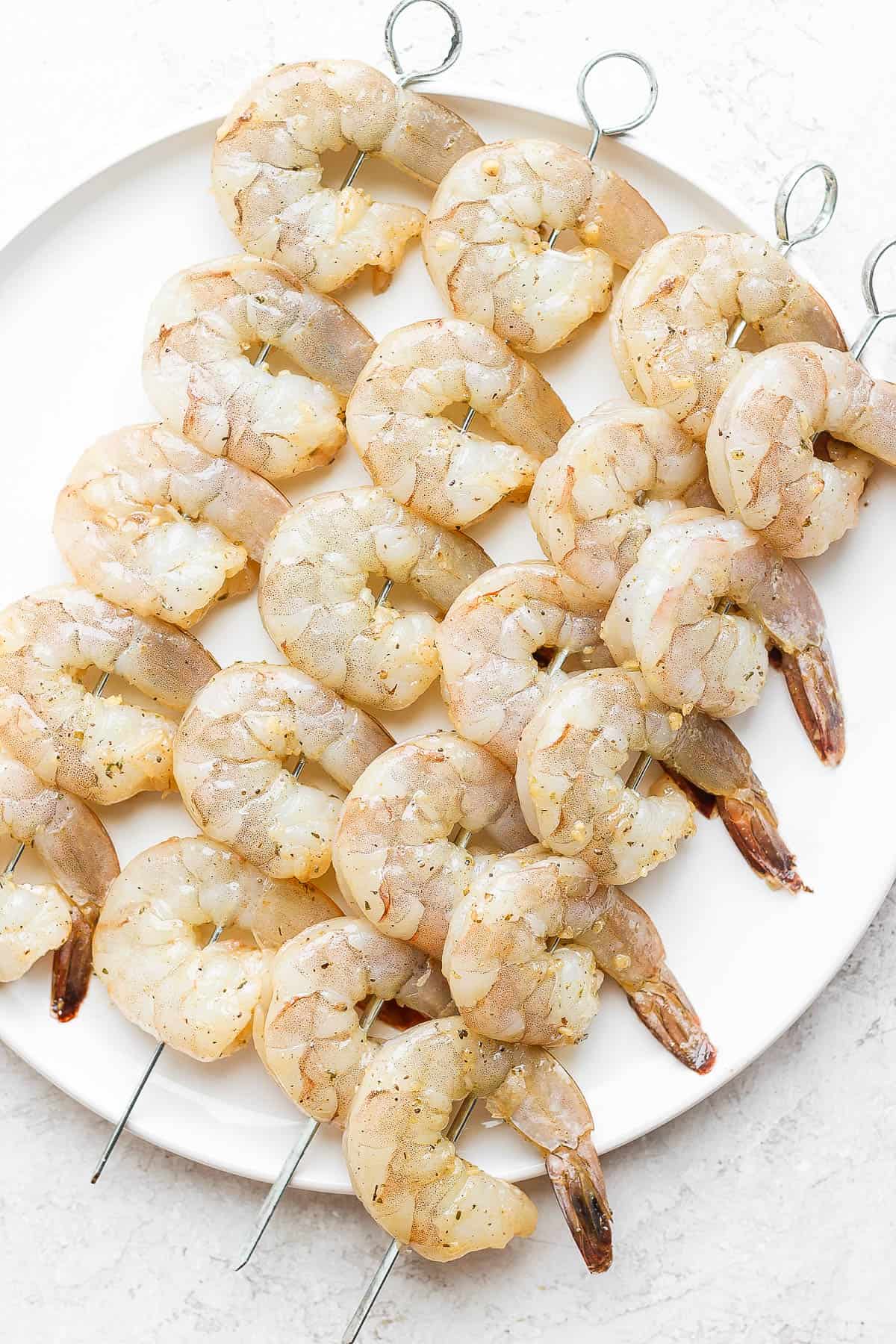 Step four – Place shrimp on direct heat for 2 minutes.
Step five – Flip and let cook for another 1-2 minutes.
Step six – Let the shrimp rest for about 5 minutes and enjoy!
Recipe FAQs and Tips
Fresh or frozen shrimp: you will get the most flavor out of fresh shrimp bought the day you want to cook them, but frozen shrimp will work too!
Skewers: you can use metal or wood skewers. If you do use wood skewers be sure to soak them for about 30 minutes before using so there is less charring.
Marinade: this is optional, but if you have the time we highly recommend it. Our homemade recipe is the best, but we love this store-bought option too!
Storing leftovers: you can keep any cooked shrimp in the fridge for 3-4 days.
Made this recipe and loved it?! We would love it if you would take a minute and leave a star rating and review – it is also helpful if you made any substitutions or changes to the recipe to share that as well. THANK YOU!
Don't forget to check out my Instagram account for some behind-the-scenes action! Or give me a follow on Facebook or see what I am pinning on Pinterest!
Print
How to Grill Shrimp
Author: Erin Jensen
Prep Time: 5 minutes
Cook Time: 4 minutes
Total Time: 9 minutes
Yield: 1 lb grilled shrimp 1x
Category: Dinner/Entree
Method: Grill
Cuisine: American
---
Description
How to Grill Shrimp – an easy, step-by-step tutorial that teaches you how to make the best grilled shrimp recipe!
---
Grilled Shrimp
1 lb jumbo shrimp, deveined and shelled (ensure thawed if previously frozen)
2 teaspoon kosher salt
1 teaspoon ground black pepper
Grilled Shrimp Marinade
1 teaspoon Old Bay Seasoning
2 tablespoons olive oil
1 tablespoon lemon juice
2 teaspoons garlic, minced
1/2 teaspoon soy sauce
1/4 teaspoon kosher salt
1/8 teaspoon ground black pepper
1/4 teaspoon dried oregano leaves
---
Instructions
Ensure grill grates are clean and preheat grill to medium-high heat (Approx. 400-450 degrees F).
Salt and Pepper Option: Pat shrimp dry with a clean paper towel and sprinkle with kosher salt and pepper.
Marinade Option: Combine marinade ingredients and whisk together. Place shrimp in a medium bowl or silicone storage bag and pour marinade over top. Let marinate for 20-30 minutes.
Taking a metal skewer, pierce the shrimp through the tail and then again through the thickest part and slide all the way to the bottom. Continue until all the shrimp are used.
Place over direct heat and close lid. Let cook 2 minutes.
Flip and close lid again. Let cook for an additional 1-2 minutes. Shrimp is done cooking when the meat is no longer translucent.
Remove from grill and let rest 5 minutes.
Serve and enjoy!
---
Notes
Leaving tails on: it is totally up to you if you want to leave the tail ends on or not – the recipe will work the same either way.
Skewers: you can use metal or wooden skewers, but if you are using wooden skewers be sure to soak them for 30 minutes before using to reduce charring.
Marinade: the marinade it totally optional – kosher salt and ground black pepper work well too!
Fresh or Frozen Shrimp: flavor will be best when you can buy fresh shrimp the day you plan on cooking them, but frozen will definitely work just fine!
Prep Time: I didn't include the marinating time in the Prep Time listed as it is an optional step.
How to Serve: we love serving them in these yummy Shrimp Rice Bowls!
Keywords: grilled shrimp, how to grill shrimp