This simple oven roasted Pork Shoulder Roast is a blog favorite for a juicy, tender, fall-apart pork shoulder that will melt in your mouth. It's a tried-and-true recipe that we have been making for years! Perfect for Sunday supper, meal prep, or feeding a crowd!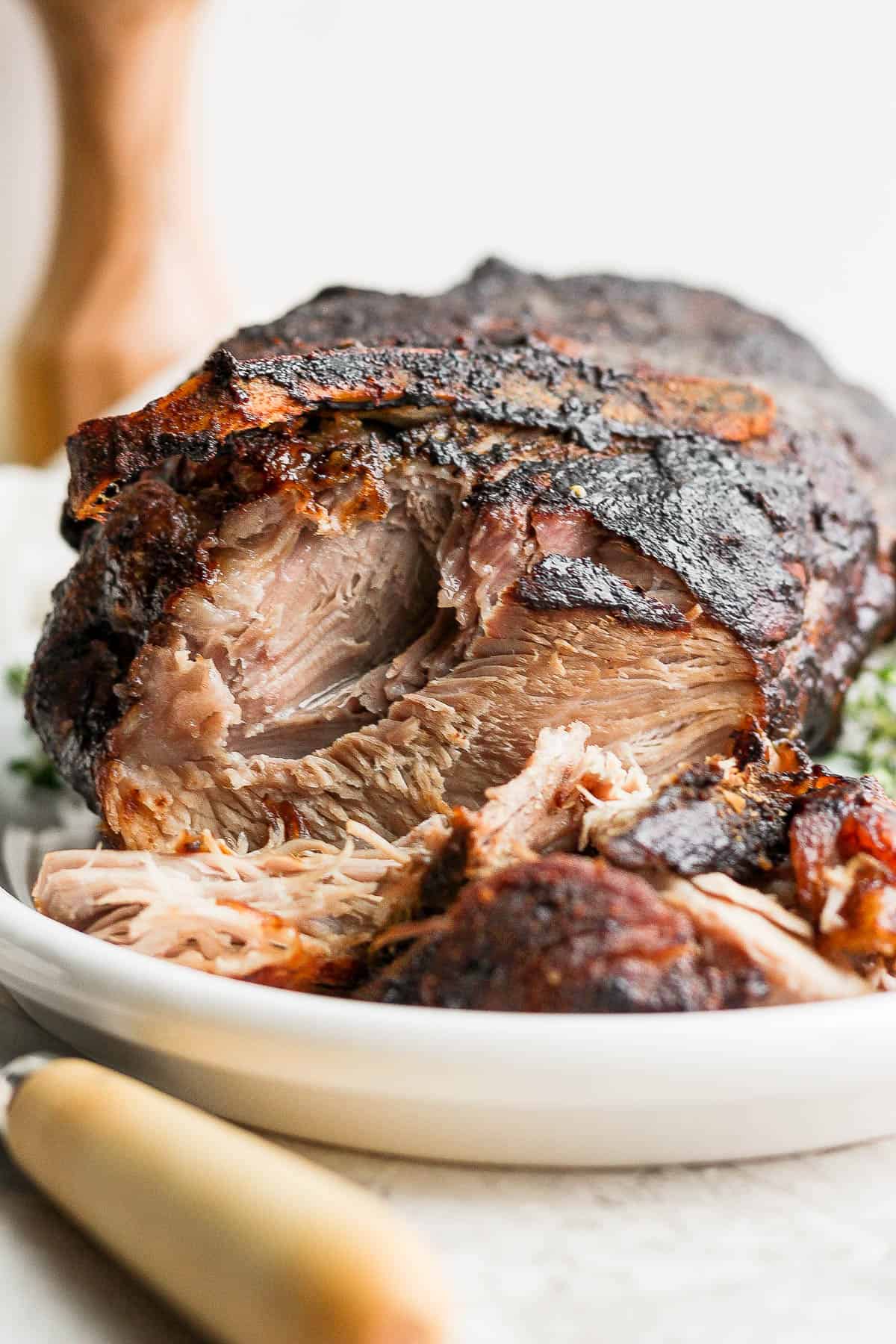 The Best Oven Roasted Pork Shoulder
For years we have been making the most amazing, fall-apart smoked pork shoulder on our Traeger smoker and now we finally have an oven roasted version of this blog favorite recipe to share with you. This version is perfect for making all year long. We love tossing a pork shoulder in the oven on Sunday morning and then let it roast, low & slow, all day. By the time dinner rolls around it is ready to eat! Perfect to enjoy for dinner and then toss the leftovers in the fridge to enjoy throughout the week as carnitas tacos, on a salad, as a sandwich, or on a big pan of nachos!
What You Will Need
pork shoulder – get the best quality possible, it really does make a difference.
liquid smoke – this is a perfect way to get a little smokey flavor when you aren't cooking it on a smoker.
worcestershire sauce – a little added flavor to rub on before the dry rub.
yellow mustard – this is also part of the pre-rub and adds amazing flavor.
dry rub – here is the recipe we will be using – it is a must!!
optional: coconut sugar or brown sugar – if you like a touch of sweetness.
butter, ghee, or olive oil – you will add a bit to the cast iron to sear the pork shoulder before it goes in the oven.
How Long Should I Cook A Pork Shoulder Roast
We roasted this 3.5 – 4 pound roast at 250 degrees F. and let cook 7-8 hours or until the internal temperature reached 190-200 degrees F (the closer you get to 200 degrees F. the more "fall-apart" it will be – you can go up to about 205 degrees). The key to making a great pork should roast is to keep it low and slow – cook it at a low temperature and for a long (or slow) amount of time.
How Do I Know When My Pork Shoulder Is Done
Technically your pork shoulder is safely cooked when it reaches an internal temp of 165 degrees, but if you want to be able to shred your pork shoulder easily you will want it to reach an internal temp of 190-200 degrees (you can easily determine the internal temp with a meat thermometer).
Storage & Leftover Tips
Storage: Any leftover pulled pork can be stored in an airtight container in the fridge for up to 5 days and in the freezer for up to 6 months. When freezing pulled pork make sure you keep as much moisture in the container as possible (to prevent it from drying out) and try to remove as much air as possible to prevent freezer burn.
Leftovers: The leftover options are endless! You can simply reheat it and eat it with some more BBQ sauce or you can make it into pulled pork tacos, pulled pork nachos, pulled pork sandwiches, pulled pork sliders, or a pulled pork salad.
How To Roast A Pork Shoulder In the Oven
Choose a highly quality pork shoulder roast that will allow for plenty of delicious leftovers (*wink).
Pat it dry with a paper towel.
Rub it down with liquid smoke and then worcestershire sauce – make sure to get it in all the nooks and crannies.
Then coat the roast in yellow mustard.
Mix up the most amazing dry rub in all the land and generously rub it over the entire pork shoulder.
Heat some butter in a cast iron skillet and sear all sides of the pork shoulder.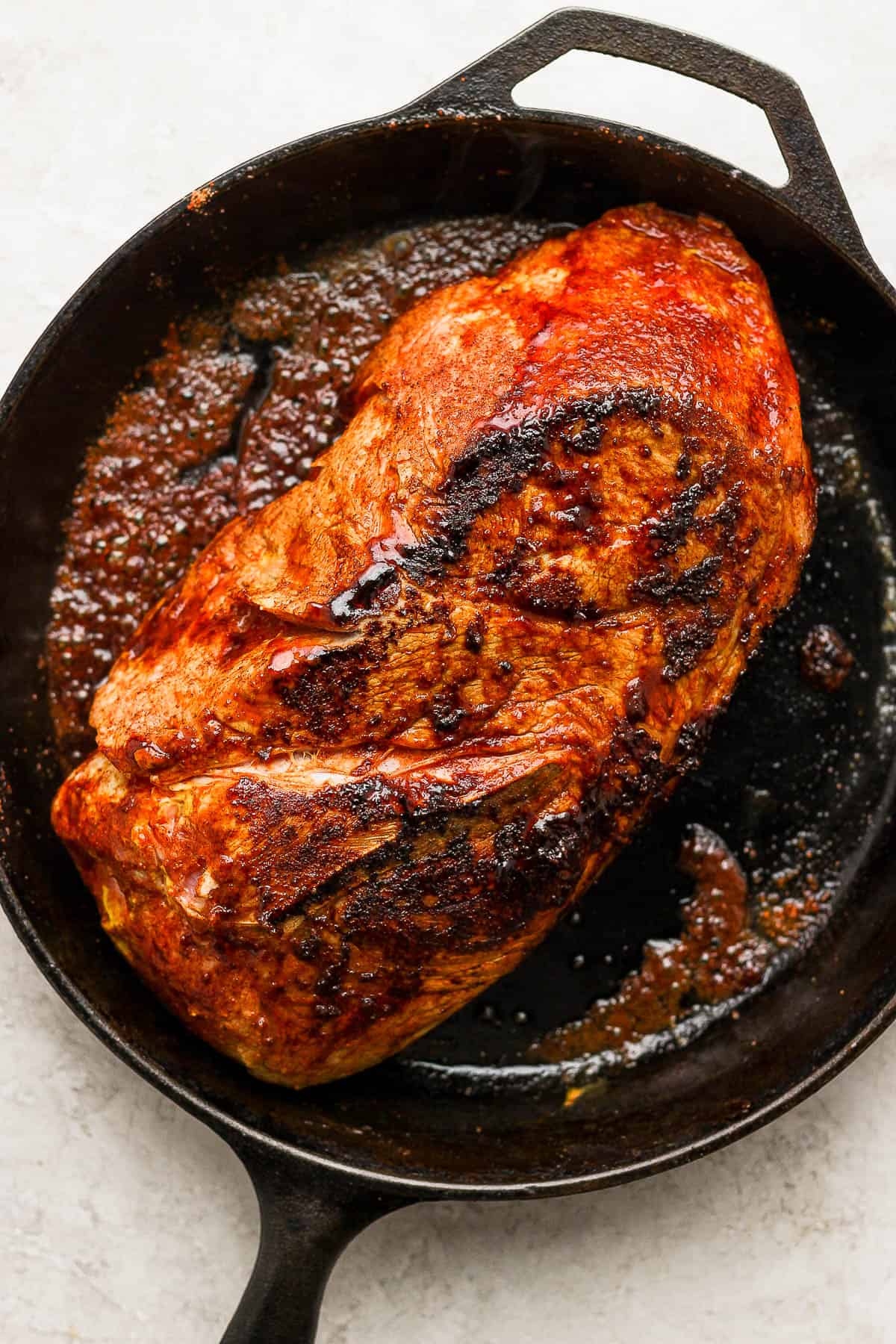 Place it on a wire rack that is on a foil-lined baking sheet.
Place it in the middle-rack of the oven at 250 degrees F and let it cook for 7-8 hours or until the internal temp reaches 190-200 degrees for pork that easily pulls apart.
Enjoy!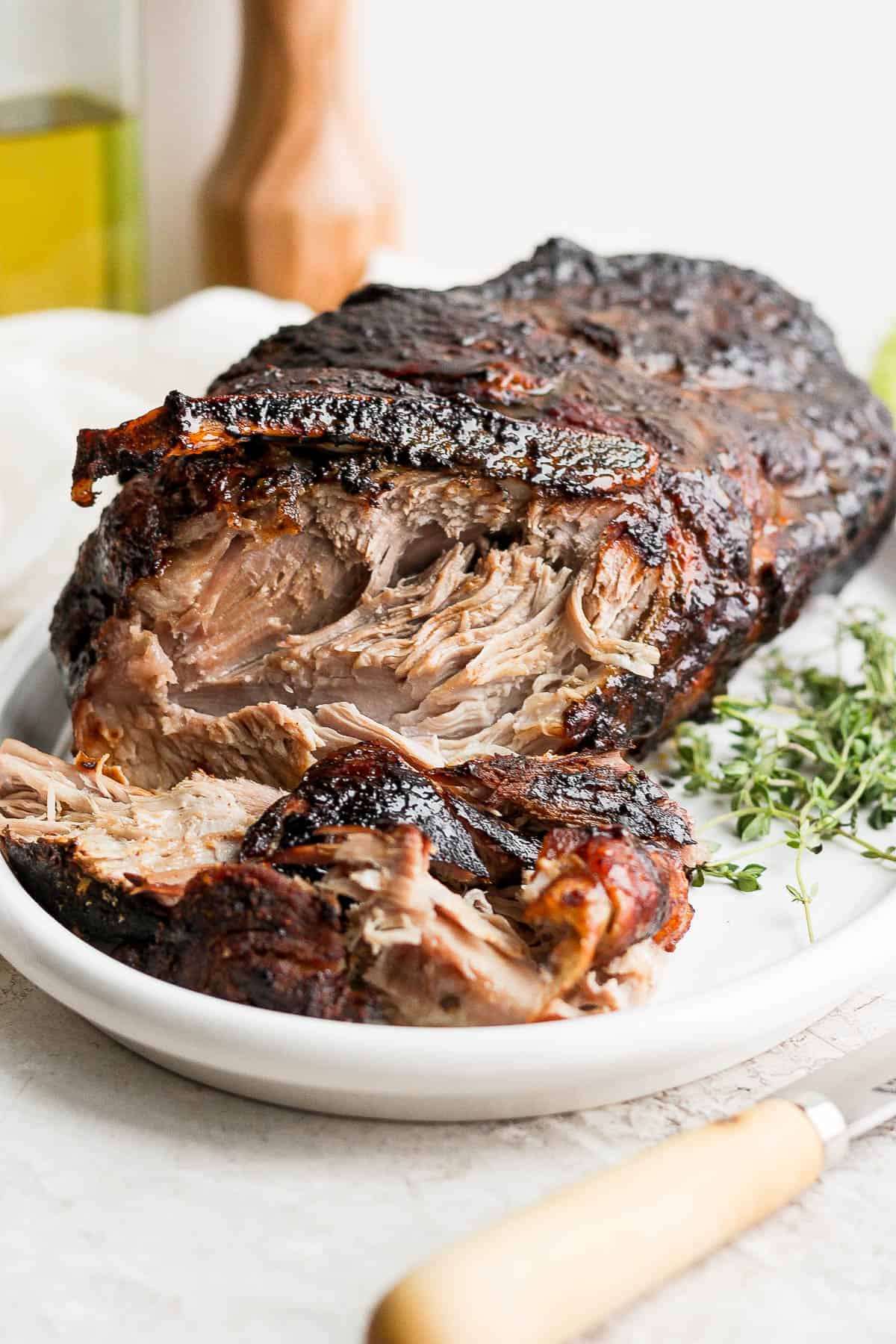 Made this recipe and loved it?! We would love it if you would take a minute and leave a star rating and review – it is also helpful if you made any substitutions or changes to the recipe to share that as well. THANK YOU!
Don't forget to check out my Instagram account for some behind-the-scenes action! Or give me a follow on Facebook or see what I am pinning on Pinterest!
Print
Pork Shoulder Roast
Author: Erin Jensen
Prep Time: 20 minutes
Cook Time: 8 hours
Total Time: 8 hours 20 minutes
Yield: 8 servings 1x
Category: Dinner/Entree
Method: Oven
Cuisine: American
---
Description
Pork Shoulder Roast (Oven-Roasted) – a delicious, slow-roasted pork shoulder roast that falls apart! Perfect for meal prep or Sunday supper!
---
3.5–4 lb pork shoulder roast*
1 tablespoon liquid smoke
1–2 tablespoons worcestershire (omit if Whole30)
2 tablespoons yellow mustard
2 tablespoons kosher salt
2 tablespoons paprika
2 1/2 tablespoons lemon pepper
1 teaspoon cayenne pepper (optional)
1 1/2 tablespoons garlic powder
1 1/2 tablespoons onion powder
1/2 tablespoon ground black pepper
2 teaspoons dry mustard
(optional) 1 tablespoon coconut sugar or brown sugar (omit if whole30)
2 tablespoons ghee, butter or olive oil
---
Instructions
Preheat oven to 250 degrees F.
Pat pork shoulder dry with a clean paper towel.
Pour liquid smoke all over and rub into every nook and cranny. Repeat this process with the worcestershire and the yellow mustard until it is fully coated with each.
Combine kosher salt, paprika, lemon pepper, cayenne, garlic powder, onion powder, ground black pepper and dry mustard in a small bowl; stir to combine. Rub all over pork shoulder ensuring you get into every nook and cranny.
Let sit 15-30 minutes OR you can wrap in plastic wrap and let sit in the refrigerator overnight.
Line a baking sheet with foil and then set a wire rack on top; set aside.
Bring a large cast iron skillet to medium-high heat. Add butter (or ghee or olive oil) and swirl to coat the pan. Sear the pork shoulder on all sides. Place the pork shoulder onto the prepared baking sheet on top of the wire rack.
Place in the oven, middle rack, and let cook 7-8 hours or until the internal temperature reaches 190-200 degrees F (the closer you get to 200 degrees F. the more "fall-apart" it will be – you can go up to about 205 degrees).
Remove and let rest 10 minutes.
Shred and serve.
---
Notes
Pork Shoulder: I used a bone-in roast, but feel free to use a boneless – the boneless will just cook a little faster.
Pork Rub: feel free to omit the cayenne or increase it if you want. You can also add a tablespoon of coconut sugar or brown sugar if want a touch of sweetness.
Serving: we love using this in pulled pork sandwiches or pulled pork sliders.
Storage: store leftovers in an airtight container in the refrigerator for up to 5 days.
Leftovers: use any leftovers to make a pulled pork nachos, pulled pork tacos or a pulled pork salad!
Keywords: pork shoulder roast, oven roasted pork shoulder