The BEST Steak Fajitas (chili lime steak fajitas) are the perfect combination of marinated flank steak, easy fajita veggies, and your favorite fajita toppings all wrapped up in flour tortillas! A great addition to your list of easy weeknight dinners!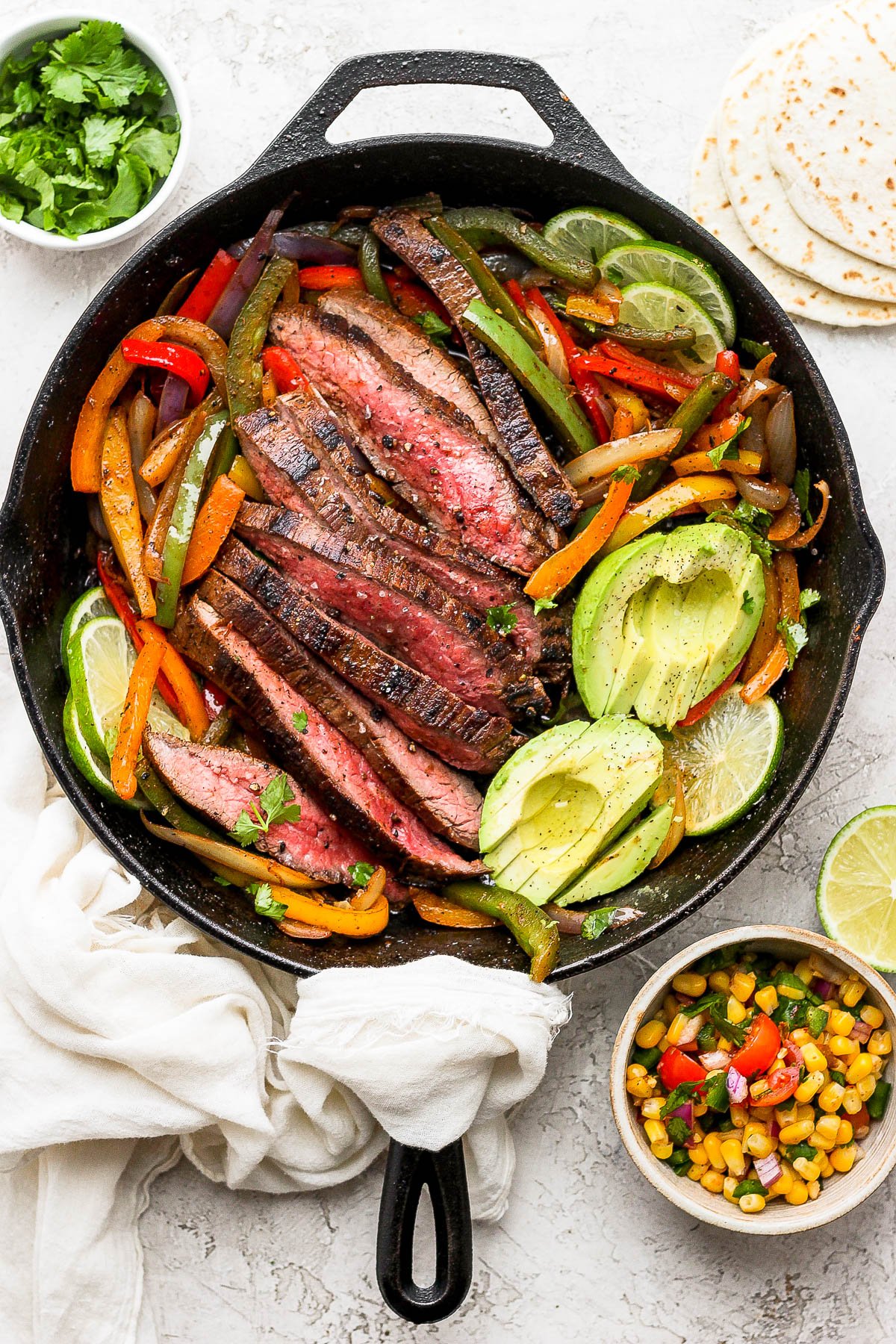 What You Will Need
cilantro lime sauce – it only takes about 5-10 minutes to whip up this homemade sauce.
flank steak – this is what we used, but feel free to grab your favorite cut of steak from your local grocery store or butcher shop.
steak fajita marinade – a simple homemade marinade recipe that is in the recipe card below and will add so much flavor!
fajita veggies – this easy side dish recipe is a traditional addition to any fajita recipe.
tortillas – we love using flour tortillas but corn tortillas would work too!
guacamole – make this simple homemade guacamole or get a store-bought option.
corn salsa – an optional topping but it will bring a lot of great flavor so we highly recommend!
sour cream – use regular sour cream or dairy-free, if that's your thing.
lime wedges – most recipes are better with a fresh squeeze of lime juice.
fresh cilantro – just a bit on top to light & brighten the flavors!
How To Make Steak Fajitas
This homemade steak fajitas recipe can be broken down into a variety of parts that will all come together and is delicious! First, start by making the cilantro lime sauce and store in the fridge until you are ready to use it.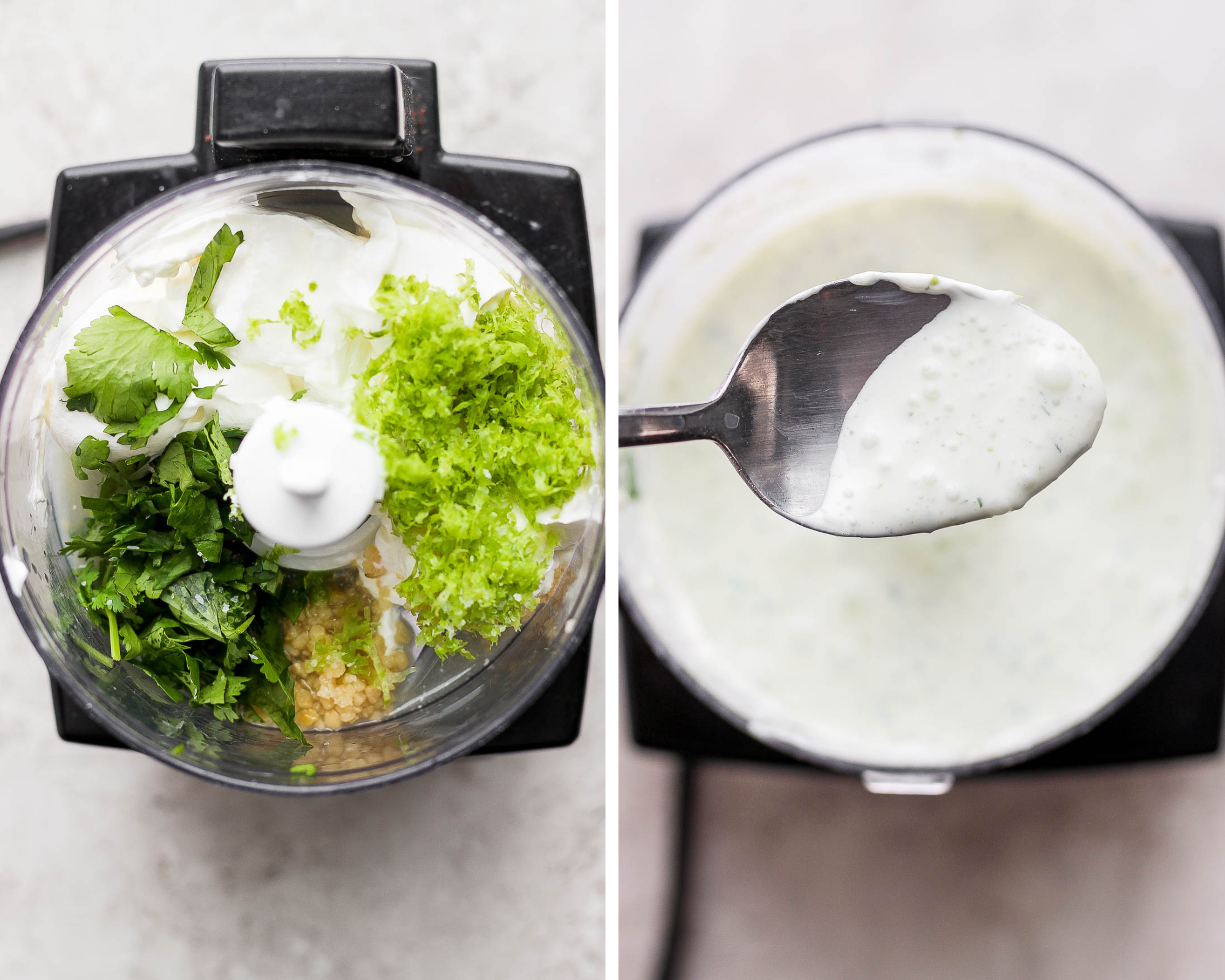 Now place all of your steak marinade ingredients in a small bowl and whisk to combine.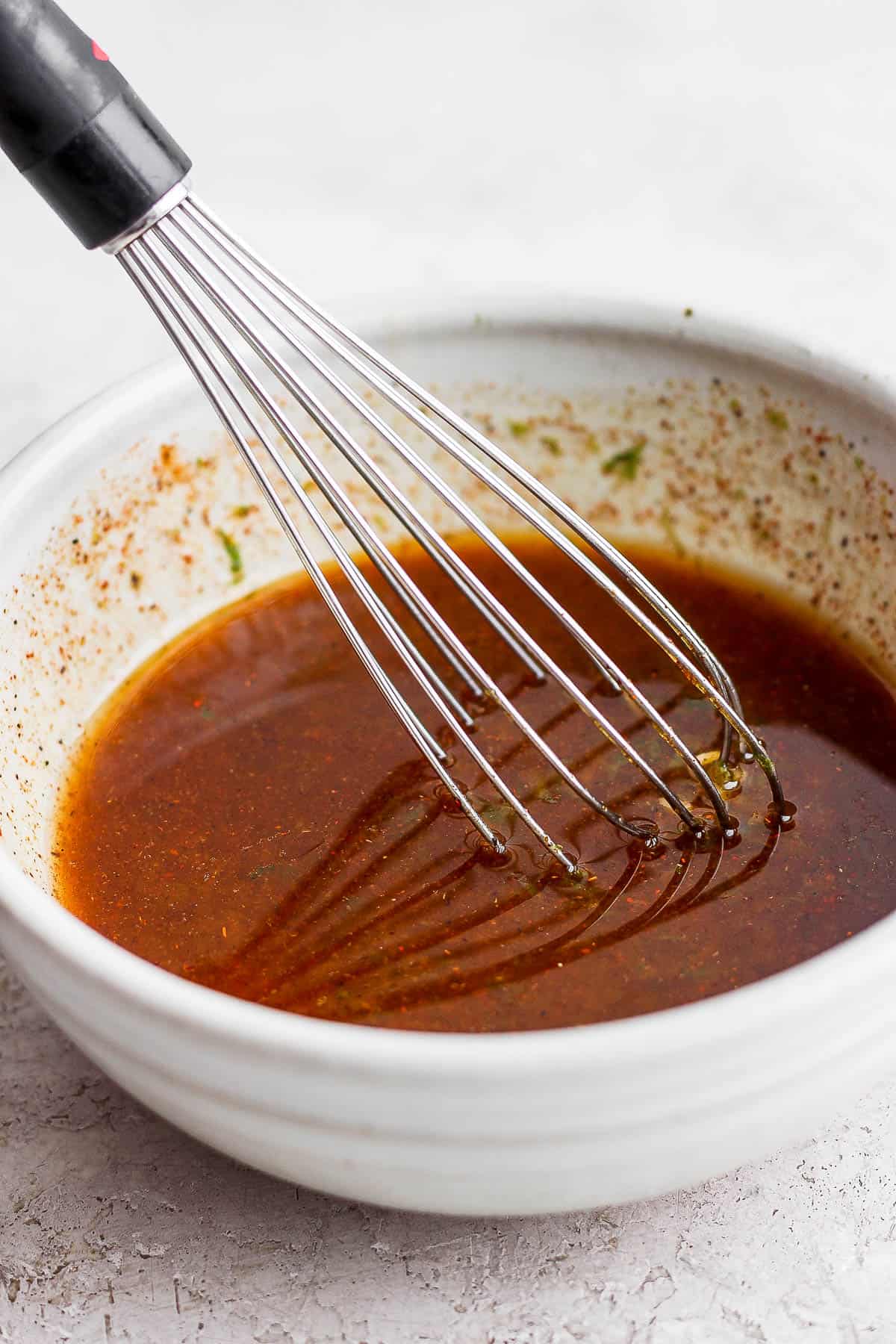 Pour the marinade over your steak in a shallow baking dish and let it sit for at least 30 minutes or store covered in the fridge overnight, if you have time.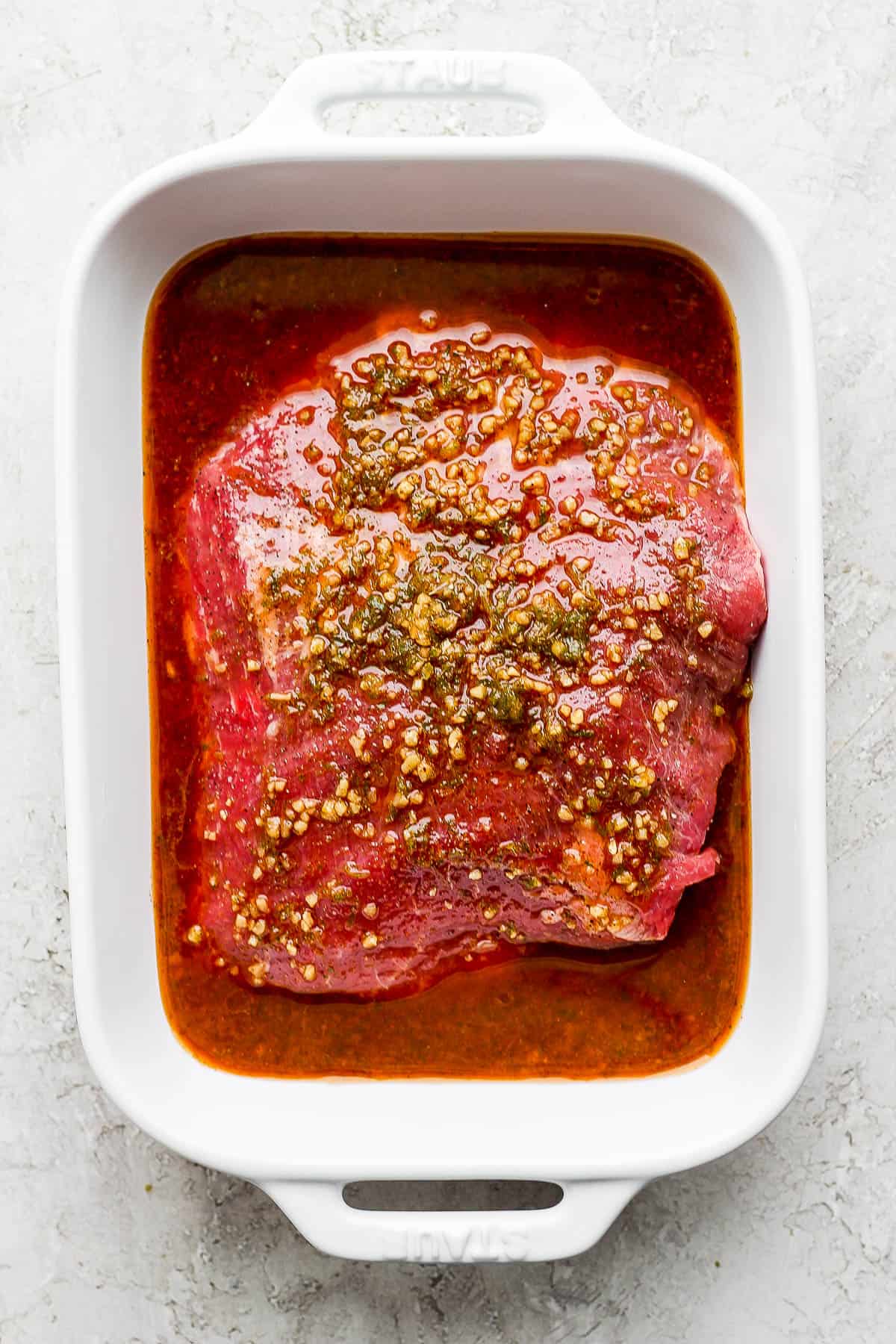 What Type Of Steak Is Best For Fajitas
In this easy recipe we like using a flank steak, but it would also be good with a sirloin steak, hanger steak, or skirt steak. See what your local grocery store has available or what is in your price point.
Bring a large cast-iron skillet to a medium heat, add a drizzle of olive oil, and then cook for 4-5 minutes on each side or until the internal temperature reaches 130-135 degrees F (use a meat thermometer) for a medium-rare finish.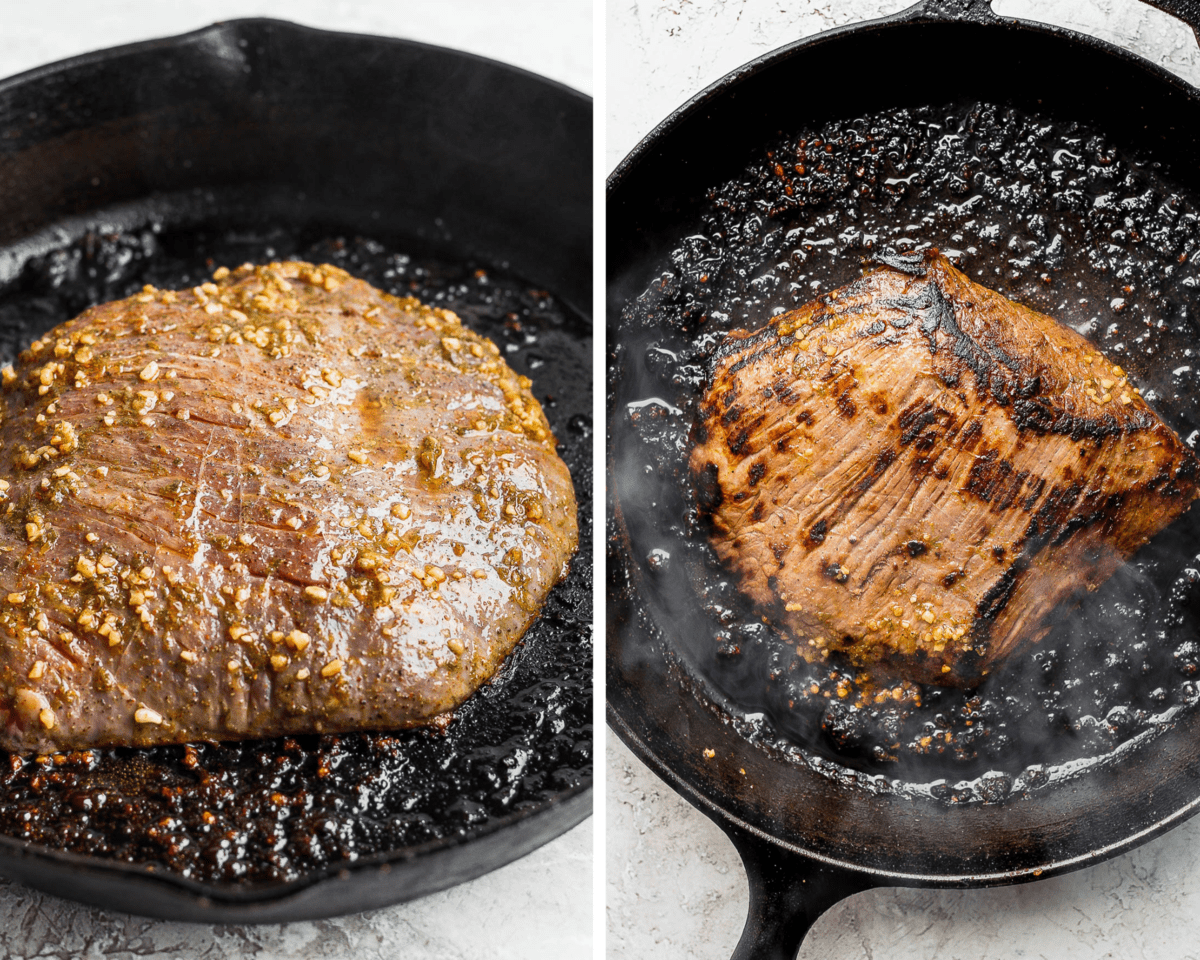 Next, grab a large chef's knife and cutting board to cut the bell peppers and onions into thin strips.
Sauté the bell peppers and onions in a large skillet with some olive oil, garlic, and our own fajita seasoning for 10-15 minutes or until fork tender.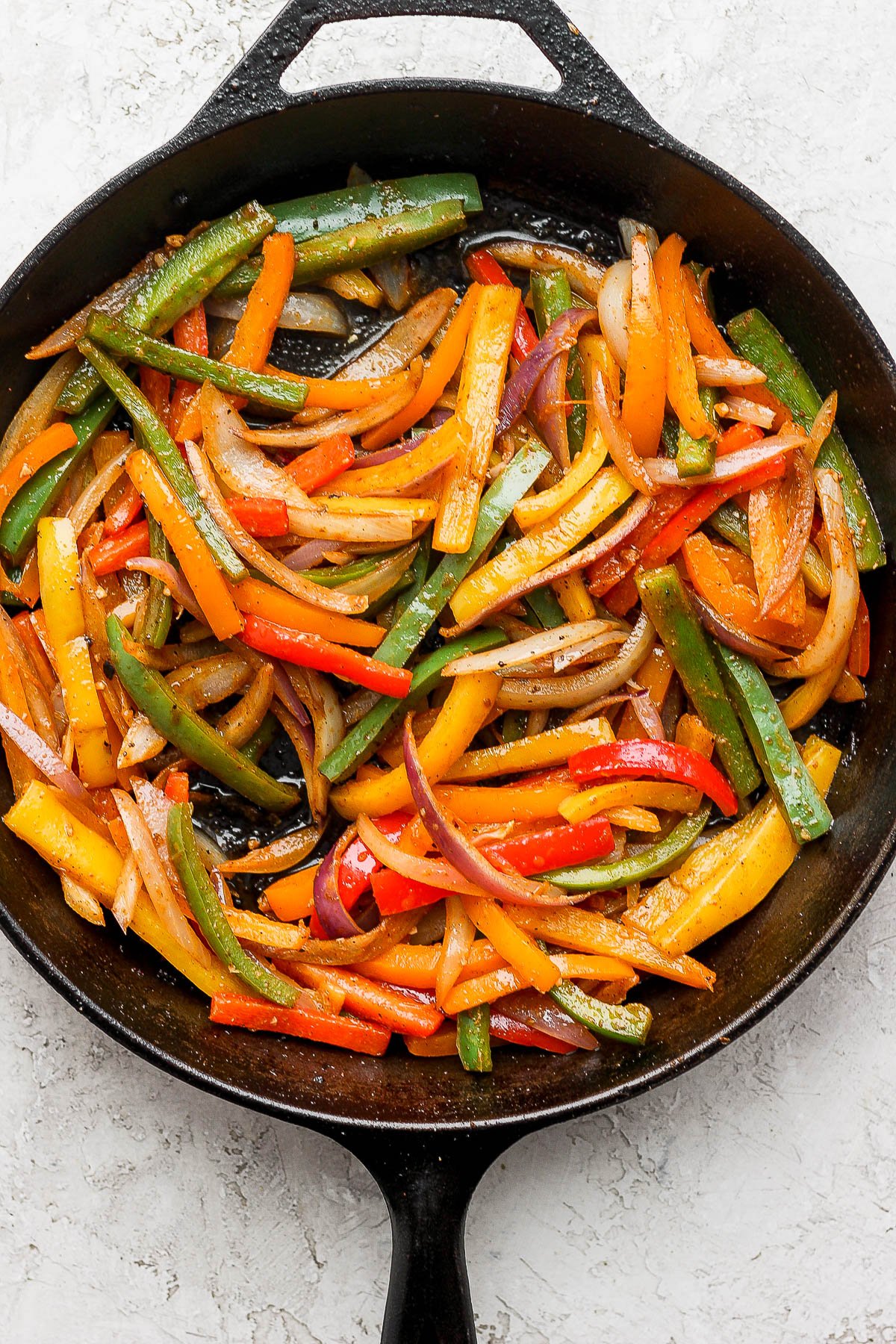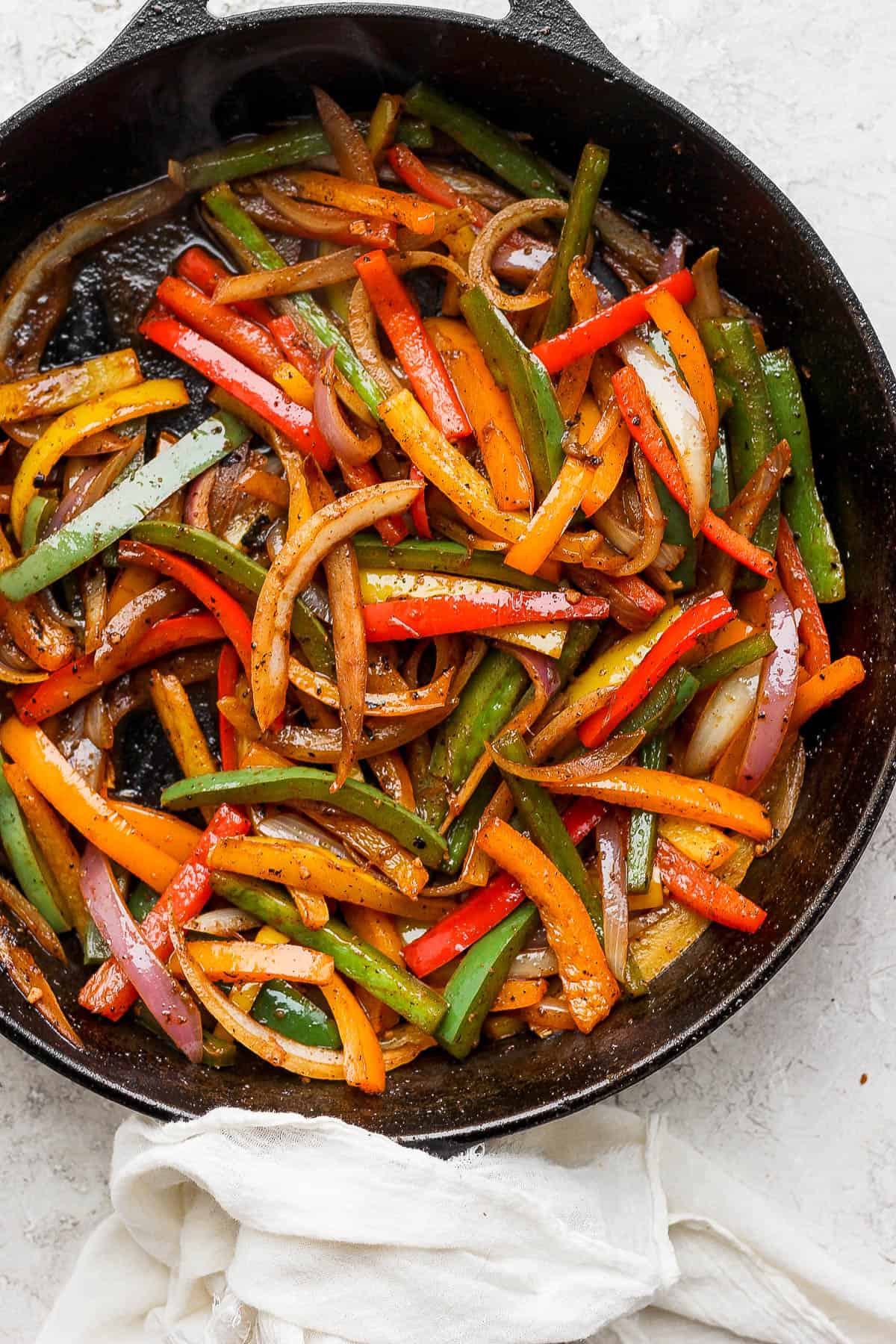 Gather all of your fajita ingredients and warm your tortillas to serve.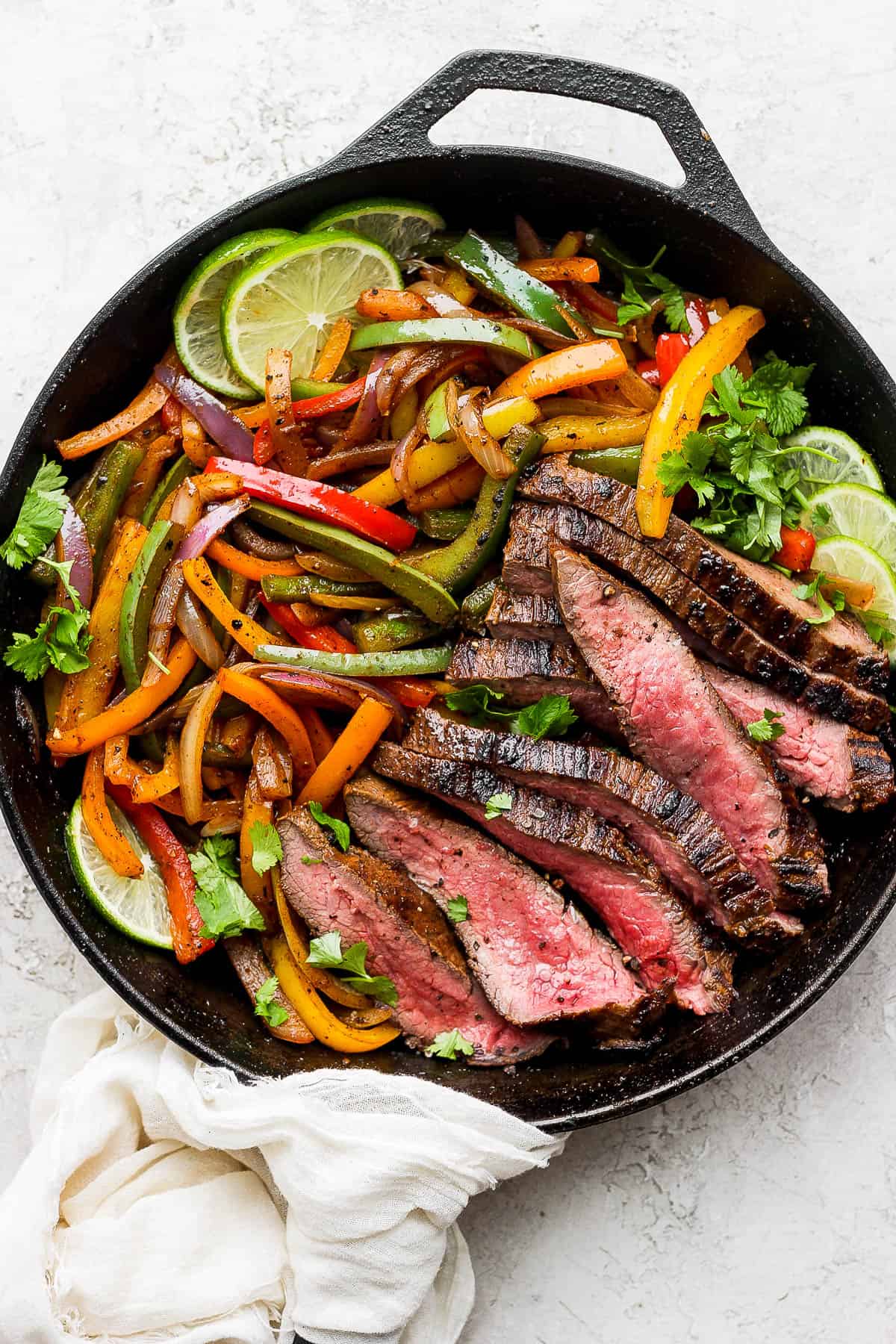 Assemble the steak fajitas any way you want!
What Toppings Are Best For Steak Fajitas
On our easy steak fajitas we topped them with our cilantro lime sauce, corn salsa, fresh cilantro, and lime wedges. However, they would also be great with sour cream, guacamole, sliced jalapeños, black beans, pico de gallo (or blender salsa), and a sprinkling of cheese. We love to have the options available and then everyone can top them the way they want!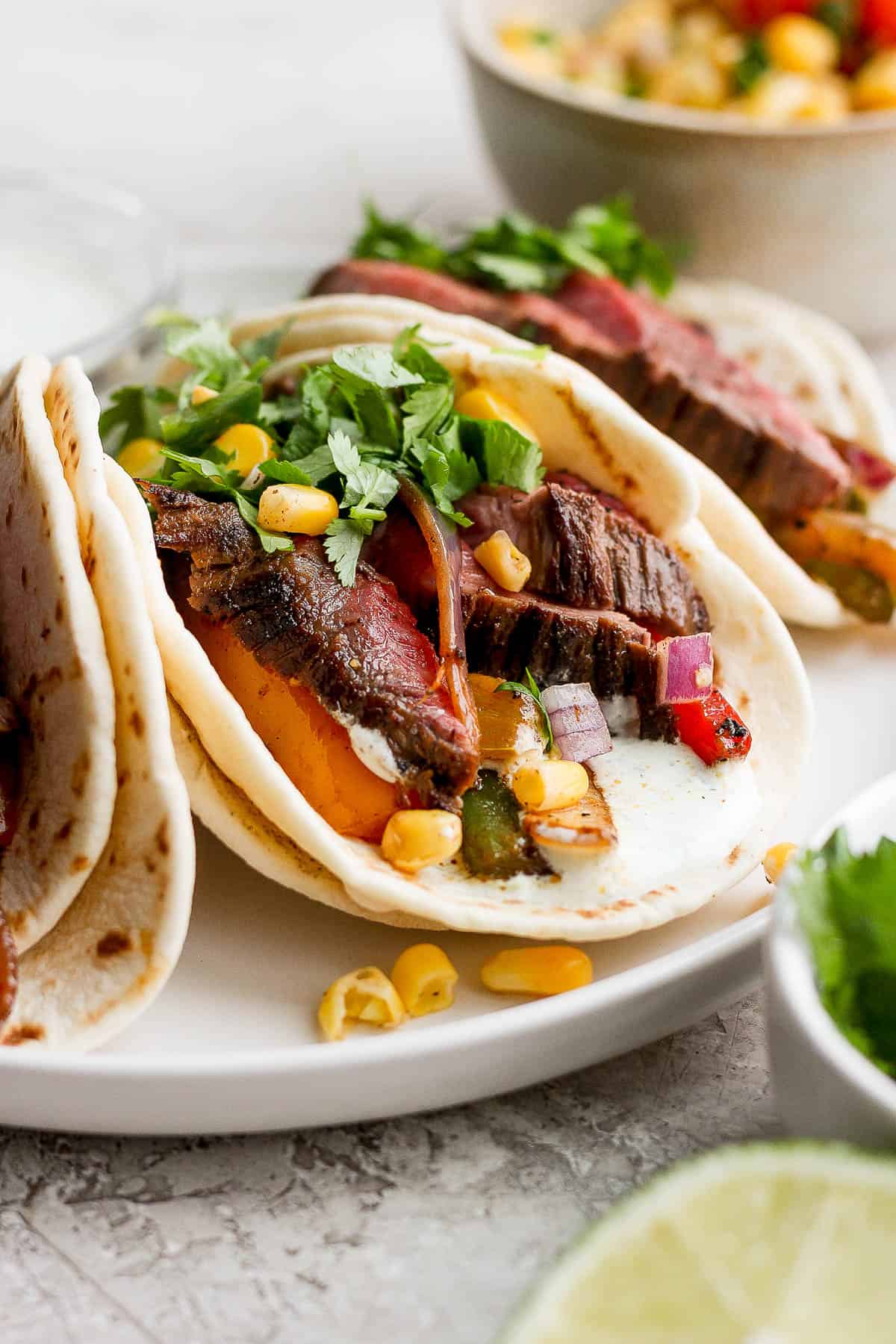 Pro Tip: Check out our round-up of 10+ Side Dishes for Fajitas to really round out your menu plan!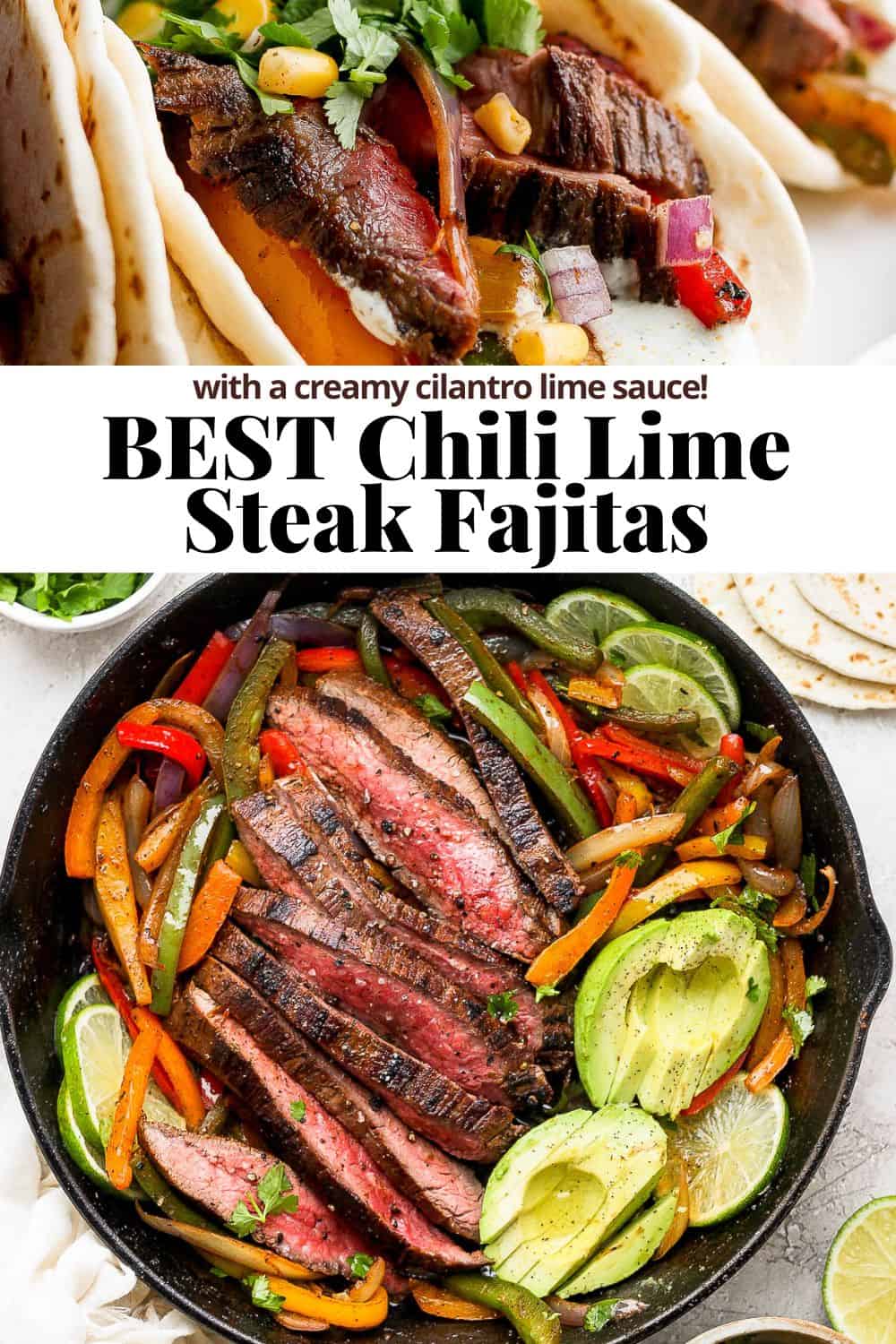 Made this recipe and loved it?! We would love it if you would take a minute and leave a star rating and review – it is also helpful if you made any substitutions or changes to the recipe to share that as well. THANK YOU!
Don't forget to check out my Instagram account for some behind-the-scenes action! Or give me a follow on Facebook or see what I am pinning on Pinterest!
Print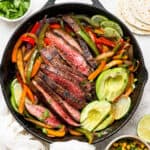 Steak Fajita Recipe
Author: Erin Jensen
Prep Time: 15 minutes
Marinate Time: 30 minutes
Cook Time: 30 minutes
Total Time: 1 hour 15 minutes
Yield: 6 servings 1x
Category: Dinner/Entree
Method: Stove Top
Cuisine: Mexican-Inspired
---
Description
Steak Fajitas – delicious and flavorful steak fajita recipe with chili lime marinade and creamy cilantro lime sauce! The BEST steak fajitas!
---
Cilantro Lime Sauce
1/2 cup sour cream (regular or dairy-free)
1 tablespoon lime juice
zest of 1 lime
2 tablespoons fresh cilantro, chopped
1 teaspoon garlic, minced
1/8 teaspoon kosher salt (more to taste)
Fajita Steak:
1.5 pound flank steak*
1/4 cup olive oil
1/3 cup fresh lime juice (approx. 2 limes)
zest of 2 limes
1/2 teaspoon chili powder
1/2 teaspoon ground cumin
1 tablespoon garlic, minced
1 tablespoon soy sauce (use Tamari for gluten-free)
1/4 teaspoon kosher salt
1–2 tablespoons cilantro, chopped (optional)
Fajita Veggies:
2–3 tablespoons chicken broth, more if needed
1 tablespoon garlic, minced
1/2 red onion, sliced
1/2 yellow onion, sliced
3 bell peppers (red, green, orange), sliced
2 tablespoons fajita seasoning
additional salt and ground black pepper, to taste
Other Fajita Toppings and Serving Suggestions:
tortillas of your choice, warmed
cilantro lime sauce
guacamole or avocado chunks
corn salsa
sour cream
lime wedges
fresh cilantro
---
Instructions
Combine Cilantro Lime Sauce: add ingredients to a small food processor. Blend until smooth. Taste and add additional cilantro, lime or salt – as needed! Cover and place in the refrigerator until serving.
Prepare Steak: Pat steak dry with clean paper towels. Season lightly with salt and pepper – pressing the salt and pepper into the meat. Place steak in a large reusable silicone bag or glass baking dish and set aside.
Marinate Steak: Add olive oil, fresh lime juice, lime zest, chili powder, cumin, garlic, soy sauce, kosher salt and fresh cilantro (if using) into a small mixing bowl. Whisk until well combined. Pour the marinade over the steak, ensuring it is fully coated. Seal and place in the refrigerator for 30 minutes or more.
Cook Steak: Bring a large cast iron skillet to medium-high heat. Add a oil, swirl to coat the pan. Remove flank steak from marinade letting excess marinade drip off the steak; discard marinade. Place steak in the pan and sear 4-5 minutes per side and then 1-2 minutes per side until the internal temperature towards the thickest part of the steak reaches 130-135 degrees F. for a medium-rare finish (use an internal meat thermometer for accuracy) – during the cooking process turn down the heat, as-needed, if your skillet really gets hot and/or add a little extra oil if the pan is dry – to avoid burning. Remove from skillet and let the meat rest on a cutting board for 10 minutes while you cook the veggies.
Cook Veggies: Keeping pan at medium-high heat add 2-3 tablespoons of chicken broth to deglaze the pan – use a spatula to scrape up the bits from the bottom of the pan. Add garlic and move around pan until it becomes fragrant, approx. 1 minute. Add onion, bell peppers and the fajita seasoning. Stir to combine. Add additional broth or olive oil to pan if you feel it is getting a bit dry.
Finish Veggies: Sauté for approx. 10-15 minutes or until the peppers have reached your desired doneness (cook shorter for a more firm, but tender pepper – longer for a softer pepper). Taste and add any additional salt or pepper, to taste.
Serve: Slice the steak against the grain into thin slices and serve on warm tortillas with the fajita veggies, cilantro lime sauce and any other toppings you desire!
---
Notes
Steak Options: if you don't want to use flank steak – sirloin, skirt or hanger steak could also be used – just adjust cook time and temp as-needed.
Storage: place in an airtight container in the fridge for 3-4 days. We recommend storing the meat, veggies, sauce, salsa, etc. in separate containers to reheat easier the next day and to prevent sogginess.
Nutrition
Serving Size: 1 fajita
Calories: 359
Sugar: 6.8 g
Sodium: 465.7 mg
Fat: 18.6 g
Carbohydrates: 20.4 g
Protein: 28.5 g
Cholesterol: 74.8 mg
Keywords: steak fajitas, steak fajita recipe