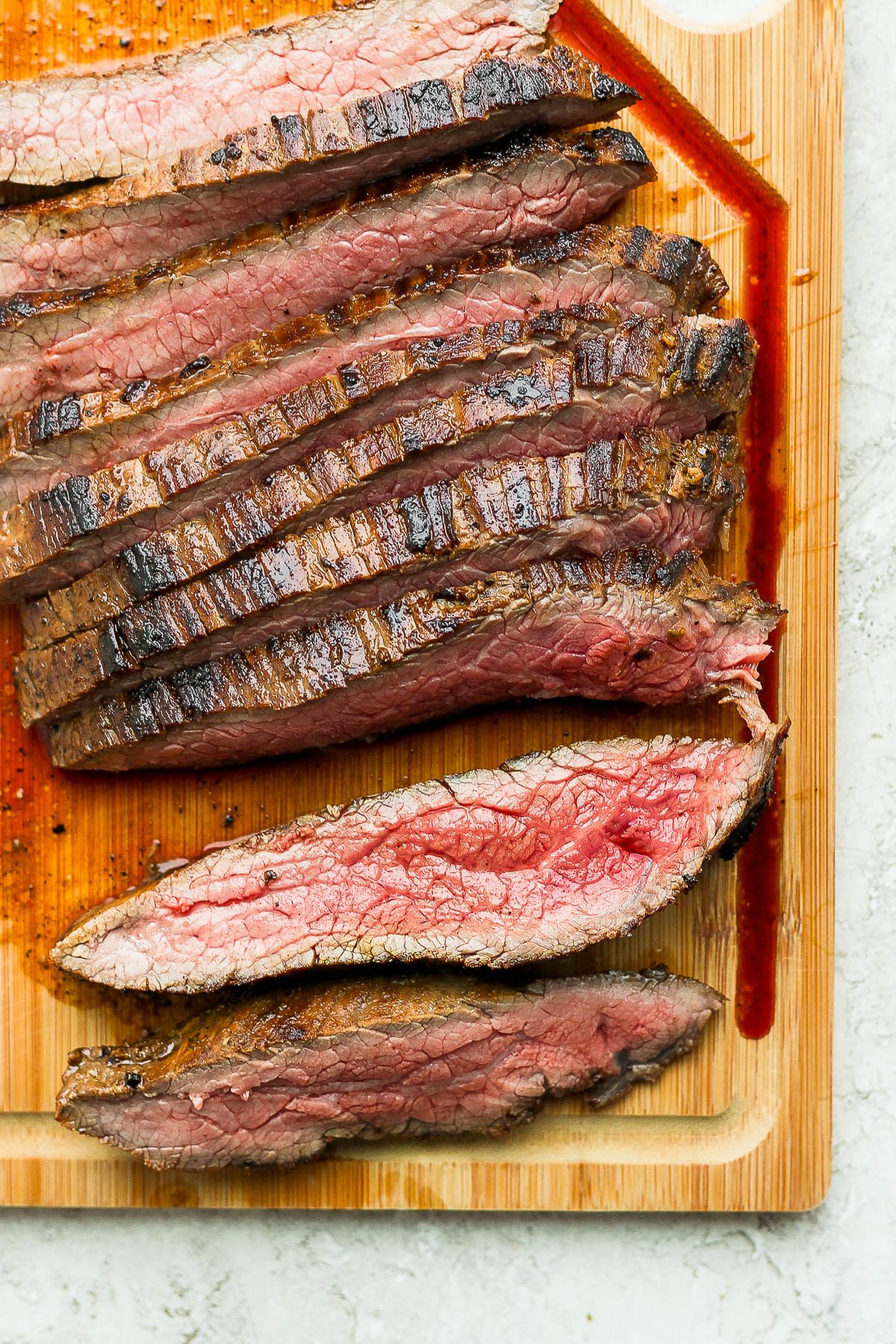 Juicy and Tender Flank Steak
Not only do these flank steaks taste amazing, they also work with just about anything! Add some protein to your favorite salad or put them on a flavorful burrito bowl. If you're feeling adventurous, try out our chili lime fajita marinade and whip up a batch of chili lime fajitas! You won't regret it. No matter how you chose to consume them, we're confident that they'll find their way onto your weekly menu time and time again.
What You Will Need
Flank Steak Marinade
extra virgin olive oil – An important ingredient that imparts fat-soluble flavors into the steak.
lime juice – A zesty bit of flavor that helps to tenderize the steak.
soy sauce – A single ingredient with a rich flavor profile.
sesame oil – A light nutty oil to help spread out all these delicious flavors.
garlic – An important sharp and pungent ingredient.
worcestershire sauce – Tangy, sweet, savory, and salty, this little sauce has it all.
dried oregano – We love this ingredient for its earthy and minty notes.
garlic powder – There can never be enough garlic.
dried rosemary – A perfect pairing with steak being piney, peppery, and lemony.
kosher salt & ground black pepper – Don't forget the classics!
Flank Steak
flank steak – This is a lean cut of meat, making it a bit tougher than other cuts of steak, which makes it the perfect candidate for marinating to make it tender and juicy. Skirt steak also works if that's more convenient.
chimichurri sauce – Let your steak shine a little brighter with this classic chimichurri sauce, complete with flavors of parsley, garlic, oregano, olive oil, and white wine vinegar.
How Long To Cook Flank Steak In Cast Iron
After some trial and error, we've found that 4-5 minutes on each side is the right amount to get a nice sear on each side. For a medium rare flank steak, cook each side an additional 1-2 minutes or until the internal temperature reaches 130-135 degrees F.
How To Cook Flank Steak In Cast Iron
Start by adding all of your marinade ingredients in a small bowl and whisk to combine all of those great flavors. Next, use a clean paper towel to pat the flank steak dry.
Don't forget to season your flank steak with some salt and pepper. Be sure to press these seasonings into the meat to ensure they don't fall off while marinading.
Place the steak in a casserole dish or glass container and pour the marinade over the top, ensuring that the entire steak has been coated. Let it marinate for at least 30 minutes. While the steak is marinating, whip up a batch of our delicious chimichurri sauce to save yourself time later.
Once the steak is done marinating, remove the steak, letting any access marinade drip off back into the container. Discard the leftover marinade and get ready to do some cooking! Heat up your cast iron skillet to medium high heat with a bit of olive oil and sear your flank steak for 4-5 minutes on each side.
Because flank steak is quite lean, you might have to add a bit more olive oil or turn down your stove so that it doesn't burn. And because this is a leaner cut of meat, we promise that it'll be best enjoyed cooked medium rare or 130-135 degrees F. Use an internal meat thermometer to make sure you're not over or under cooking your meat.
Once cooked, remove your flank steak from the skillet and onto a cutting board. Let it rest for a good 10 minutes so that all of those juicy flavors can be fully absorbed into the meat.
Recipe Tip:
Slice your steak against the grain to have the most tender pieces of meat possible. By cutting against the grain, you're actually making the muscle fibers shorter, which makes the meat easier to chew.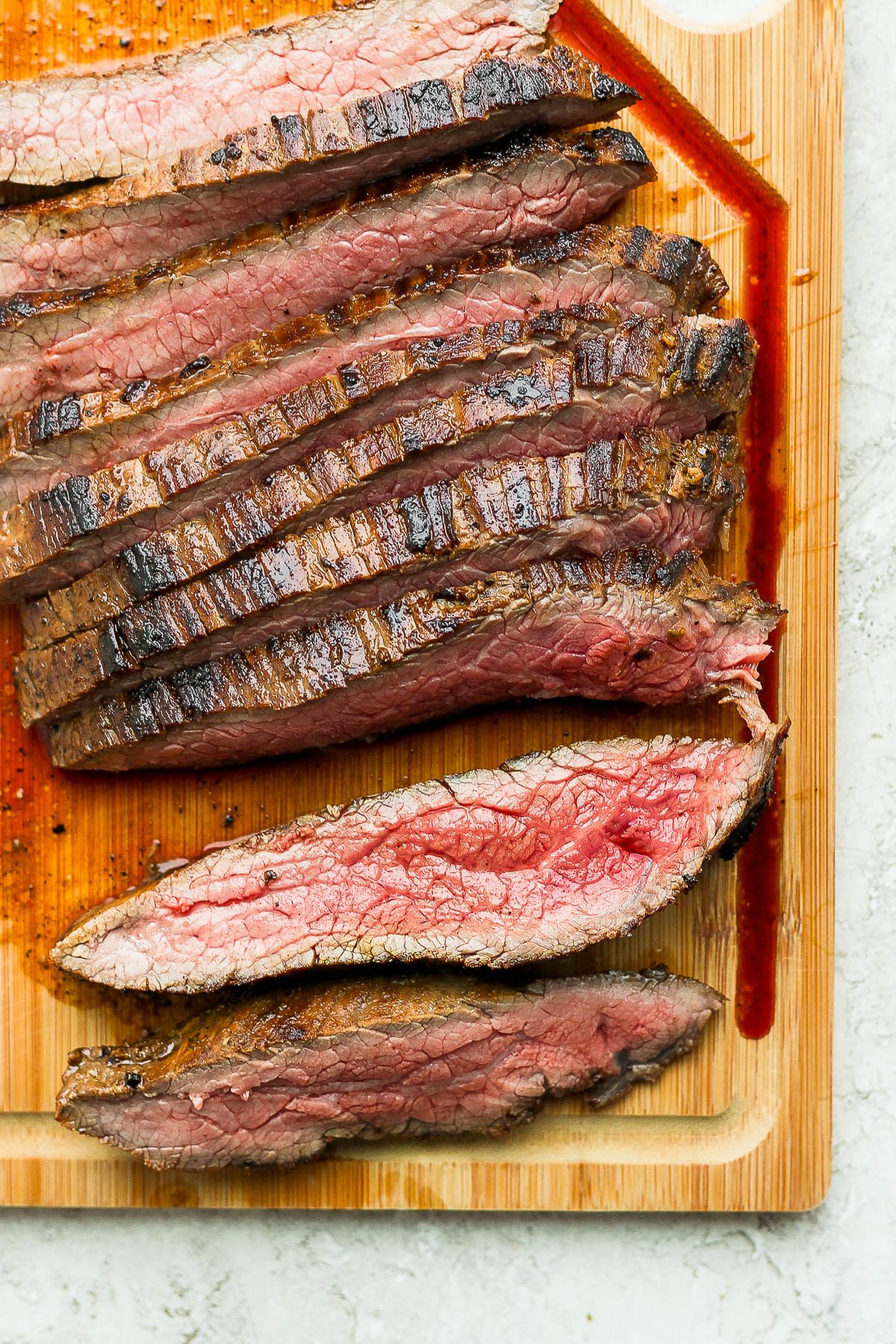 Serve it with some of our tasty chimichurri sauce and get ready for the best flavor combination possible.
Recipe FAQs
chili lime fajita marinade option – We also have a Chili Lime Flank Steak Marinade that we love!
storage – Store leftovers in an airtight container in your fridge for up to 3 days.
Made this recipe and loved it?! We would love it if you would take a minute and leave a star rating and review – it is also helpful if you made any substitutions or changes to the recipe to share that as well. THANK YOU!
Don't forget to check out my Instagram account for some behind-the-scenes action! Or give me a follow on Facebook or see what I am pinning on Pinterest!
Other Recipes You Might Like
Print
Cast Iron Flank Steak
Author: Erin Jensen
Prep Time: 10 minutes
Marinate Time:
Cook Time: 10 minutes
Total Time: 20 minutes
Yield: 6 servings 1x
Category: Beef
Method: Stove Top
Cuisine: American
---
Description
Cast Iron Flank Steak – a simple and delicious cast iron flank steak recipe + marinade that is perfect salads, fajitas and rice bowls!
---
Flank Steak Marinade:
2 tablespoons extra virgin olive oil
1 tablespoon lime juice
2 tablespoons soy sauce
1/2 teaspoons sesame oil
2 teaspoons garlic, minced
1 teaspoon worcestershire sauce
1/4 teaspoon dried oregano
1/4 teaspoon garlic powder
1/4 teaspoon dried rosemary, crushed
pinch of salt
pinch of ground black pepper
Flank Steak:
---
Instructions
Combine Flank Steak Marinade ingredients in a small bowl; whisk to combine.
Pat flank steak dry with a clean paper towel. Season with some salt and pepper – press into the meat.
Place steak in a reusable silicone bag or glass container. Pour marinade over top and ensure the steak is fully coated. Let marinate at least 30 minutes.
Bring a large cast iron skillet to medium-high heat. Add a oil, swirl to coat the pan.
Remove flank steak from marinade letting excess marinade drip off the steak; discard marinade. Place steak in the pan and sear 4-5 minutes per side and then 1-2 minutes per side until the internal temperature towards the thickest part of the steak reaches 130-135 degrees F. for a medium-rare finish (use an internal meat thermometer for accuracy) – during the cooking process turn down the heat, as-needed, if your skillet really gets hot and/or add a little extra oil if the pan is dry – to avoid burning.
Remove from skillet and place on a cutting board to rest 10 minutes.
Slice against the grain and serve – we love serving it with this Homemade Chimichurri Sauce or in these Steak Fajita Bowls.
---
Notes
Chili Lime Fajita Marinade Option: We also have a Chili Lime Flank Steak Marinade that we love – recipe found in the recipe card of this post!
Storage: store leftovers in an airtight container in the refrigerator for up to 3 days.
Keywords: flank steak cast iron