Lamb Meatballs – an easy, delicious lamb meatball recipe that can be made in the oven or on the stove top! So good!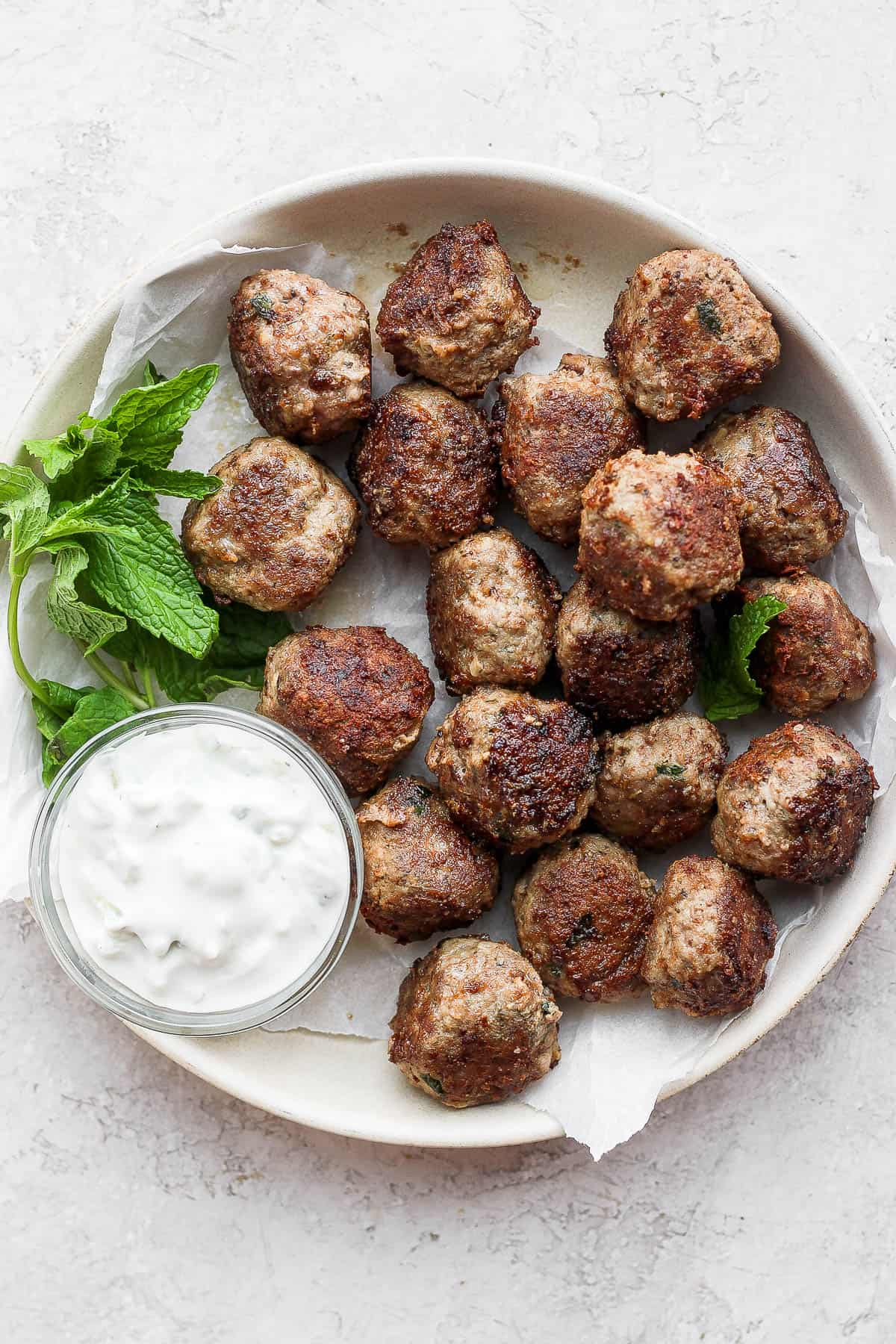 A Delicious Lamb Meatball Recipe
On occasion, we like to switch it up around here and make some delicious lamb meatballs! Typically you will see meatballs made of beef, pork, or chicken but we are here to tell you that lamb meatballs are also a great option. The flavor is so good and the whole family is going to love them!
What You Will Need
Ground lamb – a delicious alternative to all the other ground meats.
Egg & almond flour – these work together to help bind the meatballs so that they don't fall apart.
Oregano leaves, basil, dried dill, onion powder, & garlic powder – all the great spices that bring amazing flavor to these meatballs.
Kosher salt & black pepper – because you can make meat without them!
Fresh mint – this brings a light and refreshing flavor to the recipe.
Garlic – this is also all about adding some great flavor!
Is It Better To Bake Or Fry Meatballs?
This is really up to you! It is faster to fry meatballs, but baking them is probably a bit healthier because they aren't cooking in oil. Either way they are delicious. It's just a personal preference.
How To Bake Meatballs
You will simply combine all of your meatball ingredients in a bowl, roll them into balls, and then bake them at 425 degrees on a parchment-lined pan for about 15-20 minutes.
How To Fry Meatballs
First, coat a cast iron skillet in olive oil and warm it on medium heat before adding the meatballs. Next, you will combine all the meatball ingredients in a mixing bowl, roll them into balls, and then sear them in the pre-heated cast iron pan until their internal temp reaches 145 degrees.
What's The Best Way To Serve Lamb Meatballs?
You could serve these yummy meatballs with just about anything, but our favorite is definitely in a Gyro Bowl or just dipping them in some Homemade Tzatziki Sauce.
How To Store Leftover Meatballs
Once these meatballs have been cooked and cooled you can easily store any leftovers! Just place them in an airtight container in the fridge for 3-4 days or in the freezer for 3-4 months. These are great for meal prep!!
How To Make Lamb Meatballs
Step one – Place all your ingredients in a mixing bowl.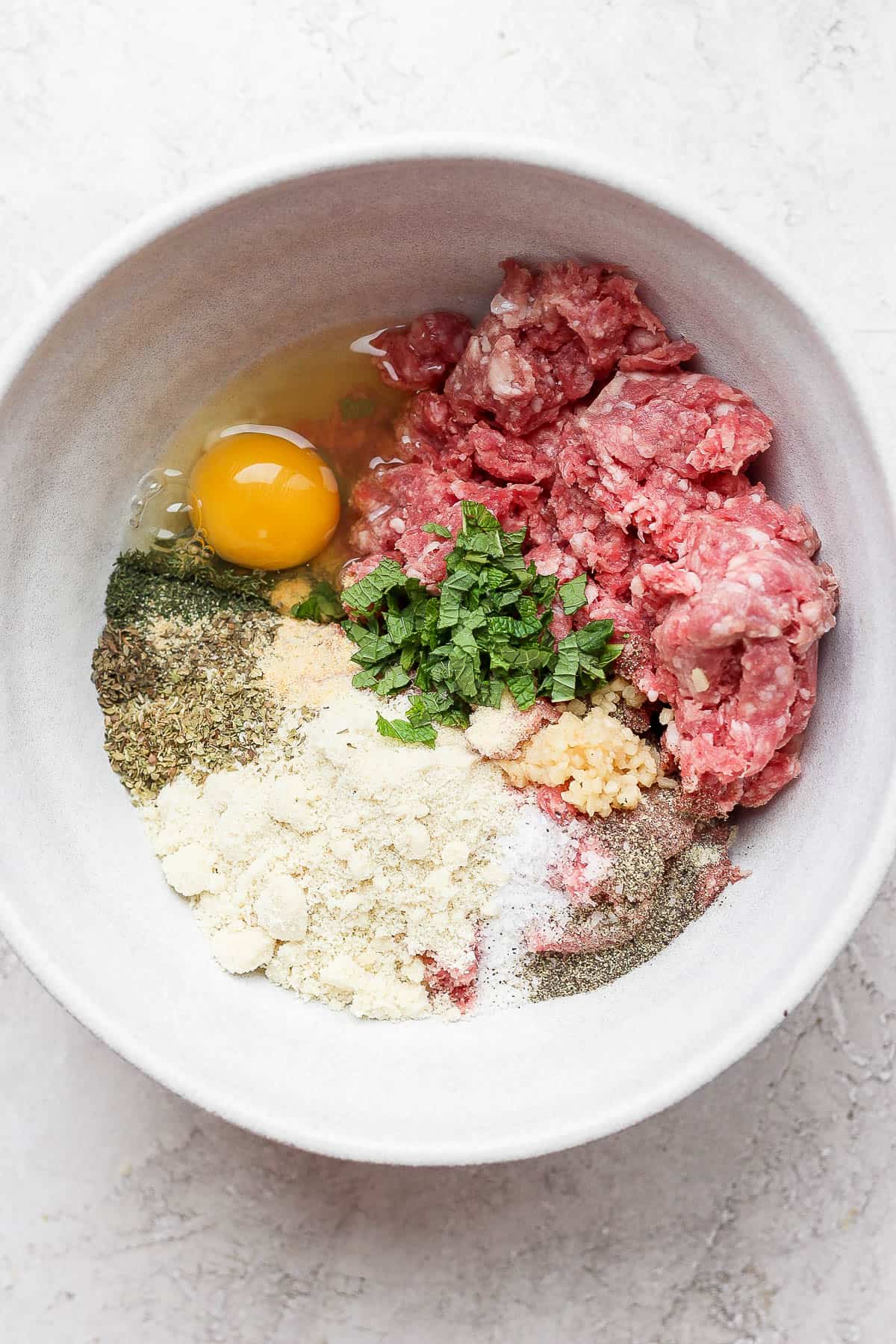 Step two – Mix with your hands and begin forming into balls. Pro tip – use a cookie scoop!
Step three – Either fry them on the stove top in a cast iron pan or bake them in the oven on a parchment-lined pan.
Step four – Enjoy!
Made this recipe and loved it?! We would love it if you would take a minute and leave a star rating and review – it is also helpful if you made any substitutions or changes to the recipe to share that as well. THANK YOU!
Don't forget to check out my Instagram account for some behind-the-scenes action! Or give me a follow on Facebook or see what I am pinning on Pinterest!
Print
Lamb Meatballs
Author: Erin Jensen
Prep Time: 10 minutes
Cook Time: 20 minutes
Total Time: 30 minutes
Yield: Approx. 24 meatballs
Category: Meatballs
Method: Stove Top + Oven
Cuisine: Mediterranean-Inspired
---
Description
Lamb Meatballs – an easy, delicious lamb meatball recipe that can be made in the oven or on the stove top! So good!
---
1 pound ground lamb
1 egg
1/2 cup fine almond flour
1 teaspoon kosher salt
1 teaspoon dried oregano leaves
1 teaspoon dried basil
1 teaspoon dried dill
1/2 teaspoon onion powder
1 teaspoon garlic powder
1/2 teaspoon ground black pepper
1 tablespoon fresh mint, minced
1 teaspoon garlic, minced
---
Instructions
Combine ingredients in a medium mixing bowl; mix.
Taking one tablespoon of lamb mixture at a time, create meatballs with your hand or a small dough scoop. Place on a plate.
Stove Top:
Bring large cast iron skillet to medium-high heat. Add approximately a tablespoon of olive oil to the pan; swirl to coat.
Sear the meatballs on all sides.
Turn heat down to medium/medium-low and continue cooking unit internal temperature reaches 145 degrees F (about 10-15 minutes).
Oven:
Preheat oven to 425 degrees F.
Place meatballs on a parchment-lined baking sheet.
Bake on the middle rack for 15-20 minutes or until fully cooked.
Remove from oven and let cool; serve and enjoy!
---
Notes
Internal temp of lamb: lamb is fully cooked when it reaches 145 degrees F. at it's thickest part.
Serving suggestions: we love using these to make Gyro Bowls or dipping them in Homemade Tzatziki Sauce!