Mint Chimichurri is one of our favorite sauces to drizzle over our ultimate leg of lamb recipe, grilled lamb chops or on any meat or veggie that needs a lil' something. Flavors of mint, lemon, and garlic instantly adds a wow factor to any dish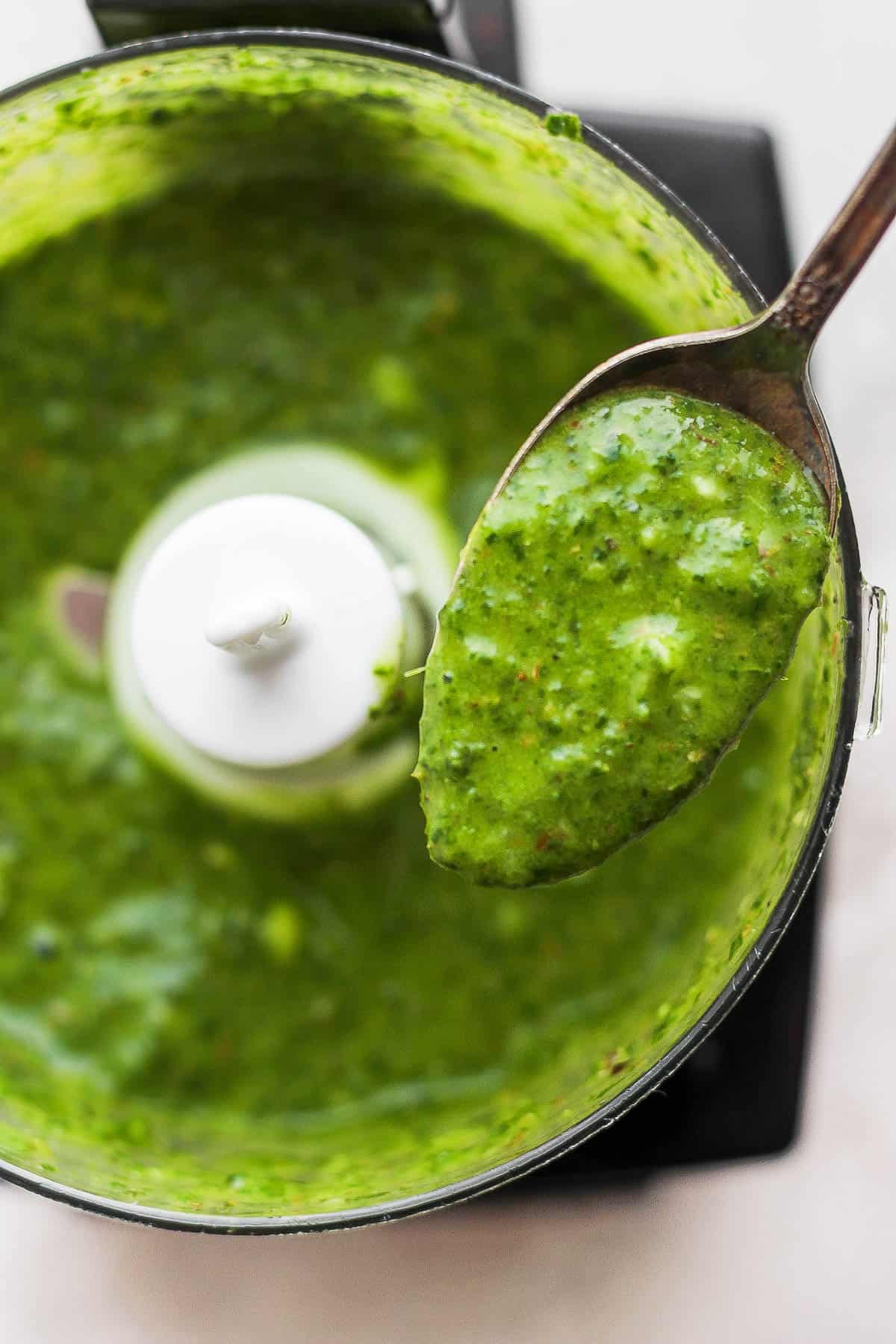 The Best Mint Chimichurri Recipe
It's amazing how just a few simple ingredients can come together to create a full flavored dipping sauce, condiment, or marinade. No matter how you use this chumuchurri with mint, it's sure to be the star of the show. With a few simple ingredients and a food processor, you'll have this dipping sauce whipped up in under 10 minutes, making it a simple add-on to any meal.
Love Chimichurri – try our Classic Chimichurri with Marinated Flank Steak!
What You Will Need
fresh parsley – Brings a clean, peppery taste and an unmistakeable aromatic oil, giving it the freshest flavor.
fresh mint leaves – Slightly sweet and subtly cool, this little leaf makes each bite refreshing.
extra virgin olive oil – A light, clean oil that has a plethora heart healthy fats and antioxidants.
garlic – Equal parts peppery, earthy, butter, and pungent.
dried oregano leaves – A subtle balance between sweet, spicy, and earthy.
shallot – Milder and sweeter than a traditional onion.
lemon juice – Adds brightness and the right amount of citrus.
red wine vinegar – A robust fruit forward vinegar.
kosher salt & ground black pepper – Just a bit to enhance all of these beautiful flavors.
red pepper flakes – Just a bit for some subtle heat.
How Do You Make Mint Chimichurri
Start by gathering and measuring all of your fresh ingredients and place them in your trusty food processor.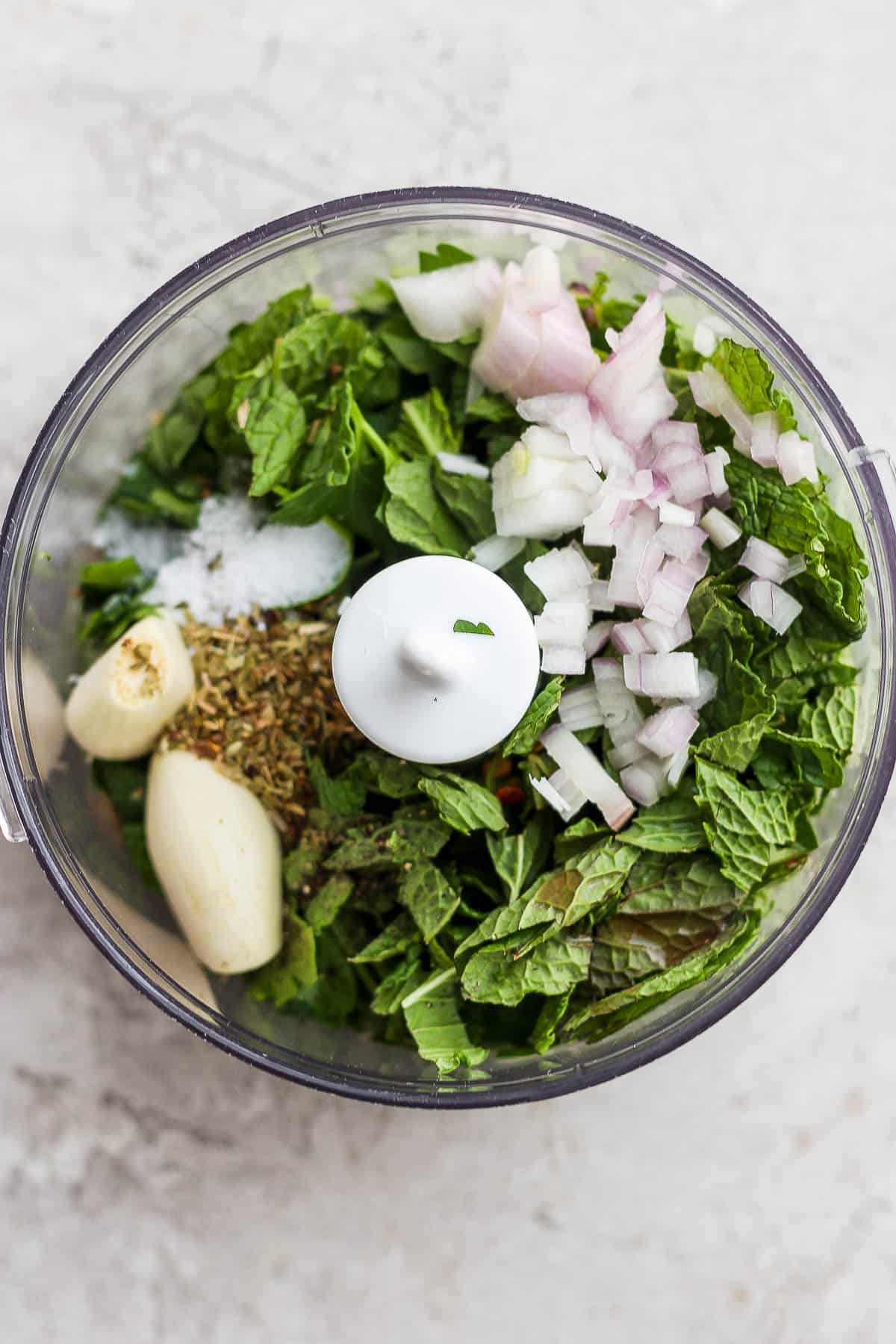 Recipe Tip:
We always have a handful of lemons in the fridge for when any recipe needs a little lightening up. Whether we're juicing, zesting, or slicing, having fresh lemons on hand is a must for any home cook.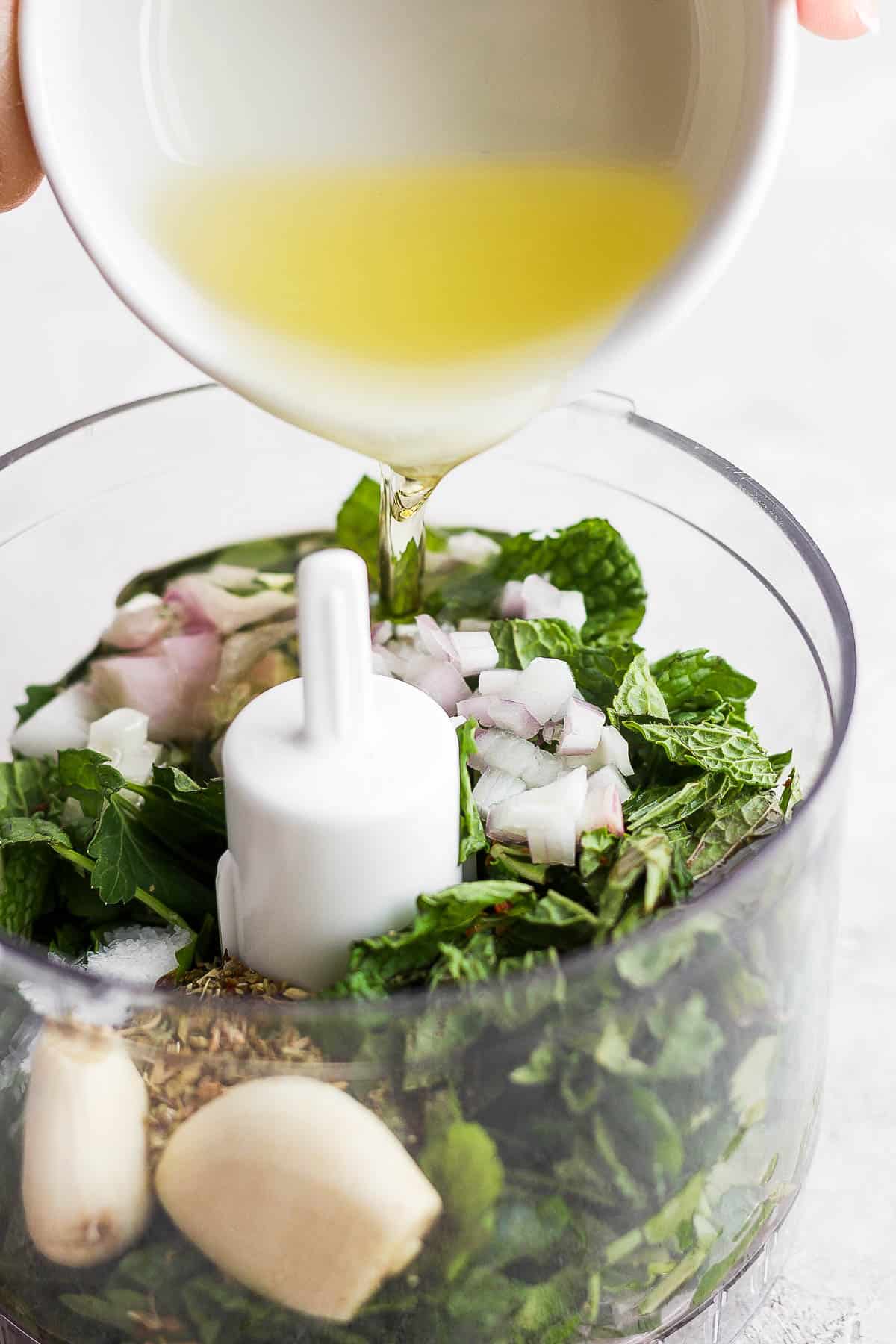 Blend all of the ingredients together until it has a smooth consistency.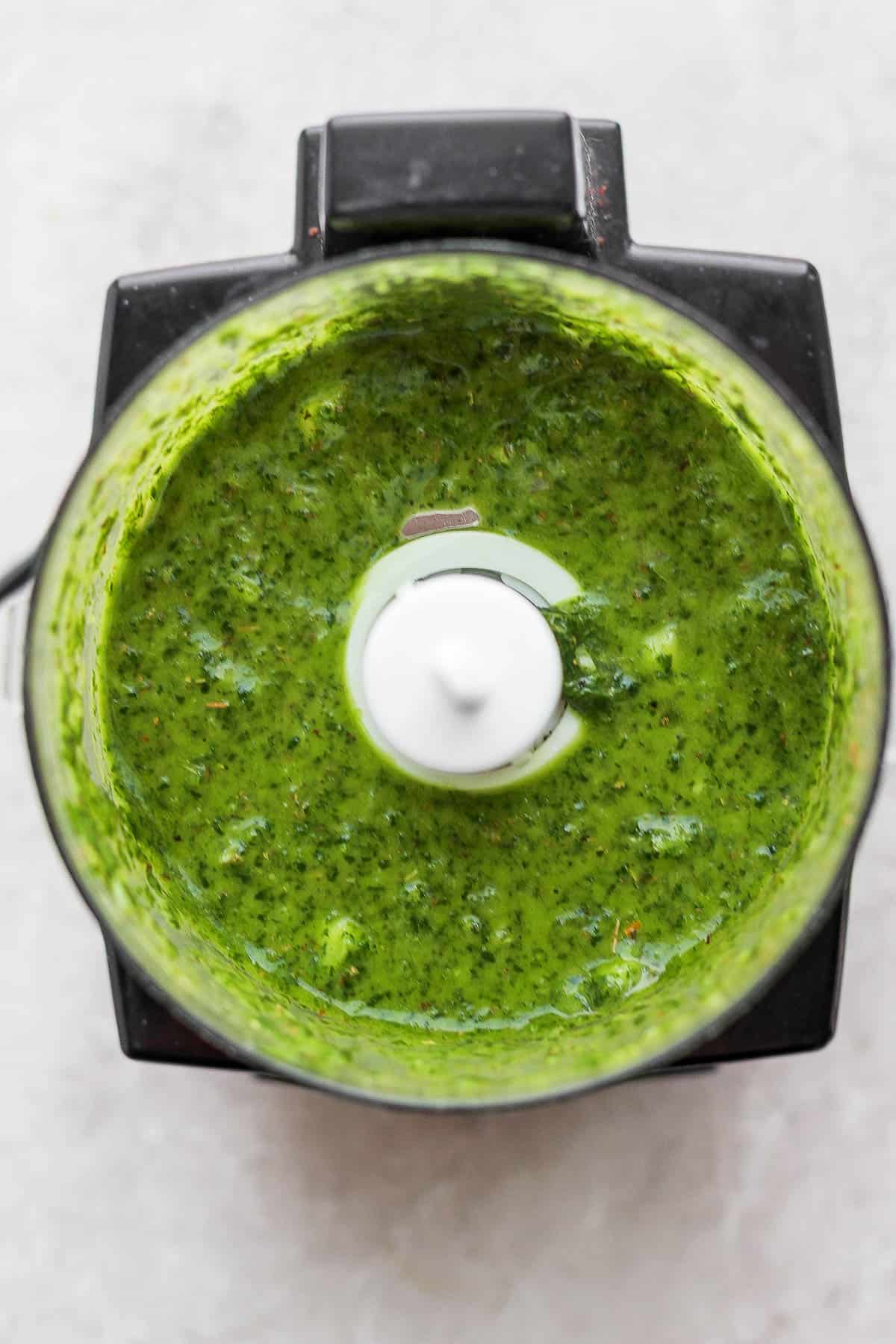 Using a small spoon, give your chimichurri a taste and adjust salt, red pepper flakes, and/or garlic to your liking.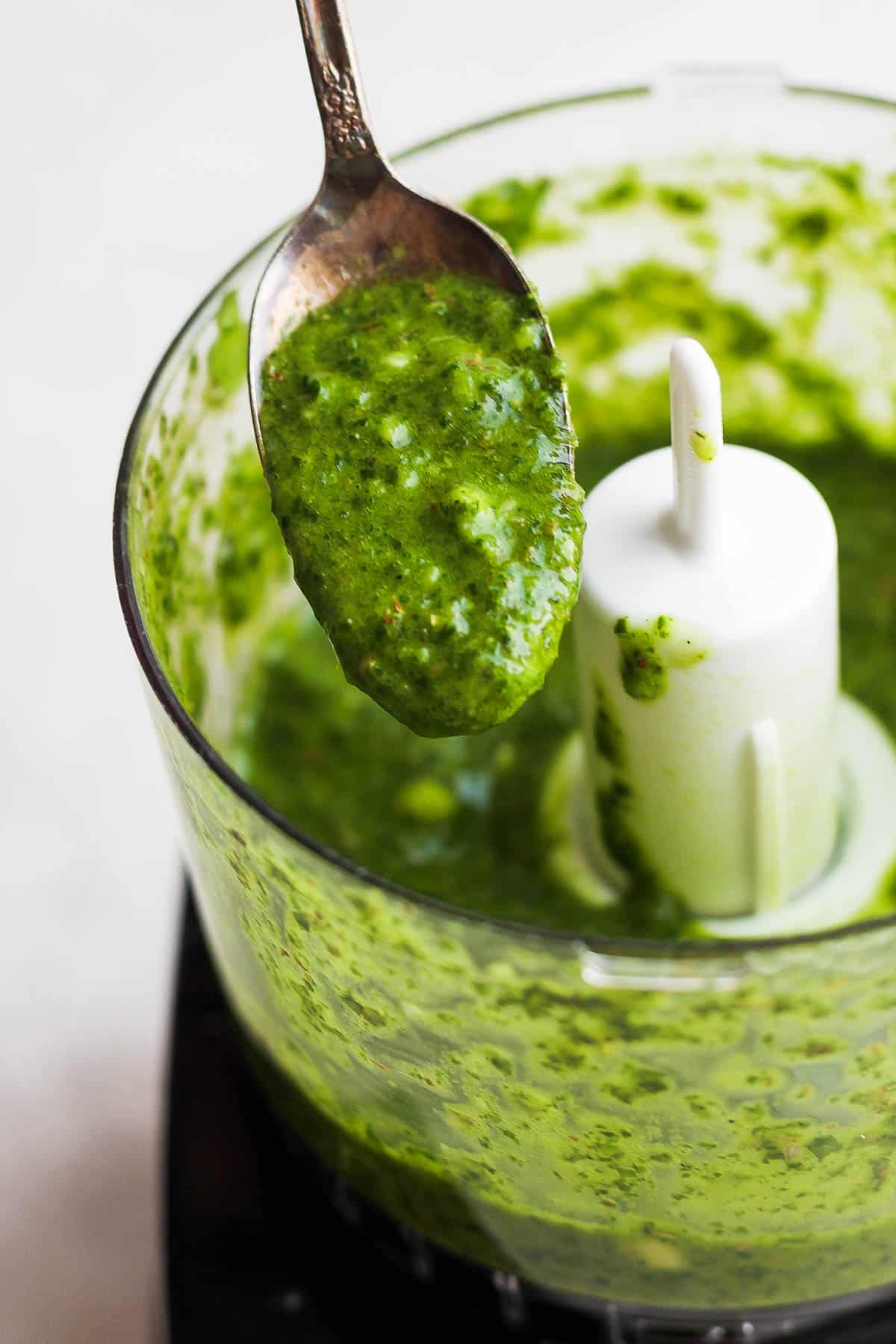 What To Serve Chimichurri With
While most people make mint chimichurri for lamb, its one of those condiments that truly tastes good with most proteins or side dishes thanks to its bold and refreshing flavors. Here are some of our favorite ways to serve it.
Lamb Chops – Lamb has been served with mint for centuries. Because a lamb's diet includes fresh clover and ryegrass, its meat carries those flavors through, making it a complementary protein to be served with mint. We love these Pan-Seared Lamb Chops or these Grilled Lamb Chops and serve alongside some Lemon Couscous!
Burgers – Put it on any burger and thank us later, but be sure to try it on our lamb burger for the ultimate flavor combination.
Grilled Steak – Get ready for a light, refreshing bite at your next cookout.
Shrimp – Light mint flavors paired with an equally light protein will provide all the summery vibes.
Salad – Use mint chimichurri in place of salad dressing for a light crisp flavor throughout.
Veggies – Brighten up any veggie platter with just a drizzle.
Grains – Liven up your next bowl of rice with a dollop mixed in or scoop some up on a piece of grilled bread.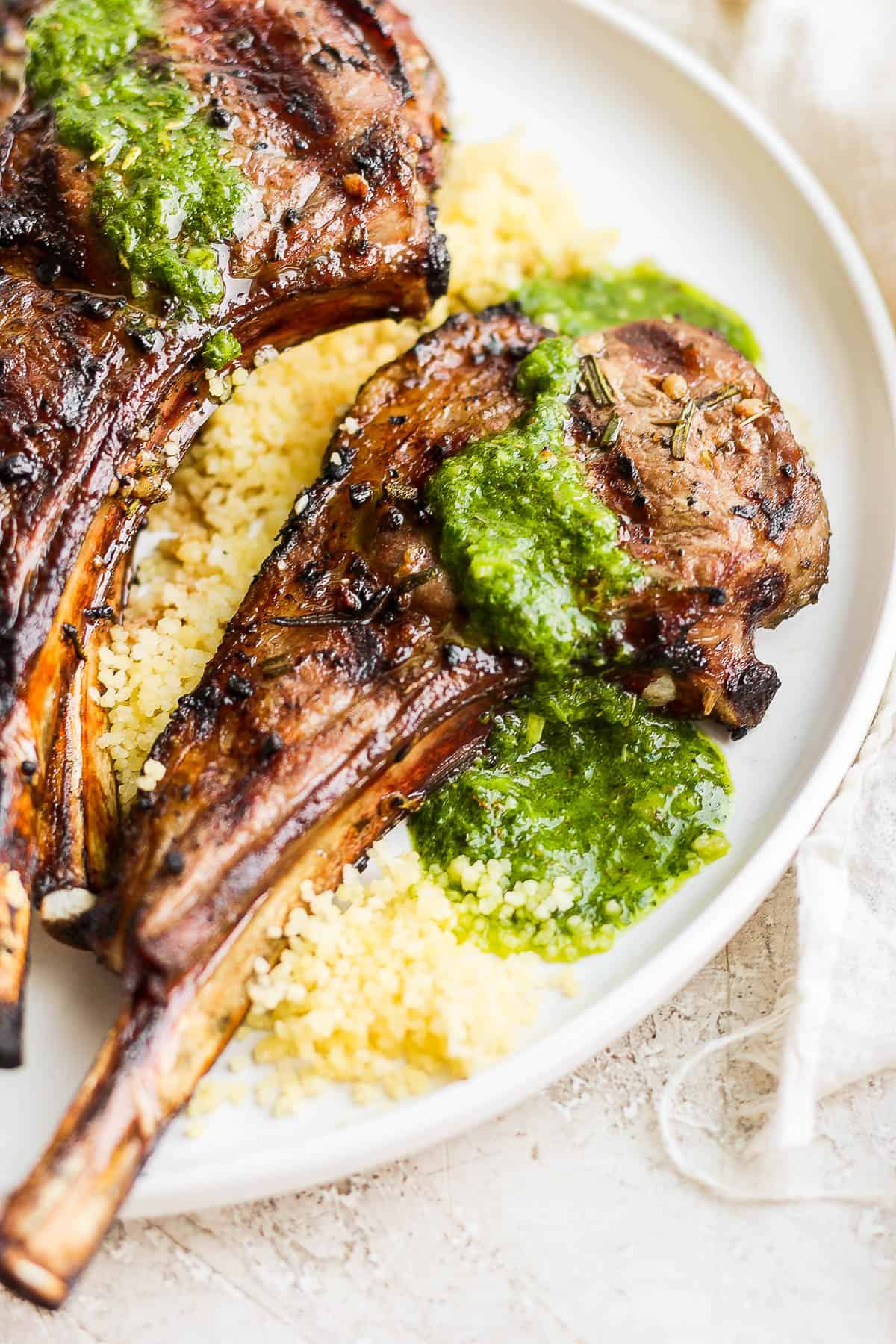 Recipe FAQs
spice level – Most of the spiciness level comes from garlic. We felt like one clove was right, but feel free to adjust to your liking.
how long does mint chimichurri last – Store leftovers in an airtight container in the refrigerator for up to five days.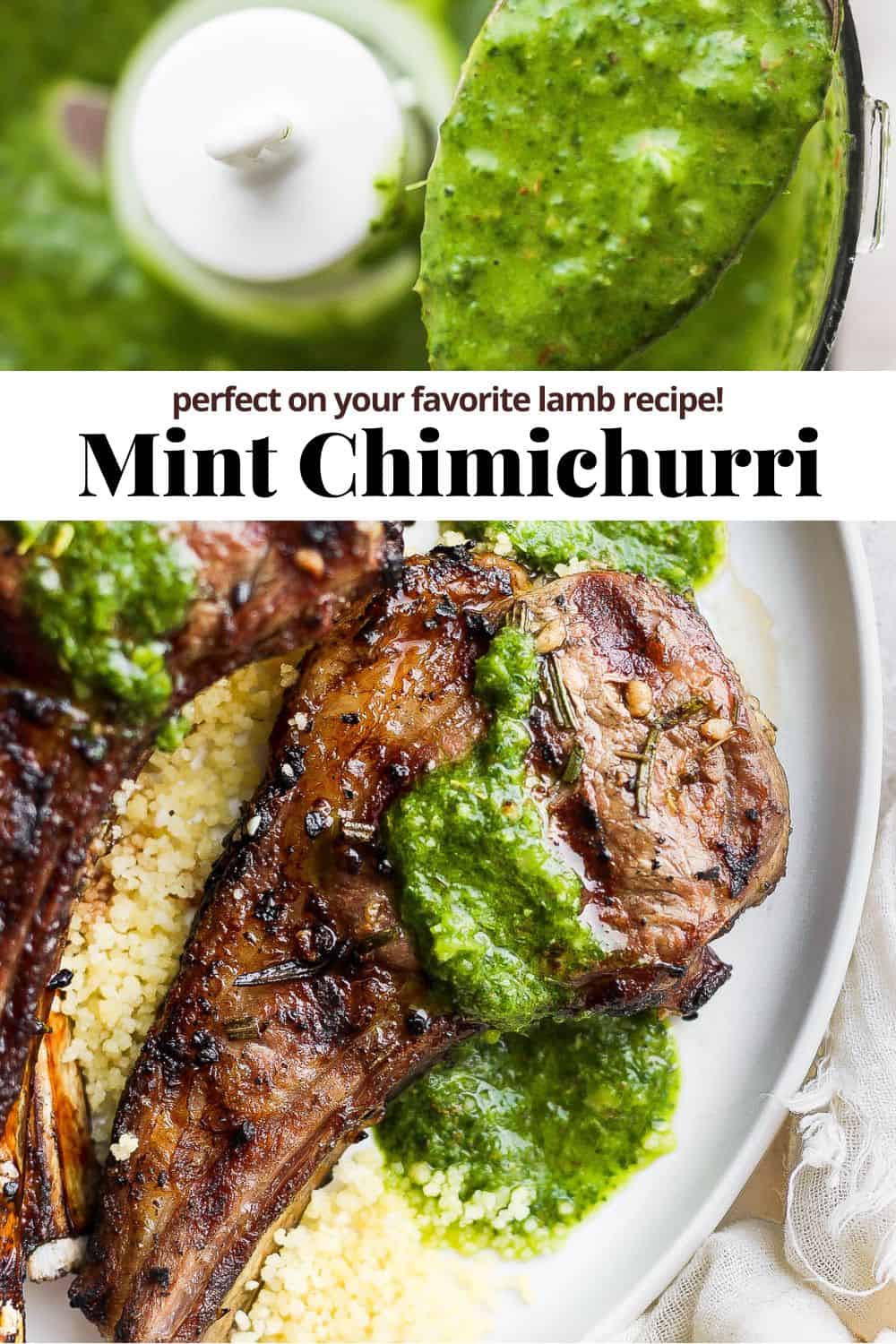 Made this recipe and loved it?! We would love it if you would take a minute and leave a star rating and review – it is also helpful if you made any substitutions or changes to the recipe to share that as well. THANK YOU!
Don't forget to check out my Instagram account for some behind-the-scenes action! Or give me a follow on Facebook or see what I am pinning on Pinterest!
Other Recipes You Might Like
Print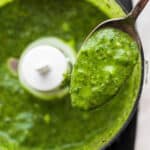 Mint Chimichurri
Author: Erin Jensen
Prep Time: 10 minutes
Cook Time: 0 minutes
Total Time: 10 minutes
Yield: 1/2 cup 1x
Category: Sauce
Method: Counter Top
Cuisine: American
---
Description
Mint Chimicurri – a bright, delicious and easy mint chimichurri recipe that is perfect for your favorite lamb recipe!
---
1 cup fresh parsley
1/4 cup fresh mint leaves
1/3 cup extra light olive oil
1 garlic clove
1 teaspoon dried oregano leaves
1 tablespoon shallot, minced
1 tablespoon lemon juice
1 teaspoon red wine vinegar
1/4 teaspoon kosher salt
1/8 teaspoon ground black pepper
(optional) 1/8 teaspoon red pepper flakes
---
Instructions
Add ingredients to food processor.
Blend until it has a smooth consistency.
Taste and adjust salt, red pepper flakes (if using) or garlic.
Serve with your favorite recipe – we love serving it with our Grilled Lamb Chops.
---
Notes
Spice Level: a lot of the spice actually comes from the raw garlic. 1 clove felt right to us, but if you want it really spicy go for 2 if you want.
Serving: we love serving this with some Grilled Lamb Chops + Lemon Couscous.
Storage: store in an airtight container in the refrigerator for up to 5 days.
Nutrition
Serving Size: 2 Tbs
Calories: 172
Sugar: 0.5 g
Sodium: 86.7 mg
Fat: 18.9 g
Carbohydrates: 2.4 g
Protein: 0.7 g
Cholesterol: 0 mg
Keywords: mint chimichurri