Smoked Spatchcock Turkey is a the perfect Thanksgiving bird! Learn how to spatchcock a turkey and cook it on your smoker (we used a Traeger). This smoked spatchcock turkey recipe is easy to make, delicious and packed with flavor!
Serve with Stuffed Onions, Broccoli Bacon Salad, Apple Yam Bake and Wild Rice Stuffing (don't forget the Dairy-Free Pumpkin Pie) for a complete Thanksgiving Meal!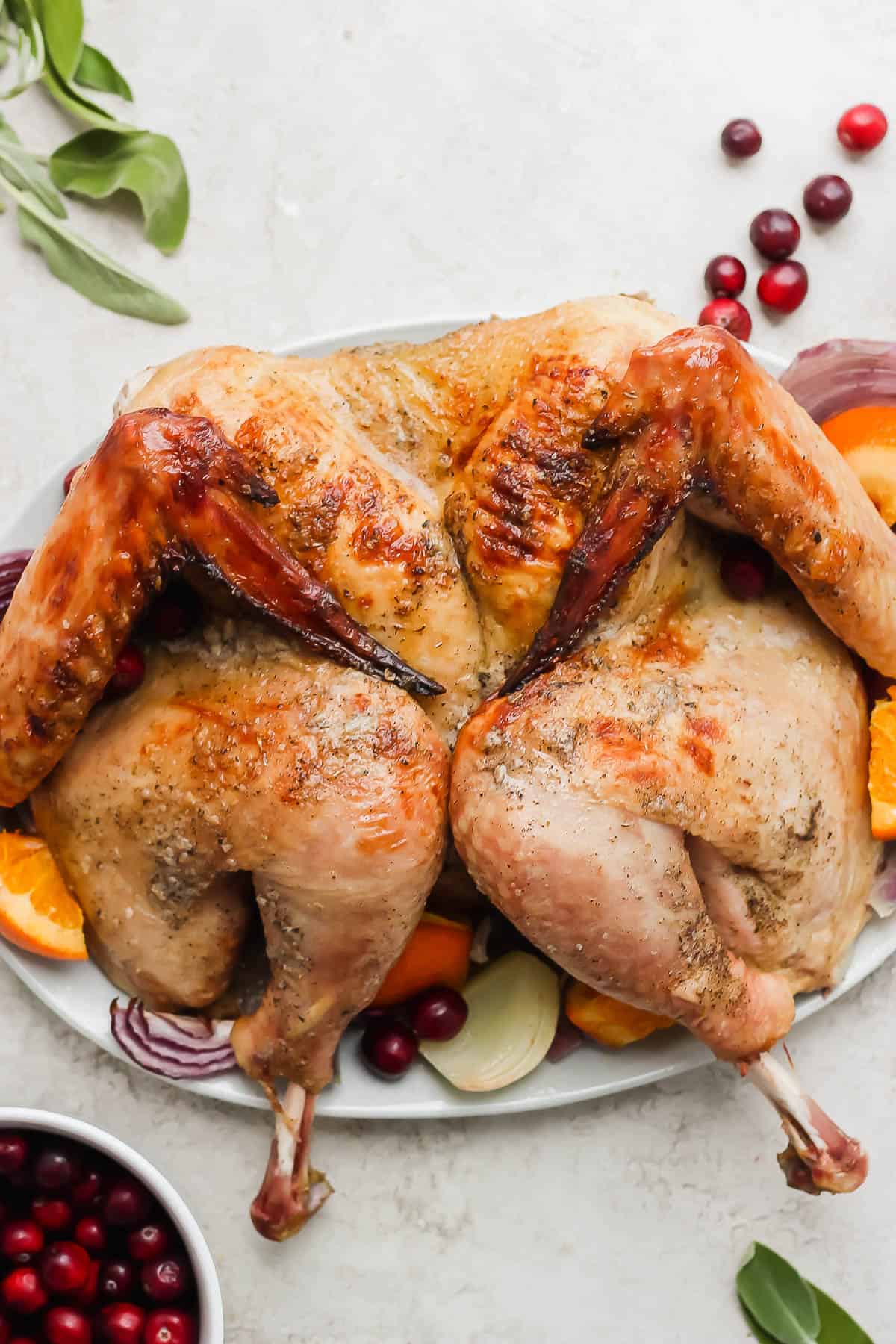 Best Ever Smoked Spatchcock Turkey
I am a HUGE fan of spatchcocking chicken and turkey – it really is so easy to spatchcock (see step-by-step directions below) and the results are SO GOOD! A flatter bird cooks faster and more evenly allowing for a more juicy and delicious turkey!
We also have an oven roasted spatchcock turkey if that is more your thing!
Why This Recipe Works
Spatchcock Smoked Turkey Ingredients
How to Prep a Spatchcock Turkey for the Smoker
How Long to Smoke a Spatchcock Turkey
We smoke our spatchcock turkey at 225 degrees F. for 1 hour and then raise the temperature to 350 degrees F. (to help crisp up the skin) until it reaches an internal temperature of 165 degrees F. at it's thickest part using an internal meat thermometer. The total smoke time will vary a bit due to a myriad of factors such as outdoor temperature, smoker hot spots, wind, humidity, etc. That being said during testing this recipe consistently took approximately 2-2.5 hours.
Can I use a Regular Grill to Smoke a Spatchcock Turkey
Yes, you can use a gas or charcoal grill to smoke a spatchcock turkey (or smoke a turkey breast or whole turkey) if you use a wood chip smoker box and then simply continue to add smoking chips throughout the cooking process.
Read Also: Juicy Smoked Turkey Legs
How to Smoked a Spatchcock Turkey
I recommend using a 12-14 pound turkey if you are going to spatchcock.
Remove the backbone by cutting along either side of it with sharp kitchen shears.
Flip the bird over and press down on the breastbone – you should hear a little crack and the bird will flatten out completely.
Add your broth and wine to the roasting pan and then place your turkey on top. Spread butter all over the turkey and season generously.
Set your smoker to 225 degrees F. and place your roasting pan inside. Close the lid.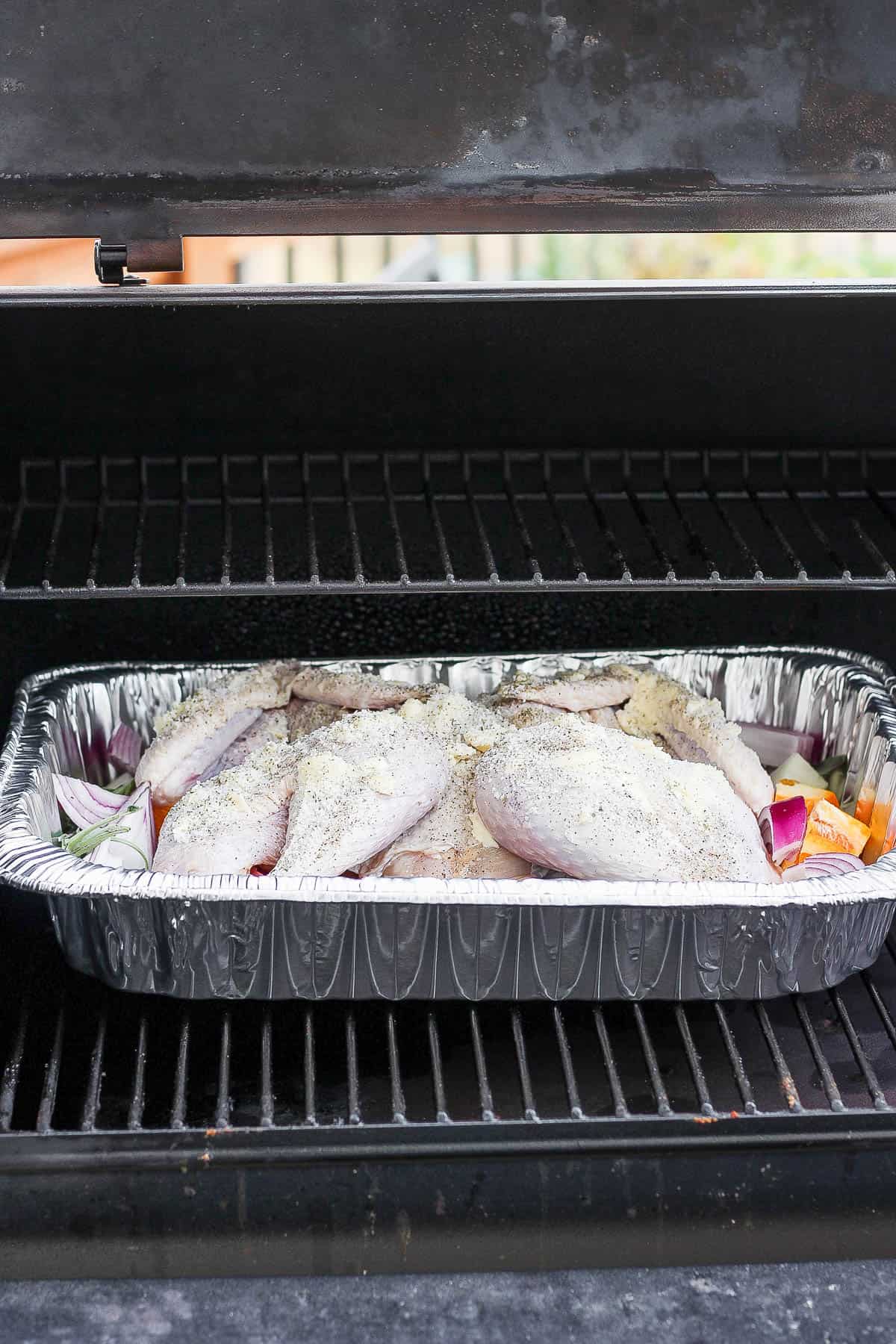 After about an hour at 225 degrees F. raise the temperature to 350 degrees until it reaches an internal temperature of 165 degrees F. Then remove and let rest.
Enjoy!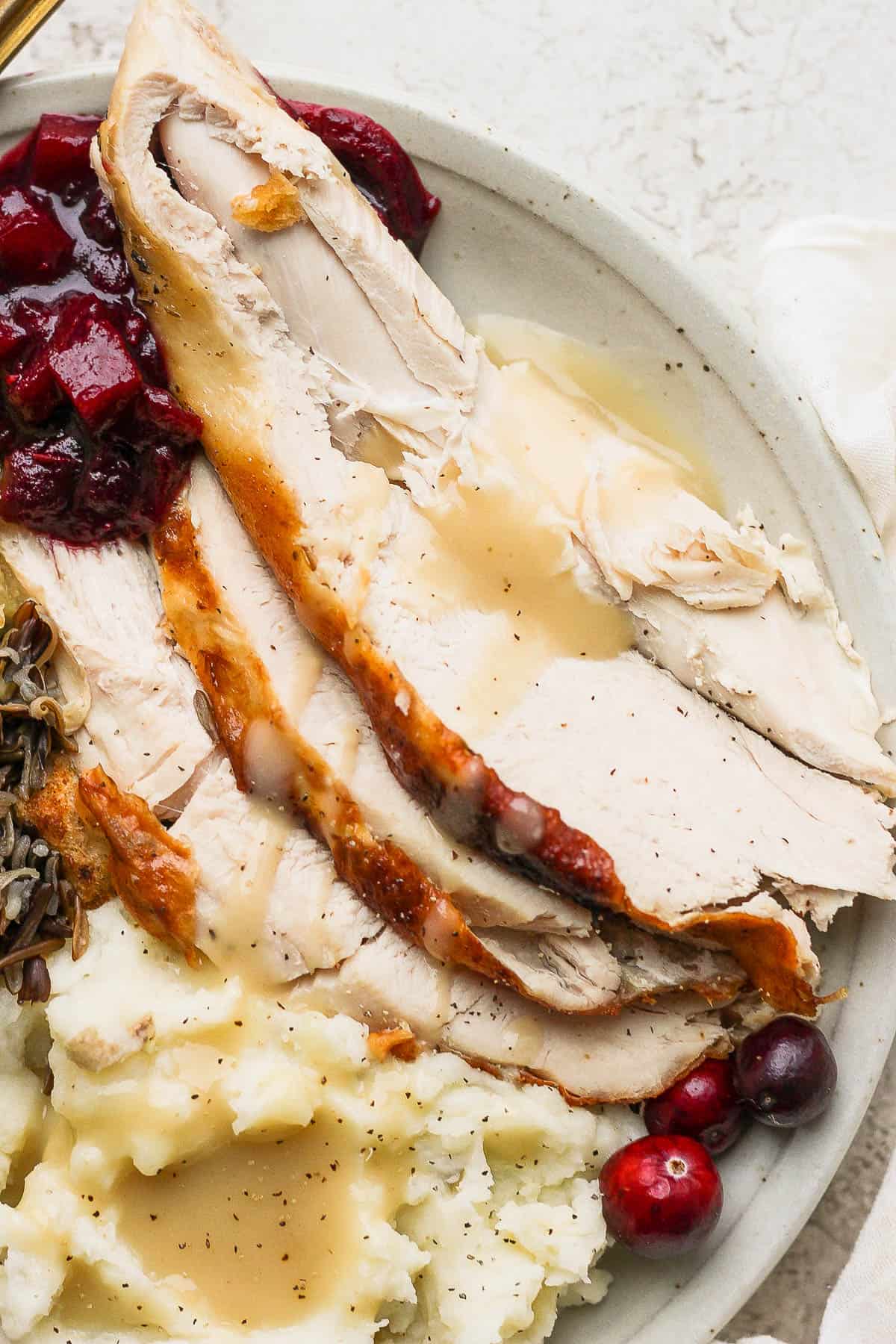 Leftover Smoked Turkey Ideas
Here are a few easy and delicious leftover smoked turkey recipes that might come in handy for the days following your Thanksgiving celebration:
Storage
Store leftovers in the refrigerator in an airtight container for up to 4 days.
Can I Freeze Leftover Smoked Turkey
Yes, you can definitely freeze your leftover turkey. Store in a freezer-safe container (try and ensure it is airtight so the turkey doesn't dry out) and use within 3 months.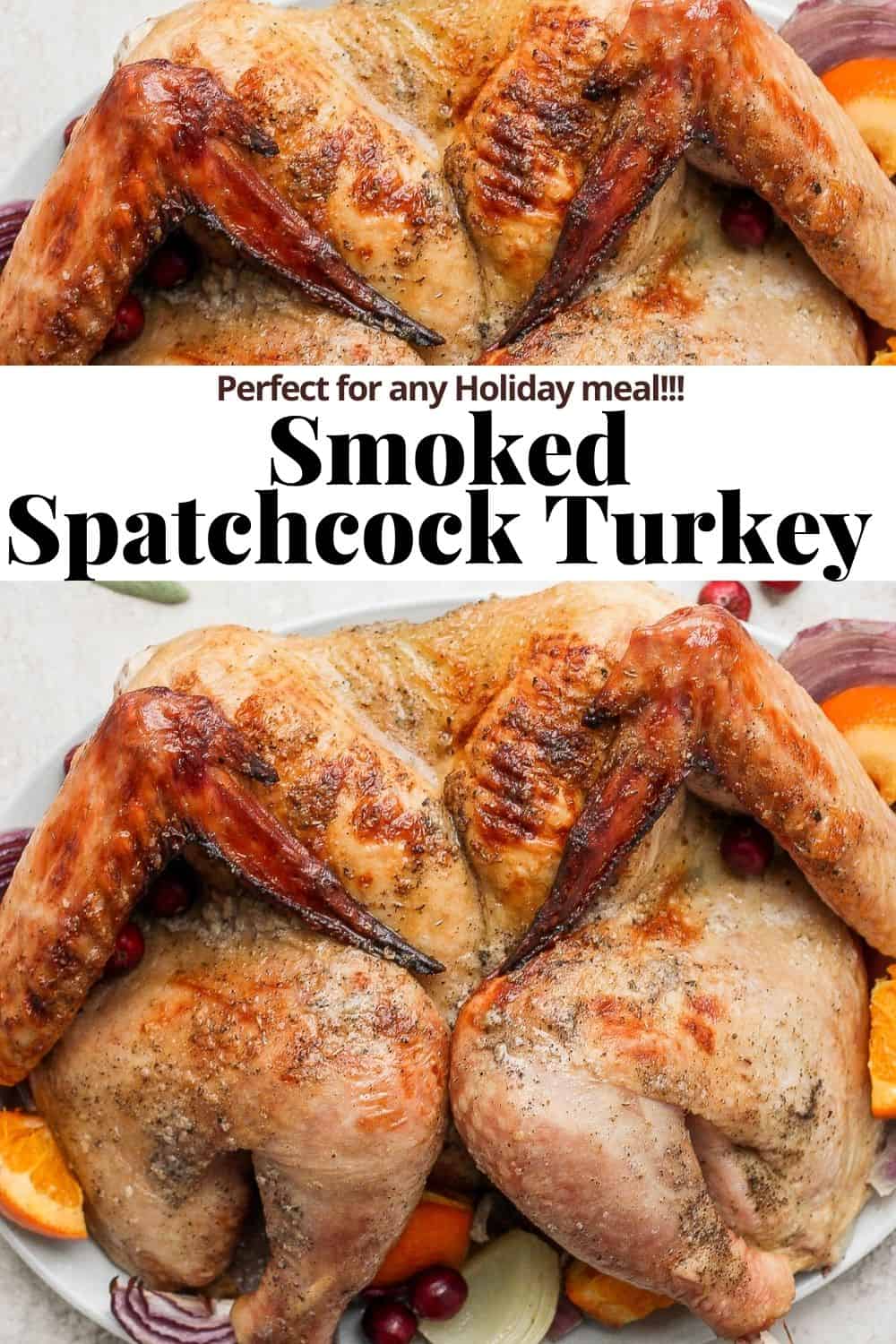 Made this recipe and loved it?! We would love it if you would take a minute and leave a star rating and review – it is also helpful if you made any substitutions or changes to the recipe to share that as well. THANK YOU!
Don't forget to check out my Instagram account for some behind-the-scenes action! Or give me a follow on Facebook or see what I am pinning on Pinterest!
Print
Smoked Spatchcock Turkey Recipe
Author: Erin Jensen
Prep Time: 15 minutes
Cook Time: 2 hours 30 minutes
Total Time: 2 hours 45 minutes
Yield: 12–14 servings 1x
Category: Turkey
Method: Smoker
Cuisine: American
---
Description
Smoked Spatchcock Turkey – an absolutely delicious, flavorful smoked spatchcock turkey recipe – perfect for Thanksgiving or any holiday!
---
Smoked Turkey Rub:
1 tablespoon kosher salt
1/2 teaspoon ground black pepper
2 teaspoons dried thyme leaves
1 teaspoon ground mustard
1 teaspoon smoked garlic powder
1 tablespoon dried parsley leaves
1 teaspoon dried oregano leaves
1 teaspoon dried basil leaves
2 teaspoons dried sage leaves
1 teaspoons onion powder
Turkey:
12–14 lb whole turkey (fully thawed, giblets removed)
1/2 cup butter, softened + divided (feel free to use softened ghee)
1 batch turkey seasoning
1–2 red onions, quartered
2 cups chicken broth (or turkey broth)
1/2 cup dry white wine (optional)
2–3 sprigs fresh rosemary
2–3 sprigs fresh thyme
1 navel orange, quartered
---
Instructions
Set your smoker to 225 degrees F.
Combine your ingredients for the Smoked Turkey Rub, set aside. Ensure butter is softened.
Spatchcock Your Turkey: Flip turkey so it is breast-side down. Taking your kitchen shears, cut along both sides of the backbone (which will be running down the middle of the turkey at this point) and remove. Cut into the top of the breastbone and start to break apart the cartilage there. Flip over. Firmly press down towards the top of the breastbone with the palm of your hand until you hear a crack. That's it! Check out our tutorial on How To Spatchcock a Turkey HERE for even more details!
Add onion, orange, chicken broth, white wine (if using), rosemary and thyme to bottom of large aluminum roasting pan. Place turkey on top ensuring the breast-side is up.
Take 1/4 cup softened butter and rub into every nook and cranny (including under the skin where possible). Use additional softened butter, as-needed. Sprinkle Turkey Rub all over.
Place the roasting pan on the smoker and close the lid. Let smoke 60-70 minutes.
Turn the smoker temperature up to 350 degrees F. Let the turkey smoke until it reaches an internal temperature of 165 degrees at it's thickest part. Melt the last 1/4 cup of butter and use to baste the turkey every 20 minutes.
Remove the turkey from the smoker, baste one more time and then let rest 10-15 minutes.
Move the turkey onto a platter or large plate and cover with foil again to continue its resting for another 10-15 minutes.
Use juices at the bottom of the pan to make Homemade Turkey Gravy.
---
Notes
Smoke Time: the ultimate cook time will vary a bit depending upon a myriad of factors such as outdoor temperature, wind, humidity, smoker hot spots, etc. That being said we tested this multiple times on a Traeger and it generally took approximately 2-2.5 hours total smoke time for a 12-14 pound turkey to come to temp (165 degrees F.).
Brine: here is an optional smoked turkey brine if you want to do that first – just be aware you would need to prep that the night before.
Pellets: hickory and mesquite are my two favorites to use in this recipe.
Keywords: smoked spatchcock turkey