These quick and easy Pulled Pork Sliders are perfect for a quick weeknight meal, appetizer, or game day snack! Serve with BBQ sauce and creamy coleslaw for the perfect flavor combo!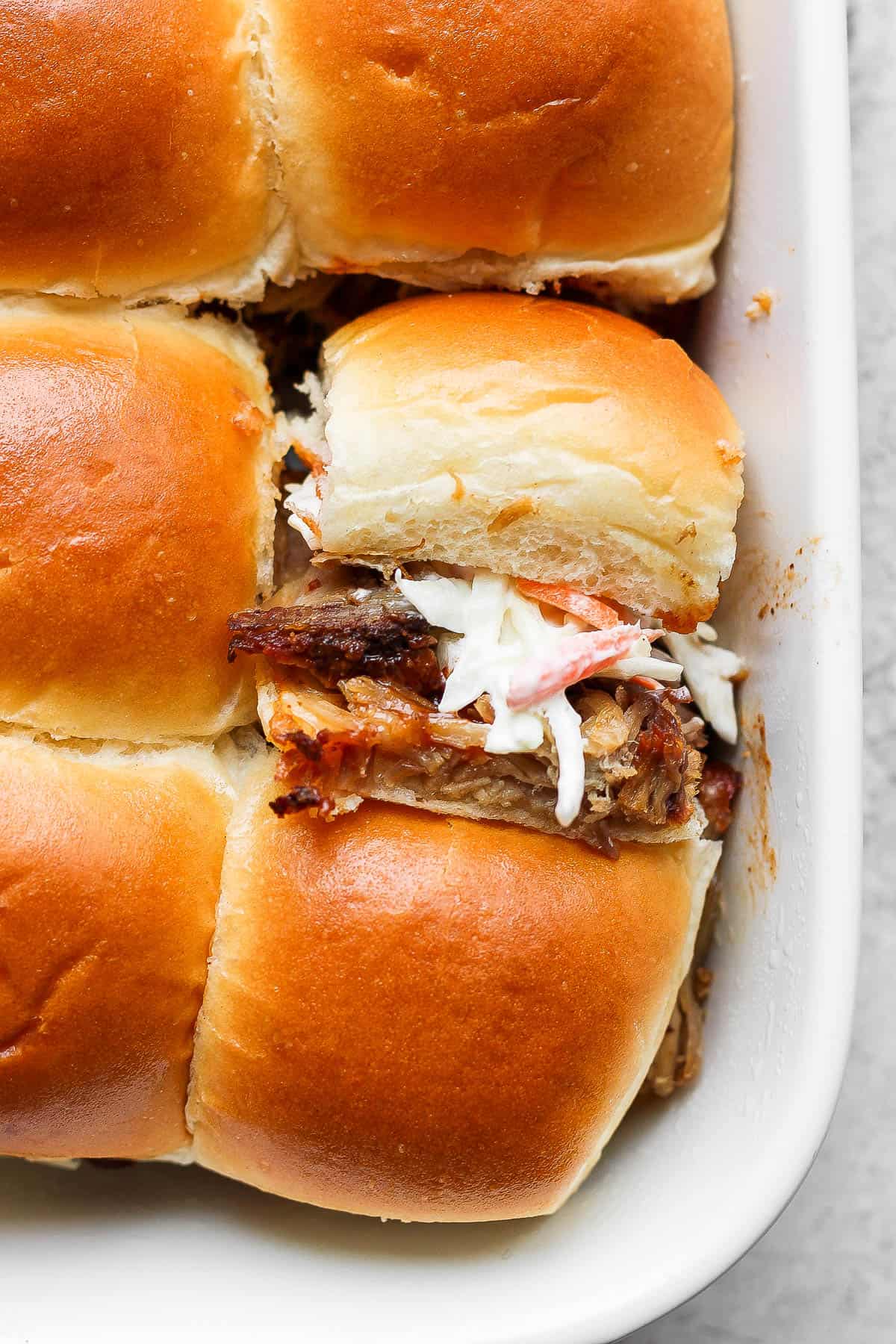 Easy BBQ Pulled Pork Sliders
These sliders are perfect little hand-held sandwiches that are full of perfectly seasoned pulled pork (cooked in the smoker, slow cooker, or Instant Pot), melty cheese, & creamy coleslaw on top for a nice, cool crunch! We love cooking up a pork shoulder to have on its own and then find a variety of different ways to enjoy it throughout the week, like these sliders, pulled pork nachos, or easy pulled pork tacos. This is a must, especially in the fall for football season. These pulled pork appetizers make the best game day snacks!
What You Will Need
small dinner rolls – we love using hawaiian dinner rolls for these sliders but you could also use whole wheat.
butter – option to you plant-based butter, if you prefer.
sliced cheese – we love using a white American cheese or provolone would be another great option (regular or dairy-free).
shredded pulled pork – there are so many great options for making pulled pork with a ton of great flavor, we love it on the smoker, but you can also use the crockpot or Instant Pot. Feel free to use Smoked Pork Butt or Smoked Pork Shoulder (slightly different cuts of pork, but very similar recipe).
bbq sauce – whip some up a homemade version or grab a store-bought sauce from your local grocery store.
coleslaw – this you can also grab from the store or our easy creamy coleslaw and spicy purple cabbage coleslaw are also big favorites.
sea salt – just a sprinkling on top!
What Kind Of Cheese Goes With Pulled Pork
We used white American cheese slices, but provolone would also be really good with pulled pork. Or if you are looking for a bit of a kick you could use pepper jack. Plus, if you are dairy-free you can easily substitute dairy-free cheese for the regular slices.
How Do You Cook Pork Sliders
You will want to cook the pulled pork before you make the sliders, which is why this is a perfect meal for using up leftover pulled pork from another meal. Once, you have some warm pulled pork you can assemble your sliders, cover them in foil (to prevent the top of the buns from getting too crispy), and then bake in the oven at 350 degrees F for 15 minutes!
What Toppings Do You Put On Pulled Pork Sandwiches
Our all-time favorite topping for these sliders is a nice, cool & creamy coleslaw – it is the perfect balance to the warm and tangy bbq pork. You could also add some crispy fried onions, bacon, dill pickles, red onion slices, or even avocado slices.
How To Make Pulled Pork Sliders
You can begin by slicing your dinner rolls in half, length-wise and then place the sliced cheese on top.
Next, pile on the warm pulled pork.
And then a generous drizzle of bbq sauce.
Now place the top half of the buns on top and brush with melted butter.
Tightly secure a sheet of aluminum foil over the top of the baking dish and bake at 350 degrees F for about 15 minutes.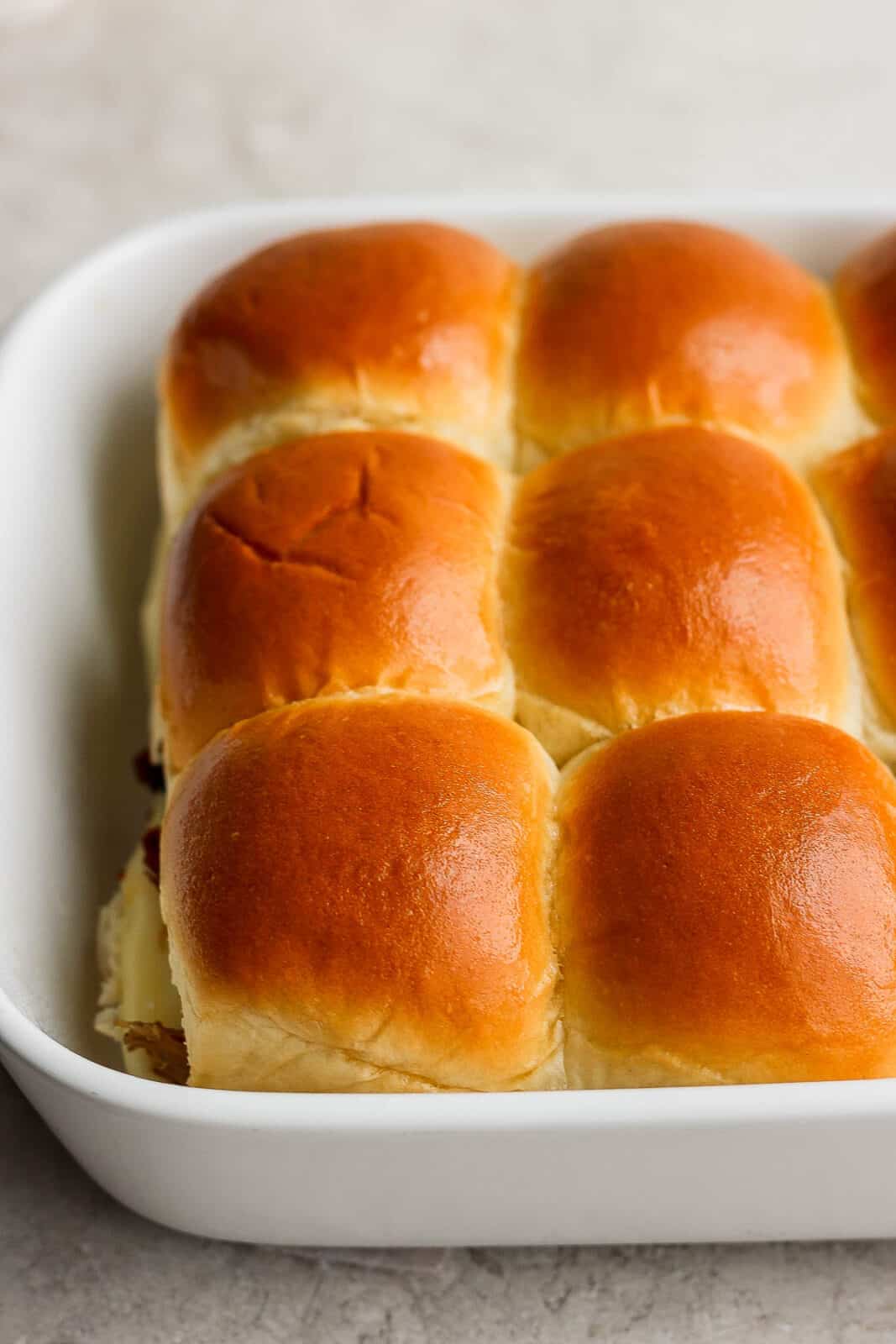 We love adding some creamy coleslaw to these sliders right before serving.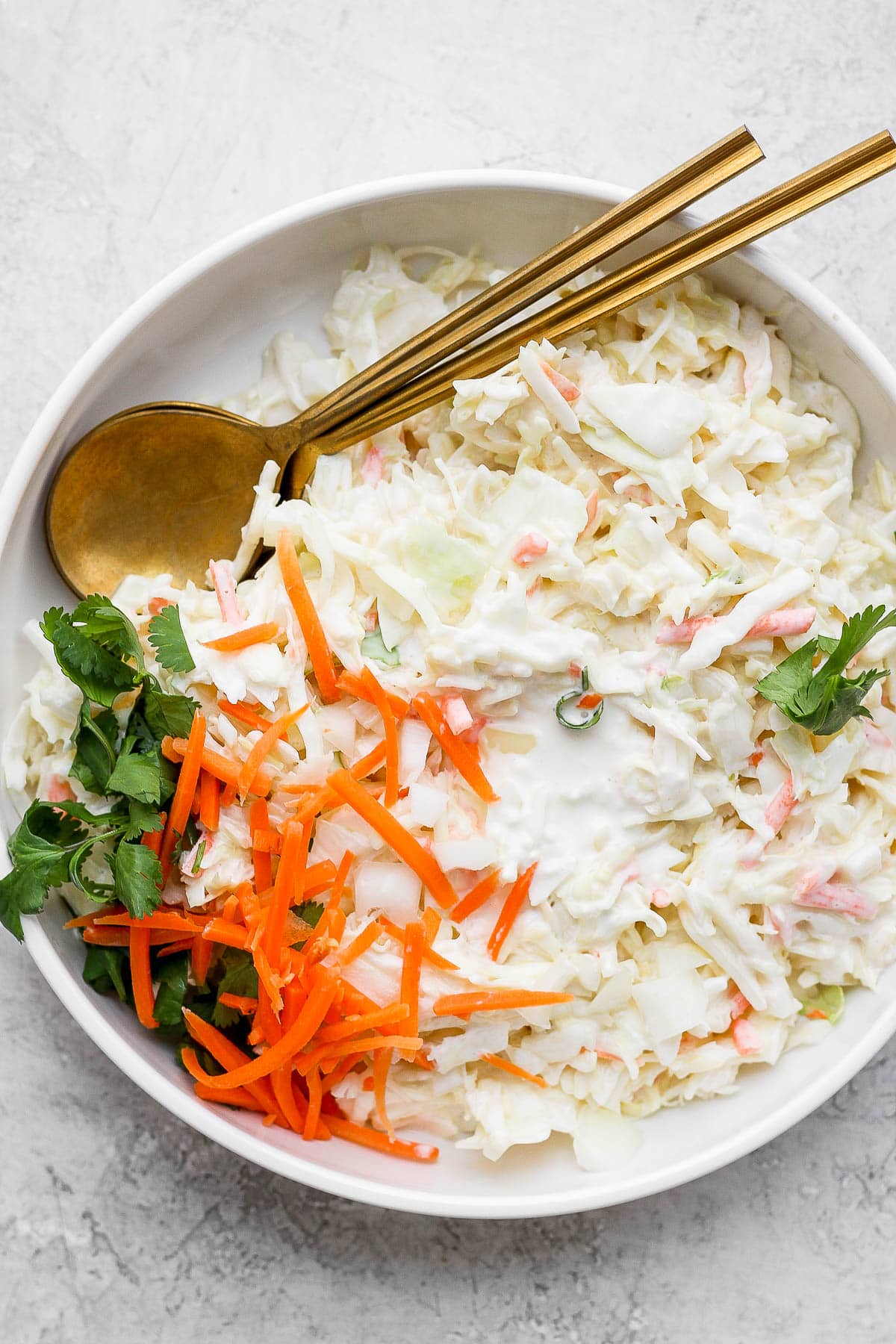 Enjoy!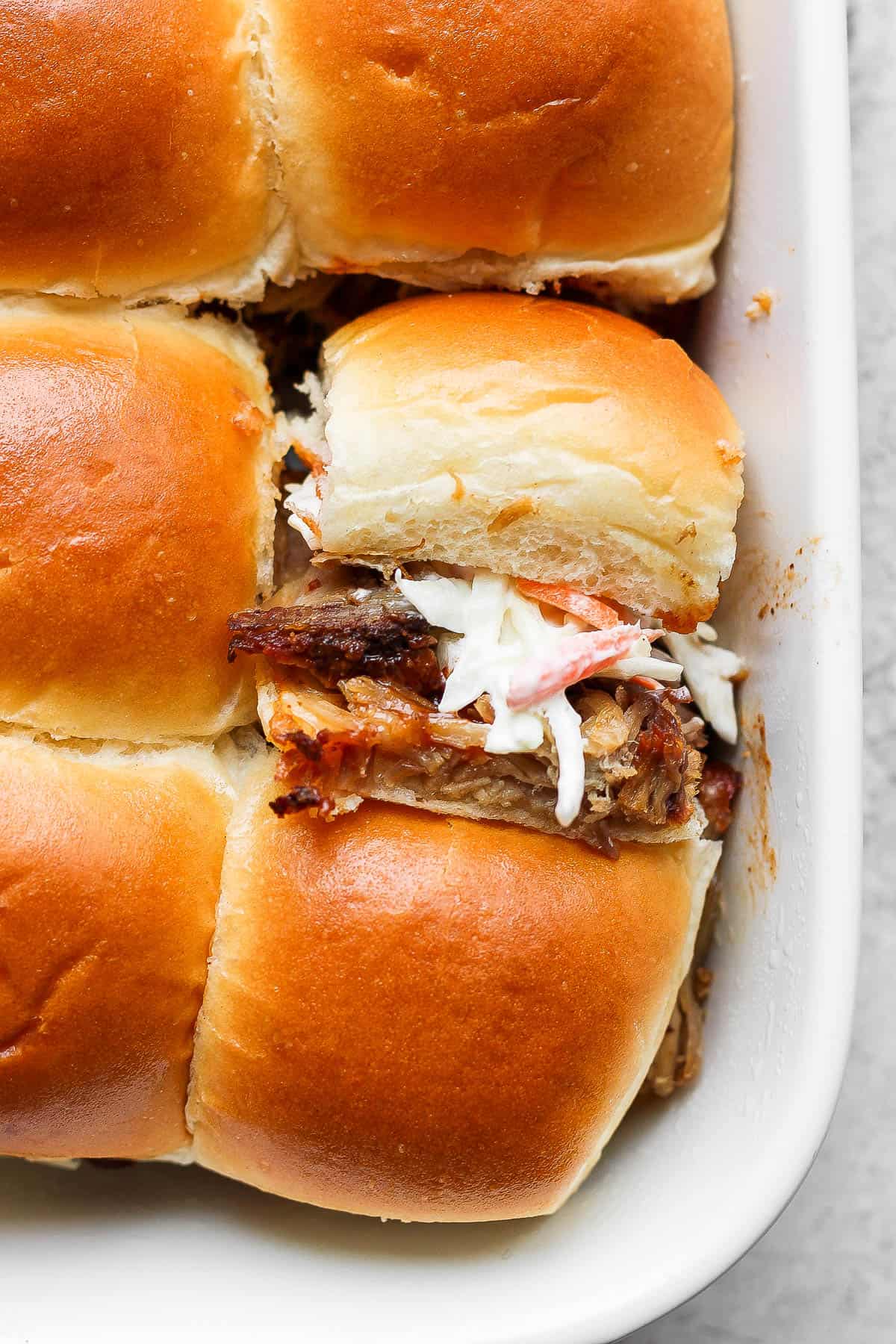 Made this recipe and loved it?! We would love it if you would take a minute and leave a star rating and review – it is also helpful if you made any substitutions or changes to the recipe to share that as well. THANK YOU!
Don't forget to check out my Instagram account for some behind-the-scenes action! Or give me a follow on Facebook or see what I am pinning on Pinterest!
Print
Pulled Pork Sliders
Author: Erin Jensen
Prep Time: 5 minutes
Cook Time: 20 minutes
Total Time: 25 minutes
Yield: 12 servings 1x
Category: Sandwich
Method: Oven
Cuisine: American
---
Description
Pulled Pork Sliders – a perfect way to use leftover pulled pork to make an easy weeknight meal, appetizer, or game day snack!
---
12 small dinner rolls
4–6 tablespoons butter, divided
4–6 large slices white American cheese (dairy-free or regular)
3–5 cups warm shredded pulled pork (smoked, crockpot or instant pot)
bbq sauce (homemade or store-bought)
1 batch creamy coleslaw
sea salt
---
Instructions
Preheat oven to 350 degrees F.
Make your Creamy Coleslaw and set aside.
Without breaking your dinner rolls apart, cut them in half lengthwise.
Spread a tablespoon or two of butter on the bottom half.
Then cover the bottom buns with cheese.
Ensure your pulled pork is warm and spread evenly over the cheese.
Drizzle bbq sauce over the top of the pulled pork.
Place the top of the dinner rolls back on top.
Melt a tablespoon or two of butter and brush on top of the rolls.
Cover with foil and place in the oven, middle rack.
Let warm 15 minutes.
Remove foil and let it continue warming about 5-7 minutes.
Remove from oven and remove the top layer of bun. Top with the Creamy Coleslaw. Return the top buns.
Sprinkle with a little sea salt, if desired.
Serve immediately.
---
Notes
Pulled Pork: we have tons of recipes that can make pulled pork: smoked pork shoulder, slow cooker pulled pork, instant pot pulled pork and a roasted pork shoulder! They all work great in this recipe.
Dinner Rolls: feel free to use a whole wheat dinner roll or a Hawaiian-style dinner roll. Whatever you prefer.
Coleslaw Options: while I love the Creamy Coleslaw here, we also have a Purple Cabbage Coleslaw that is amazing too that you could also use.
Cheese: use dairy-free or regular cheese. Provolone worked great, but so would American or even a Pepper Jack.
Butter: you can use plant-based butter if you prefer.
Foil: yes, you need to use foil otherwise the tops of your dinner rolls will get a little too crispy.
Keywords: pulled pork sliders