This unbelievably juicy Beef Tenderloin is the most tender cut of beef that is perfect for any special occasion! We love serving beef tenderloin recipe for Christmas dinner. And making the pan sauce is a must!
The Best Whole Beef Tenderloin Roast
This surprisingly easy recipe is absolutely the best way to cook this delicious cut of beef! A whole tenderloin can get expensive so we don't make it often, only for special occasions like for Christmas dinner or other family celebrations. In this post we will also cover all the information you need to cook it perfectly every time!
If you are looking for other special occasion dinners that will feed a crowd, you should definitely try our amazing Roast Prime Rib and Smoked Prime Rib recipes.
What You Will Need
Beef tenderloin:
beef tenderloin – this perfect cut of beef can be trimmed by your local grocery stores or you can do this at home. If you do trim the tenderloin tips from your beef, we have a post on how to cook these tender loin steak tips – none should go to waste… it's too good!
kosher salt & pepper – classic and simple seasoning for cooking any piece of meat.
butter or ghee – either work, but if you want to keep it Whole30/Paleo then you want to use ghee!
fresh herbs – we used thyme, oregano, and rosemary and they were the perfect flavor combination.
cooking twine – used to keep a fairly uniform shape to the beef tenderloin, which will help to cook it evenly.
Pan sauce:
leftover juices in pan – after the juicy beef tenderloin is done cooking and removed from the hot skillet there will be some flavorful juices left in the pan. These are the essential component for making a pan sauce to serve over your beef tenderloin medallions.
garlic, shallot, peppercorns & thyme – classic flavors that are so good!
brandy – just a splash for depth of flavor.
beef broth – a great base for this smooth and delicious pan sauce.
heavy cream or dairy-free cream – either one will add a bit of creaminess, use the one that works for you!
lemon zest – a bit of acidity really amplifies the flavors of this sauce.
What Is Beef Tenderloin
This is the most tender cut of meat that is cut from the loin of beef. It's an oblong shape that is the made up of the short loin and the sirloin. You can purchase this amazing meat from your local grocery store or butcher. It does tend to be fairly pricey so we are here to make sure it turns out perfectly!
How Much Beef Tenderloin Is Needed Per Person
When you are making a meal of this magnitude you want to make sure that you will have plenty for everyone to enjoy. As a general rule of thumb, it is recommended to plan for about 8oz or 1/2 pound of raw meat per person. This will account for approximately 2 oz of shrinkage that happens during the cooking process. Of course, if you love leftovers you can always estimate a little higher than that.
How To Cook Beef Tenderloin
The first step is trimming the tenderloin with a sharp kitchen knife to fit in your cast iron skillet.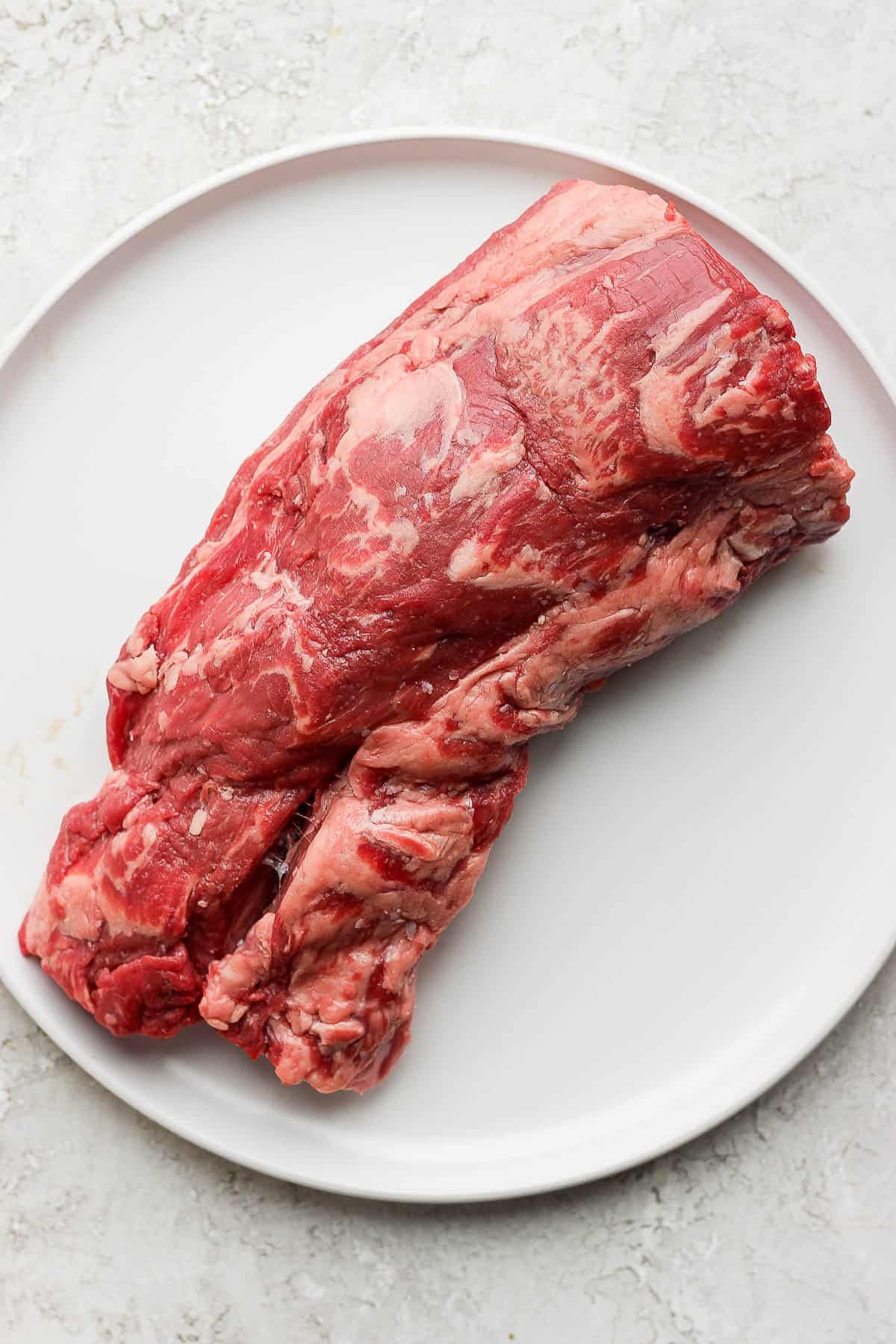 Now it is time to grab that cooking twine and start wrapping it tightly around your meat!
How To Tie A Beef Tenderloin
This is actually an easy process that you can do yourself at home! Follow along as cover this simple process step-by-step. First, measure out the twine. It will need to be about 2x the length of the tenderloin. Then wrap it around the thickest end of your tenderloin and tie a knot leaving a bit of extra at the end.
Now you will want to hold your hand over the butcher's twine, pull it over the top of your wrist, wrapping it around once.
Then use this hand to grab the butt end of your tenderloin and pull the loop that's around your wrist over the end.
After it is pulled over the meat and placed about a half inch away from the first knot, you can pull to tighten and secure it. Then continue this process all the way down the tenderloin.
Now that you have tied the twine all the way down one side, it is time to flip the tenderloin over and bring the twine back up the underside. Pull it tight around the end and wrap it under each piece of twine, up the back. Now you have two pieces of twine on one side. Tie them into a knot. You did it!
Time to season it generously with salt and pepper. For best results, bring a large cast iron skillet to a medium-high heat, add butter to melt, and sear it for about 3-4 minutes on each side to give it a nice crust.
Mix up the herb butter in a small bowl and slather it all over the top of your tenderloin.
Place the entire pan on the middle rack of the oven and cook for about 15-20 minutes or until the internal temperature of the meat reaches 120-125 degrees (medium-rare finish). Use a meat thermometer! Now it is time to remove your beef tenderloin steak from the large skillet and let it rest on a cutting board.
Pro tip: as it rests the internal temp will continue to rise by a few degrees so keep a close eye on the temp towards the end of cooking to ensure it is cooked to the doneness you want.
At this point you can cut the twine off your tenderloin and cut it into slices to enjoy!
How To Make A Flavorful Pan Sauce
If you choose to make this sauce while the meat rests (we highly recommend that you do), begin by prepping your ingredients.
Meanwhile, bring the skillet of pan juices back to a medium heat. Add the garlic, crushed peppercorns, fresh thyme, shallots, brandy, beef broth, cream, and lemon zest. Let it simmer and reduce for about 10-15 minutes.
Enjoy this amazing sauce by drizzling it over the top of the tenderloin slices or use for dipping.
Don't forget to check out my Instagram account for some behind-the-scenes action! Or give me a follow on Facebook or see what I am pinning on Pinterest!
Made this recipe and loved it?! We would love it if you would take a minute and leave a star rating and review – it is also helpful if you made any substitutions or changes to the recipe to share that as well. THANK YOU!
Other Recipes You Might Like
Print
Beef Tenderloin Recipe
Author: Erin Jensen
Prep Time: 10 minutes
Cook Time: 30 minutes
Total Time: 40 minutes
Yield: 6–8 servings 1x
Category: Dinner/Entree
Method: Stove Top + Oven
Cuisine: American
---
Description
Beef Tenderloin – a delicious, perfectly cooked beef tenderloin recipe with dreamy pan sauce to serve over top! Amazing special occasion meal!
---
Beef Tenderloin:
3–4 pound beef tenderloin
2–3 teaspoons kosher salt
1 teaspoon ground black pepper
6 tablespoons butter or ghee, softened (divided)
2 teaspoons fresh herbs, chopped (thyme, oregano, rosemary)
cooking twine
Pan Sauce:
leftover juices in pan
1 garlic clove, smashed
1 tablespoon black peppercorns, crushed
2–3 sprigs fresh thyme
3 tablespoons shallot, minced
1–2 tablespoons brandy
3/4 cup beef broth (low-sodium)
3/4 cup heavy cream or dairy-free cream (see Notes*)
1/2 teaspoon grated lemon zest
---
Instructions
Prep Beef Tenderloin: Tie beef tenderloin with kitchen twine (see video tutorial here or photo tutorial above within body of post). Season generously with kosher salt and ground black pepper and let come to room temperature (approx. 1 hour).
Prep Herbed Butter: Meanwhile, combine 4 tablespoons of butter and 2 teaspoons fresh herbs in a small bowl. Set aside.
Prep Oven: Preheat oven temperature to 425 degrees F.
Sear: Add two tablespoons of butter to a large cast iron skillet and bring to medium-high heat. Let melt. Sear the beef tenderloin 3-4 minutes per side.
Roast: Remove skillet from heat and cover the beef tenderloin with the herbed butter and move to the oven, middle rack and uncovered. Let roast 15-20 minutes or until the internal temperature at the thickest part reaches 120-125 degrees F. for a medium-rare roast finish (it will continue rising while it rests). Recommendation: start taking the internal temp after 10 minutes to get a read on where things are at and go from there. If it is a thinner tenderloin you may only need 5 more minutes; if it is thicker you may need 10 more minutes or more.
Rest: Remove from oven and let rest 15 minutes – during this time the internal temp of the roast will continue rise and reach that goal temp of 130-135 degrees F. for medium-rare).
Pan Sauce: Meanwhile, make the pan sauce: place the skillet back on the stove over medium-high heat and bring to a simmer. Add the garlic clove, crushed peppercorns, fresh thyme, shallot, brandy, beef broth, cream and lemon zest. Let simmer and reduced, uncovered, 10-15 minutes – whisking fairly often. Once it has reduced and it is thick enough to coat the back of a spoon – remove from heat. Taste and add any salt or pepper, as desired.
Serve: Slice the beef tenderloin and serve with the pan sauce, Twice Baked Potatoes and Garlic Green Beans.
---
Nutrition
Serving Size: 6oz
Calories: 348
Sugar: 0.4 g
Sodium: 469.3 mg
Fat: 19.1 g
Carbohydrates: 1.7 g
Protein: 38.3 g
Cholesterol: 132 mg
Keywords: beef tenderloin, beef tenderloin recipe, how to cook beef tenderloin, beef tenderloin roast